Amazon's Sidewalk smart neighborhood network is now rolling out to Echo devices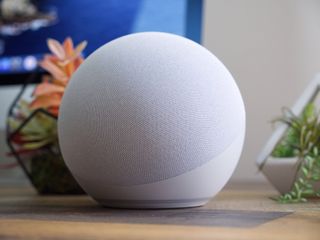 (Image credit: Joe Maring / Android Central)
What you need to know
Amazon Sidewalk has started rolling out to Amazon Echo devices.
Amazon Sidewalk is a shared network that will help your Echo and Ring devices work better at home.
The feature can be easily disabled in the Alexa app, if you think it isn't useful.
Amazon has started rolling out support for Amazon Sidewalk (opens in new tab) to its Echo devices in the U.S., which means they can now act as Sidewalk Bridges to allow Sidewalk-enabled devices to access the retail giant's location-tracking mesh network system. Amazon Sidewalk creates a low-bandwidth network between Amazon Echo devices, Ring security cameras, outdoor lights, and motion sensors to "unlock unique benefits for your device."
When Amazon Sidewalk is enabled, it can extend the low-bandwidth working range of all devices that are connected, simplify new device setup, and ensure they stay online even when they are outside the range of your home Wi-Fi network. It can also help find pets or valuables by extending the range of the trackers.
Amazon Sidewalk is now rolling out to the following devices:
Echo (2nd Gen)
Echo (3rd Gen)
Echo Dot (2nd Gen)
Echo Dot (3rd Gen)
Echo Dot (4th Gen)
Echo Dot (2nd Gen) for Kids
Echo Dot (3rd Gen) for Kids
Echo Dot with Clock (3rd Gen)
Echo Plus (1st Gen)
Echo Plus (2nd Gen)
Echo Show (1st Gen)
Echo Show (2nd Gen)
Echo Show 5
Echo Show 8
Echo Show 10
Echo Spot
Echo Studio
In case you aren't keen on joining Amazon Sidewalk, you can disable it using the latest version of the Alexa app on your phone. Once you open the Alexa app, head over to More > Settings > Account Settings > Amazon Sidewalk and turn it off.
Update: An earlier version of this article stated that Sidewalk would be available in Europe in addition to the U.S. This was due to an error in the initial press release, which Amazon has since corrected, issuing a statement to Android Central:
Amazon Echo (4th Gen)
Amazon's 4th-gen Echo not just looks stunning, but also delivers significantly improved audio quality compared to its predecessor. It also has a built-in Zigbee smart hub and a 3.5mm audio jack.
https://www.aboutamazon.com/news/devices/introducing-amazon-sidewalk
"In the near future, we also see the potential to help customers get more from 900 MHz connections in their neighborhoods, creating a broad network among neighbors...."
"For example, just a week ago Amazon employees and their friends and family joined together to conduct a test using 700 Ring lighting products ......This neighbor-created network demonstrates the potential of Amazon Sidewalk'.
Note: This is intended not just to extend your network range, but to create a network with your neighbor's devices. Little is said at this point about the security aspects of joining a neighborhood mesh network of devices designed to control your house.

So Amazon, one of the richest companies in the world is defaulting to ON access to private users internet FOR FREE to enhance Amazon products? I am so thankful Lord Bezos has included a toggle to turn off Sidecar. I mean that is magnanimous of his lordship.
Android Central Newsletter
Thank you for signing up to Android Central. You will receive a verification email shortly.
There was a problem. Please refresh the page and try again.