This is the upcoming 2022 flagship our readers are most looking forward to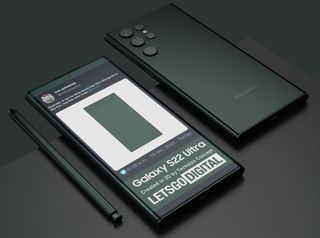 (Image credit: LetsGoDigital)
What you need to know
We asked what upcoming 2020 flagships users were looking forward to.
Roughly half the poll votes were for the Galaxy S22 series.
The Pixel 6a and OnePlus 10 series followed with the second and third most votes, respectively.
The next generation of flagship smartphones is already upon us thanks to the introduction of phones like the Xiaomi 12 running Qualcomm's latest Snapdragon 8 Gen 1 chipset. However, that's just the tip of the iceberg as we head into 2022, with plenty more smartphones to be announced. That's why we asked what phones our readers were most looking forward to in the first half of the year, as most flagships would be launched at least in the first quarter of 2022.
Unsurprisingly, about 50% of the votes indicated that the Galaxy S22 series was the one to look to. That's not too surprising given the changes Samsung is rumored to make with its upcoming smartphones. To start, the standard Galaxy S22 is expected to receive a glass back instead of plastic for a more premium build. However, Samsung is also likely fully merging the Galaxy Note into the Galaxy S series with the upcoming Galaxy S22 Ultra.
Unlike the Galaxy S21 Ultra, this phone will likely feature an S Pen slot instead of forcing buyers to purchase a separate pen and case to hold it. Along with an updated design and new colors, the Galaxy S22 may be the flagship to beat for the year.
One commenter, bigsmoke79, seemed to speak for many when they say that it's the Galaxy S21 Ultra that they're most looking forward to.
There's no doubt the Galaxy S22 Ultra might end up being one of the best Android phones of 2022. And with Samsung effectively killing the Note line, it'll be interesting to see just how it'll evolve with the S22 Ultra and beyond to attract fans of the Note series. However, this is already a good sign for Samsung's efforts to consolidate its lineup, especially amid the ongoing chip shortage.
Android Central Newsletter
Get instant access to breaking news, the hottest reviews, great deals and helpful tips
Derrek is a long-time Nokia and LG fanboy who loves astronomy, videography, and sci-fi movies. When he's not working, he's most likely working out or smoldering at the camera.
Hard to recommend android with the slow upgrade, iOS looks so much faster , is there any benefit unless you stump up for the latest flagship every year

Bored over on the old fart Apple forums?
Considering most people dump or have dumped their phones by the third year, as long as updates are coming every three years, such as Pixel and Samsung, who gives a squat about a product from a rotten fruit?
And Samsung release their latest just over a month after Pixel had their OS update. Not bad.
And Samsung is also giving three years OS plus more for security.
And it is proven raw speed is not used by 99 percent of users, so even if ole' fruity has a faster chip. who cares?
Only thing apple does ok is that any fool can pick one up and use it.

Seem to be changing your tune about Samsung... You were calling them "Samdung" a week ago. Should we expect you to be praising Apple next week?

Android hardware and software is so far ahead of Apple now... I could never swap my Fold 3 for any Apple device...

It's easy to say that now until Apple releases the iFold.

Quoted on a Android Central post, I can die happy now 😂 stand by that comment, looking forward to the S22 Ultra! just hope Samsung do a decent trade in deal.

Whatever new phone I get in 2022, it won't be from Samsung. They've had their chance.

While I'm not surprised by the poll results personally, I am only looking forward to future foldables.
Everything else is just buying more of the same and a waste of money IMO. A killer foldable is the only thing getting me to "upgrade" this next year.

Until they can make a foldable screen that will not be damaged by my fingernail...no sale.
Maybe some day. However, if Microsoft would actually invest in making their "foldable" work properly then I would more interested in that form factor for the sake of a screen, or screens, that are durable.

I love my s20fe. My son has the ultra and its just too heavy for me. I like the plastic backs over glass. Looking forward to the next FE device.

My 2022 phone choice will definitely be a Samsung. It's my preferred brand. I've never been disappointed.

This has been my experience and with four years of support and the Samsung ecosystem of apps and pen support you'd be had pressed to find a better experience... Note 20 Ultra was my first Samsung and now have the Fold 3 and the build quality and user experience has been very very good... I bought a Tab S7 LTE with keyboard cover too and the build and screen quality makes it the best tablet I have owned...

I will agree with the tablet choice. I have the S7+ and it is very good. As for Samsung's phones....returned two of them. So for now the Sony Xperia 1 iii can't be beat for hardware and lack of bugs. I'm not saying they couldn't improve a few things here-and-there but all in all I have no bugs at all.

I'm so sick of Samsung Ads... For all the money in advertising they could offer there phones 300.00 less for each phone

No adverts on my Fold 3, Samsung removed them...

If the Galaxy S22 Ultra has a slot for the S Pen like the erstwhile Galaxy Note I'll be getting one later this year. My faithful Note 10 Plus would, by then, have served me for three years.

I like the idea of the Galaxy Fold, but coupled with a low powered e-ink screen for the front. Great for reading and more than fine for phone calls - but when you need a full on screen you just open it up. I'll keep dreaming though

The S22 will support Bluetooth 5.2.... Audio matters.

Not to everyone. I rarely use my device for listening to music. If I'm in my car I'm listening to my car unit. At home I'm listening to my home system. As a musician, I spend far too much time with IEMs or headphones on, so I'll be damned if I'm going to wear them any other time. So, on a phone, audio doesn't really matter much to me.

I'm hoping the S22 will have the spen silo.
I'm curious as to how the Pixel 6a will be like.

I ditched the stylus when I stopped using PDAs. The last thing I need is a stylus on my phone.

How can the Pixel 6a be considered a flagship?

I really wish OEMs would QUIT building devices with all-glass bodies. They break so flipping easily and they don't look all that "premium" to me. All they end up doing is guaranteeing we smother their uber-fragile devices in bulky cases that mean you can't even see the laughable "premium build". Idiots.
Android Central Newsletter
Get instant access to breaking news, the hottest reviews, great deals and helpful tips
Thank you for signing up to Android Central. You will receive a verification email shortly.
There was a problem. Please refresh the page and try again.