Merging the Galaxy Note and S lines is the best move for Samsung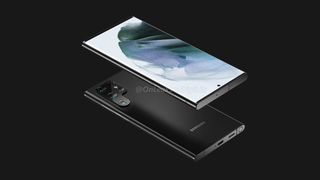 (Image credit: Digit / Onleaks)
Samsung's Galaxy Note line seems to be on its way out, at least if recent leaks of the Galaxy S22 Ultra hold any merit. It started last year with rumors that Samsung would cancel the Note lineup, then those rumors were fueled by the Galaxy S21 Ultra when Samsung provided it with S Pen support, and continued when the Galaxy Z Fold 3 arrived in lieu of a Note successor.
Leaker Ice Universe claims that the upcoming flagship won't carry the Note name and will just be called the Galaxy S22 Ultra. While Samsung hasn't confirmed this with Android Central, analysts agree that a viable move for the company would phase out the Note lineup, at least in its current form, and merge it into the Galaxy S line.
That isn't to say that the Note moniker should die completely. Over the past decade, the Galaxy Note lineup has been more or less the pinnacle of innovation for Samsung and easily among the best Android phones on the market. While the Galaxy S line was a flagship line for the masses, the Note lineup usually took things a half-step higher with specs and features and then a full step with the included S Pen. It was a phone for creatives and productives.
I've used the Galaxy Note 20 Ultra as my daily driver since it launched last year, and it's a solid device. Admittedly, I chose the Note mainly for the camera after years with LG smartphones. The S Pen was really just an extra perk, but one that I've come to appreciate. Even as I'm tempted by the new Pixel 6 Pro, I find myself hesitating due to the lack of pen support. However, I'm not married to the "Note" by any means. Giving the Galaxy S22 Ultra an S Pen slot would be good enough for me, and frankly, would be easier on Samsung.
Jitesh Ubrani, Research Manager at WW Mobile Device Trackers, says that merging the Note lineup into the S Lineup is the right move for the company.
"Samsung has essentially three flagships," he says. "The S, the Note, and the foldables and it's very difficult for any company to maintain three flagships. Over the years, the S series and the Note series slowly started to overlap in terms of price, features, and audience so merging the two next year feels right and it makes more room for Samsung's foldable lineup."
Sure enough, when comparing the Galaxy Note 20 Ultra to the Galaxy S20 Ultra, both phones had certain advantages over the other, but there was no clear winner among the two, unless, of course, you account for the S Pen. But looking at the Galaxy S21 Ultra, the only advantage the Note has is the dedicated storage space, something that even LG could pull off with phones like the LG Stylo 6. It's becoming clear that the Note lineup in its current form is becoming superfluous.
While Avi Greengart, founder and lead analyst at Techsponential, believes that the Note lineup should stick around, he does see the merit in merging the lineup. He says that the Note attracted a particular, productivity-oriented consumer. However, Samsung "could probably have the best of both worlds" by merging the lineup, "with the Z Fold targeting the highest-end productivity user, and a Galaxy S Note – with an included, internally stored S Pen – providing traditional Note buyers what they didn't get in 2021."
Anshel Sag, principal analyst at Moor Insights & Strategy, agrees that the Note brand is "one of the few products that people easily and readily recognize as Samsung's." However, his experience with the Galaxy S21 Ultra and even the Galaxy Z Fold 3 shows that their half-assed approach to S Pen support makes it a viable choice to merge the Note and S lineups.
Our Andrew Myrick noted how his fiancee's S21 Ultra case had to be replaced after a mere four months, while Nick Sutrich saw the lack of an S Pen slot as a major downside to the otherwise excellent Z Fold 3. There's no reason why Samsung should repeat this cumbersome approach to S Pen support with the Galaxy S22 Ultra.
Additionally, this could reduce the burden on Samsung's production line. With the ongoing semiconductor shortage, companies have delayed or limited the launch of some devices, such as the Google Pixel 5a or the still-unannounced Galaxy S21 FE. Samsung is often criticized for having too many smartphone models, but getting rid of the Note line could help to simplify its flagship offerings and potentially boost sales of the Galaxy S lineup.
Greengart notes that while the last Galaxy Note model came in regular and premium models, "perhaps there don't need to be so many configurations if the two lines are being merged."
Leaker Steve Hemmerstoffer, also known as Onleaks and the person who leaked the renders of the Galaxy S22 Ultra, agrees that Samsung could stand to shave down its smartphone offerings a bit and that he's not a fan of the company selling dozens of nearly identical devices with different monikers.
"It won't hurt them to kill some of their devices in order to simplify their catalog," he says. "Galaxy Note is a great and quite popular product line, so killing it would have been a mistake, in my opinion. Keeping it alive by including it in the Galaxy S Series is a smart move if you ask me."
He says it's the first step in Samsung following Apple's example by offering different models from the same line but with their own purpose and target audience. This also makes sense considering rumors that the Galaxy S22 Plus might actually be called the Galaxy S22 Pro and that the standard Galaxy S22 will launch with a smaller display, while leaving the S22 Ultra as the sole model with a built-in S Pen.
So while it makes a lot of sense to merge the Note line with the Galaxy S line, Samsung could still take advantage of the Note moniker by giving it to a new lineup of devices, such as a potential rollable phone or even a folding tablet. After all, the Note represented a focus on productivity and creativity while offering some of the best tech available, and Samsung has many ways to differentiate a potential Note reemergence with its bevy of concept devices presumably in the pipeline.
Android Central Newsletter
Get instant access to breaking news, the hottest reviews, great deals and helpful tips
Derrek is a long-time Nokia and LG fanboy who loves astronomy, videography, and sci-fi movies. When he's not working, he's most likely working out or smoldering at the camera.
With the exception of hardcore fans, a new Note would have gotten lost in 2021. They made the right move.

Maybe the base of Note aficionados has shrunk(?). Three years ago I was willing to buy a 128GB Note9 in blue as a placeholder until the 512GB blue Note9s were in greater supply. Verizon had 'lost' my original order. How many fans of a phone would jump through hoops like that to get a phone? My best/favorite Note experience was with the Note 3 eight years ago. It's difficult in this environment to have a novel phone experience. Just for fun I bought a Z Flip 3 and I've been enjoying its usage. Still using a Note20 Ultra for anything that requires more processing and the use of that S Pen. Speaking of those it was fun to whip-out that yellow S Pen that came with the Note9 in '18. Some good memories of that. My brother has my Note 9 and gets a lot of use from it.

Merging is fine but, The name note made the device seem that much more than this ultra. I really don't feel special when someone ask what phone you have and you reply s22ultra. That doesn't scream special to me. But, saying I have a note people will be like nice device. It sounds top notch compared to the latter. Just my opinion.

I see what you mean. I kinda get that too, with my Note 20 Ultra. But I feel like with any GalaxyS smartphone, people will still be impressed. It's not that I think the Note should go away completely, but I simply think it should be something else now since there's very little separating it from the Ultra models in the Galaxy S line. Absorb it into the S line as it is now and give us something completely new with the Note name.

The fact that you care what other people think about the phone you have says it all.

I totally agree. I hv a note 8 and I waited for note 20 cause it didn't mk sense to get the note 9 or 10 however, I ended up with this s21 ultra and it's not the same and honestly I hate it and I hate the fact I feel I down graded to an electronic device that don't even give me what I truly desire, need or want. Note phones really hv an impact in the name itself. I'm sending phone back just to get note 20 altho I'm told s21 ultra is better overall. I feel the note series is the matriarch

Big nope. No Note means no more Samsung (which may be better for me since I'm OCD and "need" the tablet, watch, monitor, etc to all be the same brand). The S line is crap from my experience (worst phone I've ever owned) and I want nothing to do with it. The Note was amazing. I'll stick with my latest Note til it dies and then will jump ship to Apple or Pixel (if Google continues to get their crap together)

Exactly... samsung somehow thinks Note features are productivity focused and as a repercussion it will make nom Note users are unproductive. The extended storage and Stylus was key. Adding them with Note version for release is important. I'm switching if Note dies.

The only difference between the S and Note lines nowadays are a stylus and the shape, essentially everything else is identical between them. Samsung could literally square off the S21 Ultra, add in a stylus and call it a Note device.

I truly see myself calling it a Note the moment I see the inclosed S-Pen. The best move coming from the naming of the new phone would be to merge that as well. Im thinking (Galaxy S Note)

So this is semantics... If the S22 Ultra has an S-Pen in the chassis, why isn't it just called a Note? I mean that is what it is right? I didn't understand the S Plus model and base model. Why can't you just have an S22, S22 Ultra, and Z series? Their was a time when the Note simply was the Plus model. I think they are replacing the Note name, but not the concept. I do agree though, if you put the S-pen in the Z Fold, there is your ultimate power phone!

If anything, it's the Ultra moniker that should go away. If the rumors of a more distinguished visible appearance from the S22 and S22+ are true, then I think going with S22 Note as the name would make customers happier and better differentiate the product in a way that is still apparent to the customer, since it's an established brand.

Agree! No need for the ultra moniker, just have S22 and S22 Note and be done with it, then the Z series.

I just wish the Samsung Galaxy S22 Ultra "Note-like" device kept its microSD card slot, like the Note 20 Ultra. But I'm really liking the new Google Pixel 6 Pro. I just wonder if it will work well with my Galaxy Watch 4 Classic and Galaxy Tab S7+. I like how well my Samsung Galaxy Buds 2 & Galaxy Buds Live switch seamlessly between my Galaxy Note 20 Ultra and my Galaxy Tab S7+. I also like how well my watch works with my Note 20 Ultra. I might have to remain in the Samsung ecosystem and purchase the S22 Ultra when it releases to keep these great features.

Indeed. I like having expandable storage accessible without worrying about the cloud. Apparently there wasn't a great hue & cry over the micro SD slot going away. I wouldn't have liked a neutered Note21 Ultra if that'd come through absent the expandable memory/storage. Down the road maybe there'll be 1TB or 2TBs of native storage. We'll see.

Until the dust settles I'm glad that I still have Notes 10 Plus and 20 Ultra. It's sad that things things've become a little muddled. A Z Fold V may be the ticket in '23 and I'm fully expecting to pay an extravagant sum for a 1TB version of that. Note Series devices in late-summer or early-fall were fun while it lasted.

I don't think so. The Note needs to remain a separate product. I did not like the Spen in a sidecar look of the S20 Ultra case. I can't wait for a Note 22 with a fully under-display camera, 5g radio built into the Snapdragon processor and better battery life. I like the squared-off look of the Note 10. I would really like the IR blaster to come back.
Android Central Newsletter
Get instant access to breaking news, the hottest reviews, great deals and helpful tips
Thank you for signing up to Android Central. You will receive a verification email shortly.
There was a problem. Please refresh the page and try again.