The Samsung Galaxy S22 could finally give us another small flagship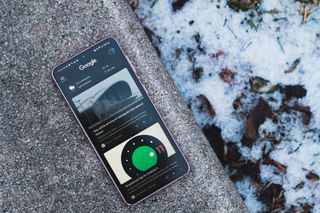 (Image credit: Hayato Huseman / Android Central)
What you need to know
Samsung is tipped to launch the Galaxy S22 with a smaller display than previous-generation flagships.
The Galaxy S22 could feature a 6.06-inch display, which is smaller than the Galaxy S10.
Samsung is also rumored to decrease the battery capacity of its next flagship.
With Samsung's new foldables out and in consumers' hands, the focus has started to shift on what the company could release next. The latest rumor points to an interesting design choice for the upcoming Samsung Galaxy S22, which could please many users depending on their tastes.
According to Ice Universe, Samsung's next flagship could launch with a 6.06-inch display. For comparison, that's smaller than the Galaxy S21 and Galaxy S20, which both feature 6.2-inch displays, and even a hair smaller than the Galaxy S10 display which measures in at 6.1-inches. In fact, the S22 display size would fall between the S9 and S10.
If this turns out to be the case, it would match up with rumors that Samsung is expected to equip the Galaxy S22 with a smaller battery than its predecessor. It could also suggest that Samsung is slowly starting to revert to smaller display sizes, which Apple and ASUS have done with their recent releases.
That said, given the smaller battery, this could also be Samsung's way of leveling out the power consumption, especially given that it's likely to be powered by a more efficient Snapdragon 895.
It's unclear at the moment how this might affect other models like the Galaxy S22+ or S22 Ultra, but the smaller size could potentially widen the gap between the standard and Plus models, which have mainly only differed in size in recent years.
Nonetheless, it would be a curious move for Samsung, which popularized large-screen smartphones with some of its best Android phones like the Galaxy Note series. However, it could prove to be a good move for people who prefer smaller smartphones, as Ice Universe points out that the body of the device would be smaller than even the new iPhone 13.
Would you mind a smaller flagship from Samsung? Or would this entice you to consider a Plus/Ultra variant?
Get the Android Central Newsletter
Instant access to breaking news, the hottest reviews, great deals and helpful tips.
Derrek is a long-time Nokia and LG fanboy who loves astronomy, videography, and sci-fi movies. When he's not working, he's most likely working out or smoldering at the camera.
Yes please, the current starting point is too large now. Have the S22 smaller then stick with larger sizes for the plus and ultra

Maybe a fourth model. The S10 was in 4 sizes.

You forgot to mention the biggest and most likely reason: cost! The iphone 13 has a starting price of $799. Samsung will want to hit that price point.

You forgot that $799 was the launch price of the S21.

This was needed 2 years ago. Phones have gotten way too big. Not everyone walks around with a Fannie Pack.

We did get that 2 years ago with the S10e lol.

My S20 Ultra fits easily in the front pocket of my chinos...?

Funny,how one can loose the perspective! When 4.8" screen were normal and the first "big" ones showed up I was a vehement supporter of the old small screens and laughed at those "huge" monster screens. Once I held a LG G3 in my hand, and ever since, I can't go big enough! But I definitely see a market for smaller screens. My wife's been complaining for years and wished for smaller things in regards to phones. It remains to be seen how well they sell.

To be fair, back in those days the screen-to-body ratio wasn't what it is today.
Back then, phones had bezels, foreheads and chins bigger than Jay Leno's.

Looool, your description has me in stitches!

Why not just go like the S10e and do the 5.8 inch again?
I'm happy with the screen size of the S21 base model, but the S10e was definitely great compact phone to use.

Man, I loved that phone... Kinda miss it actually... I traded it for the note 20 ultra and what a ridiculous contrast that was in daily life... Couldn't wait to get rid of the note after just a few weeks... I never got used to the ludicrous size of that phone, and almost instantly missed the damn near perfect size (for me) of the s10e...

Until it gets a consumer replaceable battery upgrade, I'm not interested. I used to get the latest Galaxy Note phones, but I quit when Samsung started their Planned Obsolescence design mistake, by making the phones fail at the speed of the battery going bad.

I'll get off your lawn, sir.

Perfect phone for me. Size wise makes sense. Not interested in a phone over 6" screen size this will be great. Phones need to be 5.5" to 6" screen size tops. That's plenty. Who needs a 6.9" screen really. Go Samsung.

Careful with projecting your own absolutes... My work phone is an S10e, and the "small" display annoys me daily when contrasted to my S20 Ultra. I'm seriously considering the Z Fold 3 for even more display goodness! My only issue is the weight, which is bad enough on my Ultra... To each his own, though, and I'll definitely applaud the diversity of including a smaller phone as part of the lineup!

I'm on board with reducing screen size a tab, I hope more companies follow suit with this, 6inch devices are just unwieldy, I've dropped my new phone so bloody much already (thank God I got a good case.), Hell how about going back to 5.7 again?

No way you can create a premium smaller phone and still charge a premium price. However, the smaller size claimed in the article are only small fractions smaller.

I'm not interested in a 6in screen, but if they really wanted to hit it out of the park they should have the made the battery larger instead of smaller.

Better battery life is one of my top wishes. If the smaller battery reduces the battery life, that would be disappointing. Maybe the smaller screen and efficient chips will balance it out, but we'll have to wait.

I personally could never go back to a screen smaller than 6'3". But I'm glad there are options for others.

About time! Tired of phones getting bigger every day. If not for my love for the s pen and it's camera, I'll never have gone for the Note 20 ultra I'm using now. Feels like a brick and I'm a petite lady, doesn't fit my hands or any of my pockets so sometimes I'm forced to go out with my Iphone Xs if I'm not carrying a purse.

Weird no mention of the S10e, which was 5.8" So they're bringing back the E model. Nice.

Yup. Just bought a Pixel 5, I'm not going to use a ginormous phone.