If it hasn't snowed yet, don't worry! It's coming! And it'll be a doozy! Don't get caught unaware with no way out of your driveway when winter comes barrelling through like a train off the tracks. Grab the Snow Joe SJ623E 18-inch 15A electric snow thrower on sale for $104.99 on Amazon. That's a super low price since it usually sells for around $150. It hasn't dropped anywhere near this low in more than a year.
Snowfall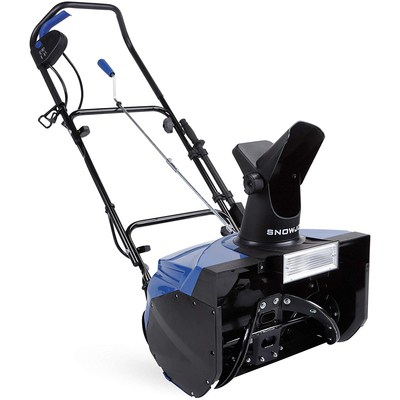 Cleans mid-to-large driveways and walkways. No gas. No oil. No tune-ups. Moves up to 720 pounds per minute. Has 4-blade steel augurs that cut 18 inches wide and a 180-degree directional chute. The 23W halogen lights show your path even in dark.
$104.99 $150.00 $45 off
The deal given is no longer valid and we do not have a better one. However, we have found some similar deals
The snow thrower is great for clearing snow off any mid-to-large driveways and walkways. Since it's electric, it doesn't need a lot of maintenance. You won't have to tune it up or add oil or gas to get to work. All you have to do is plug it in and get to work.
Plus, it uses a 15-amp motor and can move up to 720 pounds of snow per minute. That's a lot faster than a shovel and a lot less punishing for your back. It also uses four steel augur blades to cut 18 inches wide with every pass.
The directional chute can throw snow up to 25 feet, and since you can adjust it up to 180 degrees, you can shoot the snow where you need it to go. There's nothing worse than trying to clean up the snow in your driveway just to have it all land in the spot you just cleaned. The 23W halogen light on the front helps you see where you're going and clear out a path even in the darkness of winter morning. Do your snow plowing work at night or wait until the daytime, as long as it gets done in time for your next drive!
It comes with a universal tool for cleaning out the shoot when snow gets packed in there. And it's covered by a two-year warranty.
We may earn a commission for purchases using our links. Learn more.