Will my phone get Android Oreo?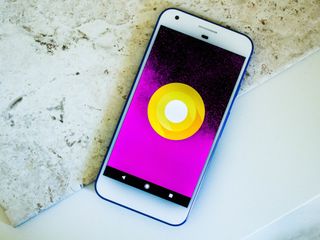 Android Oreo is here, and while many are still waiting for their phone's Nougat update, it's still worth looking forward.
Android Oreo is Google's eighth full version of Android and brings one major shift in strategy that might mean we're not waiting for updates as long as we have been. Called Project Treble, the system files have been rearranged so that it's easier for the company who made your phone (and the company who made the parts it's built from) to update its software so that it works with updated versions of the Android core.
Other improvements for the interface and security are part of the update, too. New ways to display notifications while still keeping the same layout but letting the user control the amount of information given are coming, as are multi-function icons with unread indicators. These are all features companies building phones will need to implement into its version of Android Oreo in some form or fashion, or not at all. Android is like that — Samsung or Motorola or whoever can do as they please as long as they meet a few standards for access to Google Play. It makes Android more fun, but makes the update situation a little frustrating.
The most important thing about Oreo for many of us is when. As in, when will we see it on our phones? Right now the answer to the question is mostly a guessing game, though some of the guessing is fairly easy. We'll revisit here as we get official information, but for now, this is what we think the Android Oreo landscape is going to look like.
ASUS has confirmed the Oreo update for the ZenFone 3 and ZenFone 4. The Zenfone 4 received its update on the last day of 2017, and we should expect to see updates "gradually released to all supported devices by the second half of 2018."
OnePlus has updated the OnePlue 3 and 3T and OnePlus 5 to Oreo. A beta version is available for the OnePlus 5T and it shouldn't be long until it becomes official as well.
Sony has announced the Oreo update for a long list of Xperia phones. See the full list here. The Xperia XZ, XZs, and X Performance have already been updated.
HTC tells us that the HTC U11, HTC U Ultra, and HTC 10 will be getting Oreo. The HTC U11 (and U11 Life) have already been updated, while the HTC 10 started to see it but it was pulled for unknown reasons. More details and word of other device update plans is coming soon.
Nokia (HMD Global) says every Android phone it makes will be updated to Oreo including the Nokia 3. The Nokia 6, 7, and 8 have already been updated and the Nokia 8 has a beta version of Android 8.1 available. More information will be coming.
Motorola now has a list of phones that will get Android O, including the Moto Z, Z Force, Z Play and their Verizon Droid counterparts. Of course, the newer Z2 and G5 series will get updated, too. After some initial "errors in the marketing system," the G4 Plus is also added to the list. Nice save, Moto. The Moto X4 started its update rollout in the third week of January 2018.
Google has also done some name dropping. In the announcement for Android Oreo, they tell us that Essential, General Mobile, HMD Global, Huawei, HTC, Kyocera, LG, Motorola, Samsung, Sharp, and Sony are all scheduled to update some of their phones to Oreo. Of course, we have no sense of a timeline here, so expect some to be sooner and some to be later.
We'll keep updating the list as more manufacturers give us details about their update plans. The original post follows below.
Google
This is an easy one. Google supports its phones with full software updates for two years and security patches for three years. And it doesn't sell a lot of models. These are the phones that will be updated to Android Oreo — in fact, the rollout has already begun.
The Google Pixel
The Google Pixel XL
The Nexus 6P
The Nexus 5X
Samsung
Samsung not only makes more phones than any other company, it also makes more different models than any other company. We're going to focus on the high-end models here, and here are our best guesses until Samsung gives us the word from above.
The Note 8 will ship with Nougat but will be updated to Android Oreo.
The Galaxy S8
The Galaxy S8+
The Galaxy S8 Active
The Galaxy S7
The Galaxy S7 edge
The Galaxy S7 Active
No surprises here. Samsung could probably shoehorn Android Oreo onto the Galaxy S6 and Note 5 series, but the user experience would suffer. Spending time and money to make something worse isn't a good thing and we don't expect it to happen. Also don't be surprised to see some of the inexpensive models like Galaxy A and Galaxy J lines to get an update. These phones are Samsung's bread and butter and updates can make a lot of people happy.
LG
Once again, we're going to focus on the high-end models. And once again, this is pretty easy to predict. We think these phones will see Oreo.
The G5 is conspicuously absent. That's because we just don't think LG is going to update it. It sold poorly, had a very mixed and mediocre customer reaction, and LG would probably just like to forget the whole module thing. So would we.
Motorola
When you think of Motorola, you think of the cell phone. It invented them. But you don't think of updates, at least not timely ones. Here are our early predictions of which phones get the Android Oreo treatment.
The Z series
The Z2 series
The G4 series
The G5 series
We include Verizon-specific and prepaid models here because Verizon no longer loves to hold updates from you. Besides, other than Google proper, Motorola phones are the easiest to update.
HTC
HTC has scaled back the number of models it makes, which is probably a good thing seeing as it's struggling a bit when it comes to finances. That also makes it simple to predict which phones will be updated to Android Oreo. Here's how we see it.
Huawei
Huawei is the worlds number three smartphone maker, but the majority of its products aren't sold in the U.S. Also, while technically a separate company we're dropping our predictions for Honor here.
Mate 10 ships with Oreo and EMUI 8.0
Mate 9
Honor 8
Honor 6X
Sadly, the Kentucky Fried Chicken phone probably won't get any finger-licking updates.
Honorable mentions
There are almost 15,000 different Android phones so we can't cover them all. But a few need talked about when it comes to future update prophecy.
The BlackBerry KeyONE will see an update, though it will take longer than many would like. BlackBerry has always been slow and methodical when it comes to big platform level updates and this isn't going to change.
The ZTE Axon 7 has been confirmed to be receiving an Oreo update, though it's not clear when that will happen. It's currently in closed beta as of January 2018.
Update, January 2018: This article was updated with details from smartphone manufacturers about their update plans.
Jerry is an amateur woodworker and struggling shade tree mechanic. There's nothing he can't take apart, but many things he can't reassemble. You'll find him writing and speaking his loud opinion on Android Central and occasionally on Twitter.
Lol, what a time to be alive.

I said OREO before anyone else

Oh hey it's the "please don't take the lord's name in vain" person who doesn't understand how a quote works in written English. What's up buddy!

Man you are old. The cookie came out in 1912 and if you said Oreo before the makers did, that would make you very old.

No mention of Nokia phones?

There isn't really anything to make a guess educated, it would literally just be a guess.

I would think (a guess of course ) the 3, 5 and 6 will get O). I have a 6 I am still on the July patch, but they have been updating pretty regularly, so I would/think hope Nokia will update these phones to O.

'murican authors. ALL Nokia phones will receive Android O and Android P. Nokia has already said as much.

It would be so awesome if you could actually believe what the manufacturers say.

They probably won't even get the Fall Creators update ;)

OS updates is one area where I wish Android was more like Apple. Google should have a Nexus like OTA for all phones that can be sideloaded. Or Google should have a wider selection of Pixel, Nexus, Android One and Google Play Edition devices.

You're really just saying more people should get a Pixel or Nexus. Google does not control what other OEMs choose to do with the latest software.

I have a Moto Nexus 6. Don't want to pay Pixel prices. Would rather pay Android One prices. Looking at perhaps a Moto E4Plus, since it uses vanilla Android.

Yes that would be ideal to have a few more phones for different price points.

Good luck getting any updates from Motorola they constantly say it will and then don't give updates for devices. I'd get a one plus 5 or HTC 10 of price is a factor. HTC had fastest update to nougat in US last year.

This year ZTE Blade X Max came with the latest update out of the box

Yeah but the European Unlocked version of the HTC 10 is still on the January Security Patch, from 7 months ago.

My HTC U11 got 8.0.0 a week ago and is running the November 2017 security update

My Moto Z will end up getting 2 OS updates, N and O. My girlfriend has the X Pure and it got 2 already, I doubt it will get O. Kids have Moto Gs and each one has received 1 - for older models. It looks like their G4' will get 2. So I'm not sure what you are talking about.

Luck is not needed, Motorola's updates are fine.
And to say get a one + instead? That's some 1st class funny right there.

But you are wanting them more like Apple. Are you OK with Apple prices?

I bought a Pixel XL and it was completely worth the price for me, if that's what you're asking. It might not be worth it for others and so there are other options. You will need to wait a little longer for software updates though.

Imagine how insane you would sound to say: "Microsoft does not control what other OEMs choose to do with the latest software." It's absolutely insane that $1000 devices are not updated, and instead the prevailing solution is to buy a mediocre device from a specific vendor, or spend $1000 every year to keep your device safe from hackers and malware.

I hear you but it's not the same. Android development is moving much faster than PC software. Would you prefer things move slower so that updates are compatible with more phones longer?

Uh lots of people are still running XP. More people are running 7 than 10 even though 10 was free. The Wanna Cry virus affected 7s. Do I'm not so sure Windows has anything on Android.

Don't carriers still hobble Pixel updates if they were purchased through carriers?

Android is Open Source. It's not a controlled walled environment like Apple. So it'll never have similar OS updates. Then again, the only thing you can customize with iOS is wallpaper. Ha. So there's that.
If you want timely Android OS updates the easy solution is to just buy the latest Google phone.

Well, sorta. There is an open source version of Android, AOSP. That's not what's running on your Pixel, Nexus, Motorola, Galaxy, HTC....

Wow... you haven't looked at an iPhone in a long time. You still can't customize them as much as Android, but you can definitely change more then just the wallpaper.

I see what you are saying but it's hard to do in a way with so many phones being on the market. Microsoft did it with Windows Phone and worked quite well but for Android to do it they would kind of need to start a fresh but most phones get 1 update so for me that's good enough as by the time the next update is due most people are getting a new phone anyway with most having 2 year old phones.

Microsoft was able to do it because they control what goes into a phone running there OS.

Microsoft did no such thing. Almost every major release required new hardware. WP7, WP8, WP8.1, etc.

Just buy a refurbed Pixel. You have a year to enjoy updates. I went all in on than Pixel when it was released. Contemplating on keeping it for one more year.

I still have my bag phone I hope it makes the cut for the BIG "O" i like having the BIG "O"'s I just hope LG wakes up and realizes the V20 is still one of their phones and get off their dead asses and gets the updates and security patches out to the people that keep them alive!

I'd put the Oneplus 3/3T in the "maybe" column. I'll believe the update is happening when actual users get the notification, not before.

Yeah for sure, they've improved their hardware game but they've also proven they'll drop a phone like a bad habit if it suits them.

I think I read somewhere that the company themselves confirmed that the 3T will get Android O but that will be the last big upgrade.

They definitely did say that, but they said the same about the 2 with Nougat and then went back on it. Words are wind.

At this point their words are meaningless.

True good thing I never bought that blunder.

Does anyone have any clue why the G5 will not get Oreo? One of the fastest spec hogs I have ever owned. The whole module thing was a dud but the phone itself is the best I have ever had!

Laugh all you want, I love my LG G5, been one of the best phones I have owned, that being said if LG does not upgrade it to O it will be my last LG phone I will be switching to a Google phone.

Tell me features you like on it? Trying to figure out the best option for me I want a 6" phablet phone/tablet running or already have Android O or able to download it. Must be unlocked at&t or Cricket Wireless service.

LG makes the Google Pixel phone.

No they don't. They are rumored to be making the new Pixel XL, but to date they do not manufacture either Pixel devices.

Haha, have the same phone and glad it made the cut. Not sure about next year though. How are you liking yours?

Best phone in that price bracket, no regrets

It's so funny to me to see how time has changed my perception and interest in these updates. I used to sit on the edge of my seat anticipating the announcements of the new versions of Android. Then I realized that unless I bought a Nexus or Pixel, I would always be behind. Now, I just don't care anymore. The manufacturers change Android so much and then take 18 months to push an update, so it doesn't matter to me anymore like it used to.

I agree. When I had my HTC EVO I was very excited to get the latest updates and there was always something that I was looking forward to in the update. Now it's something I read about but since my phone's never seem to be updated unless I've had a phone that I rooted, I don't really care as much. Currently have LG G4 (Sprint version has no root)
Previously owned
HTC eVO 4G -rooted
HTC EVO LTE - rooted
LG G3 - rooted
LG G4 (replacement for broken G3) -no root. ... And on a older version of Android

Um, you say it "...has no root...". Since yours "has no root" how do others obtain "no root"? Being as it "has no root" then "no root" must be something worth having. Possibly you mean it "has not been rooted", if so that makes much more sense.

Are you purposefully thick? I recommend therapy for your obtuse refusal to accept a commonplace feature of the English language. I have no clue why.

Its mostly because Android had matured already that you don't really feel like you're being left out on something big if you're behind a version or two. The only update I want to care about this days are security patches. I have 4 active devices, two phones and two tablets and all run stock android, with 3 different version of Android and it doesn't really alienate me switching back and forth, material design's consistent visual is a reason on that but the other reason is that there really isn't any special feature on a specific version that I exclusively use. Google can actually stop adding new feature on android and most people wouldn't even mind aside from the techy groups.

I just remember being SO excited for Ice Cream Sandwich and Jellybean. I had a Nexus with KitKat and that was fun, but ever since then I don't care at all. It usually just screws my phone up anyway.

Kitkat is my favorite version of Android. I kept my old phone with KK around just so I can boot it up every once in a while and admire its polish and greatness (and the holo design).

And let's not forget that OEMs are only part of the picture. Carriers can also delay or block updates (and there's always one in 99% of countries that lags behind - in Australia it's Telstra).

If you want updates, buy a pixel!!!!!!!!!!!!!!!!!!!!!!!!!!!!!!!!!!!!!!!!!!!!!!!!!!! If you don't want updates , buy something else!!!!!!!!!!!!!!!!!!!!!!!!!!!!!!!!!!!!;-);-)

!!!!!!!!!!!!!!!!!!!!!!!!!!!!!!!

It's 2017 and people still don't get it.

I am ready for Android O. Please let the rumor of August 21 be true.

Man I hope so, Eclipse and O in one day. Good day.

The shoehorn comment is stupid! I'm running Nougat on my 4 year old Note 12.2 and it has NEVER run better! The new OSes are actually more fine tuned and optimized. They don't do it cause it costs money, simple as that. It's the reality and don't blame the mfgs but the author of this article needs to face reality!

Still on my G3......she'll live.

Will it going to come on OnePlus X ?

That smaller phone from back in 2015? I doubt it, maybe a security patch if your lucky.

Will ZTE Blade X Max from Cricket Wireless running Android 7.1.1 out of the box last security patch was March 1st 2017

What about the Honor 9 which was just recently released?

It should damn near be guaranteed to get it.

This feed is so confusing who were you talking to?

Can you add a full section for Sony, perhaps once more info comes out? Mine started with Marshmallow and now has Nougat, and I'll be excited to get another Android version...especially since the phone's still less than a year old. Sent from my Sony Xperia X Compact

lol, the honor 8 is not getting updated to O. Are you serious?

So will Samsung GS8 skip N and go directly to Our?

No G5? That's sad. I know it didn't sell well and all but this phone really isn't bad AT ALL. Oh well guess ill pick up a cheap G6 if that's the case.

My Stylo 2 got the update to Nougat earlier this year. Brought back the ability to move the data from applications, but not widgets, to the SD card, added a dark option for stock displays and a few other convenience features. Seems to run a bit smoother. However, it did nothing to improve the filing system on the card. There's still a partition with data from my old phone I cannot delete .

V10? My Verizon one is still on 6.0....

"Samsung could probably shoehorn Android O onto the Galaxy S6 and Note 5 series, but the user experience would suffer." Do not try to sugar-coat the truth: Samsung simply does not want to invest money into keeping their old devices updated. The S6 runs on Nougat just as well as the S7, there is no reason it couldn't handle Android O. It is also vastly faster than Nexus 5x, and arguably has more processing power than overheating 6P. Oh and Samsung cannot even blame Qualcomm for not supporting their SoCs, since all S6 phones run on in-house Exynos chipset.

Can you really blame them? providing 'free' OS updates to old hardware earns them nothing but goodwill, and costs them some development and certainly support costs. We may want to think so, but providing OS updates for several year old hardware, is not free.

What I don't get is why Apple supports 5 years of updates and Google only 2.

I'm guessing there going by the logic of "People only use their phones on average of 2 years so why update further than that?"

Apple has basically iterations of the same hardware to support over time. Android has to try to support a crap pile of manufacturers and versions over time. It is a harder problem. Personal experience, and supported in forums, iPhones aren't especially performant after their second update (or so). So while they 'can' be upgraded, all the features of the new OS won't always work, and the experience isn't always stellar.

But that's not true. It can be to you but not for everyone. I only replaced my 3 year old HTC One M8 because of a sound distorting speaker, otherwise I would keep it a year longer cause it its otherwise working great. I have many friend with a iPhone 4 and 4s and such.

Gotta love how the newly released Moto E 4 series is not even mentioned. I know what I'm NOT buying XD The moto E series always gets short changed when it comes to updates.

I completely agree, I had the Moto E 2nd Generation and it wasn't even supported for a year. But then again if your buying a phone for well under $200 do you really expect software updates?

You can add all the Zenfone 3 series. Will be upgraded to Android O http://imgur.com/Isdz4rn

Sure my s7 will get it just before Android P is released. C'mon note 8 or Pixel XL 2

Dont forget the Essential ph-1

I'm sure with the Bare bones stock android and the co-founder of Google behind it software updates should be nearly equal to the Pixel.

I'm posting this while eating Oreo Thins!
Anyways, there's a how-to for updating the HTC M8 to Oreo using a custom ROM at the ProBlogger website linked below. http://www.android-oreow.xyz/2017/06/htc-one-m8-6074.html

I'm also guessing that the LG V10 won't get it - the VZW model I got my dad is still waiting for 7.X (and I'm not convinced it will ever get it). My mom's Note 5 will need upgrading sooner rather than later, I'm going to try and find a 2 for 1 deal on the S8+ or the Note 8 or the Pixel 2 or something around the holidays.

If I had an LG phone on Verizon, I'd be nervous about any update...#bootloopmemories

"When you think of Motorola, you think of the cell phone. It invented them. But you don't think of updates, at least not timely ones." Hey now, my MotoX got timely updates...buts that was when Google owned them. ;)

The Moto X Pure is still waiting on Nougat which is supposedly "coming soon" Yes, it's 2 years old but when you pick custom colors the front, bezel, camera bezel, wood or bamboo back, custom engraving and welcome message (I didn't get all those, but just saying) you're still supposed to kick it to the curb two years later for a phone with not substantially better specs and shell out another $500-$700? Not to mention the pain in the ass of migrating your apps and data?

Moto actually updates the G which looks like the lowest cost phone on the list by far. My Z was updated relatively quickly to N early in the year and will get its 2nd OS update. Not many phones besides Google's can claim that.

From lollipop to Nouget, I haven't noticed any major differences so I don't understand the big deal. I guess I don't use my phone like you guys? Lol

I honestly think Nougat was a downgrade from Marshmallow. Lollipop was also a downgrade from Kit Kat. At least Jellybean, Kitkat, and Marshmallow were improvements.

Any reason why I should care if I get Oreo or not?

Because it's great to have the newest software updates and features as well as knowing your phone is getting long term support?

There are plenty of people who don't care about the latest and greatest though. I have friends that still use Windows XP and others who still use Windows 7. Sometimes the latest and greatest isn't the greatest or sometimes people just prefer to stay comfortable and what they have is what they are comfortable with.

Same here, running Oreo on HTC U11 and I haven't really noticed much different.

Oreo in the Nexus 5x is missing all those features like picture-in-picture, dot notifications, lockscreen shortcuts, etc.

Glad it has been on my Pixel for a couple of months already. Non beta is always appreciated. I fall into the updates(timely) are important. That is why I can't ever go back to Samsung.

Even though my phone manufacturer won't update my model to Oreo, I'll still get it as soon as someone on XDA has the ROM available for my device. And they will.

When will it come to the Nexus 6P?

Honor 9 also i would say. Not just 8 and the sister P10.

My Xiaomi A1 is getting Oreo before 2018. A $230 stock Android phone.

That's better than some Flagships from last year.

I think I lean more towards that the G5 will get it, if I'm wrong, then ill be custom romming it.

You forgot to mention Jerry, how even if your phone is slated for Oreo update it probably won't arrive for another 6 months give or take. Or when the next "P" version of Android is released. :P

I believe BlackBerry issued a statement that keyone will be receiving oreo

No sign of the priv getting anything.. :(

They actually said the PRIV won't be :-( sucks

My 6p was updated to Android 8 yesterday evening. So far the phone is noticably smoother and really boots fast compared to prior versions.

I was hoping mine would, but maybe project Fi is holding it back? Hmm... Still waiting

Huawei P9 is still waiting for Nougat. So, Oreo will be a "not in a million years"

Nope. Didn't get N why would it get O

I'm not sure why you say S6 couldn't run Oreo properly.

Of course it could, the phone's hardware is powerful enough. The only reason for not updating the handset is to make you buy a new one.

Exactly. This is right on the money.

The LG g5 should get that update. The module failed but the phone is not that bad.

I just hope AT&T doesn't make me wait too long for my note 8 to get oreo. Carriers need to speed up on releasing updates.

Sure they will..just to frustrate us more..:)

No ZTE news of an update for the Axon 7 ?

If OTA's come from network provider isn't it as much their issue as the OEM's? Also wondering what you do if you buy an unlocked phone, then where do you get the OTA's. Where does the software update function connect to in this case?

Who cares about android updates.never anything new and exciting in these new updates.its not like ios

At least not from N to O. This update is more like a 7.2.0 update.

What is exciting in IOS updates? The ability to not slow down your phone?

I'm sure my Note8 will get it. Whoopee $h!t.

Shiiiit, have a pixel so feels like I have had Oreo for ever lol.

I got it on my Xiaomi A1 yesterday.

It shows up when it shows up (Galaxy S7 Edge here). I don't love this phone (want an S8 or S9) because of the lag. Doubt Oreo is going to fix that. Glad to hear about Project Treble. I wonder if that means the HORRIFIC state of OS updates on Android tablets might change too.

My HTC U11 was updated 2 months ago. HTC for the win.

Blackberry Better makes sure the wait is worth it...

Moto E4 Plus all not get Oreo update? Seriously? It had been launched a couple a months ago!

Suspense is killing me to try out Android Oreo.
Android Central Newsletter
Get the best of Android Central in in your inbox, every day!
Thank you for signing up to Android Central. You will receive a verification email shortly.
There was a problem. Please refresh the page and try again.