BlackBerry KEYone review: Coming home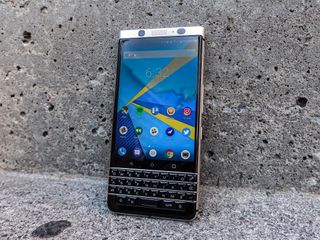 There's nothing like coming home. Even after months — years — the sounds, the smells, the feelings, are unavoidable.
The BlackBerry KEYone is home. Even more so than the Priv, which was released 18 months ago, the KEYone is BlackBerry's attempt to appeal to its core audience, as small as it may be, with the best hardware keyboard on the market. With that it succeeds, but falls down in a couple notable areas along the way.
The quick take
The KEYone is the best phone for those upgrading from BlackBerry 10, or are holding onto a Priv. For everyone else, it's probably not going to move the needle.
The good
Great build quality
Android 7.1.1 on board at launch
Excellent security features
Best hardware keyboard on the market
Great battery life
Best security update pedigree outside of Google
The bad
Software is buggy
Performance is inconsistent (likely from buggy software)
Camera has potential but suffers in low light
To have and to hold
BlackBerry KEYone Full review
BlackBerry Mobile, which is actually TCL Communications, which makes Alcatel phones, has done an admirable job furthering the legacy of BlackBerry's transition from BB10 to Android. Not only does the KEYone sport the same security enhancements, including Hardware Root of Trust and Verified Boot as all BlackBerry phones released in the past couple of years, but it runs Android 7.1.1 out of the box, and promises to receive monthly security updates. To say that the KEYone is one of the most secure phones on the market right now would probably not be an overstatement.
But the KEYone is also inherently divisive, willfully limiting its potential customer base with a hardware keyboard that harkens back to a time, between six and 10 years ago, when not only were BlackBerrys essential tools for millions of people, but few could envision typing on anything but that miniaturized version of the desktop keyboard.
Times have changed, and people have adjusted. Well, most people. This phone is for the others, and for them it's almost perfect.
Those pesky numbers
First, the specs
Swipe to scroll horizontally
Category
KEYone
Operating System
Android 7.1.1 Nougat
Display
4.5-inch, 1620x1080
IPS LCD
434ppi
Processor
Qualcomm Snapdragon 625
Octa-core 2.0GHz
Adreno 506 GPU
RAM
3GB
Storage
32GB
Expandable
microSD up to 2TB
Rear Camera
12MP (1.55 micron) f/2.0, PDAF
dual-tone LED flash
HDR, 4K, 30fps
Front Camera
8MP f/2.2
1.12-micron pixels
Selfie flash
1080p/30 video
Battery
3505 mAh
non-removable
Charging
Quick Charge 3.0
USB-C
Water resistance
No
Security
DTEK security suite
FIPS 140-2 Full Disk Encryption
Android For Work, Google Play for Work
Connectivity
Wi-Fi 802.11ac, 5GHz, Bluetooth 4.2 LE, NFC
GPS, GLONASS
Network (NA GSM)
LTE Band 1/2/3/4/5/7/8/12/13/17/19/20/28/29/30
TD-LTE Band 38/39/40/41
Network (NA CDMA)
LTE Band 1/2/3/4/5/7/12/13/20/25/26/28/29/30
TD-LTE Band 41
CDMA BC 0/1/10
Network (EMEA)
LTE Band 1/2/3/4/5/7/8/13/17/20/28
TD-LTE Band 38,40
Dimensions
149.1 mm x 72.39 mm x 9.4 mm
Weight
180 grams
I tap, therefore I am
About this review
I (Daniel Bader) am writing this review after spending 10 days with a pre-production version of the BlackBerry KEYone. BB Mobile says that the hardware is near-final but the software is not, meaning that some of the software issues could be fixed in an update. If so, we'll update this review.
The phone was running Android 7.1.1 Nougat on Build AAK831 with the April 5, 2017 security patch. It received an update to Build AAL093, which fixed a number of early bugs and performance problems, on May 3, just a few hours before publishing this review. The phone stayed on the Bell network in Canada throughout its testing.
Solid, like the Canadian Shield
BlackBerry KEYone Hardware
Let's start with the hardware. This is a solid device, as all high-end BlackBerry devices have been over the past few years. Most notably, the aluminum frame joins with the metal frets of the keyboard seamlessly, and while I'm not an enormous fan of the flat top with rounded corners, the phone certainly paints a unique picture.
Indeed, the matte silver finish of the frame honors early BlackBerry models without going too retro, though the black-and-silver color palette definitely gives me the feels. There are modern touches here, though: the symmetrical speaker and microphone grills on the bottom are flanked by a USB-C port, while the sizeable (and distracting, to be honest) front-facing camera sits next to etched holes and a duo of sensors brace against a large 4.5-inch LCD screen.
Image 1 of 6
Back in 2014, when the Passport was released, I remember wondering how BlackBerry would eventually release an Android phone given that its keyboard takes up so much vertical space. Well, here you go. The screen is really good — surprisingly good — though not quite as bright as I'd like (though, really, coming from a Galaxy S8, it's not really a fair comparison). More importantly, though, its 3:2 aspect ratio makes sense: most Android apps can adapt to the reduced vertical real estate, just as they can for the taller counterparts on the Galaxy S8 and LG G6.
What's irritating, and something I don't quite understand, is BlackBerry Mobile's use of capacitive navigation buttons below the screen; for a phone that insists its keyboard is smart, and encourages swiping vertically to scroll through web pages and feeds, it's far too easy to accidentally hit one of the three buttons.
My only other hardware gripe is the placement of the power button, which mirrors BB Mobile's Alcatel counterparts by placing it on the left side of the phone. I'm all for catering to lefties, but I don't think this is the solution. The right side houses a volume rocker and, below it, a programmable convenience key that can be assigned to anything except turning on and off the phone. I think the convenience key is a great idea, but justifying the power button's placement by saying that people will use the fingerprint sensor to turn on the phone and double-tap the display to turn it off again goes against the years of muscle memory most smartphone users have built up.
Speaking of that fingerprint sensor, it's seamlessly integrated into the keyboard's space bar, and my goodness is it awesome. The DTEK60, a repackaged TCL 950, has its fingerprint sensor on the back, but this one is just perfect: fast, accurate, and well-placed.
The keyboard
Let's talk about the keyboard, because in all likelihood it's a big reason you're considering the phone at all. It's good, probably 90% as good as the one on the BlackBerry Classic, and certainly the best on any modern phone.
The keys are wide and responsive, with excellent travel that return to position instantly. If you're a current BlackBerry user, you're quickly going to feel at ease here, and if you're a lapsed CrackBerry addict, the adjustment period will likely be brief.
While the familiar BlackBerry frets are here, the keys are not quite as contoured and angled as they used to be, which BlackBerry Mobile says comes from a need to optimize for the gestures that were popularized by the Passport and, later, the Priv. It's a fine compromise, and not one I mind, but it doesn't do anything to assuage the cognitive dissonance I feel returning to typing on a physical keyboard.
Yes, like I mentioned before, typing on the KEYone is like coming home. But the home feels smaller, more cramped, and rife with compromise. I'll try my best not to brutalize the metaphor too much, but even after using the KEYone all day, every day, for nearly two weeks, I haven't fallen back in love with the process. Typing on this phone is a chore. It's the reason I kept the slider closed on the Priv for much of its life.
I strongly believe that virtual keyboards in their current form provide a superior and more accurate typing experience than a physical one — but that's just me. Google Keyboard; SwiftKey; even BlackBerry's own superb virtual keyboard: they're all very good at figuring out what you're trying to say, and correcting your mistakes as you type. And while BlackBerry's keyboard does that, too, the satisfying feedback of physical keys doesn't always lead to a better experience.
(Those dismissing my pedigree right now should take into account my history with BlackBerrys. My first smartphone was a BlackBerry Pearl 8100, which a few months later was replaced by a Bold 9000. I used that 9000 for years, eventually replacing it with a Bold 9700 and Bold 9900.
In between, I held onto almost every BlackBerry imaginable, from the chiclet keys of the Curve 8300 to, later, the Tour 9630 and Torch 9800. I loved those phones. When BlackBerry 10 was released, I upgraded not to the Z10 but the Q10. I used the Passport; I gave the Classic a try. Even when I had an Android phone in one pocket, I always had a keyboarded BlackBerry in the other.
I feel I've earned the right to look at the state of BlackBerry, and the need for keyboarded phones, objectively.)
Let's remove personal preference for a moment, then. The keyboard, uniformly backlit, is excellent. Once you get the hang of it, the combination of touch typing and on-screen autocorrect works well. There are also a number of gestures that can be utilized to improve the typing experience, though I found myself more concerned with finishing a word than stopping to swipe up in one of three quadrants to extract an autocorrect suggestion.
As on the Priv, swiping to the left over the keys deletes the last word, while double-tapping on it introduces a cursor that can be used to quickly navigate through and edit text. I really like these gestures, and found myself not just using but relying on them as I spent more time with the KEYone.
When you're on the home screen, those keys double as shortcuts to basically anything, too: you can hold down the 'C' button to quickly launch the camera, or short-press the 'M' key to instantly call Mom (hey, it's Mother's Day soon — don't forget!). And when you're typing away, the physical Shift and Alt buttons mean you can quickly cut, copy and paste without digging around for that on-screen cursor. These are all great features, and add tremendous value to the hardware keyboard, especially once you grow used to the keys' nuances.
Typing on the KEYone takes some getting used to, even compared to older BlackBerry keyboards, and that's because BlackBerry Mobile decided to go glossy instead of matte on the buttons themselves. You'll want to make sure there's no oil or sweat on your fingertips, too, because once gunked the keys have a tendency to lose friction, and accuracy, in a hurry. A quick wipe with a microfiber cloth will do the trick, but like any physical keyboard, keep it clean lest you want to clean crumbs from under the frets in a few months' time.
After a few days with the keyboard, using it became second nature, and I returned to the rhythm I'd developed years before. But it's kind of like writing with a pen: you have to rebuild those muscles, physically and mentally.
With the current pre-production software, there is often a tiny but perceptible delay before both the first letter appears in the text box and the first autocorrect option appears at the bottom of the screen. It's almost like the keyboard is waiting for the software to figure out it's typing and, when it does, it snaps to attention and no longer lags. I'm hoping this is a pre-production gremlin and not something endemic to the phone, but software gremlins abound on the KEYone.
Less is more
BlackBerry KEYone Software
Running Android 7.1.1 Nougat is a good thing; promises of monthly security updates are even better. While the Priv is still stuck on Marshmallow, the two phones have remarkably similar software experiences, since BlackBerry has created a consistent aesthetic that leans closely on Google's Nexus and Pixel phones for art direction.
Here's what you get: a custom launcher that does most things right, including giving BlackBerry loyalists notification badges over icons and Android faithful the option of swapping in icon packs and swiping up to quickly access widgets. Practically everything else feels "stock" Android, from Nougat's unmatched notification experience — in-line replies for the win — to the host of pre-installed Google apps.
But BlackBerry (the Canadian company, not BlackBerry Mobile the hardware vendor — with me?) being BlackBerry, it has filled the KEYone with an armada of its own apps and services, punctuated by the Hub, a single place to consolidate all of your emails, texts, calls and social feeds, from Slack to WhatsApp to Twitter.
I can't use Hub as my main email client because it doesn't support aliases (the ability to send or reply to someone from an email different, but associated with, the primary address). It's otherwise so good at what it does, and addresses so many other pain points I have with many email clients today, including my service of choice, Newton. It supports rich formatting, customizable gestures, and has quick access to my calendar.
Everything you need to know about the KEYone's software features
BlackBerry's other apps do a damn fine job replacing Google's own versions, too; from the calendar to an excellent task manager, they're simple and well-designed, and leave no glaring holes compared to what you'd get on a Pixel or a Galaxy. And they sync with Exchange, so they'll work with your existing office setup. You do have to contend with BBM being pre-installed, but if you're going out of your way to buy a KEYone, you may also be one of the people maintaining a presence on BlackBerry's once-ubiquitous messaging service.
Notes and Notable, two similar-sounding apps that do vastly different things — the former is self-explanatory and the latter lets you annotate screenshots and photos — are examples of other value-adds that come pre-loaded on the device, and BlackBerry's DTEK software still keeps you apprised of your phone's security.
By default, BlackBerry still shows its so-called Productivity tab, a holdover from the curved edges of the Priv and a welcome addition to the software retinue. It's received a nice makeover here, though, with a full-screen overlay that offers a quick glance at unread emails, upcoming meetings and unfinished tasks.
From the very beginning, BlackBerry's take on Android won me over. Like OnePlus's Oxygen OS, there are just enough useful changes to Android to justify their existence, but they don't get in the way and never bog.
A note on security
That BlackBerry is able to seamlessly blend its security and enterprise assets into a phone like this is admirable. The company boasts a number of security advantages over its rivals, like a constant check for hardware changes and a verified boot that ensures the software has not been tampered with.
Once booted, the phone is constantly scanning installed apps for traces of malware, and a fast rollout of Google's monthly security updates put it on the same footing as the Nexus and Pixel line.
To say that BlackBerry's phones are the most secure devices on the market may be a stretch — the Pixel will almost certainly benefit from having a newer version of Android, plus monthly security patches, while the KEYone languishes on Nougat for some time — but they are certainly among the most secure, and that counts for a lot in this day and age.
Good and really good
BlackBerry KEYone Performance and Battery
Running on the Snapdragon 625 platform with 3GB of RAM and 32GB of storage, BlackBerry Mobile spent a lot of time at the phone's inception justifying the use of an older mid-range chip on a phone that, at $549, approaches flagship prices.
I've had great experiences with Android phones of similar pedigrees, in particular the excellent Moto Z Play. But when I first received the KEYone, I was shocked to see how much slower it seemed than that highly-optimized Motorola device. Indeed, not only was it occasionally difficult to type without lag, but apps would load slowly, menus would crawl as I scrolled, and the keyboard's smart scrolling would intermittently fail.
The good news is that after an update (the day before the review embargo lifted, natch), much of the grime disappeared, and the phone began running the way I hope it will when it reaches retail. Even on this new software build I'm going to save my definitive thoughts on performance until I received a retail unit with final software, since there are still areas where BlackBerry can tighten things. Still, the Snapdragon 625 chip inside seems to provide sufficient horsepower for the meandering tasks I submitted to it, including the occasional game of PinOut and Super Mario Run (my two mobile game addictions of the moment).
Even better is the battery life which, like the aforementioned Moto Z Play, spans days, not hours. The 3,505mAh battery is half of the equation, the other half being the power-sipping Snapdragon 625 and relatively low-resolution LCD screen. This is a great combination, and is sure to win power users over. Whereas a phone like the Galaxy S8 left with 10-20% at the end of a long work day, the KEYone often leaves me with close to 50%.
BlackBerry KEYone Cameras
Much ado was made about the fact that the KEYone boasts the same 12 megapixel IMX378 rear camera sensor as the Google Pixel. But as we've learned countless times throughout the past couple of years, a smartphone camera is far more than its choice of sensor.
The KEYone can take great photos, and does a good job outdoors and in situations with moderate light. The combination of a sensor with large 1.55 micron pixels and a relatively wide f/2.0 aperture provide the right ingredients, and even on Auto mode I took some remarkable shots, including some photos at dusk that I'll treasure. Same with macros, even though the minimum focus distance is a little far for my liking.
Image 1 of 14
It's indoors, in artificial light, where the Snapdragon 625's aging image signal processor, and the phone's lack of optical image stabilization, rear their combined Hydra heads. A surfeit of grain and poor white balance make barely-usable photos, especially when a moving subject is involved. This isn't unique to the KEYone, but given that the phone has, on paper, the same camera potential as the Google Pixel, it shows just how far the right software tuning goes.
BlackBerry does have a pretty great camera-taking experience on its hands, though, with one of my favorite manual modes of any phone camera I've used. It's also really nice to have the space bar, which is always in reach of the thumb, double up as a shutter button.
The phone takes decent-yet-shaky 4K video at 30fps, too, and the 8MP front camera gets the job done.
BlackBerry KEYone As a phone
BlackBerrys were always known as stellar phones to, you know, make calls, and the KEYone is no exception. Not only is it easy to hold in one hand, the textured plastic back is exceptionally comfortable and grippy. Sound quality from the earpiece is superb, and calls made over Bell's network tended to be clear, sharp and agreeable to the other person.
Agreeable to me was the single downward-facing mono speaker, which to BlackBerry Mobile's credit continues a long line of superior audio experiences on smartphones bearing the brand.
Similarly, network speeds were blazing fast over Bell's network (the carrier will sell the KEYone when it's launched May 31 in Canada), reaching speeds of up to 150Mbps using carrier aggregation.
BlackBerry KEYone Final thoughts
One of my favorite things about the KEYone is the ability to use the keyboard as a trackpad, to scroll through articles without having to touch the display. This was true of the Passport and Priv and it's true here, too. But the phone isn't otherwise usable in one hand, especially not for typing; my thumb doesn't reach the 'Q', 'A' and 'ALT' buttons when gripping the phone in my right hand, and because the keyboard is permanent there's no shrinking it down as on a virtual keyboard.
This illustrates a fundamental frustration I have with the KEYone. To some, its inflexibility is a selling point — the selling point — for a phone they've ostensibly waited years for. The long-awaited Android phone with a proper BlackBerry keyboard that yields no real compromises.
If you're that person, this is your phone. Buy it. Don't think twice. You will be happy.
If you're curious about the KEYone and want to put aside your big-screen phone for one with a keyboard — to return home for a time — the privilege will cost you $549 and some retraining.
But cast aside the keyboard for a moment and look at the KEYone's other traits: it's not too dissimilar to a phone like the Moto G5 Plus, which in its most powerful configuration is just over half the cost of the KEYone.
Should you buy it? Only if you need a keyboard
On its own, the KEYone is a pretty good phone. It's also the best phone with a keyboard you can buy. The gulf comes from the fact that no one else is doing what BlackBerry Mobile is doing, and no company comes close to offering the combination of features, performance, battery life and a physical keyboard.
If the keyboard is important, you've probably already made up your mind. Buy the KEYone and live a happy life.
If you can live without a physical keyboard but still want that BlackBerry pedigree, skip the DTEK line and go find a Google Pixel. Then go download all of BlackBerry's excellent apps, including the Hub and Launcher, and enjoy your newly-redecorated home.
4 out of 5
How does KEYone compare to the Priv?
BlackBerry has two Android phones with physical keyboards, and they're both great. But how does the new KEYone compare to the older Priv slider? Jerry Hildenbrand pits key against key.
Be an expert in 5 minutes
Get the latest news from Android Central, your trusted companion in the world of Android
Daniel Bader was a former Android Central Editor-in-Chief and Executive Editor for iMore and Windows Central.