BlackBerry DTEK60 review: A great Android phone and the best BlackBerry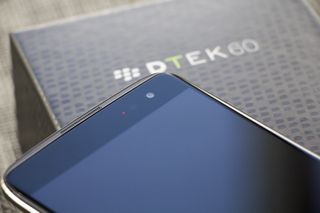 No, I haven't lost my marbles. The BlackBerry DTEK60 really is that good.
Like a lot of Android fans and people who write words about phones for a living, I chuckled and instantly dismissed the DTEK60 before it even arrived. BlackBerry having Alcatel make a phone for them and deigning to charge a premium price for it sounded like a recipe for disaster much like the Priv. Good phone, great phone — none of that matters when you're competing against the Samsung juggernaut, especially when you have BlackBerry's reputation (mostly unfair, in my opinion). I mean, come on. Is BlackBerry even still in business? They lost about 99% of their market in the past five years and everyone outside a small group of the BlackBerry faithful has written the company off. What could they possibly do to turn things around?
You start by making a phone like the DTEK60, that's what.
Before we go too deep here, you need to take a few minutes and read through one of the most comprehensive phone reviews ever written. Bla1ze has detailed every single feature that BlackBerry's Android has and you'll have a great understanding of how the company stands out in an ocean of companies building Android phones.
Read: CrackBerry's complete DTEK60 review
We start there because the software is what makes the DTEK60 worth looking at. The hardware isn't bad — Snapdragon 820, 4GB of RAM, QHD display, and even an SD card slot. It's the same configuration as every other "flagship" Android phone sold since last March. Drop all that into a fairly nondescript package from Alcatel parent, TCL, and you have nothing that's going to catch anyone's eye. The $499 price tag also isn't going to grab your attention and suck you in because there are other phones using equal or better hardware that hit that price or are cheaper. This is a problem almost every company that makes Android phones is up against — a good phone at a reasonable price just isn't enough in a world where Samsung and Apple exist.
The phone itself flies. You can ask any of the people using one every day and they will tell you the same thing, From a performance standpoint, the DTEK60 will do everything you want it to do with nary a whine or whimper. The usability — good hardware combined with good software — of the DTEK60 does a commendable job making up for the one glaring hardware blunder: not including image stabilization in the camera. Honestly, that's the only real fault I can find with the phone hardware that's not a matter of opinion or preference. In late 2016, if you make a smartphone you need to have a kick-ass camera on it.
5.5-Inch QHD AMOLED display
2560X1440 (534ppi)
21MP rear camera
ƒ/2.0, Phase Detect Auto Focus,
Dual-LED flash
1080p 60fps video
8MP ƒ/2.2 front camera
3000mAh fixed battery
Qualcomm Quick Charge 3.0
Snapdragon 820
Adreno 530 GPU
4GB RAM
32GB internal storage
microSD expansion
Android 6.0.1 Marshmallow
On-screen BlackBerry keyboard
Contextual auto-correct
Touch-sensitive gesture control
DTEK 60 hardware
Using the DTEK60 for a busy week filled with too much running around on the T-Mobile network left me with no complaints. Battery life was between acceptable and good while syncing all my stuff and all of Android Central's stuff. Call quality was exceptional (the DTEK60 has the best speakerphone I've ever used). The data connection was great around my home where T-Mobile offers good service and as good as any other phone in the places where T-Mo can be spotty and plain bad. The fingerprint sensor is fast and accurate.
Bluetooth worked with my MotoROKR headphones and a handful of standalone car speakerphone setups. The screen could be better in the sun, but it's as good as the Nexus 6P which always worked well enough for me. Since I don't take a lot of pictures with my phone, I had no complaints. Everything was good, but plenty of other phones are all good when it comes to things like battery life or call quality.
Image 1 of 2
The glass back is expected on most any phone built nowadays, but the addition of a programmable convenience button wasn't. It works well after you set it up to open one of the things that you often need to use. The DTEK60 is a completely unassuming package that more or less matches everything else worth buying in its price range on the outside.
So what makes the DTEK60 one of the phones I would suggest a person spend the money they worked hard to earn and buy? The software and the "total package" it brings to the table.
DTEK60 software
When you turn on the DTEK60 you know it's running Android. You also know it's a BlackBerry. The company has mixed the two to create the best BlackBerry consumer phone ever offered in a way that will appeal to people who like using Android.
That's not easy to do. Motorola does it. Every now and then a company like Alcatel will do it. But most of the time, it's not very successful and it takes some user dedication to getting rid of the things that need to go and adding the things that are missing — the ASUS ZenFone 2 was a great example of this. It was a great phone after you made it a great phone.
The alternative is to follow what companies like Samsung and LG are doing and replace everything you can replace. That's great for the Samsungs and Hauweis of the world who can afford it (software developers don't come cheaply) and whether you like the style of their products or not, you can't deny that these companies deliver a complete product filled with things that just work once you log into them. And companies have to be successful with how they change the operating system, because if every phone ran plain vanilla Android, everyone would buy either a $100 Moto E or a Pixel and we would be out of a job.
Things haven't really changed since the Priv introduced Android on a BlackBerry. The software looks and feels like vanilla Android with BlackBerry's complete suite of services and software installed. But BlackBerry has improved at writing Android code, and the DTEK60 has hardware that's a good bit more powerful. BlackBerry's application suite includes the launcher (complete with swipe gestures and shortcuts), the excellent software keyboard, an OS-integrated password manager and BlackBerry Hub and Productivity tabs. To offer the Hub integration BlackBerry users expect the contacts, calendar, and dialer apps have been customized. These apps, as well as BlackBerry Tasks, work with the productivity tab so everything is where you would expect it to be if you're interested in using it.
It just so happens that I'm not a fan of either the Hub or the Productivity tab. After seeing if there were any differences specific to the DTEK60 (there are none) I turned off and disabled both. There's nothing wrong with either, but they just don't fit into the way I do things and I'm too old to adapt and try new things.
Even without these services in use, I find my core set of communication apps, namely contacts, calendar, and dialer, are easy to use and do the things they're supposed to do in a logical and easy way. No, it's not exactly the same as the way Google does it. But it's all done well and doesn't force me to change from how the Google way does those same things. Of course, BBM is included because you can't make a BlackBerry without adding BBM to the pot. I just wish more people used BBM because the service is feature-rich and secure (unless you live in a few countries in Asia where "the man" has access). But talking to yourself gets old, and Phil is never online (read my message with the teddy bear stickers, Phil).
Oh, and a note about Nougat. It's coming, we know that. But this runs Android 6.0.1 Marshmallow, which is fine, because it's fast as hell, but it still would have been nice to see this running 7.0.
Image 1 of 2
Building software that offers expanded functionality yet is still great when you don't use any of it isn't easy, but BlackBerry nails it. What started on the Priv is now finished on the DTEK60, and I can say I like BlackBerry's take on the core Android experience. Who'd have thunk it?
Other changes are cosmetic and the rest of the vendor software — things like the clock or the settings work just like they work on a Nexus or Pixel phone even if the colors and graphics have changed. We were impressed with how Motorola managed to do this a few years back, and we're just as impressed with the way BlackBerry has done it.
DTEK60 security
The DTEK60 has proven to be as secure as promised. We aren't sure of the exact details on some of the things BlackBerry does to make it so, but they take everything Android from Google offers on the security front and add to it.
The kernel is further hardened, the base system ha protections to keep from being modified and to stop everything to wait for the user to decide what to do if it were to happen. The boot services are secured in a similar way on top of the standard encrypted lock. Add in the fact that BlackBerry has never been even an hour late on any Android security bulletin updates (they're usually early and the first to receive them) until you add a carrier who doesn't care that you receive them on time (that means AT&T — they don't care about your online security as much as Google or BlackBerry) and you can't argue with BlackBerry's claim that the DTEK60 is the most secure Android phone available.
There's also a DTEK app (which stands for Detection) that doesn't really contribute to any of this that the company insists on keeping around and talking about. It alerts you that you may not be as secured as you could be without any advice what to do about it or any helpful information with a meter and a scary red section. It's not hurting anything, it's just not very useful the way it is. I hope BlackBerry improves it or drops it rather than spend any resources maintaining it the way it stands.
The most important thing about this security feature stuff from a user standpoint — their full disk encryption methods (FIPS 140-2 compliant if you work somewhere that makes that mean something) — doesn't bog everything down. A big part of the random 10FPS lag-glitch we see on the Priv can be attributed to file system performance. That's fixed on the DTEK60.
DTEK60 final thoughts
BlackBerry has taken Android and made it their own. The Priv showed promise but performance issues put a damper on any excitement most people would have for it; the DTEK60 is what it looks like when it all works as intended and runs well. They done good. Real good.
The price is in that tough spot where you can find some great stuff. Phones between $300 and $500 are now considered cheap when they offer top of the line hardware and a great interface to do things with it. I think BlackBerry's attention to user security and privacy is something that adds plenty of value and makes the DTEK60 stand out from other good phones at the price point. Especially when it comes without any drawbacks to using it.
If the Pixel was never built, I'd probably use the DTEK60 as my phone — the one with my own SIM card that I won't be resetting or changing until something replaces it next year. The core software experience is great right out of the box and even things you've not used before work the way you would expect them to work. If a friend or family member said they were buying a DTEK60, I'd say it's a great choice, and if they were looking to buy a new phone I'd point them at it. I liked (and used) the Priv right up until I got the DTEK60 and expected it to be usable. I didn't expect it to be this good.
BlackBerry did a great job on the DTEK60, and it's more than just a phone people coming from "old" BlackBerry should look at. You should look, too.
See at BlackBerry (opens in new tab)
Android Central Newsletter
Get instant access to breaking news, the hottest reviews, great deals and helpful tips
Senior Editor — Google Ecosystem
Jerry is an amateur woodworker and struggling shade tree mechanic. There's nothing he can't take apart, but many things he can't reassemble. You'll find him writing and speaking his loud opinion on Android Central and occasionally on Twitter.
Probably going to be one seriously underrated phone.

Sadly, yes. And can you blame it? Not only because most carriers don't carry it, or the fact it barely has marketing dedicated to it, but rather because the priv led a bad taste in many peoples mouth, so...having Faith in blackberry is difficult. Oh, the fact it's kewl to hate on blackberry right now also doesn't help

It's really a shame most carrier's don't carry them. Why bother even talking about it!

It really wouldn't matter if the American telcos carried it, they wouldn't promote it and that's a worse situation. Spend money trying to get the American telcos to sell it, they don't, and then you've wasted money. Put it into alternative marketing channels and probably sell just as many, Maybe more. They should really rename cellphone stores "Apple and Samsung distribution centres". That's all they sell because that's all the clerks know (calling them salespeople is an insult to salespeople).

Nice read, and a good phone. Thanks, Jerry.

Sadly people only buy galaxies and iphones

The average consumer, (non mobile nations readers), will never know this device exists because not one carrier is carrying it. Shame, it looks to be a fantastic device.

These phones don't sell well due to the fact most carrier's do not carry them. Your limited to AT'T T-mobile or metro. Let's face it the masses are on Verizon or Sprint and they just don't carry them!!

True enough. Probably because that's what's pushed in the carrier stores. I'd be interested to see if there is a predatory pricing kickback offered by Samsung and Apple for selling their products.

Had this been released on Verizon I would have opted for it as I've been a Blackberry user for years. My last phone was a Z10 which I just retired for the pixel. Maybe someday I will be back on a Blackberry but I'm rooting for them anyway.

In addition, it's a great looking phone. Glad to see a few remaining companies moving away from the simple black slabs. Also, a neat feature that was missed in the review is that it has a front facing flash. Which, to my surprise, is a fairly nice feature. I'm guessing Jerry doesn't take to many selfies... lol

Finally some attention it deserves

I had decided to pick one of these up in the next week or two but just got word we're (phone is through work) switching back to Verizon in the near future. I understand why but it's a shame TCL doesn't make a Verizon compatible version.
Oh well.

It's a pity that Verizon is stuck in the world of CDMA. Maybe one day they will see the light.

But it's not a BlackBerry. It's an Alcatel. Just because I throw a Porsche logo on a Honda doesn't make it a Porsche. It's just a BlackBerry sticker. And this is coming from a long time BlackBerry fan. I probably would have went with this device, if it was an actual BlackBerry device. Instead I am with the Pixel XL and couldn't be happier, so it's a win for me!

Here's the thing, I think that BlackBerry has really done enough to make it worthy of the brand. And it has done so where it really counts, the software enhancements. I'm actually so impressed im thinking about ditching my 6P for this or the Moto Z. I really like phones that are rare and underrated haha

So if it was the same exact device but Alcatel didn't have a hand in it and it was all BlackBerry, you'd buy it?

Agree. Alcatel did a fine job on the build (have the idol 4s). It's galaxy type stuff (glass metal etc). The BB software makes it unique to BB. Alcatel's design /build is a good thing in this instance (unless you're in looking for a keyboard).

Honestly yes I would. I am just not a fan of Alcatel. For various reasons.
I am not denying that it's not a great device. The specs are finally top notch for BlackBerry. Even more so then what the PRIV was when it launched. Damn the SD808!

So why didn't you mentioned that you use a HTC phone?

Haha fair enough. I get that.

I mean it is the same thing with the Pixel right? Google did the software and had HTC built the thing, just like BB did the software and had TCL designed and manufacture it. I guess that BB chose a reference design and the Pixel was designed as its own thing so there's a difference, and HTC does have a great reputation in terms of hardware, but ya... I too wish BB would design their own phones still, but having something like this D60 is better than having no BB at all.

Very much so.
I was just never a fan of TCL. Obviously right now BlackBerry wouldn't be able to go to HTC and ask them build a phone. Need to start off somewhere.
I am very much looking forward to what the future will bring for BlackBerry. Hopefully it doesn't become e a TCL exclusive and they become the only ones to put a BlackBerry sticker on there. I really do hope that other brands work with BlackBerry in the future.

Now that you mentioned it, a HTC/BB collaboration with HTC hardware and BB software would be awesome.

Well think about it, isn't a Pixel a HTC!

Obviously you don't understand the product. To use your own metaphor, Porsche went to Honda and got them to take an Accord body and put Porsche modifications on the engine, Porcshe brakes, suspension, audio, and remote starter on it. Add a bit of sport flarings, and THEN put the Porsche label on it. Kind of looks the same, but performs like a Porsche. Kind of looks like an Alcatel, but performs like a BlackBerry. I doubt you were a true BlackBerry fan. If you were, you'd understand the importance of what they have done.

I bought the Priv based on Jerry's and Russel's strong recommendation of the phone and hated them and the Priv almost from day one. I went through 4 of them owing to poor build quality and serious problems with the software. The phone had major multitasking problems and all 4 of mine had all of the problems you read about in the Priv forums including the over heating and poor battery life. To this day Jerry says great things about his Priv, and I got out of mine 3 months in because the phone was literally driving me crazy. There is a reason you can buy them now at give away prices. So I moved to an OP3 and never looked back. Why I would want a BlackBerry Android when I can get the OP3T with the latest processor and upgrades is beyond me, especially if you're turning off the hub and the other software goodies that come with BlackBerry phones.

The difference with BB and OP is that you won't ever get 4 replacements to try with OP, you might get a single replacement in 3 months, if you're lucky. Great phones, terrible customer service.

The Priv was the worst Android phone I have ever used. It had a terrible camera. The battery life was terrible. I barely lasted a week on that terrible device, and I gave it six more days than what it was worth.

Funny, the PRIV has been my best device. Hate that you had a bad experience.

I ordered one on release day and have been using it since. It's a fabulous device and I can echo everything said here..... I wrote up a full review on the 8th of November, after a bit of time with it. There's nothing I'd change in that review, but the site here won't let me include the link; they claim it's "spam" (uh, no, it's not, and there's no reference to "money" in the article -- other than the price of the phone, which, well... yeah.) Mobile nations bites, in short, but the DTEK60 is great.

I bought one and really thought it was good, but returned it because of two things. I could not stand the home/power button being on the top left side. It is very hard to use in that location. Also, the camera was just so-so. Otherwise it was a great phone that I would have enjoyed keeping.

Really?? You returned the phone because of where the POWER BUTTON was located? I guess some people just can't adapt.

Jerry, no comments on the speakers and/or DAC? Are they carryovers from the Idol4s?

I don't have one, but from what I have read, the speakers are amazing. Apparently the sound is equally good whether face up or face down because the speakers come out front and back. It would be good to hear from someone who has one.

Looks like a few ex-BlackBerry fans have gone over to Pixel (me included) The Alcatel looks nice but its running old software. That aside it was Chen's attitude to consumers that really did it for me (dont ask about the next phone we're a software company rubbish) BlackBerry phones seem to be squarely aimed at Enterprise customers and the average consumer doesn't count. Shame as I loved the virtual keyboard. Retired Z30 fan.

You can load the BB keyboard apk onto your HTC (I only say that because of your referencing of Alcatel ;) ). It's easy, too bad BB doesn't give us a way to load it from Google Play. I would totally pay for the excellent keyboard along with a few other Hub services.

Definitely do what FF said. I loaded the BlackBerry keyboard onto my Pixel and it's awesome.
There is a great thread on CB to walk you through all the steps.
https://forums.crackberry.com/showthread.php?t=1059855

Good review, Jerry. I enjoy your stuff even when i don't agree 👍
I'm always shocked when i read a fair review of BlackBerry . I'm also surprised you don't like the hub. I can't live without it . I guess you get used to what you get used to. I also like being able to change the recent apps screen, preferring tiles to masonry or Rolodex.
Looking forward to your review of Google WiFi.

Nice review. Not for me though. I have tried on-screen buttons on the LG G3 and feel it is too slow having to tap the middle of the screen in some apps to bring up the buttons. This is true of Kindle which I use a lot. Meizu has it right. Only one physical button for a number of functions. Similar deal on Lenovo's ZUK series.

I can't see the need for home buttons of any sort. I have been working with an Android device lately and cannot stand having to use the home button (physical or virtual) to do so much in terms of moving around apps. Swiping is much more intuitive.

Excellent review. If I was in the market for a new phone this one would be on my top list

Looks great. However not a fan of phones with glass backs. Somewhat spoiled by the rubberized backs of my old Z10 and Priv.
Yeah I know, get a case blablabla but believe it or not, I like my phones without cases.

Bought the DTEK60 when it first came out. Honestly it is a great device!!

Research In Motion is doomed as a result of profound arrogance and incompetence, and they are long past the point of no return. Thomas Campana Jr. will finally rest in peace when RIM expires.

Do some research, Research in Motion changed their name to BlackBerry almost 4 years go...

Sounds like you hit the rewind button on your whine machine and went back too far in time.

Finally a positive review of a BB product. I don't get the complaints about the PRIV. I have had mine for six months with no problem. I really wish I could sit down with Chen and give him some advice from my marketing background. It can be summarized this way--you have to spend money to make money. Take a close look at Apple and Samsung and the amount of money they spend on advertising. BB needs to hire the best advertising agency available and then saturate the media. The best thing they could do is comparative advertising. Design an ad showing the D60 beside a Pixel and compare features and then show the difference in price.

great phone! to bad it wont be carried by carriers! I came from the Galaxy S5 and now a Priv. 1 year left on my contract. i will probably go Galaxy S8 or One Plus 3T for a super cheap price within the next 9 months. Priv has been the best phone I've ever owned tho! but i really like the price per features of the one plus 3t. I'd go s8 if its somethign special....im curious about it!

I'm curious, what does having the phone be carried by your telco have anything to do with it? The phone will still work on your telco.

Great phone no regrets since I've purchased it, can't go wrong for the price compared to apples and galaxys

Looks nice, but wireless charging is a must for me. No doubt someone will post a comment saying how ridiculous that is... But I don't care. Had a Lumia 920, switched to an LG G3 (At&t, so no Qi ability)... I missed wireless charging so much, I ditched the G3 and got an S7. Guy at work with an iPhone7 has seen my wireless charger and keeps lamenting "why doesn't Apple have wireless charging?". Lmao. Don't care it's Sammie, it was the only flagship I could find on my carrier with Qi. I'd buy this Blackberry if had Qi.

Sadly there is no where to try one of these before I buy. Seem like they are only available direct from BlackBerry and on Amazon.

The only place to test it out, that I'm aware of, is at Brookfield Place. There's only one in NYC. Inside, there is a BlackBerry booth with several devices to try out and purchase.

I tuned out as soon as you said you turned the hub off. I live in my BB Hub.

This phone has everything one should need , the only thing that's missing (as a plus) is a water resistant protection.
Android Central Newsletter
Get instant access to breaking news, the hottest reviews, great deals and helpful tips
Thank you for signing up to Android Central. You will receive a verification email shortly.
There was a problem. Please refresh the page and try again.