Here's why Apple and Amazon are 'giving away' lossless music to subscribers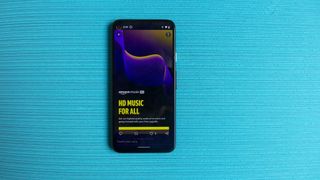 (Image credit: Jeramy Johnson / Android Central)
Recently, two of the streaming music industry's biggest players — Apple and Amazon — both announced that they would begin offering lossless audio streams to their paid subscribers at no additional cost.
This marks the first time Apple has offered a higher-quality music format to its subscribers, though Amazon (and others) have offered hi-fi or HD music for several years under more premium subscription tiers.
More things for less money (or no money) sounds great, but unless you're Neil Young or our very own Jerry Hildenbrand, I will wager that you either have no idea what lossless audio is or that you don't really care about it.
So just what is lossless audio, you may ask? Essentially, it's an uncompressed digital audio file format that offers a higher fidelity sound closer to what you might actually hear in person. There are different definitions, versions, and formats of lossless audio, but the important thing to note is that it's not a particularly common spec for most digital audio services or devices.
So why are Apple and Amazon basically giving away lossless music to their streaming subscribers? I spoke with several audio experts to get a better idea of what their motivations might be. But first, some background.
Some Hi-Fi history
High-quality music is something that audiophiles have been obsessed with for years, dating back to hi-fi home theater systems that started popping up as early as the 1960s and 1970s. Companies like Sennheiser, Bose, and Klipsch, Master & Dynamic, and Bang and Olufsen have built their businesses on offering premium audio equipment for commercial use, and that's not counting those catering to a more professional audience.
There have been limited consumer hardware options for reaping the benefits of high-fidelity music in the mobile tech space. Toward the end of the days when many people were still purchasing (or pirating) their digital music rather than streaming it, musician Neil Young attempted to launch his own portable music device in that played digital music in 24-bit, 192 kHz audio. Even though the music quality offered on Young's Pono player was better than you could get on iPods or Microsoft Zunes at the time, it largely fell on deaf ears. Ill-fated Android OEM Essential tried to offer a 3.5mm headphone jack with enhanced DAC accessory, but fewer people bought that than bought an Essential Phone. Most recently, phone maker LG was renowned for its digital audio converters (DACs) that it built into some of its premium phones, though it shut down its smartphone business earlier this year.
In the 90s, more customers began the slow transition from CDs to digital audio, and we saw the rise of file-sharing sites like Napster lead to digital commerce platforms like iTunes, which then morphed again to some of the best streaming apps that we know and love today, like Spotify. The problem with these new digital music services, at least, for audiophiles, was that the quality of the music was compromised by the various compression techniques that the service providers (and hardware manufacturers) employed to get large files to play over small bandwidth connections or to live on small storage devices.
Where there is a vacuum in a market, someone will enter to provide a solution, and Tidal was the first, or one of the first, to jump in and fill that need back in 2014. Tidal and other providers like Deezer HiFi and Amazon Music Unlimited HD have since then made premium-sounding music a premium feature, charging as much as double their normal subscriber rates for the privilege of playing Hi-Fi, HD, or lossless audio. Spotify has also announced its own Hi-Fi plan, which it plans to release at some point this year.
Outside of Spotify, Apple and Amazon are the two largest players in streaming music, and now that both companies are offering high-quality lossless audio to their paid subscribers at no additional charge, it remains to be seen how those other services can stand out, or even compete.
Musical motivations
There are several possible reasons why Apple and Amazon are making these moves now, but I think the three most important and most plausible ones are the relatively small market of people willing to pay for high-quality audio, the potential for future hardware sales, and the increasingly competitive streaming space.
Whether it's Magic Eye posters or 8K screens, it's long been my suspicion that many people feign an appreciation for greater detail that they are actually able to notice, and it appears that the same phenomenon applies with high-definition audio. I asked several analysts and experts if most people can even hear the difference between compressed and uncompressed music, and perhaps not surprisingly, I kept getting a consistent answer... no.
Phillip Donaldson, who is an audio engineer at Canada's largest television and sports networks — CTV and TSN, told me that when it comes to lossless audio, "It's a niche thing.... most people wouldn't even know the difference."
Becky Roberts is a Hi-Fi and Audio Editor at What Hi-Fi? and has written extensively on various audio file formats and hardware manufacturers quite candidly agreed when I put the same question to her. "No, I don't think so, to be honest." Roberts says that while lossless audio is a real thing, it's being used mainly as a marketing term that companies are latching onto. She also says that many people confuse and conflate lossless audio with related terms like hi-res and Hi-Fi. "I think it will really just be a niche thing, especially since you need extra equipment in a lot of cases."
Carolina Milanesi, President and Principal Analyst at Creative Strategies, said that while she could appreciate lossless music in a controlled environment, it probably wouldn't be as noticeable in regular conditions. "I have been impressed with Amazon's HD music based on Dolby Atmos Music when I first had the opportunity to hear it as part of a pre-launch demo at the Dolby Theater in San Francisco. Noticing it in a day-to-day scenario might be a little more difficult as it depends on different things from ambient conditions to the device you are using." She went on to tell me that while she doesn't think lossless music is a passing fad, she does question whether consumers are willing to pay for it. "It reminds me of HD audio calls that carriers in the U.S. were marketing years ago at a premium, and people just could not care until it became a feature carriers used as a differentiator without a premium."
If most people probably can't appreciate the difference (at least until they have the proper streaming service and equipment), it hardly makes sense for streaming services to charge for it. But speaking of that equipment...
When asked whether or not offering lossless at no additional fee was simply a move to drive further hardware sales, the responses I got were a bit more mixed than I had expected. The cynic in me thought that the obvious motivation on the part of Apple and Amazon was to sell even more expensive AirPods, Echo speakers, and HomePods, but the analysts I spoke to had more level responses to this supposition.
"Amazon already positioned HD music for its higher-end Echo, so I would assume that will remain the case... maybe expanding the range," said Milanesi. "For Apple, there might be a HomePod refresh in the works.
Roberts waivered on whether or not hardware was the driving motivation for Apple and Amazon in this case. "I don't really know if it's to drive extra hardware sales really... you'd have thought that if it were really on their roadmap, they would have dropped new $600 headphones by now." Of course, Apple did famously recently drop its new AirPods Max which cost nearly that price at $549, but it has since been discovered that these new cans can't play Apple's new lossless format; well not really anyway.
Donaldson said he thinks that we'll likely see more hardware from companies like Apple and Amazon to take advantage of this newfound audio quality because it gives them more things to sell. "It's another tagline in their advertising." But when asked if it's worth customers spending more money on new equipment, he was more forgiving. "Buy whatever sounds good to you. If you want to buy higher-end equipment and you can hear the difference, go for it. If you don't, don't."
That brings us to what many think is the real reason for Apple and Amazon's lossless largesse — competition.
"I do think it is more about customer acquisition and retention than hardware revenue, especially for Amazon," Milanesi opined. "Amazon seemed to have responded to Apple's move into the market as [its] consumers were paying a premium for HD. Competition is intensifying as we reach a cap in the addressable market. Adding subscribers will come from churn from other services rather than new users... so adding perks can make a difference."
Roberts agreed, telling me that ever since Spotify announced its forthcoming HiFi tier, it would have been hard for Apple to pull new users away if it had then decided to charge for lossless audio. She said the pressure is really on companies like Tidal now. "I think it'd be hard for other streaming services, especially the ones that established themselves as offering lossless as their USP (unique selling proposition) justifying that as a way to charge extra."
Roberts also said that she thinks right now it's just important that Apple and Amazon are getting the message out there that "lossless audio is better and it's something people should want" and that will "spur the rest of the chain to support it" including communication standards and protocols as well as hardware. She said that while it's good for the industry that Apple and Amazon are putting so much emphasis on high-quality audio, Spotify will be the real game-changer when it launches its premium audio tier because of its large user base.
Apple Music and Amazon Music Unlimited currently rank as two of the most popular streaming services behind Spotify, so it will be interesting to see if their more widely available fancy file formats can peel away audiophiles from competitors like Tidal HiFi, Deezer HiFi, and even Spotify HiFi.
What about you — do Apple and Amazon's actions make you more likely to switch to their services (or stay there if you already subscribe)? Do you care about hi-res, Hi-Fi, or lossless audio? Let us know in the comments below.
Get the Android Central Newsletter
Instant access to breaking news, the hottest reviews, great deals and helpful tips.
Jeramy is the Editor-in-Chief of Android Central. He is proud to help *Keep Austin Weird* and loves hiking in the hill country of central Texas with a breakfast taco in each hand. You can follow him on Twitter at @jeramyutgw.
I'm satisfied enough with Spotify's very high quality stream right now. I would be willing to try a "HiFi/Lossless" stream but unless I could hear a noticeable difference I would not switch services for something like that.

I bet most people are in your shoes.

I think there are three things involved.
1) The potential for future hardware sales. I think this is key for Apple at least. Consider essentially nothing they sell today supports it. Things that do, iPads, iPhones, Macs, don't have the speakers to do it justice, and of the three, only Macs have a headphone jack.
2) People want the best (specs) whether they can take advantage of it or not. It's irrelevant that you don't have the equipment to support it or the ears to discern it. I's like expensive wine. To most people it only tastes better if they know its expensive.
3) I don't think it really costs them much to provide it. They are sending out a digital stream. What difference does it make how many BPS it is. It is incumbent on the user to pay for the bandwidth and the equipment at the user end to support it. The higher quality files may cost more in royalties, but I doubt much. They take more storage, but at Apple/Amazon scale, that's in the weeds.

If this were a thing in the 80s it would've sold but most people have moved to using at best a £10-20 bluetooth speaker for their music. And lossless audio isn't usually higher than CD quality but the same quality we had in the 80s. For me I use Spotify for convenience. If I want quality I'll put on a vinyl.

My wife collected over 700 records throughout the years. Nothing beats vinyl. That's our go to music source when we are home

I just download everything from a torrent site so I don't burn data when not at home.

As a rule, people LOVE what they are listening to. But, to cop an old saying - you don't know what you're not hearing it until you're no-longer hearing it. I'll be sticking with Tidal laughing at all those folks who spend $600 on a set of cans designed in Cupertino that don't even deliver CD levels of qualtiy. And, for those of you sneering at me: get some high quality earbuds - like the $300+ kind - with wires - and go listen to some high resolution music in a stereo shop. You'll never be happy with low res again.

People aren't great at picking which is lossless and which is compressed unless they've already learned what to listen for (sometimes even if they have), but then again lossy compression formats are bad at figuring out what to preserve. They'll suck out detail from reverb tails and high end texture as unnecessary data. So while the user may not be able to do the Pepsi Challenge here, they likely will lose out on an unquantifiable pinch of emotional presence to the maths of loss. Neil Young's mistake, and the mistake of others, is to promote 24-bit and sample rates above 48KHz: absolutely unnecessary to the final product. 44.1KHz is fine: only if you have the hearing of a teenager can you hear the upper frequencies rolled off by this format's filter. 24-bit is a convenience for audio engineers during the mixing process, and is no better than 16-bit in the final master. Unfortunately, this silly macho war between the leading companies will force unnecessarily high options because one will say, "Well, WE offer 192kHz and 32-bit!" as if that's better, and the competitors will feel forced to respond by matching or exceeding it.

I'm a longtime Spotify subscriber, have been really comfortable with their service/features, but I'm switching to Amazon Music Unlimited HD. As an already Amazon prime member, my yearly Amazon Music subscription cost will be $79.99 (vs $119.88 for Spotify).. PLUS all the lossless music features! Now there are a few usability, etc concessions going with Amazon compared to Spotify, but saving $40 a yr, in addition to higher quality, more detailed music that I can hear & appreciate- that's a no brainer for me.

Most people won't know the difference because of their hardware can't deliver it. Apple iPhones? Garbage audio. I can't even listen to music on an iPhone. Samsung? Not much better. Those nice feeling AKG earbuds Samsung provided were not good enough for a 9 year old, and she literally threw them back in my drawer and got a different pair. The other difference is many people just have burned out ears that will never hear full fidelity and resolution. And since vinyl was mentioned: What people love about vinyl is the character of the music, not the quality. I'm in a unique position of personally knowing the man who refined the vinyl record production process; Bob Dennis of Motown Records fame. Bob invented the RIAA equalization curve that compensates for the inner tracks of a record being lower fidelity. His advances in record cutting technique shaped the world of vinyl records, and he had me work on his original cutting lathes using his personal notes. In other words, I'm a big fan of vinyl and have an inside perspective, but I'm not going to sugar coat the limitations. Signal to noise ratio of 70 db, channel separation of 58 db, and a dynamic range of little better than 70 db? Yep, and the frequency response degrades with every playback. Is vinyl great? Yes it is, but know why you love it.

You can hear a noticeable difference. The music is rich, full and you can hear the notes clear as day. Here's an example in TV world. Until about 15 years ago, HD TV wasn't widely used. Now everything is digital. Compare digital TV to those analog TV showings and you'll understand the difference in lossless music.