Essential's 3.5mm headphone jack adapter with enhanced DAC now available for $149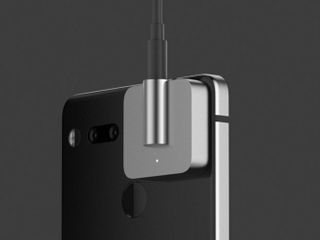 (Image credit: Essential)
One of the big selling points with the Essential Phone was supposed to be a magnetic accessory system that would allow for all sorts of fun modules. The only one that's actually come to market so far is the 360-degree camera, but now Essential is selling its 3.5mm headphone jack accessory announced back in June ... for a mere $149.
Similar to the 360-camera, this headphone jack adapter snaps onto the back of the Essential Phone using its two-pin connection system and strong magnets. You can already bring back the 3.5mm port using a regular USB-C adapter, which Essential includes in the box, but Essential says this adapter provides audiophile-level quality with a high-quality DAC. It lists a pretty impressive set of specs on its website.
Along with the new accessory, the Essential Phone's also receiving a software update that gives it MQA certification. MQA stands for "Master Quality Authenticated" and allows the Essential Phone to properly handle lossless music files "so you can experience the sound of the original recording" for what you're listening to. Pairing that certification with the high-quality (and high-priced) adapter should seriously elevate your listening experience.
Essential goes on to say that:
Unfortunately, the adapter is pricey — it'll set you back $149, which is a pretty hefty price to pay for an accessory that connects to a phone that's nearly 18 months old. Not to mention that many Essential Phone owners purchased their phones for somewhere between $250 and $400 on sale, which makes this accessory even more expensive by comparison. Forward-compatibility with a future Essential Phone would normally be part of the value proposition, but the chances of a sequel happening seem slim at this point as well.
Android Central Newsletter
Get instant access to breaking news, the hottest reviews, great deals and helpful tips
Joe Maring was a Senior Editor for Android Central between 2017 and 2021. You can reach him on Twitter at @JoeMaring1.
I've been waiting for it. You know, another essential accessory...finally. but that price is more than I paid for the phone! Even worse, I don't use the pho e that much to begin with. Sigh, I'll wait until it goes the way of the 360 camera: flash sale priced. That shouldn't take too long

Hahahaha. You can buy the whole phone for that now.

At that price it should come with a phone.

Is your username "a typical user" or "atypical user"?

Asking the important questions.

Did they misplace the decimal point? It's supposed to be $14.99, right?

Ridiculous. I've been a huge fan of this phone and it's honestly pretty amazing... but the accessories have been a failure (along with the phone's popularity obviously), I'm on my 2nd 360 camera and it fails to recognize it 99% of the time. I have to spend a while and put a lot of effort into being able to take a picture...and even then i have to hold it a specific way so the little light turns green. At least I only paid like $25 for it, can't imagine paying 150 for this

Even though I still believe the essential phone is one of the best bargains of this past year, and I still enjoy it when I put my SIM card in it, I won't be buying this accessory until it's 90% off.

It is expensive. But, it is titanium and it actually does have a lower noise floor than any on-board DAC, including LG and, dare I say it: HTC's legendary M8. If I had an Essential phone, even if I got it cheap, I'd still get this. The downsides are that it is a bit thick, you might get disconnects in the pocket depending on how strong the magnets are, the 32 bit upscaling is a waste of money, and passive headphones are a downgrade from USonic.

We need scientific proof of that through testing. Besides the QuadDAC is highly more useful because you don't have to carry some extra accessory around.

Yes, you are right, the specifications need to be confirmed. Essential posted the signal to noise ratio as being -115 db, which would be better than LG's -93.2 db, but Essential removed those numbers this morning. Like you, I would also rather have LG's Quad DAC than an accessory.

At this late in the game?lol Yeah. Crack is whack.

$149? uh, no. I'll stick with my HIDIZS Sonata at home and the HTC adapter in my cars.

And for the record, that HTC adapter is 24 bit High Res Audio certified, and is cleaner than most built-in headphone jacks :)

Doubt that, I'm getting clearer sound out of my V40 than from the optical in port on my Samsung HTiB

Just wait for the price to drop like the 360 camera. You know it will.

150 bucks for an aux cord, uhhh. No thanks I'll stick to my note 8 and buy a note 9

I wonder how many of these they expect to sell at this price? Crazy.

I just bought a phone that still have a headphone jack. Problem solved and no extra bulk.

I would much rather they had put their energy and resources toward another phone, but that's extremely unlikely.

Probably not better than the Quad DAC in the LG V series

It depends. If the numbers that Essential posted were true, it will have less noise and better stereo separation, but I suspect the numbers were an exaggeration because they pulled them off of the web page.
The only "Audio Specs" there now is claiming a frequency response of 20Hz to 20 kHz, which is meaningless because EVERYBODY claims that, even for $5 headphones at Walmart.

It would be equal because it's the same ESS 9xxx DAC that LG uses.

It's not exactly the same if model numbers are any indication. LG uses the ES9218P, this is the ES9281Pro. Implementation matters too, so even if they were the same one could end up being better in practice.
Android Central Newsletter
Get instant access to breaking news, the hottest reviews, great deals and helpful tips
Thank you for signing up to Android Central. You will receive a verification email shortly.
There was a problem. Please refresh the page and try again.