It's official: LG is exiting the smartphone business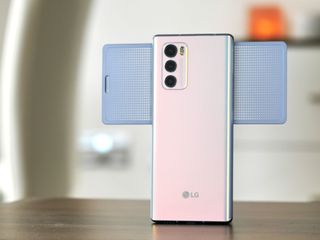 (Image credit: Alex Dobie / Android Central)
What you need to know
LG has confirmed that it is exiting the smartphone segment.
LG is currently the ninth-largest smartphone manufacturer in the world, but the South Korean brand failed to make a profit in the last five years.
LG says it will focus its efforts on 6G, EV tech, IoT, robotics, and AI.
After nearly six years of continual losses, LG has pulled the plug on its smartphone unit. The South Korean manufacturer made some of the best Android phones over the years, but devices like the LG Wing failed to make any headway.
LG sold a total of just 24.7 million phones last year, less than a tenth of its South Korean rival Samsung. With the unit posting losses of $4.4 billion over the last five years, LG has officially announced that it is exiting the mobile business. The brand will continue to sell its current inventory, but it will no longer produce phones.
LG said last year that it was open to "all possibilities" regarding its mobile division, including an outright sale. According to Korean news outlet Yonhap, the company was in talks with Vingroup of Vietnam and Volkswagen of Germany, but it failed to secure a buyer.
LG says that it will provide after-sales service and software support to its existing portfolio — including the Android 12 update once that becomes available later this year. The company's website (via XDA notes that it will roll out the upcoming Android update, and while there's no mention of what models will get the update, it will likely be limited to LG's flagships.
Going forward, LG will focus on the EV segment, IoT, AI, and 6G:
Harish Jonnalagadda is a Senior Editor covering Asia at Android Central. He leads the site's coverage of Chinese phone manufacturers, and writes about the semiconductor industry, storage servers, and audio products. Contact him on Twitter at @chunkynerd.
RIP LG. It was an...interesting run.

At this moment in time the company who is getting it the most 'right' is Xiaomi. They are releasing great phones with top specs in all categories and most importantly at the right price undercutting everyone else. Their software is good too despite what some people say. The one criticism that could maybe be said is that they maybe release too many handsets especially with their sub brands of Poco and Redmi but overall it wouldn't do some of the struggling brands like LG and Nokia to take a look at their strategy. It's not really rocket science that people want certain things as standard like 1080p screens(looking at you Nokia, Moto) 5000+ mah batteries and a decent chip etc. Get the basics right and build a good reputation so people trust your products and then build from there. The Poco X3 NFC is a great example of this with amazing specs at a proper budget price.

No, it's Samsung that's getting everything right, Samsung knows consumers value security and don't change their phones as often so took the great decision to support their phones for 4 years with security updates and 3 OS updates and Xiaomi is nowhere near Samsung in this regard, Samsung is the brand that most consumers trust unlike Xiaomi who probably has links to the Chinese government and send your data to them. People want water resistance, wireless charging for a good price and for me , Xiaomi always cuts too many corners and their £250 phones don't even have NFC which even Nokia has with their phones in the same price point or cheaper.

Maybe I'll be able to get a Velvet for a super good price before long. Keep the experience alive for another year or two. This is actually sader than losing Windows Phone.

The Nexus 5 remains one of my favorite phones and I credit as the phone that really got me into Android.

Rip LG had a good run. I'll keep my v60 till it dies

Shame, soon there will only be Chinese companies left...

You know samsung is korean, right?

Yes, let's hope they can survive or I will have a buy an iPhone or worse a Pixel... More Chinese companies making phones though, the threat is there... If the USA hadn't have hamstrung Huawei how much of the market would Chinese companies have?

I have no problem with Chinese companies per se. The problem comes with the sometimes strong ties with their govt. The govt that is awful to it's own people and tried to suppress information about covid.

Nope, Samsung will keep the Chinese garbage at bay. Samsung is the only true quality OEM left next to the pile of Chinese junk.

The 32bit DAC, will be sorely missed. One of the best things LG ever did? A very 😥sad story?

I never was an LG fan. I always felt like they were trying too hard to copy Samsung. R.I.P. LG 🥀

The LG G2 and V20 were some of the best phones I have ever used. Good luck to them in their future endeavors.

I had a G2. It was a great phone. It had the screen-to-body size ratio right when no other manufacturer seemed to care about that.

They had great hardware hampered by sh*tty software. Their skin on Android was the worst. I won't miss them. The last LG phone I purchased was the LG G4.

The LG G2, V20 and LG-built Nexus 4 and 5 were my fondest memories of the brand (they also had decent flip phones back in the day, and who could forget the Voyager and Dare "smart" phones). These are the same feelings when HTC left the industry (remember the HD2, M7, M8, etc.). We'll see what Google does with the Whitechapel SoC, and see if the Pixel will return to flagship status (competing with SD888). Otherwise in the US it's Samsung, OnePlus or Apple if you want the best hardware. I guess I'll hold onto my Pixel 4a for a bit longer...

Samsung, not OnePlus and especially not overpriced iPhone if you truly want the best hardware, it's Samsung or bust.

LG is no loss to the Android world in my opinion, LG were a bad OEM who thought that gimmicks would win the market for them instead of getting the basics right first. This is why Samsung is number one because they nailed the software (eventually) and especially the hardware, LG just couldn't compete with even the likes of OnePlus let alone Samsung, the best Android OEM.

The G5 had the potential to be a groundbreaking device. But poor marketing, few software updates, and just poor execution doomed the device from the start. The modular design with all the attachments you could put on it was innovative.

LG put innovation as priority over the basics such as cohesive software.
Android Central Newsletter
Get the best of Android Central in in your inbox, every day!
Thank you for signing up to Android Central. You will receive a verification email shortly.
There was a problem. Please refresh the page and try again.