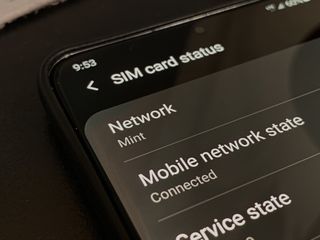 (Image credit: Samuel Contreras / Android Central)
Best answer: While Mint Mobile operates on T-Mobile's network in the U.S., it's actually owned by Ultra Mobile, another MVNO.
Get in on this plan: Mint Mobile 3GB (opens in new tab) ($15/mo. at Mint Mobile)
The origins of Mint Mobile
Mint Mobile is a unique prepaid carrier that sells its plans in multi-month bundles, rather than on a per-month basis. With prices starting as low as $15 a month, you can buy up to a year of service at once and enjoy up to 12GB of LTE each month.
Because Mint Mobile uses T-Mobile's towers in the U.S. for its service, it's easy to assume that it's owned by T-Mobile as well, but Mint Mobile is actually a subsidiary of Ultra Mobile, another MVNO (mobile virtual network operator). Ultra Mobile founded Mint in 2016 under the name Mint SIM, which sells SIM cards online and through partnering retailers rather than in its own physical stores. Mint SIM was rebranded to Mint Mobile in May 2018.
Actor Ryan Reynolds isn't the exclusive owner but he did purchase an ownership stake in the company on Nov. 25, 2019. Mint Mobile's CEO is still David Glickman but Reynolds will be involved in both marketing and decision making at Mint Mobile. Recently, Reynolds has been creating commercials for Mint Mobile as well.
Like many other prepaid carriers, Mint Mobile offers unlimited calls, texting, and data, with different allotments of LTE speeds depending on the plan you choose. You also get Wi-Fi calling, assuming your phone supports it — Mint sells compatible phones on its site but encourages you to bring your own device as well, provided it's GSM-unlocked and compatible with T-Mobile's network.
Our pick
Unlimited talk, text, and data with 3GB of LTE each month
Mint's most affordable plan is just $45 for three whole months of service. You'll get 3GB of LTE each month, along with mobile hotspot and free calls to Mexico and Canada, but of course, there are higher tiers if you need more data.
Hayato was a product reviewer and video editor for Android Central.
Android Central Newsletter
Thank you for signing up to Android Central. You will receive a verification email shortly.
There was a problem. Please refresh the page and try again.