Where did Auto Awesome go in Google Photos?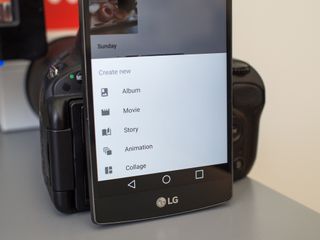 Dropping the Auto Awesome name was something that came along with the loss of the Google+ baggage, and the new name is a bit more intuitive and descriptive. Creations are animated pictures, edited still photos, collages, stories and movies that are created based on photos and videos that you upload to Google Photos. They can happen automatically or conjured up manually if you're so inclined — let us show you how they work in the new Google Photos.
Wait for Creations to happen
The first thing to know about Creations is that you haven't lost any major functionality that you were used to having with Auto Awesome in Google+ Photos. The new name and interface are the big changes, but you can still use Creations the same way you used Auto Awesome before. Just upload pictures and videos to Google Photos, and some point after that Google will process them and provide you with recommended Creations. (Make sure you have the "suggest new creations" setting checked.) There's no guaranteed time frame, but it doesn't take very long.
The outputs are the same as you're used to as well. You'll get animated GIFs made up of burst shot photos, as well as tweaked and enhanced versions of still shots and collages created from groups of similar photos. You'll also get longer-form movies and stories when you upload lots of pictures and video while moving around throughout a day or week (expect these when you travel). When a new Creation is automatically generated, you'll find it in the Assistant area of Google Photos and also receive a notification if you've enabled those in the settings.
Movies and stories can be found in the "Collections" tab of the Google Photos app or website, while collages, animations and edited stills will show up alongside the original photos they are based on in the main gallery view. You can always go in and make edits to movies, stories and enhanced photos, but animated GIFs and collages are one-off creations that you won't be able to tweak. Once you've accepted a creation and added it to your library, it can be deleted just like anything else.
Make them yourself
You can also manually create any category of Creation on your own, whether you're tired of waiting to see what Google does or want to go back and make something new that you think it missed. Simply find the + button in the Google Photos app, and then choose whether you want to create an album, movie, story, animation or collage. You can either select photos before tapping + or you can select them after, it doesn't make a difference to the end product. (A note that you currently don't have these features on the Google Photos website.)
It may take a little time to create longer items like movies and stories, but in a far shorter period of time than it'd take to render these Creations locally you'll have something new and ready to look at. You can then proceed to view, make edits and share the latest Creation just as you would if it were generated automatically.
While the Auto Awesome name may be gone, it's still here in full power — along with some new features — in Google Photos.
Android Central Newsletter
Get instant access to breaking news, the hottest reviews, great deals and helpful tips
Andrew was an Executive Editor, U.S. at Android Central between 2012 and 2020.
Thank you for clarifying this. I thought it went away! Posted from the Nexus 6, Nexus 5, or Surface Pro 3

What happened to Auto Enhance? Loved that feature. It would automatically improve photo quality. Posted via the Android Central App

Yes exactly! I'm very sad that they removed auto enhance. Thata really the only reason I backed up photos with Google instead of other places.

Auto enhancing each photo's colors and brightness seems to have gone away though, right? I'm not seeing the enhanced vs. original options as before. That was one of the best features of G+ photos because, all of a sudden, all of your photos looked better without you having to do anything!

Open a photo, select "Edit Photo" (pencil looking icon), then select "Auto"

Yeah you can do it manually, but Google used to do it automatically. Why would they drop an awesome feature like that?

It's not the same functionality... Auto enhance used to correct red eyes and other defect and make your photo better but natural. The auto mode in edit photo menu heavely modify color, contrast and sharpness but leave red eyes....

yeah, this is gone. you can do it manually, but meh, I liked that it was done already (95% of the time).

I really want this back. It made my meh Moto X 2014 camera seem so much better. That plus HDR.

Thanks for the detailed post Andrew. Yeah I'm missing Auto Enhance badly on my N5. I'm hoping they'll bring it back in a later update. Posted via Android Central App

Are people having an impossible time with posting photos to Google+ from the new Google Photos app ??? I know I'm probably the outlier that uses the G+ to share photos, but frequently I'm getting either the completely wrong photo posted, failed uploads of photos (especially with auto-awesomed photos just get the dreaded circle arrow icon), or all my portrait photos appearing sideways (happens from Google Photos shared to Facebook, G+, Hangouts, etc.). It's driving me nuts! I had to uninstall the Google Photos and fall back on the G+ photos.

I've seen people have a few issues with low-resolution versions being sent over to Google+, but hadn't heard of incorrect photos or failed shares before.

I'm going to try to record a video of it happening. It's pretty consistent when I share an auto-awesome collage or gif, it'll just send another photo altogether. Crazy really.

Here you go Andrew, please check it out. See if you can replicate at all? I'm so confused. https://youtu.be/BpwRUuoMSbI

Wow... that is weird! No idea on that one.

I had 270 photos of my mother living, and of her funeral flowers/procession. All but 5 of 270 were lost to the dreaded gray circle arrow thing. I can't figure out how to retrieve them. I am so torn up over it.

Andrew,
In your article, you said "Simply find the + button in the Google Photos app or website, and then choose whether you want to create an album, movie, story, animation or collage." This works fine for me on the app, but on the web site, touching + only allows me to create albums. How Do you create other collection types on the web?

You're correct, this is a limitation of the website and I should make it clear that you can only do albums on the web. Let me clean that up. I also would expect the website to catch up to the phone apps in functionality soon.

I have a Droid Turbo and Creating a Movie isn't even an option on my phone! Anyone else having this problem??
When I hit the "+" the only options I get are to make an album, story, animation, or collage. What really frustrates is that my wife has google photos on her Iphone and has the option to create a movie...how is that possible?!

this is the same for me. only get the option to add to album or create a new album.

Creations is a better name for Google's international audience. They should rebrand their other U.S. Centric product name (Hangouts) as well.

I'm still torn about this Google Photos update. I like the new interface and editing tools but they dropped some of my favorite features such as auto enhance and the button that lets you compare between the original and any edits that were made. Also, it keeps backing up folders that I have specifically set it not to back up, which is a pretty big error. This bothers me because I have paid storage with them and have my photos set to back up the originals instead of the "high quality" versions because with the high quality versions they compress the photo, even if it is smaller than their criteria.

There is a way.
Just go to https://plus.google.com/photos/highlights, select "All photos", select the first one, scroll down to the last one (before the update) and select it while holding "Shift".
After that, from "More", go to "Apply Auto Enhance" and use the one you prefer. ;)

Sad google could not explain this to tell people what happened or how it was changed. But Andrew again saves the day with research and knowledge, TY

There is no way right now to edit the date or location of a photo, is it? For a bunch of images that I had scanned off old printed photos, the date under which they're categorized is the scan date. That is understandable, but I would really like to be able to edit both these things.

You can do it via the Google+ photos interface. Changes you make here are reflected back into the Google Photos interface. However, I don't know how standardised this editing is (i.e. will other photo software, which you might wish to switch to in the future, recognise the changes that Google+ makes in its online editor?) Another option is if you use Google Drive desktop sync you can (optionally) sync your Google Photos folder down to the desktop. I have not tried but presumably if you edit the metadata of these files using desktop tools changes will be synced back up to cloud.

Ozaz, thank you for your reply! That is great - yes I just tried it out and location and date changes made in Google+ photos (which still exists, curiously, in parallel) are indeed being reflected back in Google Photos. Now I just need to figure out how to make batch changes in Google+, instead of one photo at a time.

I don't know if batch editing is possible within Google+ The second method - desktop sync- would probably be more suitable for this. You need to enable the option in Google Drive to show your Google Photos within Drive. You would also need enough local storage to sync down the photos (via Google Drive sync client) but I believe you could probably select one year's worth of photos at a time (within Google Drive, your photos are organised into year-based folders). Alternatively I wonder if there are Chrome apps that can batch edit metadata of photos in Google Drive (have not explored this myself)

Many of the editing capabilities of Auto Awesome movies is also gone. You can no longer extend a clip with a few seconds. Posted via the Android Central App

I noticed this as well. You can only add title, re-order, or remove an image/clip. Old Auto Awesome Movie would allow you to modify both the length/position of a clip (so you can make sure the best part is shared), and also extend/shorten the length of the movie as a whole. This was crucial for making it end on the right note of the theme song, or making sure your 10 second clip shows the best 3-5 seconds instead of clipping it off at or before the best part!

Any resolution? Did we just miss it? This was a crucial feature. Let us know if you find an answer :-)

Since you can no longer crop videos, it ruined it for me...

The fact you cant edit lenght is very bad, makes it useless. What you end up with is having no control over the video content. When is this going to be changed?

My question is; where are all of my videos I had stored in the Google+ app? How do I retrieve/find them? Posted via Android Central App

if you click the setting and use the go back to g+ photos you might find what you guys need there still. cant do creations from there either.

(As others have said) AUTO ENHANCE NEEDS TO COME BACK! The manual way is, well, manual and it doesn't seem to do as good of a job (I had the setting on 'High' for the old auto enhance). It also creates a copy if the photo instead of just the one and being able to download original or enhanced or receiving it back if you didn't like it. I would ALWAYS wait the few seconds before a photo auto-enhanced before sending somewhere. I have given feedback and inquired about this with Google. It was a took that showed off some sweet feature they built; I am not sure why they would get rid if it.

The new Photos is basically featureless compared to the original that was in Google Plus. Hopefully they bring the features back. Love the Auto enhance and the many editing features now gone. Have to use snap seed now but o well Posted via the Android Central App for Sailfish OS on my iPad 7

Making my own gifs seem to run too slow so its more like a really slow slide show of consecutive shots. I cant find a way to take a serious of shots and make them into a GIF the same way auto awesome used to do.

What I miss are the"Smile" Auto-Awesomes/Creations which would merge several group shots into a single still image with the best smiles from each person. Do you know how hard it is to get good shots when there are children in a picture? I would LOVE the ability to build those on demand through Creations. If anyone knows of another automated or on-demand way to do this, please reply!

It's still in there. I have several in photos. Posted via the Android Central App

I have some which were created before Photos came out. We're the ones you have created by Creations automatically?

I had it automatically create some panoramas for me. Very cool feature. -- RCA Voyager

Where is Chromecast support? We used that feature almost daily. Going through google plus hasn't been working either Posted via the Android Central App

I don't like that the auto awesome pics are just mixed in I liked that they had a spot that separated them so you can find them easily Posted via the Android Central App

The Google Photos app is truly amazing and I keep finding more and more features the longer I use it. Posted via the Android Central App

I cannot seem to find how the new method for creating a panorama shot nor has the previous function of "auto awesome" worked on a couple of very specific attempts to acquire a panorama from a series taken for the purpose. Would be very grateful for advice.

For the most part Google+ transition over to photos is good, however the Web based app still needs a LOT of work, multiple selecting images etc just doesn't exists in the new one, I've had to resort in using the G+ version to do things like organise the images etc. Or am I just missing something? Posted via the Android Central App

Andrew, nice write up on Auto-Awesome however I feel you need to update your article on a few missed points. 1) Auto-Enhance is gone. Photos are only enhanced manually now, and we all know that's never going to happen with the general public. 2) Auto-Panoramic is gone, so is manual Panoramic. Just gone. 3) The 'Assistant' does not pick up on nearly as many things as auto-awesome use to. Upload 50 photos and it'll maybe group it into 1 album or 'event' but nothing like what Auto-awesome use to. I appreciate your praise for the new google photos, it is nice -- I agree, however it's far from perfect as you state it to be.

1. True, and a bummer. 2. No it's not. I just got some automatic panoramas today. 3. Maybe true, but I would take less automatic suggestions plus the ability to create them on demand any day. Having to hope that Google+ would maybe decide to make a Story sucked.

Interesting, I specifically uploaded a series of 5 photos that are pano-bait you could say. Did not pick up on it at all. Nor can I tell it to do so. Thx for the feed back, maybe it's slow? Posted via the Android Central App

1) I want Auto-Awesome back, with all its features. It was amazing, I was pleasantly surprised, is as if someone was looking at my photos and choosing the best they could offer. 2) I use Google Photos because of the abysmal Facebook App, which I DELETED from my entry-level smart-phone. Google uses a lot of memory too, but offers me Sheets (that I use for business), Docs, etc etc etc.

How awesome it's so cool Posted via Android Central App

What happened to the cool little movie collages as well? That seems to be gone. I actually liked that feature and used it!

If pictures are stored online, the SD should be free...isn't it? Posted via the Android Central App

Today I sadly realised that too! Went to make a video of my holiday and all that video clips I selected were reduced to exactly 2 seconds with no ability to alter their length or from them.
Hugely disappointing as I used that extensively.
Really hope they bring that back or I'll look for alternatives.
The auto enhance is sorely missed too.

How can I make longer movies in my creations they became very short

I miss the cool surprises like shaking your picture and it snows the blinking Christmas lights on still photos.
Android Central Newsletter
Get instant access to breaking news, the hottest reviews, great deals and helpful tips
Thank you for signing up to Android Central. You will receive a verification email shortly.
There was a problem. Please refresh the page and try again.