Where did Auto Awesome go in Google Photos?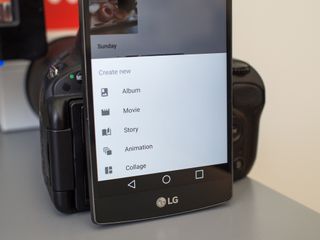 Dropping the Auto Awesome name was something that came along with the loss of the Google+ baggage, and the new name is a bit more intuitive and descriptive. Creations are animated pictures, edited still photos, collages, stories and movies that are created based on photos and videos that you upload to Google Photos. They can happen automatically or conjured up manually if you're so inclined — let us show you how they work in the new Google Photos.
Wait for Creations to happen
The first thing to know about Creations is that you haven't lost any major functionality that you were used to having with Auto Awesome in Google+ Photos. The new name and interface are the big changes, but you can still use Creations the same way you used Auto Awesome before. Just upload pictures and videos to Google Photos, and some point after that Google will process them and provide you with recommended Creations. (Make sure you have the "suggest new creations" setting checked.) There's no guaranteed time frame, but it doesn't take very long.
The outputs are the same as you're used to as well. You'll get animated GIFs made up of burst shot photos, as well as tweaked and enhanced versions of still shots and collages created from groups of similar photos. You'll also get longer-form movies and stories when you upload lots of pictures and video while moving around throughout a day or week (expect these when you travel). When a new Creation is automatically generated, you'll find it in the Assistant area of Google Photos and also receive a notification if you've enabled those in the settings.
Movies and stories can be found in the "Collections" tab of the Google Photos app or website, while collages, animations and edited stills will show up alongside the original photos they are based on in the main gallery view. You can always go in and make edits to movies, stories and enhanced photos, but animated GIFs and collages are one-off creations that you won't be able to tweak. Once you've accepted a creation and added it to your library, it can be deleted just like anything else.
Make them yourself
You can also manually create any category of Creation on your own, whether you're tired of waiting to see what Google does or want to go back and make something new that you think it missed. Simply find the + button in the Google Photos app, and then choose whether you want to create an album, movie, story, animation or collage. You can either select photos before tapping + or you can select them after, it doesn't make a difference to the end product. (A note that you currently don't have these features on the Google Photos website.)
It may take a little time to create longer items like movies and stories, but in a far shorter period of time than it'd take to render these Creations locally you'll have something new and ready to look at. You can then proceed to view, make edits and share the latest Creation just as you would if it were generated automatically.
While the Auto Awesome name may be gone, it's still here in full power — along with some new features — in Google Photos.
Sign up for Black Friday email alerts!
Get the hottest deals available in your inbox plus news, reviews, opinion, analysis and more from the Android Central team.
Andrew was an Executive Editor, U.S. at Android Central between 2012 and 2020.