Understanding 'Assistant' in Google Photos and what it can do for you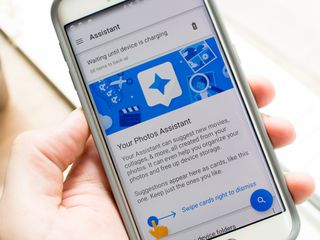 Whether you want to check up on the status of your photo backups, see the Creations that Google Photos has made for you, or be alerted of space to be freed up on your device, Assistant is the place to go. It's just a tap, swipe, or click away from your photo library, and it'll keep you in the loop with what's going on in the Google Photos world.
It's like an all-in-one notification center for everything that's happening with your photos, and it's quite useful. Here's how you use it.
What's Google Photos Assistant?
If you just opened up Google Photos for the first time and got straight into viewing photos, you may have missed the Assistant area. You'll find the menu in the slide-in left panel of the Google Photos app or website or by simply swiping to the right across the main gallery view.
The Assistant is appropriately named, as it's the one place where you'll get updates about what's happening with your Google Photos library. You'll get Google Now-like cards that show when photos are being backed up, whether the phone is waiting to charge before uploading, and when new "Creations" (formerly known as Auto Awesomes) are available to view and act on. You can even get notified when your device is running low on internal storage and with a single tap clear out local versions of photos that have already been backed up to Google Photos.
Cards will each offer you different actions, but in general they'll be pretty basic — either act on the item with a tap on the function at the bottom, or swipe away the card to dismiss it. Some notifications in Assistant such as a battery upload warning can't be swiped away but will clear on their own once the function has been completed.
How to view Assistant notifications
Open Google Photos.
Tap on the plus icon at the bottom left of your screen to open Assistant. Here you will see cards with new creations, and other notifications.
How to enable Google Photos notifications
Open Google Photos.
Tap the overflow button in the upper left corner of your screen. It looks like three stacked lines.
Tap on the gear icon to open settings.
Scroll down and tap on the toggle to turn notifications on or off.
How to disable Assistant cards
Open Google Photos.
Tap the overflow button in the upper left corner of your screen. It looks like three stacked lines.
Tap on the gear icon to open settings.
Tap on Assistant cards.
Tap on the toggle to disable the type of Assistant card you don't want to see anymore.
With Assistant at the ready, you'll never be left out of what's happening in your Google Photos library.
Questions?
Let us know in the comments below.
Android Central Newsletter
Get instant access to breaking news, the hottest reviews, great deals and helpful tips
Jen is a staff writer who spends her time researching the products you didn't know you needed. She's also a fantasy novelist and has a serious Civ VI addiction. You can follow her on Twitter.
Assist and collection is an awesome improvement over Google+ photos. previously it would create automatically even if you don't need them.
All your photos stay in photos and all your albums and auto generated content stays on Collection. this photos app is easier to use and understand

I love the collections! I uploaded a few thousand photos and it made all sorts of albums from a trips I took over the past few years. Pretty impressive stuff.

I wish it recognised albums you've already got instead of listing everything by date, so much unrelated material lumped together. I also hope they can Auto Awesome/Enhance camera uploads like G+ does. Posted via Android Central App

You can view albums in the "Collections" area. Just tap the top bar and select "Albums". You can also create and add to albums. Auto Awesome is also still here, it's just called "Creations" instead. You can select photos and tap the + buttons, then create an album, movie, story, animation or collage. It'll also just automatically create any of those things (plus enhanced still photos) iif you give it time to work.

Is it possible to upload a folder structure photos from my pc?

Of course, just use the desktop uploader: http://www.androidcentral.com/get-your-google-photos-library-and-running-desktop-uploader But it doesn't preserve your folder structure. It's going to upload them and use its own categorization.

After you upload the Photos from the folder you can organize them into an album (collection) in the Photos app Android All Day Everyday!

it is if you use the picasa uploader desktop app

There isn't any pictures in Collections or Albums. What I'm saying is that it doesn't automatically recognise the albums that already exist in my pictures folders, I have to manually create them; Piktures handles them just fine. I have to find my picture albums in Device Folders; and there aren't any pictures in Creations either. Posted via Android Central App

Yes it's a time consuming. I think their is something baked into the software that remedies this. I still looking. Android All Day Everyday!

The assistant took a couple of my photos and turned them into B&W. I actually like it and would like to keep it. But does anyone know if it overwrites the existing photo or does it create a new one? I want to keep the existing one too. Posted via Android Central App

It keeps the original and just puts the enhanced one next to it.

Great. Thank you. Posted via Android Central App

I use google photos as my main viewer and photo editor on my phone and I can tell you with 100% certainty that any change you make to a picture is saved as a duplicate, original always retained. Which is nice.

Does anyone know what happened to the HDR filter? Also... I tried creating a gif and it ended up moving soooo slow when it was finished. Anyone else have an issue like that?

Good on my phone and tablet, so far seems to not work on my pc. A little disappointed on the pc side of things so far. Posted via the Android Central App

Is there any way to increase the file size of your Google+ photos from the previous 3/5 MP cap to the current 11 MP cap without deleting and reuploading them?

From initial release and all subsequent updates, this app will force close for ANY attempt of playing a video. Anyone else?

It works on my Note 3 just fine. The videos I took with the phone that is. Don't know about other types. Posted via Android Central App

Anyone getting a "Google play services has stopped" error when selecting an album for auto back up?

I thought assistant was going to do the same thing as auto awesome and make special photos and video edits automatically. I used to get that all the time with the old photos out, I haven't had any of that since I installed the new one.

I've got a collage in my Assistant section, but I don't see a way for the app to automatically enhance pictures. Posted via Android Central App

I just got an update from Google Photos! Android All Day Everyday!

The Assistant copied all my Google Plus photos into Photos. If I now delete them in G+, will it give me more available Google storage in my 15gb account? I have a feeling that all my photos are now duplicated...

I want to be able to share all albums with family but I can only highlight individual photos to share.
Would like to see one link so everyone can access my albums as I dont want to give everyone my google passwords etc.

I uploaded some old pictures, but its not sorted by date. But sorted by when I upload them. Anyway to change that??

At least once a day I get a warning of low storage space and an option to delete local copies, usually in the order of 1 GB or so. Firstly, I don't see any corresponding increase in my phone storage, and secondly, if it deletes local copies, why do I get the same warning every day? I don't take lots of pictures, so there's little new content I'm adding. Posted via the Android Central App

I really liked some of the assistant suggestions and animations. I logged in recently, however, and ALL of them were gone - except two (we are talking dozens and dozens.) Very frustrating! Any suggestions???

I just recently started using this feature and the assistant has created some cool collages and animated gifs that I like. I chose "save to library" but now they have mysteriously vanished. I thought maybe they were saving them in the same folder date as they were made, but they are not. They are also not saving them in a recent new folder or by today's date. (I'm looking in Menu > Photos on my android and Google Photos in Google Drive on my computer and it's not in either.) It's not saving them in collections. It's not in a device folder. And it hasn't saved them to my phone either. I'm at a loss. I chose "save to library" because I liked them and wanted to keep them but they are gone. Does anyone know where these are getting saved to?

I'm experiencing the same issue. Does anyone know where these files are going?

I was wondering the same thing and found an article, from an online search, in the June 2015 issue of Wired, stating that all our (backed up) photos are at photos.google.com.

Just found this out. Click on the search box at the top. On the page that appears scroll to the bottom where you wills ee some tiles under a category called Collections. In here is where they are saved. They need to make this more obvious.

It is super frustrating to me that Samsung feels they need to make their own assistant rather than piggy back on what Google has already done. Having so many "assistants" I feel just makes everything so complicated and forces us to have more space taken up on our phones for no reason. Integrating with multiple devices also becomes difficult if manufactures have to make their devices work with Bixby, Google Assistant, Cortana, Alexa, and whatever else.

I wish Google would fix searching photos by date, and also better recognizing panoramas.
Otherwise it's really great.

I am deeply disappointed in Google. Dropping Picasa was a HUGE mistake because it was a photo EDITOR that I used CONSTANTLY and Google Photos is useless in that regard. It's offers NOTHING but storage or sharing IF your family or friends use Google. TRASH! They got lazy and that's all it amounts to.
Android Central Newsletter
Get instant access to breaking news, the hottest reviews, great deals and helpful tips
Thank you for signing up to Android Central. You will receive a verification email shortly.
There was a problem. Please refresh the page and try again.