What color Galaxy S8 or S8+ should I buy — black, silver, or orchid gray?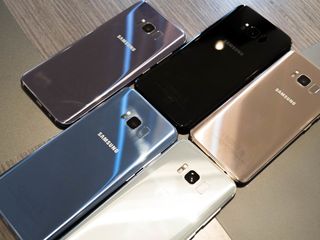 Did you hear? The Samsung Galaxy S8 and S8+ are both available for purchase and you can choose between three stunning color choices in the U.S. for either device. There's Arctic Silver, Midnight Black, and Orchid Gray.
Samsung fans overseas have access to an additional Coral Blue and Maple Gold version of the flagship in either size. It's a bummer we won't be seeing those two options stateside, but perhaps the Orchid Gray will be enough to tide over those of you looking for a smartphone that's just a bit different from the status quo. It's really quite pretty.
Galaxy S8 in black
Black car, black sunglasses, black three-piece suit — all you need to finish out accessorizing that ensemble is a black Galaxy S8 or S8+. Yeah, it's a pretty basic color, but there's a reason so many manufacturers produce their smartphones in black — it goes with everything. A black chassis also means scratches and nicks will be less obvious in the long run.
Samsung's really keen on the bezel-less smartphone life, and those lack of bezels are especially apparent on the all-black Galaxy S8 and S8+. You won't see the rounded corners unless the screen is on, and the effect makes it appear as if the screen really is an infinity display. There's also thin black buttons on either side that blend in ever-so-nicely with everything else — like a black car with black rims.
Who is it for?
Anyone who wants to keep it simple, as well as anyone who really doesn't like the reflectiveness of the other Galaxy S8 and S8+ color combinations.
Galaxy S8 in silver
The Galaxy S8 and S8+ in Arctic Silver are definitely cool looking, but that depends on how much you enjoy seeing your reflection every time you pick up the phone. At least you can use it to check your makeup.
Regardless of whether the Arctic Silver variant is hyper-reflective and hyper-distracting, it's still an attractive offering. However, if you end up choosing this variation, you may find it's safer from the elements inside a case. Scratches and fingerprints become grossly obvious against this kind of sheen.
Who is it for?
Anyone who doesn't care what color their carrier representative grabs for them from the stock room.
Galaxy S8 in orchid gray
Finally — a little something different from the status quo. Rather than launch the standard gold, silver, and black trio of devices, the company opted for this attractive, lilac-toned gray hue in lieu of gold. It's called Orchid Gray, and like a real life orchid, it's just as rewarding to look at as it is to take care of it. You'll definitely want to wrap this up in some sort of case.
It's also good to see a typically feminine color skew a bit toward the masculine. Orchid Gray works for anyone, and it's a nice addition to Galaxy S8 color lineup.
Who is it for?
Orchid Gray is for anyone who wants to stand out. You'll want to hold out for this one if you're looking for something special.
The colors you won't see in the U.S.
Remember that gorgeous Coral Blue Galaxy Note 7 that was offered overseas before the whole battery fiasco recalled it? It's back on the Galaxy S8, though it's still limited to certain markets. It's a bummer, too, because the pigment in the coral blue variation is truly impressive. Hopefully, the future of smartphones means brighter, bolder colors.
Maple Gold is also an offering for Galaxy S8 fans overseas, and it's similar to the gold variation of last year's Galaxy S7.
Android Central Newsletter
Get instant access to breaking news, the hottest reviews, great deals and helpful tips
Florence Ion was formerly an editor and columnist at Android Central. She writes about Android-powered devices of all types and explores their usefulness in her everyday life. You can follow her on Twitter or watch her Tuesday nights on All About Android.
That orchid gray is stunning. Looking forward to seeing it in real life with someone else's phone hopefully.

That orchid gray is pretty darn amazing. It's the first color i actually like better than the white variant. All of the colors look nice though.

Idk, which matches your trash can?

Sill leaning on black but yea that purple one is one I can't wait to see. Best buy will have them maybe this weekend

Samsung clear cases (backs) provide basic protection without hiding the design or the color. The backs are clear, and the edges and corners match the color of the phones. I've used them on the S6 edge and S7 edge, but you do still have to be very careful with your phone. They're not for everyone.

I've had every edge galaxy no issues here love them

Their all boring colors!!!!

Apple will sell you a pink phone if that's more your thing trying to help

Samsung is holding off on too many color variants in the US market this early. I'd expect to see 2-3 more between the iPhone launch and Christmas to remind consumers they're there.

Yep that's business 101 Apple just did it with that butt ugly white on red 7 my opinion of course .the carriers have a lot of say on the colors .kind of surprise about the gold not coming though

We really need an article to help us decide what color to buy? But the one YOU like best. No one else's opinion matters.

I saw the title caption and looked at the name of the author. Enough said. Didn't read the article but headed for the comments hoping for some scathing contributions. I was greatly disappointed.

I usually just choose black phones and cases but that orchid gray is what i want when i win the Android Central Galaxy s8 giveaway ;)

That orchid grey looks awesome.

It is pretty cool looking

I saw the orchid grey s8 today and it's a dope color!! I'll be getting the lack but was surprised at how nice the orchid looked

I like the silver one the most. Although I like the coral blue, I don't think it's available in the US.

black suits should only be for funeral and weddings

Anyone think Samsung wants the Note 8 to have coral blue in the US? Remember how people swooned over the coral blue note 7? Then Samsung turned around and slapped it on the edge? I would expect that they want 1 exclusive color for the Note.

Liking the orchid gray the best. Still would have been nice to have the option to get the coral blue.

Why do they (all phone manufactures) limit the colors by region. It seems US mostly gets the standard colors a lot of the unusual ones will be overseas. That Orchid gray does look unique though.

Ordered the black s8+.. should I cancel and get Orchid Grey? Dammit

Leaning towards the Orchid Grey as a nice change, but would LOVE for Samsung to offer the Emerald Green here in the US (Emerald green was offered in the UK on the S6). Coral Blue would also be great.

Black is Beautiful,If you choose Black you never go Back.

Really confused between the Black and Blue variant. What do you guys think?

Orchid grey! It's a nice color and changes in different lighting.

Waiting on my Orchid Gray to be delivered right now.

With all this Galaxy S8 talk, being an S7 owner myself (with a failed Note 7 before that), I just went to Best buy and got myself an Xperia XA Ultra. It's a great replacement to those who feel like they still wanted a Note 7, and for 280 bucks, you can't really go wrong with it.

Saw them all at the local Verizon store last night. The all black is very sleek looking but it's glossiness is the most apparent and fingerprints show the most on this color when in the light. Ended up preordering the Orchid Gray as I usually like the non-standard, unique colors. It's a very nice hue and shows fingerprints less than the all black model.

Funny you mention the fingerprint problem on a black device. The author claims finish defects are more obvious on the silver one compared to the black. I takeb issue with this because, if you park almost any color car next to a black one, swirl marks are more obvious 9 times outta 10 on the black vehicle. Same goes for deeper scratches.

I have the orchid gray now and it's amazing in the light.....

Definitely orchid gray. It looks amazing, classy, and unique! Job well done by Samsung.
Android Central Newsletter
Get instant access to breaking news, the hottest reviews, great deals and helpful tips
Thank you for signing up to Android Central. You will receive a verification email shortly.
There was a problem. Please refresh the page and try again.