Wemo Smart Plug review: The little plug that could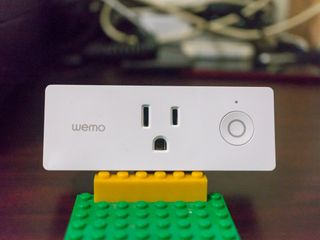 The life of a smart plug isn't very glamorous. There are a few moments of appreciation when the box is first opened, some quality time spent getting to know each other and setting things up, then a lifetime of being kept out of sight, out of mind, and just being used. That doesn't sound like much fun if your the plug, and if you're the user you really only care about one thing: dependability.
Dependability means that everything works as it should, with the things you have now and the things you buy in the future. Wemo understands this part of the relationship: the company has long been a manufacturer of smart plugs, smart switches, and other small smart home products. And the compatibility end is covered well, too. You'll find the Wemo brand is right at home talking to and working with Google Assistant, Amazon Alexa, Nest, IFTTT and even Apple HomeKit. Not many smart devices under $30 can make such grand claims.
The Good
Price
Size
Compatibility with smart assistants
Dependability
The Bad
An atrocious app
Difficult to set up
Wemo Smart Plug What's great
I have a house filled with Wemo's smart outlets and switches, so I'm very familiar with the brand. You probably don't have a Wemo-made product in the rooms you spend time in, but that doesn't make a difference — the Wemo Smart plug is still going to work with just about every gadget that you do own.
Supporting Google, Amazon, and Apple (as well as the cross-platform machinery at IFTTT) means you'll be able to control and integrate the Wemo Smart plug easily into your everyday life. If you use Alexa or Google Assistant, it's controlled as a native device. That means all you'll need to do is set it up on your home network through the Wemo app then connect your Wemo account to your assistant and you'll have full functionality. With HomeKit, Wemo is taking advantage of Apple's Homekit Software Authentication program and works without needing any bridge attached to your network.
On the feature side, it can really only do one thing: be turned on and off remotely and programmatically. You tell Assistant to turn off the Kitchen Plug, and off it goes. But once combined with native features of the various smart platforms, the Wemo Smart plug can be built into any routine where turning on or off automatically is beneficial. You can turn off the Christmas tree lights (an area where smart plugs are a godsend) at 11 pm for example. Or turn on the electric kettle for a hot cup of tea with breakfast.
If you need to provide power to anything with a plug without plugging it in, a smart plug is your best friend. Wemo not only works every time, but its cross-compatibility nature makes it one of the best smart plugs available.
Wemo Smart Plug The unpleasant side
To get things off and running, you'll need to connect the Wemo Smart plug to your home network's Wi-Fi. You do this, unfortunately, with Wemo's Android app.
For as good as the hardware and features of the Wemo Smart plug are, the app is equivalently bad. The setup is typical of a small smart accessory: provide power, connect to the device through its own short-range Wi-Fi hotspot and provide your network name and password. After some microcontroller magic, the credentials for your network are written to the device firmware and you're now connected. Ideally, your next step would be to check out the app's remote features where you can control your Wemo devices through the app on your phone from anywhere then connect to your smart assistant of choice.
In reality, unless you're very lucky, you'll be frustratingly resetting and trying over and over to get the app to recognize the plug or to get your phone to reliably connect to the device's own wireless network.
This is especially frustrating with the Android app, as it seems to be less reliable than the almost-as-horrid iOS version. But make no mistake, neither is a very good experience. Most frustrating of all, once you're finished there's a good chance it "didn't take" and the device won't be visible through the Wemo app — which also means it's not visible through your Wemo account and can't be connected to any other service.
Thankfully, the fix is easy: persistence. You'll just need to keep trying and, eventually, it will work. Then you'll never need to open the Wemo app again and can use your phone's assistant feature to control it.
This can be a frustrating experience for someone who is constantly adding and removing smart devices from their home to make their living, but it's a potential show-stopper for anyone less familiar with the process. I know more than a few people who would love to have a gadget like the Wemo Smart plug but would be put off by the setup procedure. I can't recommend this product to them, though I wish I could as once setup it's a joy to use.
Should you buy the Wemo Smart Plug?
You're not going to find another smart plug that works with every platform, is this reliable, and costs under $30. The Wemo Smart Plug is one of those rare devices that does exactly what it says on the tin and exactly what we expect it should.
4 out of 5
Unfortunately, there are plenty of folks who won't or can't make their way through the apps unpredictable and unforgivable setup routine. This makes the Wemo a hard sell for a lot of people. If you're somewhat technically inclined or willing to persist through a process that doesn't work as described, you'll be able to get things going. If you're not, spend a few more dollars and give up some of the cross-platform usefulness and buy another brand.
Otherwise, this would be a true five-star product that I would heartily recommend to everyone.
See at Amazon (opens in new tab)
Senior Editor — Google Ecosystem
Jerry is an amateur woodworker and struggling shade tree mechanic. There's nothing he can't take apart, but many things he can't reassemble. You'll find him writing and speaking his loud opinion on Android Central and occasionally on Twitter.
I bought 3 of these and replaced them all after a year. They are awful. they will randomly not connect, randomly not respond to google assistant, and were just completely unreliable. But the last straw was that my parents also have a couple of these plugs and I made the mistake of opening the app while at their place on their wifi, and it linked my plugs with theirs, and we could turn each other's plugs on and off, which was... less than ideal. After attempting for a week to un link the two homes, I gave up and got rid of my plugs. I would not recommend these at all.

I bought one and installed it with absolutely no issues. I'm not sure what the author means by the app being 'atrocious' as I can remotely control the plug from anywhere and it works every time.

Then you are lucky as hell.

I'm with you. Bought 6 and have had no issues. I've even moved them, renamed them, and accidentally unplugged them. No problems at all. They're simple but they do what they are supposed to do. Integrated with Google Home...

I bought two of these within the last 1-2 years and back then the app to set them up was indeed atrocious as described, but also as described, the devices were excellent and worked flawlessly once setup. However, I just recently bought the Wemo Light Dimmer Switch and when I went to set that up, the app was worlds better and I did not have any issue - the setup was very simple. So it looked like they had ironed that out by now as well.

I guarantee you as a user of nearly every wemo device for years, they have not ironed out the bugs. You just got lucky. Be vigilant because something stupid funky will happen. It's just a matter of time.

I was one of the people who tried the Wemo lights when they were first released... and they're just as terrible then, as now.... I returned them after two days of trying to get them to work... Never.. EVER.... buying a Wemo product EVER again...

I have several Wemo plugs. Once set up they work fine. I also recently bought Merkury smart plugs at Walmart which were much cheaper than Wemo. I don't know that they work across all platforms, but they work with Alexa and once set up they work fine. I can't post the price but go online and look it up. Also bought Merkury smart led bulb that does colors and dims and just screws into your lamp for the same price as the plug.

What is the point of a smart plug?

I use one to power my Chromecast so it isn't running 24/7. I use another to power a lamp that is hard to get to.
I can walk into my living room and say "living room on/off" and it all shuts down.
Setting a timer is nice also. If you have a heating pad on your bed you can have it running before you get to bed.

I originally bought Wemo smart plugs as my first step into smart devices mainly because they seemed to be like Nest as in they were partnered with Google making it seem like a good place to start. Other than saying they still work years later and they have a slim design is really the only positive thing I have to say about them. Like the article states the app is terrible, slow to start, and not intuitive. Also, I dread any time I have a firmware update. Those never work on the 1st attempt. Usually takes 3 tries or it never works and I have to do a factory reset. I've since moved on to TP-Link Kasa for plugs, switches and bulbs, even got their mesh wifi when we moved too and have nothing but good things to say.

Prefer TP Link plugs primarily due to the significantly better Kasa app

I have 7 of these plugs now. They have been mostly reliable except for firmware issues. The latest one turned 5 of my minis into expensive paperweights until hard resetting each one. WEMO support is not very responsive. Took them 3 days to acknowledge the issue even after multiple people reported it. These can only be recommended for tech savvy people who are willing get their hands dirty troubleshooting when things go douth. (For the record, I own other smart home devices for just as long that run much better, namely LIFX lights. )

In the past couple of days Android Central has reviewed both the Wemo and Amazon smart plugs. With both plugs I had connection and set-up problems and have returned them. I am convinced that the wi-fi on these plugs was too weak to stay reliably connected to my network. The only smart plug I have had that is consistently reliable and stays connected has been TP-Link.

All my smart plugs are Wemo. I absolutely love them!

wish the wemo plugs were that small when I got them. the ones I have are huge.

I've used wemo products for years and this review is spot on. Their app and the setup process is amazingly bad. Often times I will simply lose one out of the app, but it still remains functional from Google home and Alexa. I have a few bulbs which they don't sell anymore and occassionally they will power themselves on in the middle of the night. I'm certain it's because some are refurbished and are still connected to someone else's routine/rules. I would hesitate to recommend these to someone that isn't technically inclined a bit persistent, but for the price and connectivity they are a good fit in my house.

I have about a dozen Wemo plugs and switches installed throughout my house. Yes, they sometimes can be a bit of a pain to get setup through the app. But once setup, integrating each device into your ecosystem of choice -- I use Google Assistant -- is almost too easy! IFTTT integration is spot on! Ask me the last time I turned on or off my outdoor lights manually?! I really can't remember. Wrapping each plug into a routine is slick. When I say, "Hey Google -- Goodnight"... the Wemo / Nest "orchestra" begins! This summer the 3-way switches are supposed to be released -- can't wait! Clearly I recommend the Wemo devices. I may try out the new TP-Link Kasa outlets when they are finally released. May be a worthy competitor to the Wemo plugs.
Android Central Newsletter
Thank you for signing up to Android Central. You will receive a verification email shortly.
There was a problem. Please refresh the page and try again.