Surface Go vs. Chromebook: Which is better for you?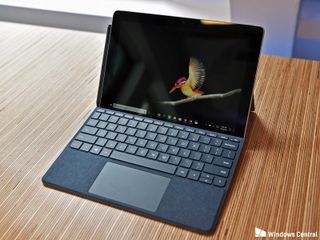 Microsoft's Surface Go is going to be available soon, and it's an intriguing device: $400 gets you a well-built tablet with full Windows. You can use any piece of Windows software built in the last twenty years, or stick to the store and web for an easier experience. Microsoft is positioning this as the perfect device for students, schools, and businesses.
But Chromebooks may be a better option for all of those. Chromebooks don't have the backlog of software that Windows does, but most users can get by with the web and Android apps. Chromebooks are also easier on budgets and IT administrators' time
For this comparison, we'll take a look at the Lenovo 500e since that is this year's best Chromebook for students. There aren't any Chromebooks with the same processor as the Surface Go, but this is close enough for comparison's sake.
Storage
To be fair, students shouldn't actually use local storage. Google Drive and OneDrive are both available and plentiful for all of your files, so you don't need to worry about losing your thesis on a thumb drive. On both Chrome OS and Windows, you'll need a bit of local space for your Android or Microsoft Store applications and their data. Chrome OS is much smaller than Windows, so it uses less of the disk space.
The Lenovo 500e comes with 32GB of EMMC storage. This isn't a huge amount, and it won't be blazing fast, but it will be enough for what users will do on a Chromebook. Meanwhile, the Surface Go comes with either 64GB of EMMC storage, or 128GB of faster SSD storage.
Another issue to consider when looking at storage — both capacity and speed — is updates. Chrome OS downloads and installs updates in the background, as the user is going about their day. Windows downloads updates in the background, but only some updates install in the background. The semi-annual giant Windows updates are going to be especially painful on the slower EMMC storage. Chrome OS just needs one minute of downtime for updates, while the lower end Surface Go will need much, much more time.
Windows also needs a lot of space for updates, in case a user needs to roll back to previous versions. Two-thirds of your total space is going to be taken up for 2 months out of the year, stressing cloud storage even more.
Design
The biggest draw of the Surface Go for some students will be the lightweight: it clocks in at 1.15 pounds (without the Surface Cover) — much lighter than the three pounds the Lenovo 500e weighs. If you want something to use as an e-reader or for inking, the Surface Go's lighter weight will make either of those a much more enjoyable experience. Even the detachable HP Chromebook X2 weighs in at 1.6 pounds, making it heavy compared to the Surface Go.
Ports
The Surface Go includes a USB-C port that allows for charging, data transfer and Display-Out, the proprietary Surface Connect port, and a 3.5mm headphone jack. The Lenovo 500e comes with two USB-C ports that both allow for charging, data transfer and display out, two USB-A ports, a microSD slot, and a 3.5mm headphone jack. The Surface Go isn't a bad option if your school or business has invested in Surface Docks, but for most consumers, the wider range and number of ports on the Chromebook will be better.
Software
Nothing else about a computer matters if it can't run the programs you need it to. If something you need to use isn't available in a website or as an Android application, you're not going to have much luck with Chromebooks. Conversely, 60% of U.S. schools have been able to use Chromebooks to do everything they need students to do, so you're likely to find success.
The Surface Go ships with Windows 10 Home in S Mode. This is the same Windows 10 you know and love, but out of the box it's locked to the Microsoft Store. This is more secure than the wild wild west of normal Windows programs, and your machine will be better for it. If you DO need an application that isn't in the Microsoft Store, you can switch to the "normal" mode of Windows for free.
There's nothing that says you ONLY have to use Chromebooks or Surface Go's. If budgets allow, your school corporation could issue a Chromebook to every student, then pick up some Surface Go's for specific courses.
Maintenance
As someone who professionally manages both Chromebooks and Windows laptops, I can say without a shred of doubt that Chromebooks are going to be easier for school IT administrators to configure and deploy. Setting up a Chromebook for Enterprise use takes about one minute, and moving the device to a different student is as easy as having them sign in with their email address. Windows laptops will take much longer, especially installing and updating a custom image on the slow EMMC storage. You'll also need to factor in the downtime every six months for major updates, and even a little bit of time each month for smaller updates.
Price and Availability
The Surface Go, uh, goes for $400 for the 64GB storage/4GB RAM model or $550 for the 128GB/8GB version. But that's just the tablet. You'll need a Type Cover keyboard for any serious amount of typing, which adds another $100. And stylus users will need to shell out another $100 for the Surface Pen. $600 isn't terrible for a single student, but the extra money adds up quickly for cash-strapped schools or non-profits.
This Chromebook is $300 outright. The keyboard is attached, and there's a pen in the box. The stylus isn't nearly as capable as the Surface Pen, but that means it's inexpensive enough to be included and inexpensive to replace if need be.
You — or your school corporation — can order the Lenovo 500e or other comparable Chromebooks today, while the Surface Go won't be available until early August. That's great timing for individual students going to college, but it'll be a bit tight for school corporations that need to get the tablet imaged, configured and ready to hand out when school starts in mid- to late-August.
Which is best for you?
Unless there's a specific, Windows-only program you need for coursework — or you intend to do A LOT of inking — the Chromebook is going to be a better buy. It's at least half the price of the Surface Go when you factor in the price of the keyboard and pen, Chrome OS is a more secure operating system than Windows, and Chromebooks do what a majority of students and teachers needs them to.
Chromebooks also require less time (and therefore money) for schools to set up and administrate, letting them spend their money on more machines for more students.
What are your thoughts?
Are you thinking about buying a Surface Go? Let us know in the comments section!
Be an expert in 5 minutes
Get the latest news from Android Central, your trusted companion in the world of Android