Lenovo 500e Chromebook review: A true winner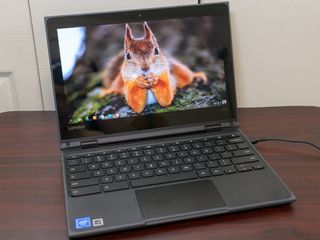 (Image credit: Jerry Hildenbrand / Android Central)
When part of your job is reviewing products, you get to a point where you know almost everything you want to say in the first 15 minutes.
It's refreshing when something comes across your desk that breaks that theme. Unboxing and charging the Lenovo 500e Chromebook had me thinking this was another solid offering from the company that knows laptops like no other, but not something that would offer any surprises.
That line of thinking was completely wrong and this Chromebook quite literally surprised me. In a very good way.
The construction: Tough and full-bodied
It's certainly not how it looks; the 500e is not what you would call pretty in any way. It wasn't designed to be, and instead is a utilitarian dark thick plastic reinforced in the right places to be considered rugged.
As part of the Yoga line of products, it doesn't get the classic ThinkPad treatment of rubberized black construction that helps a tough laptop look good. If having something that will turn heads at the coffee shop is a must in your next Chromebook, then the 500e isn't for you.
That doesn't necessarily count as a negative. It looks tough and rugged, and that's what it is. The thick soft plastic shell helps make the 500e drop-resistant up to 29.5 inches (the height of a school desk) and MIL-STD-810G compliant.
The 360-degree hinges are thick and solid — you can't make the two halves wiggle laterally even if you try — there's a rubber bumper around the entire body, and even the ports are reinforced. It's built tough enough for the U.S. Military to use which also means it's tough enough for kids in primary school to use.
The durability doesn't stop there. The display is covered completely with Corning Gorilla Glass 3 NDR (native damage resistance) which uses a separate sheet of alkali-aluminosilicate glass that prevents chips and gouges in a full size display.
To round things out the keyboard and trackpad pan are designed to be water resistant so a spill doesn't send your Chromebook to that ranch in the sky where dead Chromebooks run free. It's built tough, so I'm fine with it looking like it's built tough.
Use it three ways
As a convertible device, the 500e does suffer a bit because it's bulky. In tented or display mode for tasks like watching a video or chatting on a hangout, it's great. I think the bit of extra volume keeps it more steady, though that is probably perception and not reality. But as a tablet this thing is thick and heavy.
A few days of trying different things with it and I've found it's fine for some tasks, like sitting on a desk or table while you're doodling in tablet mode, but not very good at others — don't fall asleep with this one over your face. I've become able to ignore the keyboard keys when a Chromebook is folded into a tablet, but when you add in the extra bulk and weight it's just not that comfortable to hold. Maybe I could get used to the weight, too, but I'm doubtful.
My takeaway here is that you don't get both a rugged build and a feather-light weight in the same device. Lenovo knows this as well as you and I know it, and decided that toughness trumps slimness. Some of us will agree with that idea, and this is built for those who do. It's definitely something to consider before you buy.
The specifications
Swipe to scroll horizontally
Category
Spec
Processor
Intel Celeron N3350 (1.10 to 2.4GHz)
Display
11.6" HD (1366 x 768) "ComfyView" LED backlit IPS panel
Graphics
Intel HD 520
Battery
3490 mAh (up to 10 hours)
Camera
720p HD front facing camera with HDR support
RAM
4GB LPDDR3
Storage
32 GB eMMC
Ports
2 USB-C 3.1
2 USB 3.0
Micro SD card reader
Audio combo jack
Connectivity
Intel dual-band Wireless AC (2x2 MIMO)
Bluetooth 4.2
Dimensions
11.65-in x 7.83-in x 0.71-in
Weight
2.43 pounds (1.35kg)
Hardware features: Good & Plenty
The 500e has everything you want a modern Chromebook to have when it comes the hardware. Powered by a 64-Bit Intel Celeron N3450, it has plenty of power to run anything Chrome will throw at it and I've seen no problems with a handful of tabs in the browser plus several Android apps running.
There isn't a lot of difference on the user end between an Intel chip or an ARM chip when it comes to Chromebooks, provided the ARM chip is built for the extra load. But having a 64-bit Intel X86 processor puts it in the front of the queue for some upcoming Chrome OS features like Linux programs or anything that would use CPU virtualization like the rumored emulation mode.
The 4 GB of RAM and 32 GB of storage are on par with almost every other Chromebook in the price range, and both are adequate. RAM hungry applications tend to run full window so suspended apps will free their RAM, and the news that Google is finally happy with using SD cards for Android apps makes 32 GB of storage plenty for an average user.
Power users may have needs that require more of either or both, and you probably already understand that a normal Chromebook isn't the right device if that's you.
The ins and outs
The 500e has all the ports you need. There's a USB Type-C port on either side, and the power delivery spec means you can use either to charge the Chromebook or to charge another device like your phone. I got a kick out of the power supply that ships with this Chromebook, as it's designed to look like an old-school laptop power cord complete with a box inline.
A more standard looking 45 watt charger is also available from Lenovo if you want to grab a spare. You also find a USB 3.0 Type-A port on both sides (seriously, well-done Lenovo) as well as a micro SD card slot, Kensington Lock slot, and a combo 3.5 audio jack.
As your windows to the world, you'll find two HD (720p) cameras on the 500e. One is where you expect to see a camera on a laptop and the other is nestled above the keyboard to use as a "world camera" when folded into tablet or tent mode. Both are fine for their intended purpose — video communication — but you'll not want to use them to take photos of your wedding or a once in a lifetime trip.
The display
You'll be impressed with the quality of the display on the 500e, but not impressed with the resolution.
It's the same industry standard 1366 x 768 resolution we see in hundreds of other laptops. I can't say that's a bad thing, but seeing something a bit bigger in the display department is always a welcome surprise. The good news is that the IPS LCD Lenovo is using is beautiful.
The colors are bright and a tad bit over saturated, there is no color shift or banding while watching video, and the viewing angle is nice and wide. It is a glossy display which makes me a little skeptical about outdoor use but nonstop rain since it arrived has kept me from doing much testing in this department.
Touch and Pen input
The digitizer on the 500e is excellent. It's responsive and accurate even when working with multiple windows at the same time and the tough balance between precision and palm rejection is on-point.
The 500e comes with an on-board pen hidden in its own slot. It's a fine-point stylus using Wacom's EMR (ElectroMagnetic Resonance) tech, which has become the standard for Chromebooks as of late. That means you don't need any batteries and any suitable stylus with an EMR coil will work just fine.
EMR tech comes with a few drawbacks. Most notably, jitter or drift of the cursor depending on the angle of the pen and how close it is to the edge of the display. There are two ways to offset the issue, and one is bonding the digitizer layer to the LCD. It appears that Lenovo has done this and apps that have been optimized for Chrome Pen input (the second way to mitigate any drawbacks) as well as the Chrome OS interface itself work great. Keep and SketchBook have a drawing experience that's as good as anything you'll find.
Android apps that haven't been optimized for Chrome Pen input still work and aren't horrible, but you'll occasionally notice a bit of cursor lag, especially when near the edges.
The keyboard and trackpad
The keyboard and trackpad on the 500e are absolutely outstanding.
We don't get to say that about Chromebooks very often, but Lenovo has outdone itself here and the keyboard in particular is a pleasure to use. There's plenty of travel on the roomy keys with the perfect amount of resistance. The only thing I would have like to see was key back lighting, but at this price point that's a rarity. This keyboard is a solid 10 out of 10.
I was skeptical about the trackpad, but didn't need to be. It's not glass coated, but it is nice and large and tracks my fingers very well across its smooth plastic surface. It's not Pixelbook level, but the 500e also isn't $1,000 and the trackpad is one of the best you'll find in the price range.
The software and performance
There's nothing special about Chrome OS on the Lenovo Chromebook 500e, and that's fine with me.
Google's on-boarding process has been overhauled to be friendly and easy to follow, and you'll go from opening the lid to being up and running in no time. Especially nice is the way the whole thing stops and shows the full EULA for those that wish to read it.
Google Play integration is also seamless and after you sign in you're given the option to use the login at the Play Store. Saying yes will update a handful of "stock" Android apps on Chrome and put an icon for the Play Store in your tray.
Performance was as expected across the board. Most everything works well and offers a great user experience, though an Android app or two will be ugly and janky in full screen. One thing you will notice is how apps like Microsoft's Office suite lacks integration with the Chrome pen input API and can be a little jittery when drawing or writing fast using long strokes. You see it more because the apps that are optimized, like SketchBook or Squid work so well.
Lenovo says the 42 Wh battery on the 500e will last 10 hours, and that's pretty close to the truth. Surfing the web or streaming video gets you all day battery life but full screen intensive tasks and games cut into that considerably. It charges fairly quickly with the included charger and can be used with no problems while charging.
Should you buy this? Yes!
The one thing you should consider before you buy the Lenovo 500e is the way it's built. Being tough and ready for some abuse means it's not a looker, and notably thick and heavy. it's intended to be a tough Chromebook that's ready for the education market, so this isn't an oversight or accidental — the Chromebook 500e is supposed to be a Hummer and not a Corvette.
Besides the way it looks, there are issues using it as a tablet because of the tough design. thick durable plastic and rubber combined with heavy-duty 360-degree hinges mean the 500e is thick and heavy when folded back onto itself and not ideal for holding in your hands or reading in bed. No excuses here, and no apologies from Lenovo — this is exactly how the 500e is supposed to be.
If you're looking for a Chromebook that's affordable and performs well, plus has the added bonus of an excellent keyboard and optimized construction for Pen input, the Lenovo 500e Chromebook is an excellent choice. I'd highly recommend it to anyone without concerns about using it as a tablet. It's the best Chromebooks we've seen from Lenovo, and one of the best of 2018 so far.
The Good
The Display: brightness and color pop.
Rugged and water-resistant design.
Excellent keyboard feedback.
Highly optimized for Pen input.
The Bad
It's thick and on the heavy side.
1366 x 768 resolution should not be a thing in 2018.
No keyboard back lighting.
Unwieldy when using as a tablet.
4.5 out of 5
Get the Android Central Newsletter
Instant access to breaking news, the hottest reviews, great deals and helpful tips.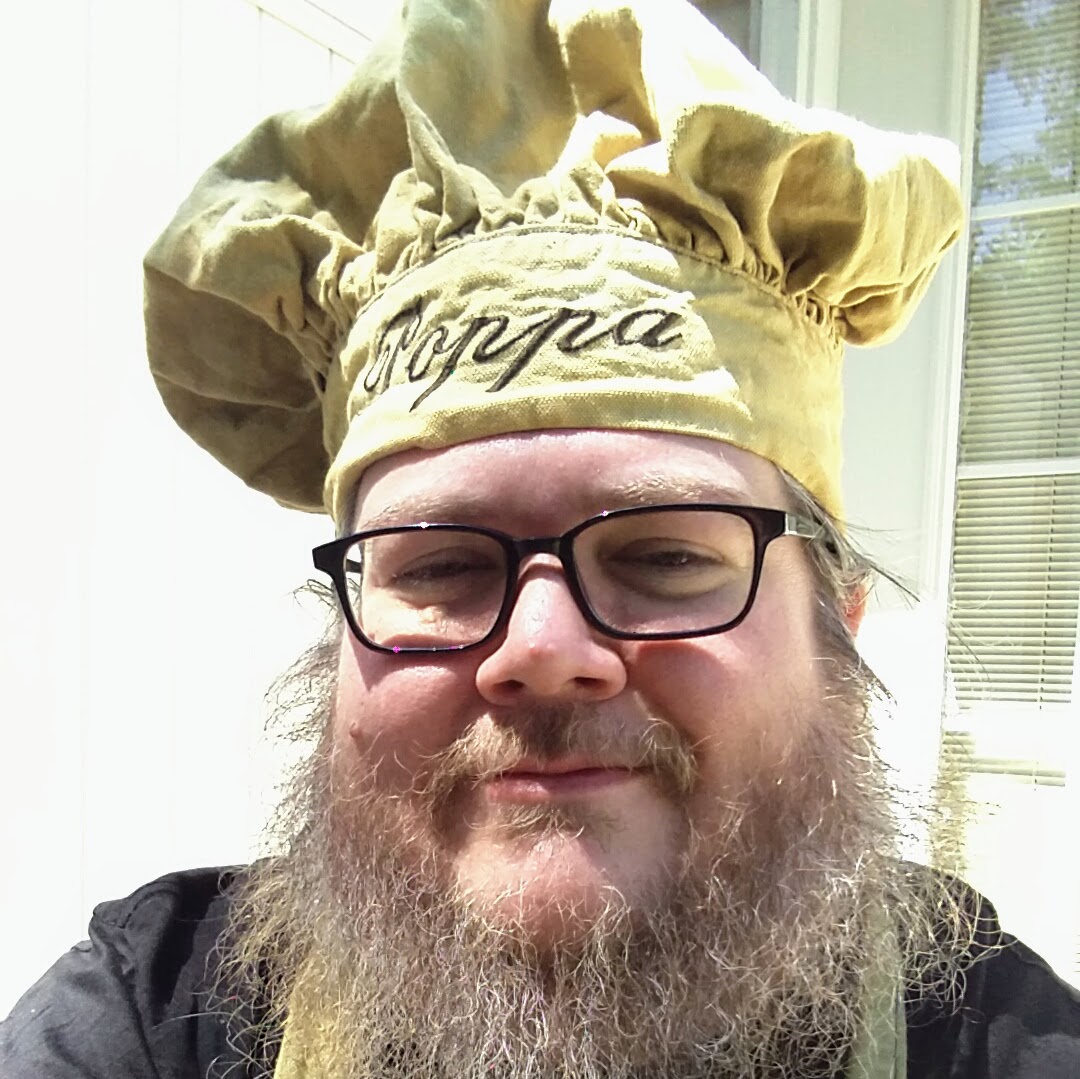 Senior Editor — Google Ecosystem
Jerry is an amateur woodworker and struggling shade tree mechanic. There's nothing he can't take apart, but many things he can't reassemble. You'll find him writing and speaking his loud opinion on Android Central and occasionally on Twitter.