Chromebooks in the workplace: How one non-profit uses Chrome OS to get things done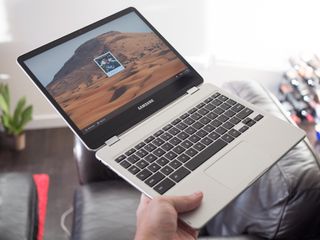 (Image credit: Android Central)
Despite its first impression, Chrome OS is great in the workplace. Every type of business needs access to email, internal sites for company announcements, calendars, and other basic tools. For the longest time, Windows has dominated the business landscape, but increasingly Chromebooks are challenging that notion.
During the weekdays, I work for a non-profit focused on mental and behavioral health. We have offices in a few counties in central Indiana, so we need to be able to communicate instantly to take care of our patients. While some members of our staff use Windows laptops and desktops, 80% of our workforce uses Chromebooks or Chromeboxes, and we all connect with Google's enterprise services. Certain workarounds are necessary to make all our tools available on Chrome, as I'll talk about, but most of it just... works.
Let's explore.
The basics
When our employees sign into their computers or open the Chrome browser at the beginning of the day, we have three tabs open for them: Gmail, Google Calendar, and our company Intranet. Some pro users may prefer using a dedicated email application, but most people just access their email from a website. Most of our new employees tell us they have a personal Google account, so we don't have to do much training to get them up to speed with using Gmail, Calendar and other tools.
All of the documents that stay within the company are handled inside Google Docs, and our spreadsheets and presentations are done inside Google Sheets and Slides. Since everything we do is automatically saved to Google Drive, no work is lost. When we do our orientation classes, we show the collaboration features in Google Docs; it's incredible watching everyone type into the same document and have everything "click" in their minds.
The same goes for other services like Hangouts. Google deserves the bad reputation it has built over the last few years with all of its various and opposing messaging applications, but enterprise users haven't been hurt by that.
Hangouts has been rock solid for us, and it integrates directly with Google Calendar. When someone creates a new meeting, they automatically get a Hangouts Meet link for video conferencing. They don't need to visit a separate page or check a certain box because it just happens automatically.
Speaking of Hangouts Meet, that tool is the coolest part of my job. We have a few Chromebooks that are set to only load meet.google.com. Setting this up didn't require a different version of the operating system or a separate license: every time we need to set up one of these Hangouts Meet Chromebooks or Chromeboxes, we just enter the serial number into a list in Google administrative console. Reboot the device, and that's it.
These Chromebooks have saved our skins plenty of times over the last few months. There are some days where a doctor in one location has a light patient load, and there are a large number of patients in other locations. The doctor starts the Hangouts Meet session, the front desk staff at the other location connects to them with a meeting code, then the patient goes into a room by themselves and talks to the doctor over the video conference.
The patient can't load any other websites, and if the Chromebox reboots or the session ends, it automatically goes back to the Hangouts Meet home screen. It's cool as heck, and has quickly become a vital part of how we treat patients.
Our conference rooms are all run on Hangouts as well. Any Chromebook or Chromebox can be tied to a conference room calendar, and any user in those meetings can share content with the other participants by using Google Cast. These machines aren't running some ancient version of embedded Windows or Linux; they're using the same version of Chrome OS as our other devices. They get updated automatically every six weeks, and if something breaks they can be replaced in less than 20 minutes.
Using Chrome devices has plenty of advantages for our IT shop, as well. Chromebooks and Chromeboxes are much faster to setup and configure than Windows computers. There was one day I configured and updated 50 Chromeboxes, while I can typically do three or four Windows laptops in the same amount of time. Chrome devices are encrypted out of the box, and while hardware failures are still a thing, almost every software problem can be fixed with by factory resetting the device or recovering it.
Workarounds
There are some tools we use that aren't web-based, however. In this case, programs like Parallels Remote Access, Citrix and VMWare can be used to host, deploy and manage these applications.
We also need to be able to share documents with outside companies, most of which use Microsoft Office. Google's tools do an okay job of converting to and from Microsoft's formats, but they aren't foolproof. This means we also have a handful of employees using Microsoft Office — either accessed remotely through Parallels or installed to their Windows PCs. Some of our staff use Windows laptops because Chromebooks often can't reliably print to a printer over USB. Our marketing team needs Photoshop and After Effects, and while Adobe has started to make these available to Chrome devices through the Google Play Store, they aren't a replacement for their desktop equivalents just yet.
These use cases are our low hanging fruit, and the majority of employees are perfectly productive on a Chrome device. Most of our employees even prefer Chrome OS over Windows because it is harder to mess up, and is easier to navigate. This makes me even happier since Chromebooks are safer and easier for us to keep track of. My main ongoing project is to find people using Windows laptops that don't need that much power, offer them a Chromebook and see how they do. Everyone I've done that to has been extremely happy, which makes me happy and increases productivity for the reasons listed above.
We use Chrome and Google services, but Microsoft is going in the same direction with Office 365. Whenever I have to install and license an actual program on someone's laptop, it feels so… archaic. Being able to have the user visit a website and type in their password is so much easier, both for me as an administrator and them as a user. We're on our way to being 100% cloud based, and we're using Chrome OS to get there.
Have you used a Chromebook in a business setting? Let us know down below!
Be an expert in 5 minutes
Get the latest news from Android Central, your trusted companion in the world of Android