Gmail for Android: How to do everything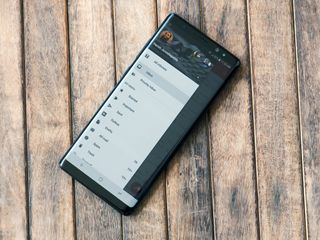 With over a billion monthly active users, Gmail is one of the most popular email clients around. The service has come a long way from its inception in 2004, and has recently picked up a host of new features. If you're new to Android or are just looking for ways to get the best out of Gmail, read on.
Gmail is a part of Google Mobile Services, a collection of apps and APIs that are pre-installed on every Android phone certified by Google. If you have an Android phone that has the Play Store pre-installed, you'll also find Chrome, YouTube, Drive, Maps, Photos, Hangouts, and Play Music available out of the box.
As with all important accounts, you should have two-factor authentication for your Google account if you haven't done so already. Security breaches are inevitable, and having an added layer of protection for your email account makes all the difference in the world.
Already set up two-factor authentication? Let's take a look at what Gmail has to offer on Android.
How to send email using Gmail
Open Gmail from the home screen or app drawer.
Select the floating action button (circular button with a pen icon in the bottom right corner) to compose a new mail.
Enter the recipient's email address in the To field.
Use the downward arrow symbol to see Cc and Bcc options.
Enter the subject and body of the text.
Tap the arrow button to send the email.
How to format emails and add emojis in Gmail
Google added rich text formatting in Gmail for Android earlier this year, giving you the ability to add text colors and underline, italicize, and bold text. And yes, you can also send emoticons within an email.
Select the desired text with a quick double tap.
Tap the Format button from the action menu.
Select from bold, italics, or underline. You can also change text color and background.
To add emoji, tap the emoji button.
Select your desired emoji and add it to the text.
How to add attachments in Gmail
With Gmail, you can attach local files — including documents, photos, or videos — or send files stored on Box, Dropbox, Google Drive, and other cloud storage services. Local attachments are limited to 25MB, and for anything larger than that you'll have to upload the file to Drive first. Doing so lets you share files up to 10GB in size.
Select the floating action button to compose a new mail.
Tap the attach button to select files.
Choose Attach file to insert local files or use Insert from Drive to attach Drive files as links within the mail.
Using the Attach file option is straightforward. Select the file from the menu to embed it in the mail.
Insert from Drive follows a similar flow.
Once you select the attachment, you'll see a preview at the bottom of the mail.
How to add a secondary Google account in Gmail
Tap the hamburger menu on the top left corner.
Select the arrow next to the account name.
Tap Add account.
In the set up email section, select Google from the list of services.
Enter your Account email ID and password.
If you'd like to create a new account, select Or create a new account.
You can also add a secondary Google account by heading into your device's settings:
How to add a secondary Google account on your phone
How to add an Outlook or Yahoo Mail account in Gmail
Gmail also allows you to add email accounts from third-party services like Outlook, Yahoo Mail, Exchange accounts, or your own mail server.
Tap the hamburger menu on the top left corner.
Select the arrow next to the account name.
Tap Add account.
Select your desired email service from the list.
Add your email ID and password.
How to merge inboxes in Gmail
If you have two or more email accounts on the same device, you can see all emails in a single view.
Tap the hamburger menu on the top left corner.
select All inboxes.
All your emails will be displayed chronologically in the All inboxes view.
How to snooze emails in Gmail
The ability to snooze emails is one of the new features that made its way into Gmail with the 2018 redesign. The snooze option is ideal if you're looking to file away a particular mail to resurface at a later date. You'll be able to choose when the mail shows up in your inbox again — the options include later the same day, the next day, weekend, or a custom day and time. Here's how to snooze emails in Gmail:
Select the email you want to snooze by tapping the sender icon.
Tap the action menu (three vertical dots) in the top right corner.
Hit Snooze.
Select the time and date based on when you want the email to resurface in your inbox.
How to disable Smart Reply in Gmail
Google introduced smart replies in Inbox, and brought them over to the Gmail web and mobile apps earlier this year. Smart Reply automatically scans the context of a message and populates a list of responses — along the lines of "Thank you" or "See you there." If you're not a fan of the feature, however, there's an easy way to turn it off.
You'll have to disable the feature for each email account you're signed into on Gmail. Here's how you can disable Smart Reply:
Tap the hamburger menu (three horizontal lines) on the top left corner.
Scroll up to access the settings.
Tap Settings.
Select the Email account for which you want to disable the feature.
Scroll up to access the General account settings.
Tap the checkmark next to Smart Reply to turn off the feature.
How to adjust preview settings in Gmail
If you're using a device with limited screen real estate, or would like to see more text in the email preview, you can disable sender images.
Tap the hamburger menu on the top left corner.
Go to Settings.
Select General settings.
Deselect the Sender image checkbox.
Now you'll be able to see more preview text in your inbox.
How to add a signature in Gmail
Tap the hamburger menu on the top left corner.
Go to Settings.
Select the account for which you want to add the signature.
Tap the Signature field.
Enter the desired signature text.
The signature text will be added at the bottom of every email.
How to prioritize your inbox in Gmail
Tap the hamburger menu on the top left corner.
Select Priority Inbox.
Emails that are directly addressed to you will be surfaced above promotional messages.
You can also mark emails manually to let Gmail know that they're valuable to you. That way, upcoming mails will be sent to Priority Inbox.
Long press anywhere on a mail or select the sender image to show the action menu.
Tap the three dots in the top corner to bring up the menu options.
Select Mark as important. Doing so will change the priority of the email.
How to mute emails in Gmail
If you're part of a mail chain that is getting out of hand, you can mute the conversation. Doing so moves the mail thread to the archived section, and you won't be notified of any incoming messages in the chain. The mail will still be marked unread.
Long press anywhere on a mail or select the sender image to show the action menu.
Tap the three dots in the top corner to bring up the menu options.
Select Mute.
How to archive or delete emails in Gmail
Long press anywhere on a mail or select the sender image to show the action menu.
Select the archive icon to archive an email.
Select the delete icon to move it to the trash.
You can archive or delete multiple emails in one go. After selecting a mail, press the sender image for subsequent mails you wish to move to the trash or archive. You can also use quick actions to delete or archive a mail by swiping left or right on the mail. To select the default action for the swipe gesture, do the following:
Tap the hamburger menu on the top left corner.
Navigate to Settings.
Select General settings.
Tap Gmail default action.
Select between Archive and Delete.
How to recover deleted emails in Gmail
If you've deleted a mail by mistake, you can recover it by navigating to the trash.
Tap the hamburger menu on the top left corner.
Navigate to Trash.
Select the mail by a long press action.
Tap the three dots in the top corner to bring up the menu options.
Select Move to.
Choose Inbox to move the deleted mail back to your inbox.
Your turn
That's a quick look at what Gmail has to offer on Android. Interested in knowing more? See how to search your mailbox using various parameters, use labels and filters effectively, add aliases to Gmail, and more in our Gmail productivity guide. In the meantime, let us know what tricks you rely on to manage your inbox.
Gmail: Boost your productivity with these tips and tricks
Update, May 2018: This article was updated with new explanations for Smart Reply and Snooze on Gmail.
Android Central Newsletter
Get instant access to breaking news, the hottest reviews, great deals and helpful tips
Harish Jonnalagadda is a Senior Editor overseeing Asia at Android Central. He leads the site's coverage of Chinese phone brands, contributing to reviews, features, and buying guides. He also writes about storage servers, audio products, and the semiconductor industry. Contact him on Twitter at @chunkynerd.
I must be doing something wrong. My Gmail shows that I have spam in the spam folder, but when I open the folder, it's empty. If I search for label:spam, it shows up. What am I doing wrong?

I have the same problem on my phone. To solve, change the spam settings to sync none and refresh. That does the trick for me. Happens to me with the spam and trash.

It worked. I wonder why it doesn't work like it used to?

I changed it back. Too set in my ways I guess.

...how to disable Conversation view for ALL email including Gmail? Not just for pop3, exchange and imap.

This is the most maddening part of Gmail. I don't need to have every email in a 50 mail thread...I might only need a couple or just the most recent, but I'm forced to keep all or nothing.
#idiotic

I agree! The worst is when bills from companies combine into the same thread. I don't get enough email for me to want conversation view. It is much simpler to just have them listed.

I can not believe that we still can not turn off conversation mode for google accounts. This is preventing me from using the Gmail app.

It's too bad this doesn't cover how to not have yourself added to Reply All and how to get the cursor to default to the top of the message body instead of after your signature. These things are maddening Google!

What does the option "link this account to gmail" under settings do?

I wish you could 'select all' to delete multiple emails instead of selecting each and everyone. Yes, I know you can on a PC. But it would be nice to do from my phone-hardly ever get on a PC.

I saw no section on searching for recent emails using just a simple text search for a word, is that perhaps because it just doesn't work?

It does work. There's a search button on the top right for this.

Does anyone know how to advance to the next unread message? I've never figured out how to do this.

AFAIK that only takes you to the next conversation, not the next unread message. The core problem is sometimes Gmail has unread messages within a conversation (i.e. there's a number beside "Inbox" in the sidebar) but doesn't indicate which conversation said message belongs to in the conversation list. The only reliable way of clearing such messages out I've been able to find has been to use a desktop web browser. Hence why I'm still trying to figure out how to do it in the Android app.

Right. The Gmail app does not have a "Unread" filter which just displays the unread emails like the one in the Outlook app for Android, afaik. Give them feedback about it.

Yeahbut...anyone know how to edit a contact's email address in Gmail? A friend changed his email address. I've spent about 2 hours so far trying to figure out how to edit and change his email address in Gmail on my Motorola Moto X Pure Edition. I've searched for answers using Google. Can't figure it out, apparently this can only be done through Gmail on a desktop for some reason?

I don't think it can be done via Gmail. I couldn't figure out to do it in the app.

Dear Google... for the love of God, please add a mark all as read button!

And yet I cannot turn off conversation view in the Android app to be consistent with the desktop version.

How about a little more spacing between the "delete" and "mark as unread" buttons? Too many accidental button presses. Also really need the option to move that button bar to the bottom of the screen, so we can perform these operations with one hand.

I just wish it would show the number of emails on the icon and also open back up at all inboxes instead of defaulting to Inbox

I would use Gmail app on my android phone bit it lacks some features, there's no option to change swipe controls,like I want to swipe right to delete mail,at least I don't see option to change this. Is there a way to add Live mail to Gmail app? Because I got one I use with couple gmails. All these are on Outlook app which works well so Gmail is unnecessary on my phone. I would use it if it had these.

I tried switching from Gmail and then realized how much Google now is fed by it. Between flight times, invited, packages etc the work Gmail does with Google now is too valuable to me to justify leaving it for my minor quibbles. I do wish they'd make quality of life updates as suggested in this thread though.

So, when adding an Exchange account, it only shows up on the phone, right? It doesn't fully integrate with all of Gmail, right?

Do you mean "What happens to my contacts and calendar"? Exchange contacts integrate with the native contacts, if you choose to make it visible, and the same for the calendar. Nine or Touchdown may be better apps if you want to see all of Exchange in one app.

By "all of gmail", no. This is just referring to the app called gmail that is an email client. Any secondary accounts added to the mail client will not be added to other places you use your gmail account -- gmail.com (web client), other devices, etc.

Still can't send email to Google contact groups?

How do you sync exchange folders in the app on phone and on the Web. I am not getting any emails that go to my folder to my in box?

Would be nice have some distinction when adding additional email address to Gmail so that you can quickly tell which email you are looking at without having to go into the hamburger menu. e.g. custom colors instead of default red, or next to the header "Inbox" it could specify the email inbox you are seeing, etc.

The only thing I need to know is why they STILL haven't added a "Mark as read" option to the notifications.

I often receive mail that isn't mine but I can't find a way to do anything about it. The mail comes for people in Australia, California, Belgium and me....3 men and 1 woman. Gary, Gerry, Geoff and Gael. The 4 of us all use the same initial and surname followed by @gmail.com but with variations of upper and lower case and a period. I get the Belgian's Netflix mail, the Australian's Foxtel mail and the Cailfornian's shopping coupons. I've always wondered if and what mail of mine is going to the other 3. I read somewhere that it happens because Gmail doesn't recognise upper case or periods so I would need to give up my account and start again with a number or numbers added to my name to stop it. I don't know if that's true.

I believe you are receiving others' email because the sender erroneously entered your email account. Regardless of the email provider, it would cause utter chaos if periods/upper-lower case letters/numbers weren't recognised. Although it shows different names as recipients, if you check again, I'm sure you'll notice it's your email address as the recipient. If this in indeed the case, I would reply/forward the email to the sender and explain their error.

A.C.: Why do you always put it all the way at the bottom that it's an updated article? I would've just re-read 12 pages of an article before i get to the very last small sentence and find i already read it months ago. Please move that to the top!

Gmail app has to be the most overly complicated app there is. I've switched to using a 3rd party app to handle both my Gmail and Outlook accounts just to save my own sanity.

I've preferred the Inbox app since about 3 months after it's initial release. No complaints about it.

I would love the ability to be able to send an email to groups via the app. I'm not always close to my Chromebook to do so. If I'm out and about and get notified of a game cancellation it sucks to rush home in order to send out a group message.

I haven't used Gmail since Inbox because of the Snooze function even though I liked Gmail better

I really want to use Gmail, but it doesn't sync with my Hotmail account. I delete a email on Hotmail in the Gmail app on my phone and when I open Gmail on my tablet, there's that email I deleted. I tried updating, syncing and nothing changes. I finally got so fed up with deleting emails twice I deleted my Hotmail account from Gmail and downloaded Outlook and now use that for my Hotmail account. And no, getting rid of the Hotmail account is not an option. I've had that account for over 20 years and there's a lot of people who only have that address for me.

Sounds like you have emails left on server after fetched by pop3 not set right.

I would just like they ability to block spam, not just send it to the spam folder.
Holy cramp they stick samsung keyboard sucks.

Almost everything. I developed a companion app for gmail labels management - add, edit, delete, set colors and more.
https://www.androidcentral.com/e?link=https2F2F...

Still having issues with tab notifications. It affects both the app and desktop. It's really annoying and can't be there only one with the issue

Still wish we could set up filters in the mobile app.

Please a "delete all" button!

How do you mark all messages unread without selecting all individually.
Android Central Newsletter
Get instant access to breaking news, the hottest reviews, great deals and helpful tips
Thank you for signing up to Android Central. You will receive a verification email shortly.
There was a problem. Please refresh the page and try again.