Sprint's adding a $70/month unlimited plan and neutering its $60/month one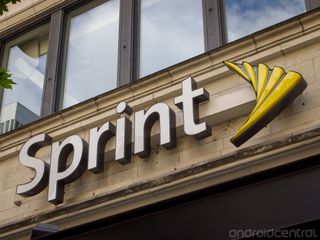 U.S. carriers seem to have a hard time understanding what the word "unlimited" means, and most recently, this point is being proven once again with changes coming to Sprint's plans.
Sprint currently offers one plan called Unlimited Freedom, but starting Friday, July 13, it's being laid to rest in favor of Unlimited Basic and Unlimited Plus.
Unlimited Basic costs the same as Unlimited Freedom at $60/month for one line, but even so, is an all-around worse deal. Video streaming is now restricted to 480p instead of Unlimited Freedom's full 1080p access, and when it comes to mobile hotspot use, Unlimited Basic customers only have 500MB of LTE data to use compared to Unlimited Freedom's 10GB.
If you're not a fan of those restrictions, Sprint's more than happy to sell Unlimited Plus to you for $70/month. Unlimited Plus lets you stream in full 1080p like before, while also upgrading your mobile hotspot to 15GB of LTE data and throwing in a free subscription to Tidal's $9.99/month plan. No matter which one you choose, both new unlimited plans still come with Hulu.
A little less than a month ago, Verizon made a similar change by adding a third unlimited plan to its lineup, making customers choose between Go Unlimited, Beyond Unlimited, and Above Unlimited.
Sprint and Verizon are both trying to market these changes as a way to give their customers more choice over what they want in their plan, and while that's fine, continuing to call them "unlimited" is a flat-out lie at this point.
Android Central Newsletter
Get instant access to breaking news, the hottest reviews, great deals and helpful tips
Joe Maring was a Senior Editor for Android Central between 2017 and 2021. You can reach him on Twitter at @JoeMaring1.
I have always stuck with Sprint due to what it offers for the price (and coverage is great in my area) but if existing customers' plans aren't "grandfathered" in, I'm out. Sprint's speeds and overall coverage was fine for the price point, but if/when it creeps into Verizon pricing territory, they're going to lose a ton of customers. Hopefully someday they'll learn.

I signed up for their "free" unlimited for a year and in the Bay Area, CA, it sucks so bad... depending on the day, not even worth the $2.90 tax I have to pay monthly...

According to Sprint, the original unlimited freedom plan will be grandfathered in.

The new plan is basically the Tmobile one plan if you look at it

Yep all carriers play fast and loose with the word unlimited. Cricket Wireless has the Unlimited max plan. It is unlimited in the sense that you can use all you want but at 22 gb you start getting low priority. Once that kicks in the phone is unusable at times. Not always but sometimes. Anywho.. thats not unlimited.

What entity is supposed to enforce anti-consumer stuff like this? It is flat out false advertisement. I am assuming it is an FCC thing which means the carriers are free to lie all they want.

Sprint knows they are 'going away soon' when the T-Mo merger takes place. By adjusting the prices now... they will have less splash-back from their existing-clients since the new, higher Unlimited Prices will already be in place.

Well, from a technical standpoint, they really aren't lying or breaking any rules. They may say the word "unlimited", but every data plan that has ever existed, and will will ever exist has and will be LIMITED by the amount of information that can be transmitted during a given amount of time. This is a technical limitation, so therefore there is always limit on the amount of data that can be used by a single user. By limiting the speed at which data can be transmitted, wireless providers can be indirectly control the amount of data a user can transmit during a given amount of time.

I have the original plan, so I'd have to pay $10 more and have Hulu and tidal?

Hulu is available on my 2gb data plan for free. I just had to sign up on mobile data and I stream it on my home wifi.

With the newest plan you get tidal also

Yes, on the $70 a month plan.

Actually if you think about it Tidal cost $9.99 a month so it's baked into the price of the plus plan

I happened to notice this when I looked at my Sprint bill this month I'm paying $10 more than last month and now I get hotspot access even though I never used it or want it.

I wouldn't call it a flat out lie. Both plans offer unlimited data. So that in itself makes it true. It just depends on what add ons you would like to have to go with your unlimited plan

The industry really needs to better define what "unlimited" really means. The only differences between the Verizon unlimited plans and my current 4 GB plan is the unlimited plans have a higher throttle point and presumably faster speeds at that point. If the qualification for "unlimited" is no overage charges and a throttled experience after a certain point, then I technically have an unlimited plan.
Android Central Newsletter
Get instant access to breaking news, the hottest reviews, great deals and helpful tips
Thank you for signing up to Android Central. You will receive a verification email shortly.
There was a problem. Please refresh the page and try again.