So that's how Google is going to monetize your Fitbit data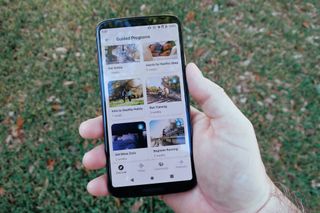 (Image credit: Jeramy Johnson / Android Central)
I've been a dedicated Fitbit fan for nearly five years now. Ever since the company purchased my beloved Pebble, I've been using some of the best Fitbit wearables to track my exercise, steps, and sleep. One of the things that I value most about the Fitbit experience is the ability to jump back in time to see how my activity, weight, or stats have changed over time, but if a recent email that I received from the company is any indication, that freewheeling ability to look at my own historical fitness data may be about to go away.
According to a customer survey that Fitbit recently emailed, it looks like Google may have found a way to monetize users' Fitbit data that adheres to its commitment to regulators not to use said data for advertising purposes. So how do they plan to do that? Our favorite "s" word — subscriptions!
I am personally still very excited at the prospect of new Fitbit hardware under Google's guidance, and can't wait to see what the first Google/Fitbit smartwatch will look like. Over the past few weeks and months, we've already started to see useful features like the Google Assistant come to the Versa 3 and Sense watches, and you can even view your Fitbit sleep data on Google Assistant smart displays. The company is also now featuring its Fitbit products in the Google Store.
According to Google's head of hardware Rick Osterloh, one of the tentpole promises that Google made to regulators when it agreed to acquire Fitbit was that the deal would be about "devices, not data" and that consumers' health and wellness data would not "be used for Google ads." I hope that Google sticks to these promises, but the simple fact is that no matter how many attempts it makes in the hardware space, Google is first and foremost a software company. Actually, scratch that, Google is a data company. So considering that, you didn't really expect Google not to explore ways to monetize its new treasure trove of health and wellness data, did you?
According to the aforementioned survey, it appears that Google is testing the subscription waters and exploring additional tiers and options for the Fitbit Premium service. Fitbit Premium currently offers subscribers in-depth health metrics and analytics, as well as guidance on how to interpret and act upon that data. There are also guided meditation, wellness, and fitness programs and the option to pay a little more for personalized workout plans.
If any of the new tiers are implemented, Fitbit customers could be offered cheaper and more premium versions of Fitbit Premium, with fewer or more options available for the price differences. That's all well and good, but what I'm worried about is the cheapest option the survey asked about. This would "give" users access to their lifetime historical fitness data, something we already have for free and have had since the first Fitbit trackers came out.
To be clear, there would still be a "free" tier that would offer limited historical insights (perhaps for a month or more). However, unless you paid for at least the basic tier, you would no longer be able to see how much you slept that week in April 2018 or look at your run from that vacation two years ago.
On one level, I completely understand what Google/Fitbit is trying to do with this survey. They want to gauge how valuable these services are to their fanbase — which makes total sense. Many sustainable apps and services have moved to some form of a subscription model, and for all that Fitbit provides, I'm sure many will see the value in paying for those services. However, it would really suck if Google put that lifetime data behind a paywall, especially for those of us who have many years of data to show for our loyalty.
If this entry-level tier of Fitbit Premium does come to pass, I hope Google would grandfather older users in, or give a long introductory offer like Fitbit did for those who purchases an Inspire 2, Versa 3, or Sense. Otherwise, I suspect it will lose a lot of its loyal fanbase, myself probably included. After all, there are a ton of great smartwatches and fitness trackers out there to choose from!
Update 2/23/21: Following the initial publication of this article, a Fitbit spokesperson reached out to Android Central to clarify the company's intentions for the survey with the following statement.
Jeramy is proud to help *Keep Austin Weird* and loves hiking in the hill country of central Texas with a breakfast taco in each hand. When he's not writing about smart home gadgets and wearables, he's defending his relationship with his smart voice assistants to his family. You can follow him on Twitter at @jeramyutgw.
If only apple allowed their watches to sync to something other than an iphone

It doesn't bother me to pay for services I actually care about and like. For example I love the Textra app. I've been using it for several years but only paid the ad removal fee once. I've actually been looking for a way to suppot this developer further. I'd be willing to tip the company or pay the pro fee again. Haven't found a way yet. Anyway we should all be willing to support the services we love. I gladly pay the monthly fee for ad removal on Android Central and consider it well worth it.

Supporting developers is good, and something we should all do. But an app like textra is NOT a service.

It handles my txting needs. So it provides a service. Let's not split hairs.

No splitting hairs, you're just wrong. Is your refrigerator providing a service because it keeps your food cold? I'm sure whoever you bought it from will happily take fifteen dollars a month. The "everything is a service" mentality is harmful. Even the developers know textra isn't a service, which is why they don't charge for it as one.

Have a beer and chill sir. Have a great day.

I don't have a fitbit, but wondering if you could export historical data to a csv file. I recently migrated to an iPhone/iwatch. The watch is really great, but it must be charged pretty much every day. Definitely not ideal.

people are being "nickel and dime" to the poor house with all the subscription fees in the digital world. I keep waiting for google home to become subscription base. The same with Alexa and other online services. I believe in supporting the developers but it is getting ridicules.

Yeah... I'm sure there's plenty of people in the poor house wearing fitbits lol. Subscriptions are getting a little out of hand, but let's try and keep some perspective.

Lol We don't have poor houses any more. The Republicans don't want to fund them. People should do the decent thing and just starve to death or die of exposure already. Glad I had a place this past week when it was -1 here in Texas.

Wow, you really felt compelled to drag politics into this? Ironically preaching from a red state when you could leave it if you didn't like Republican politics.

Well that is the Republican mantra love it or get the hell out. Wouldn't want to hear any opposing views.

How many fitness enthusiasts are gonna pay for a Fitbit subscription then again for another subscription when they sync that data to a more popular service like Strava to share woth all their friends? Not a lot of people just keep all their data in the app they use to record their fitness data eg Garmin, Apple Health, Samsung Health, Fitbit. Then again, anyone who's serious about fitness probably won't be using a Fitbit anyway

Well, I'm just glad I never bought in on Fitbit. Google's not a company whose benevolence I trust. They're definitely digging into people's live as a way to make money here, and I suspect this is a trend the market will follow over time. Never is it a GOOD thing for one company to have so many hooks into who you are. It's asking for trouble with security breaches or questionable deals behind the scenes. I don't think being given a monthly bill for your data is any better than being served ads.

In this article: news about subscription services
Also, in this article: ads for subscription services 🤷
Android Central Newsletter
Thank you for signing up to Android Central. You will receive a verification email shortly.
There was a problem. Please refresh the page and try again.