Samsung's Media Hub Beta program will trade AT&T Galaxy S II owners $25 in content for feedback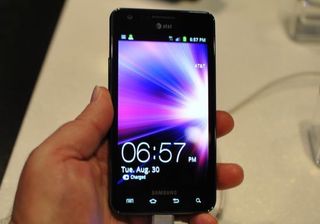 If you're a new AT&T Galaxy S II owner, Samsung is willing to trade you $25 worth of free Media Hub content for some of your feedback. The Media Hub Beta program, which launches today, adds integration between your Galaxy S II (AT&T's model only, at the moment) and your 2011 Samsung Smart TV: purchase a movie or TV show from your phone, and watch it on your TV's built in Media Hub app. If you're willing to sign up for the beta and test it out, Samsung will give you a $25 Media Hub credit. Not all who sign up will be chosen, but if you're the proud owner of both Samsung devices, it's worth your time to throw your hat in the ring. Hit the source link to sign up.
Souce: Samsung (opens in new tab)
Do they also get the free $25 credit (no strings attached) that they included with earlier samsung phones (e.g., Infuse) The annoying thing with the media hub was that it forbade feeding the video from the phone over MHL HDMI. So I was never gonna actually spend money on it once that credit ran out.

Agree with aapold. They need to make it easier to actually watch content purchased on media hub on TVs and other devices, otherwise it's a FAIL. Hopefully, they are paying attention to what Amazon is doing (though I do wish that Amazon would make video available on more devices than just the Fire).

To be fair, that restriction was probably at behest of the MPAA and the studios, not Samsung.

Yes, I think you're right. But for Samsung to compete with apple, amazon or anyone else in selling media, it needs to be available on multiple platforms, not just your phone. Without rights that are similar to what competitors are offering, Samsung will FAIL with media hub.

This is also for Epic Touch Users. Both phones are selectable under the phone drop down.
Android Central Newsletter
Get the best of Android Central in in your inbox, every day!
Thank you for signing up to Android Central. You will receive a verification email shortly.
There was a problem. Please refresh the page and try again.