Samsung's August security update begins rolling out to the Galaxy S21 series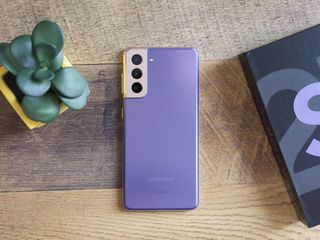 (Image credit: Joe Maring / Android Central)
What you need to know
The August 2021 Android security patch has started rolling out to Samsung's Galaxy S21 series phones.
While the rollout is currently limited to China, it is likely to expand to more regions soon.
Samsung's mid-range Galaxy A52 began receiving the August security update earlier this week.
Samsung has already started rolling out the August Android security patch to its Galaxy S21 series phones, according to tipster Ice Universe. The rollout doesn't come as a surprise, however, since Samsung has been rolling out new monthly security updates before everyone else for quite some time now.
The company actually began pushing the August 2021 security patch to its mid-range Galaxy A52 earlier this week. Samsung's Galaxy A72 and the three-year-old Galaxy A8 (2018) phones have also started receiving the update in some markets.
Unfortunately, it looks like the August security update for the Galaxy S21 series is limited to China right now. But seeing how Samsung is quickly releasing the update for its best Android phones, it shouldn't take long for the August security patch to hit Galaxy S21 series phones in other regions. Samsung is also expected to roll out the update to its older flagships, such as the Galaxy Note 20 series and the Galaxy S20 series, over the coming days.
The next big update for the Galaxy S21 series will be One UI 3.1.1, which is likely to arrive by the end of the quarter in some markets. One UI 3.1.1 is set to debut with the Galaxy Z Fold 3 and Galaxy Z Flip 3 phones next month. Samsung is also preparing to release the Android 12-based One UI 4.0 beta for the Galaxy S21 series phones by late September or early October.
Samsung Galaxy S21
Despite not being a massive upgrade over its predecessor, the Galaxy S21 is still among the best sub-$1,000 Android flagships around. It has a gorgeous flat AMOLED screen with a 120Hz refresh rate, Qualcomm's Snapdragon 888 with 5G support, and three capable cameras.
The Samsung A32 5G was last patched in May, so it is due for an update in August. This phone gets quarterly updates

Unlike Samsung Google updates all its Pixel devices together and not by model like Samsung does but to be fair Samsung has way more devices to support than anyone else including Google who's updates system I prefer far more than on my S20 FE.

Lol because Google has about 1/10 of the phones to update and they still get beat by other OEM's.. Sit down Fanboy.

Read my comment properly, I already said that Samsung has mor phones to support than Google. And Google has a schedule that they stick to and Google is the only one I'd cut slack for because it's always for a reason if there is a delay in the update. It's only Samsung that beats Google to the updates and Google beats everyone else in Android OS updates so there LOL.

Ah yes you cut Google slack because they are the ones you are fanboying over this month. Always an excuse to defend Google on your end at least for another month or so until you flip allegiance again to another brand.

Still on June with the 20fe.
So much for prompt monthly updates.

I know right, while I've been getting the security updates every month, I've been getting really late and the Play System updates are a joke as I'm still on the June update for that. Try factory resetting your phone and see if that helps. I think the Pixel phones are the only ones you can rely on to deliver security updates consistently.

My phone is unlocked and follows Tmobile updates, which has yet to release it. They were good up until May.

My phone is also unlocked although I got my S20 FE on contract and get updates directly from Samsung.

Yep same but seems to follow Tmobile so I always check their site for the update log.

I think the only thing that is going to change this entire update process is when Fuschia comes into play. It will be like Apple as everyone will be running the same thing which makes it much easier on the update side

On Rogers Wireless in Canada and never got the July update on my Galaxy S21. Hopefully, it starts being more consistent starting with the August update.

As an S21 owner in the UK the update will probably arrive mid August at the earliest.

I'm an S20 FE owner in the UK on contract with Three UK and the updates doesn't arrive until the near the end of the month which is ridiculous. I only got the July update last week. Samsung are. Joke with updates with the S20 FE.
Android Central Newsletter
Thank you for signing up to Android Central. You will receive a verification email shortly.
There was a problem. Please refresh the page and try again.