Samsung slider spied running Android, headed to Verizon?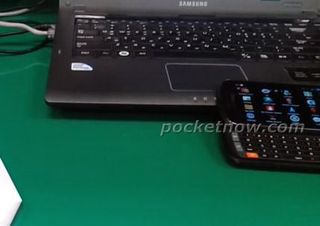 If you've found yourself asking "When, oh when, will Samsung release an Android slider for Verizon?" then you may be in luck. Realistically, I'm sure no one has ever asked that but that doesn't matter because it looks as though Samsung might make it happen with the SCH-i405, as spied in the image above.
Although specs are seemingly slim pickings for this device as of yet, it has crossed the paths of Bluetooth and Wi-Fi certification experts but has not hit the FCC. The details available peg this one as being a mid-range device similar in styling to that of the Epic 4G from Sprint minus the 4G but coming with a WVGA display and a single core processor capable of one - yes, singular gigahertz. Sidenote: That's a Slacker Radio icon you're seeing -- not CyanogenMod. Sorry to disappoint.
Source: PocketNow
Android Central Newsletter
Get instant access to breaking news, the hottest reviews, great deals and helpful tips
the buttons on the left side look exactly like an epic.. nice

Not to sound (too) cynical, but what's going on with Verizon? The Thunderbolt, no matter how great it is, was basically a 2010 phone (Evo) released in 2011. This looks like the Epic 4G, finally coming to Verizon a year too late. Verizon didn't get a phone with a front-facing camera until March, a dual-core phone until May, and still does not have any phones with Sense 3.0, dual core and 4G, and many other features that phones on other carriers already have. Could Verizon's OG Droid/Dinc-era of having the coolest smartphones be behind it?

I do understand your point & wish we had better phones on VZW, but honestly I don't care enough to switch carriers because I am with Verizon because of their network. Verizon has the best 3G coverage & is the only US carrier with LTE already on the ground. Sprint & AT&T are only just now *talking* about LTE. They have instead been wasting their time & resources on WiMAX <--(Sprint) & "HSPA+ with advanced backhaul" <--(AT&T) which has given Verizon a HUGE leg-up.

I definitely agree on your point about "4G", and I will not (and cannot) be switching carriers anytime soon, but I just wish the carrier that I'm stuck on gets some 2011 phones before 2012, and I know you do too.

Because verizon has the iphone and can't promote much of anything else or Apple will slap their hands.

I wish that were true. Then someone would leak an incriminating internal document, and we could all watch as Steve Jobs' ego has a nuclear meltdown.

If I really want a slider I'll wait for the Droid 3, which looks like a great device.

Before it seemed like Verizon had the best phones for a while . They had the most Google phones like Droid x, galaxy s, Droid incredible , and the Droid. At&t only had the iPhone and the galaxy s. Sprint had the EVO and galaxy s. T-Mobile had galaxy s, Nexus s , and G2. The other carriers are just now catching up.

Absolute crap. im switching over to sprint if verizon doesnt get a phone that is worth a crap by the end of summer, hopefully sprint gets that EVO+ without 3D that there was an article about the other day.

http://theoatmeal.com/comics/smartphone It's a smartphone. Chill man. Lol.

As a person who's sitting on a upgrade and was waiting patiently for months for the HTC Merge...sitting through the constant "on again, off again" status of its VZW release, only to be told that it'll be available through third party retailers like BB, getting my hopes up when it was indeed in their mobile catalog for this month...only to find out that it was a printing error and they'll never carry it, I can't help but feel some skepticism about VZW actually pulling this off properly. A few people think that merge got short shrift due to Verizon's percieved need to push the D2/D2 global...well look what's releasing soon...Droid 3. What's more, if the Galaxy s 2 comes out then that'll be pressure from the other direction if VZW decides to push that too...technology is changing so fast...
Android Central Newsletter
Get instant access to breaking news, the hottest reviews, great deals and helpful tips
Thank you for signing up to Android Central. You will receive a verification email shortly.
There was a problem. Please refresh the page and try again.