Samsung is reportedly considering canceling the Galaxy S21 FE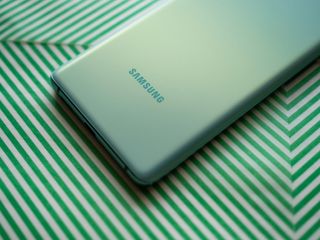 (Image credit: Apoorva Bhardwaj / Android Central)
What you need to know
A new report claims Samsung has canceled its October Unpacked event for the Galaxy S21 FE.
The company is currently "reviewing" the phone's release.
Shortage of Qualcomm's Snapdragon 888 chipset and the higher-than-expected sales of the Galaxy Z Flip 3 are said to be the two main reasons behind the move.
Samsung has decided to cancel its planned Galaxy S21 FE Unpacked event, according to a report from South Korean publication Digital Daily. The event was expected to be held sometime next month.
Samsung is currently said to be "reviewing" the release of the phone, which means there is a possibility of the Galaxy S21 FE being canceled altogether. The main reason behind the cancelation of the launch event is said to be the shortage of Qualcomm's Snapdragon 888 chipset, which powers Samsung's best Android phones of 2021.
The report claims the success of the Galaxy Z Flip 3 is also an important reason why Samsung is reviewing the release of the Galaxy S21 FE. Due to a serious shortage of the Snapdragon 888, Samsung is currently unable to meet the demand for the clamshell foldable. Instead of launching the Galaxy S21 FE, Samsung apparently wants to ensure that it can keep up with the demand for the Galaxy Z Flip 3.
Like its predecessor, the Galaxy S21 FE is expected to offer some of the best features of Samsung's flagship Galaxy S series phones at a more affordable price point. Besides a Snapdragon 888 chipset, it is also rumored to come equipped with a 120Hz AMOLED display, triple rear cameras, and a 4,500mAh battery with 25W fast charging.
Android Central has reached out to Samsung for a confirmation.
Samsung Galaxy S21
Although not as feature-packed as the Ultra model, Samsung's vanilla Galaxy S21 delivers a similar flagship experience for hundreds less. You get a flat 120Hz display, Qualcomm's Snapdragon 888 chipset, and a capable triple-camera setup on the back.
Android Central Newsletter
Get instant access to breaking news, the hottest reviews, great deals and helpful tips
Why would anyone want a variation of a the same phone months after the release?
Just go and buy the S21. Stay focused Samsung and don't confuse buyers.

For those who are price conscious, they buy a flagship that is two years old. Very few people who are buying premium phones care about price.

You are forgetting the future updates to the OS. Purchasing a two year old flagship might only get one OS update while a new FE (for the same cost) will get at least three OS updates. This alone is a huge plus.

I would gladly buy a Galaxy S21. Go checkout Samsungs web site and you will see that they don't even have any to sell you that have 128 Gig. If you click through the Amazon link, you'll see that anticipated shipment date for S21 is October 23. Also, one can pick up Iphone 13 for less money on promos than you can the S21. Visible will sell you an Iphone 13 for $600 with a $200 rebate. The cost for an S21 on Visisble is $650 after the rebate. In recent years, an S21 has always been cheaper than the new Iphone. It's obvious Samsung is having some sort of production issue. I also imagine Samsung is making a lot of money simply supplying chips and displays to other companies -- like Apple for instance. It MAKES zero sense to come out with S21 given chip shortages and the fact they can't even make S21s.

For the simple reason that the S21 FE has a top Snapdragon chipset available in not just the US,cheaper price than top flagship but with flagship specs. And better zoom camera than standard S21

They realised that pointless phone is pointless.

The S21 is probably discounted by now anyway. Always good to have choice though. I'm personally amazed the flip phone is selling though. I thought it would be quite niche and if limited appeal. Lol. What do I know!

It's actually NOT DISCOUNTED right now. One can get an Iphone 13 cheaper. That pretty much tells you right there that Samsung is having some sort of productions issues as flagship Galaxy Devices in Spring were always put on sale once new Iphones were released. Not to mention S21 is on short supply -- Amazon delivery is Late October. Samsung doesn't even have any 128 Gig S21 available on their web site.

The S21 phones currently in UK have been selling out and been on back order on most networks. Must be chip shortage

That's a pity. Those flip phones are never going to be more than a novelty. They're too expensive and too delicate.

Nothing you just said is actually true

I ride the NYC subway every day chief. I see literally hundreds of folks with their faces buried in a phone of some sort. I've seen exactly one person using a foldable. That's it.
Android Central Newsletter
Get instant access to breaking news, the hottest reviews, great deals and helpful tips
Thank you for signing up to Android Central. You will receive a verification email shortly.
There was a problem. Please refresh the page and try again.