Samsung's flash sale takes $300 off the Galaxy Note 9 today only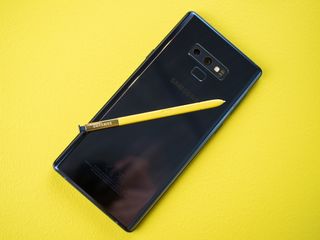 Update: Bummer, this deal has already expired. Samsung is still offering some discounts on various carrier versions of the device, so be sure to click through to see what kind of deal you can score today.
Samsung is holding a flash sale on the unlocked Samsung Galaxy Note 9 device (opens in new tab) today, offering $300 off through midnight EST when you enter promo code SAMSUNG300 during checkout. That'll bring its price down to $699.99, but only the 128GB models are eligible for this promotion; shipping is free. There is a limit of two devices per customer.
By trading in an eligible device (opens in new tab), you can score a bonus of up to $350 off the price of the device instantly! That's an extra $50 more than what Samsung usually offers for trade-ins. Once all is said and done, and traded in, you could be walking away with the new device for as low as $349.99.
The Galaxy Note 9 is equipped with a huge 6.4-inch Super AMOLED display and features IP68 water resistance. It comes with the S-Pen as well and sports a 4000mAh battery. Basically, the Note 9 is a powerhouse. It usually sells for $999.99 and has never been priced this low until today.
If you have any other questions regarding this device, our review and overview guide should help you find some answers.
See at Samsung (opens in new tab)
Alex is a graduate from the University of North Florida with a background in sales and merchandising. When he's not hunting down the next great deals to post on Thrifter, he can be found making music and working on his eBay business.
Get rid of the pop-up ads.

Seconded... They need to go.

Very annoying, especially the ones with sound that blares even when your phone is on vibrate.

Those are EXTRA annoying. If I'm at work that's the last thing I want to happen.

Find an earlier version of the AC app

I shouldn't have to do that. AC should be smarter than this.

It makes me wonder who okayed it. Obviously, nobody is going to enjoy having ads shoved down our throats.

Argh, I'm so tempted to pull the trigger on one, but I feel like I'll regret not waiting for the S10+. I've never owned a Note before, so I don't know what it would be like to miss the S-Pen, but isn't it better to have one and not really need it, then to need it and not have it? How much of a difference will the SD 855 have over the 845? I know the S10+ is coming with a 4100 mAh battery, but wouldn't the gain from the 100 mAh difference be offset by the in display fingerprint scanner? I'm so torn.

In my opinion there are world's between a regular S phone and the Note! Not only do they look better (design is a bit different from S) the S-Pen is a nice addition.I had no idea what to use it for either but gotten so used to it,I wouldn't miss it anymore. Not that I use it all the time but it's the little things that make it worthwhile. And think of that hideous hole in the screen of the S10! The Note 9 will be the last great phone for a while! And right now you get sweet deals in order to get your hands on one!

I passed on it last night, unfortunately, but there are other places to get one. My main question is how much different the new SD 855 will be from the SD 845 in the Note 9, in terms of battery. Also, how much of an affect will the IDFS have on standby battery.

Was only mildly tempted, but the links didn't work. Or at least the subsequent pages would not load. I just got a circle icon that kept circling

Go to samsung.com and forget about the link in the article. (It didn't work for me either) I tested their coupon code and it works. I already have the Note 9. Fantastic phone.

Sooooooo tempted but am going to wait for a Nokia semi-flagship with a Stellar camera. Getting tired of the Samsung add-ons that don't really add anything...

Promo code is not valid any longer

It's still valid, make sure you type "SAMSUNG" all capitals.

Useful tip! Was debating upgrading but with $300 off and $300 trade-in, it came to $350 for an unlocked Note 9 paid in full. Leaves me free to upgrade to something that folds or flies or whatever in another year or two. Thanks!

Not valid as of 9pm West Coast time Saturday...Promo code SAMSUNG all caps not working, only one showing$300 off is the att version. No thanks

The article specifically says 12am Eastern. If you did it at 9pm Pacific , that would be 12am Eastern and therefore too late. I'm upset I missed it too but article was not misleading.

I almost started to pull the trigger. Trade in, plus 300 off! But, I have a Note 8. I can wait to see what the Note 10 or other Samsung device offers. I'm not opposed to the idea of getting phone from a different OEM altogether, though.

Or buy a Note 8 for 300 dollars and have almost the exact same experience.

I was going to wait for the S10+ but the Note 9 for $350 was too good to pass up. Especially since I'm getting $350 for my Note 8. But then I got an email from Samsung today that says I can get $550 for the Note 8 or Note 9 in trade. So, I'll still be able to go for the S10+ if I just have to have one.

Nothing but but i want this dvice
Because i love Samsung

Rocking the Note 8. Waiting on the Note 10.

I bought one after a lot of thought. $300 off plus $350 for my S8 Active that has image burn-in on the screen = $350 for a brand new note 9. And I can eventually trade it for more towards a S10 or Note 10, deal!
Android Central Newsletter
Get the best of Android Central in in your inbox, every day!
Thank you for signing up to Android Central. You will receive a verification email shortly.
There was a problem. Please refresh the page and try again.