Samsung Galaxy Note 10.1 caught on video bearing Telcel wallpaper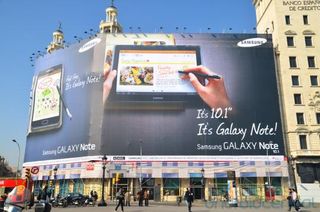 The Samsung Galaxy Note 10.1 is rightly so an interesting, and anticipated device. First shown off at Mobile World Congress back in February, what we're seeing here, and ultimately we're supposedly seeing at launch, is something different to the initial device we went hands on with. There's talk of the Note 10.1 going quad-core, as well as there having been a slight design change with a slot for the S-Pen being included now.
We thought the launch was getting closer only to be told that Amazon made a boo-boo. There is though a new, unofficial, video out there on the interwebs, of the Note 10.1 bearing a Telcel wallpaper. If nothing else on that front, it gives a bit of a clue as to one place it'll be heading when it eventually is released.
It's a pretty detailed video, and we won't spoil it for you. All the text is -- expectedly being Telcel anyway -- in Spanish, but reading isn't really necessary. The one spoiler we will throw in, is that at one point in the video, there is clearly a phone dialer on the screen. Absolutely enormous phone anyone?
via GigaOM
Android Central Newsletter
Get instant access to breaking news, the hottest reviews, great deals and helpful tips
A 10.1 inch Quad-Core Gaming.. Cell Phone... Sounds right up my alley! and I was going to wait for the G-Note 2... My Cargo Pants can handle this puppy just fine thank you.. Come'on Black Friday / Cyber Monday !

perfect, finally a tablet with a dedicated phone, all you need is a Bluetooth headset or stylus than can answer calls with a speaker. I've wanted something like this for over a year and a half since i saw the asus padfone back in Jan 2011 at ces. I hope it comes LTE capable so I can buy it for my vzw account.

Note going Quad-Core ? Intresting
I've to see what Microsoft will come up with first

The Galaxy Note 10.1 has the potential to be an oversized phablet. I installed Holo Launcher on my Galaxy Tab2 10.1, and low and behold I got an icon for the (normally hidden) Samsung dialer! Of course, in my tablet it doesn't do anything because it's Wi-Fi only but if the tablet has cellular connectivity... extreme phablet!

I really wanna get this but just can't spend money on another tablet without an HD screen. I'll keep my tab 10.1 till a tab with a respectable resolution comes out

Galaxy SIII is being released in Mexico's Telcel next week, I guess the new Tab will be as well (or at least soon enough :P).

I am one of the millions that are now using a Galaxy Note smartphone. and ... believe me ... big is nice, very nice ... but a 10 inch or 12 inch phone would be marvellous. Yes to a big phablet...

Cool, time to get rid of my wacom maybe?

I hate it when I see demos like this with so many double tapping. All it tells me is responsives is not that good.
Android Central Newsletter
Get instant access to breaking news, the hottest reviews, great deals and helpful tips
Thank you for signing up to Android Central. You will receive a verification email shortly.
There was a problem. Please refresh the page and try again.