Rejoice, T-Mobile Galaxy S4 users, you're getting an OTA to 4.3 today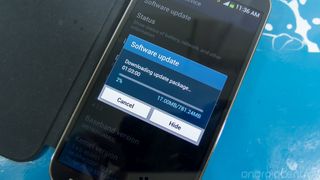 780MB update brings Android 4.3, Knox, and Galaxy Gear support
If you're using a Galaxy S4 on T-Mobile, you've had your patience tested the past few months. The same phone on other carriers (without Wifi calling, which everyone expects is the reason for the delays) has seen updates come and go to improve the laggy behavior of the S4, while we had to sit back and wonder when it would be our turn.
Our turn is today. The Android 4.3 update for the T-Mobile Galaxy S4 is pushing out right now. I fired up mine and mashed a few buttons and see it for myself. It seems like a very slow download, but I can wait another hour for the 780MB file.
The highlights:
Version
Android version 4.3 / Baseband version M919UVUEMK2
Approved 11/26/2013
OTA and Samsung Kies update available 11/26/2013
Improvements:
KNOX
Samsung Galaxy Gear support
Prerequisites
M919UVUAMDL
Device software is not rooted
50% battery life
Latest version of Kies software downloaded on PC or MAC
Data connection
File size of update is 781 MB
So fire up Kies or mash your own buttons and get you some update on.
Source: T-Mobile (opens in new tab)
Senior Editor — Google Ecosystem
Jerry is an amateur woodworker and struggling shade tree mechanic. There's nothing he can't take apart, but many things he can't reassemble. You'll find him writing and speaking his loud opinion on Android Central and occasionally on Twitter.
And once again, Verizon is slow to the punch. Although, if the update is still messing with people's phones, the slower the better. Posted from my Verizon Galaxy S III via Android Central App... And Don't Eat Yellow Snow!

Verizon was supposed to update S3 on the 22, Posted via Android Central App

Motorola gets their top device to 4.4 before Samsung can even get their flagship devices to 4.3... Sad.

As a Google owned company with little to modify in way of code? Not really. It would be sad if they COULDN'T make the update schedule faster than the rest. The sad reality is that any non-nexus and non-moto devices will probably always be one release behind. Like forever. I predict that the GS4 won't see Kit Kat until at least a month after 5.0 releases Posted via Android Central App

Well they say Kit-Kat was designed with mid-range devices in mind so I'm not surprised...

Motorola was bought by Google so they will get their updates faster Posted via Android Central App

What the hell r u talking about??? Verizon's s4 has been updated to 4.3 for about 2 weeks now. Posted via Android Central App

4.3? Jajajajajaja Nexus for life!

No. Go get a Moto X. I've been on 4.4 for a week Sent via my Verizon Moto X

What is jajajaja? Posted via Android Central App

http://answers.yahoo.com/question/index?qid=20090701093309AAS4lT9

This is a horribly slow release. Edit: Jerry, does this solve the lack of Apps2SD update and lag that ruined my experience on the S4 with T-Mobile?

No Idea. Still downloading here.

early reports on XDA say yes. APP2SD is baked in.
As is Knox. Be careful for the efuse. Flashing a custom recovery WILL void your warranty from here out.

I hope the best. They've been slacking big time Sent via my Verizon Moto X

They do have the app to SD option in application manager now but not for too many of the apps on my device. It is still nice however to finally have it for some of them.

Installed and so far everything seems a bit faster Posted via Android Central App

You need KIES even tho its OTA?

No, the "KIES" software simply provides another means to obtain the update. Posted via my "Gift from God" Nexus 5

+ infinity ----------------------------------------------------
So where is the competition for the Note 3? Oh right there isn't any...

really, it is. I had no problems with my phone prior to this update. Since the update I have had many troubles, including my SD card having to be reformatted. Now I am wondering, is there any way to unistall this update? Anyone?

Yay! A little late. This would never happen to an apple device. P.S. Samsung, you can't blame the carriers anymore for the delay. Re: Motorola. Sheesh, they even got 4.4 through the bureaucracy, faster than you got your own google play edition out.

That's so cute you believe that. ----------------------------------------------------
My S-Pen went through hell to deliver this important message to you

Why so snarky? The OP was right.

Then go on over to the Apple side, if it's so much better. We'll have one less 'Apple does it better' comment to deal with.

To be fair, the MOTOX is running a version of android that is damn near stock, so updating is much easier than say, one made by Samsung that has been skinned and modded to all manner of hell.

Exactly. Both have the pluses and minuses ----------------------------------------------------
So where is the competition for the Note 3? Oh right there isn't any...

Agreed. I love Samsung's feature list; if their design principles were more pleasing to the eye I'd argue that they do the best version of Android But Touchwiz is so.damn.ugly. Unacceptable.

Why must these iCrap people troll these forums? Is your device that inadequate that you must down another device to make yourself feel good?

A lot are replacement files. It isn't like this is gonna add 780 mb to the rom ----------------------------------------------------
So where is the competition for the Note 3? Oh right there isn't any...

Rejoice, about what? Getting an outdated update?

Any update that fixes the horrible lag on this phone is welcome. I don't even care about version numbers, since it's all covered up by Samsung software.

I don't think any amount of software updates from Samsung is going to remove TouchWiz :-(

Lol Posted via my "Gift from God" Nexus 5

Exactly! I like the concept of touchwiz but it really kills the user experience. hTc Sense used to be the same way until sense 5.

So how's the update going Jerry? Do you know if/when it will be available over the actual mobile network? Kies & wifi are too much of a hassle. Posted via Android Central App

It's better. Besides the 4.3 stuff and Apps2SD, I notice my lockscreen lag is gone, and I think the keyboard lag is much better. The messaging app and gallery still lag, but they, too, seem better now. At 780MB it may never be available on the network. You might have to mooch some Wifi to get it. But wait a while — the download is slow as hell right now with everyone trying.

Still waiting on the 4.3 update to push to my Gs3 on AT&T. Posted via Android Central App

Today?. . .Well, we'll see. My battery is at 100%, so I'm ready. Posted via Android Central App

Not available over mobile networks is the message I got. I don't do this stupid "Keis" stuff. When is the ACTUAL OTA going out? Posted via Android Central App

May be this has to do with the Samsung's newly added security features. Hopefully you will get OTA for future updates.

Do I have to go to McDonald's and connect to wifi? Posted via Android Central App

Isn't that WiFi slow as hell? And you wanna download 780MB on it? Good luck =) Posted via my "Gift from God" Nexus 5

Well...I got a message saying it isn't available over a mobile network, what other options do I have??? Posted via Android Central App

You'd be better if going to a friend's house and using their Wi-Fi. Bring a six pack and catch up :) Posted from my HTC One via AC App

This!! Beer, friends, and updates!! Triple win!! Posted via Android Central App

I got it yesterday..reset your phone..it may work Posted via Android Central App

Jerry... I think either T-Mobile or Samsung listened to android central podcast last week and made your wish come true. Posted via Android Central App

Who cares how big the file is, LTE can handle it just fine. Posted via Android Central App

Its 780 upfront but it is replacing the existing version of android. Did I say that right....?

Close enough. I said it above, most of these files replace existing files, your not adding 780mb ----------------------------------------------------
So where is the competition for the Note 3? Oh right there isn't any...

I think Samsung should have concentrated on releasing kit kat 4.4 to the S4 rather than 4.3. Older devices like the S3 should be rocking 4.3 by now. My T-Mobile htc one launched with 4.1.2 in April, so the jump to 4.3 made sense especially since 4.4 wasn't released as at the time of the update. Looks like I'll be getting 4.4 in January and the S4 probably in March. Anyway, like Jerry pointed out, SV become somewhat irrelevant when you have custom skins like sense and Touchwiz on them.

Leaked documents say January for the s4 and note 3 ----------------------------------------------------
So where is the competition for the Note 3? Oh right there isn't any...

I only pay attention when I know the leaker. Leaked docs are wrong a huge percentage of the time. Like the leak that said this one was coming last week.

T-mobile? When is o2 getting it?! Posted via Android Central App

T-Mobile USA. Posted from my HTC One via AC App

To the people that made comments that this would have never happen to Apple are dead wrong. Apple update to iOS 7, cause problem to certain peoples' phones. The problem were not able to connect to WiFi, causing Face-time calls to fail, stuck on the apple logo after the update reboot. I can go on with the list of problems with the iOS 7 update. No one is perfect and everyone makes mistakes.

My dad's iPhone 4S fails to take any pictures at all. Always crashes unless he uses the front facing camera... Posted via Android Central App

That's because your dad is holding his phone wrong. Posted via Android Central App

? Posted via Android Central App

It was a joke, lol. He's referring to "Antenna-Gate." Posted via Android Central App

Anyone know if this breaks anything? Or have the issues been fixed? Posted via Android Central App

And here we are on AT&T still waiting for them to post it again...,.

I got the update on OTA, connected to Wifi. What I notice: The screen sharper The lag has been reduced when viewing my photos quickly on my SD card Wifi is more stable. Would disconnect and reconnect often Google Talk was deleted (damn it!) and it installed Hangouts. Google Drive was also forced upon me. Overall lag when using the phone has been reduced. Lock screen pattern red circles have thinner lines to look crisper. A Samsung security feature was added that detects apps trying to access my system info. You have to CONFIRM though that you want Samsung to continue to monitor your apps installed. I didn't opt in. My latest version of Beautiful Widgets is buggy when changing the themes. It won't do as I say! And some system fonts have been changed. That's all I can remember now. Can't wait for 4.4 KitKat in January 2014. OH AND FINALLY THE GREAT ABILITY TO MOVE MY APPS TO MY SD CARD, THANK YOU FOR THIS!!! Posted via Android Central App

Thank you for the great update. I was really concerned that the APPS to SD Card wasn't apart of the update.

Yawn, I already got my 4.4 update on my Moto X. Hope they enjoy that old update, and it doesn't hose your awesome touchwiz experience.

Everyone I know who has 4.4 states it's very disappointing. They barely noticed the difference and the changes aren't worth mentioning. In this situation the latest isn't the greatest.

If the changes are incremental, would not the latest be the best?

Na. Its awesome on the Nexus 5. Posted via Android Central App

Motorola may have 4.4, but the hardware and it's longevity is CRAP. Moto X got 4.4 only so Google can sell phones. The phone is junk like the Nexus line. Posted via Android Central App

Haha its funny because everyone who knows more than you disagrees Posted via Android Central App

The ROM is also lighter on memory. I gained about 600MB in storage space by installing the update. went from 847MB free to 1.4 GB.. Not bad, I'll take it. moving Apps to SD right now ... Old school memory management FTW!! I miss Nexus devices for this reason....

This is exactly why I'm excited about the Kitkat update for my hTc one. My phone is blazing fast and memory isn't an issue but knowing that kitkat will literally free up more memory is........ Priceless!!

More memory is always priceless! Posted via Android Central App

Just got it...so far works well very smooth Posted via Android Central App

I'm downloading 4.3 right now... FINALLY!! Posted via Android Central App

Overall seems a touch smoother...the colors seems a little bit more natural...hey if T-Mobile decided to push the update back a week to fix bugs and make it as smooth as it is now then I'm fine with that Posted via Android Central App

Is the bootloader locked like the 4.3 update to the gs3 on T-Mo? Lost root and custom recovery. My last Samsung phone. Deciding between replaceable batteries, SD card and WiFi calling vs Nexus. Unacceptable! Posted via Android Central App

Smoothest upgrade ever. All seven home screens were not touched. It seems snappier. So far, I like it!

What parts of the phone run snappier? Web browser I hope? Posted via Android Central App

What parts of the phone run snappier? Web browser I hope? Posted via Android Central App

Also emoji/smileys seen in full color now. Posted via Android Central App

I find it uncanny that features that worked yesterday no longer work now. And we're not talking about improvements, we're talking about the sound. The stock Music Effects equalizer no longer works. You can't download another on that the system will recognize. Do they even test these with real end users before releasing newer versions? And did they fix anything wrong with the web browser? No! You still can't zoom in a mobile site like you can on a old HTC EVO.

Samsung like most phones do not offer dynamic text reflow with their default browser. Dynamic text reflow allows the user to zoom in as far as possible and as phone automatically readjust its screen to contain the zoomed content. I'm not sure how hTc is able to do this and others can't. Even chrome browser can't do dynamic text reflow.

I'm outside BK right now downloading the update, currently at 44%, sitting in my car charging, battery also at 44%. The next 90m's or so is going to go by very, very slow! Posted via Android Central App

Is this going to update my Google Maps to 7.0+? I've been holding out updating Maps as long as possible.

Google Maps is updated independently, through the Google Play store. Google Maps is at Version 7.4 on my Galaxy S4. Posted via Android Central App

Just checking because someone mentioned that their Google Talk app updated to Google Hangouts. Something I also would not be thrilled with.

Downloaded this update to my s4 and my wife's s3 and I think both are running a bit smoother. My nexus 7 has kit Kat on it and honestly I can wait for the update on my phone. The firm ware for the camera updated as well but I'm not really sure what all changed. What is Knox? Posted via Android Central App

Knox is software for security purposes so you can use your S4 at work in a secure manner. Posted via Android Central App

What about the s3 LTE this sucks Posted via Android Central App

I haven't noticed any improvements yet. What was it supposed to do?

Yes! Tmo S4 most definitely runs faster with 4.3, keyboard faster, apps faster. Posted via Android Central App

You get emotions tooo lol Posted via Android Central App

Galaxy S4 upgrade from 4.2.2 to 4.3: 1) In the "Motions and gestures" menu the "Gyroscope calibration" submenu has disapeared. 2) S Health and other software that relies on motion sensor input don't work anymore.

Galaxy S4 upgrade from 4.2.2 to 4.3: 3) Auto-rotate does not work anymore, even though it is switched on.

Found the solution!!! Turn off the S4, remove the battery, remove the SIM card, reinsert Battery and SIM (don't know which one did the job, but since I was at it...) After switching back on autorotate and the motion sensors feed their output again to the software... But... the Gyroscope calibration menu is still gone... probably forever.

I upgraded and did not have a screen rotation issue. I did however notice: 1) "reading mode" in the notification bar;
2) Calendar changed, you have to go to settings within the calendar to change the displayed accounts;
3) app2sd (awesome);
4) "active apps" widget has changed;
5) "camera firmware" updated;
6) Application manager has a "turn off" button and it's own category. This seems to have replaced the "disable";
7) A non-permanent "date stamp" on photo's after you have taken them;
8) Security (w/knox not installed)under "settings" then "more"- security the new menu options are under "security update service".

Some bloatware app called Beep'nGo installed which is like another Google Wallet. Really, more? Posted via Android Central App

Beep'nGo bloatware addition found in applications as Mobeam Service Application. Today it requested an update on Google Play. Posted via Android Central App

I was actually debating on getting a HTC one or a Moto X before this update came along. My s4 was laggy, laggy, and just laggy. I can put up with the bad build quality but the software was making me sick. This update makes everything more fluid and lag is completely gone (for me). Well done, T-Mobile and Samsung. Posted via Android Central App

I take what I said earlier back... Wi-Fi still unstable. Also, horrible robotic voice in Google Maps Navigation now. And, Google Maps Navigation arrow icon deleted. Posted via Android Central App

So.. i did this update today and i really can't stand the change they made to the auto-correct for texting. now if i have a strange word or just one that is un-recognized, i need to click on that little arrow instead of my space bar. it's really annoying. and i miss the black top bar where the tiny icons are housed.
Android Central Newsletter
Thank you for signing up to Android Central. You will receive a verification email shortly.
There was a problem. Please refresh the page and try again.