Why spending $1000 on a Pixelbook was the right decision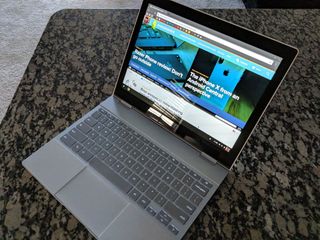 "It's absurd to spend $1,000 on a web browser."
That's what I've been hearing a lot in relation to Google's new Pixelbook laptop. But calling Chrome OS "a web browser" is a plain wrong, though I do understand the sentiment. A Chromebook doesn't do all the same things a Windows or Mac laptop can do. That's fine when we're talking about a $200 machine, since Macs don't exist in that price range and Windows laptops in that range are an exercise in frustration.
But let's say you're the type of person who knows a Chromebook is the perfect fit for you. You may have used a Chromebook through high school or college, and you're already familiar with the strengths and limitations of the Chrome platform. You may also be like me and already have a desktop for all your heavy-duty needs, but want something lightweight and fool-proof for mobile use.
For the past few years, this mobile device may have been an iPad or Android tablet. That's perfectly sufficient for most people, but a Chromebook would allow access to Android applications and a full desktop browser on the same device. That may sound trivial, but it makes for a great all-round device that can go anywhere and do almost anything.
Enter Pixelbook.
There's also another angle from which to consider the Pixelbook: Android tablets have, by and large, failed. Android on tablets has been reduced to that $50 Amazon Fire tablet that's near the checkout aisle in Best Buy next to snacks, soda, and other crap nobody really wants or needs. Android's tablet-esque future isn't on "traditional" tablets; it's on Chromebooks. Manufacturers need a halo device for this context, and developers need a machine to build their applications for. In the past, we had the Nexus 7. Now have the Pixelbook.
The standout Chromebooks this year have been the Asus Chromebook C302 and the Samsung Chromebook Plus/Pro. I've used all of these at some point during the year, and they're great devices. However, they're not without compromises. Both of these feel like laptops first and tablets second. This is particularly true of the Asus Chromebook, which has a 16:9 aspect ratio screen. This aspect ratio is great when the device is used as a laptop, but it makes the device too tall as a tablet.
The Samsung Chromebooks are better in this regard, but not without their own issues. The 3:2 aspect ratio of the display makes them much better as a tablet, and the display is gorgeous, but the keyboard is awkwardly cramped and not backlit, and the trackpad always left me wanting. Are these huge issues? Not really, but the keyboard and trackpad are the elements you'll interact with most on a laptop.
I've been using the Pixelbook for at least three hours a day since purchasing it from Best Buy on release day. I already knew I liked Chrome as an operating system before buying it, and I would suggest anyone interested in the Pixelbook to at least try a less expensive Chromebook first.
What about the Pixelbook itself makes it worth trying? It's a lot of little things. The screen is drop-dead gorgeous (though using the same panel and tuning as the Samsung Chromebooks). The keyboard has just the right amount of firmness and travel. I use a mechanical keyboard with typist-friendly Cherry Blue switches at my desk at home. Whenever I used to write out a long-form article or review, I'd always write at home with my full keyboard. Now, I'm just as happy using the Pixelbook's keyboard as I am my mechanical keyboard, and that's no small feat. And the silicone wrist rest around the keyboard is dirt-free, though I'd expect that to change in the years to come.
Similarly, the trackpad is the best I've used on any device — Windows, Chrome or Mac. I used to bring a wireless mouse with me everywhere I went with my laptop, and I still have my Logitech M720 Triathlon paired to my Pixelbook. After the first time I paired it though, I never used it. The trackpad is that good. Gestures are effortless, scrolling is nice and smooth and the larger size of the trackpad makes it a joy to use.
Then there's the flip side. Literally. The specs sheet for the Pixelbook and Samsung Chromebook Plus list them at the same 2.4 lbs, but the Pixelbook feels so much lighter. I don't know what voodoo Google did with the weight distribution of this device, but it doesn't feel anywhere near that heavy. That may sound like a minor detail, but it goes a long way when using the device as a tablet, or even just when carrying it around. It's hard to get this across in a review, and while this sounds like a cop-out, it really needs to be experienced to find out how dramatic of a difference it is compared to other devices.
In terms of general performance, there's nothing that stands out about the Pixelbook compared to other Chromebooks. An Intel Core i5 and 8GB of RAM is absolutely overkill for Chrome, and it doesn't start up or perform noticeably better than a $250 Acer Chromebook 14. The most intense Android game I've played so far has been Monument Valley 2. I'm sure a title like Asphalt 8 would be more smooth on the Pixelbook than a lower-end Chromebook, but I don't play games like that. Battery life is sufficient, but not earth shattering: I get an average of 10 hours of screen on-time with five or so tabs open at a time, or about eight hours of video watching.
As mentioned previously, I don't have any desire to use the Pixelbook pen. If it were included I'd probably give it a try, then put it back in the box. I also don't care that the Pixelbook is the first Chromebook with Google Assistant. It's great for Google, but Assistant is the kind of service that will come to other Chromebooks. For me, my phone is always close enough to use for Assistant. Other complaints include the lackluster front facing camera (which records at only 720p), and speakers. I can also understand some users wanting a USB Type A port for older flash drives and mice dongles, but that would have been too thick to include in such as svelte chassis.
One last note is that the Pixelbook will be Google's platform for new features for Chrome going forward. For those that like to tinker (and I'm one of them), this may be an important point. I don't think it should weigh into anyone's buying decision though. Buy a device for what it does today, then be happy with new features that get added in the future.
In the end, I can't recommend the Pixelbook to anyone. At least, not without them trying a less expensive Chromebook first. If that Chromebook meets that person's needs for a mobile device, and they're willing to spend the money for a fantastic keyboard and trackpad, the best Android tablet experience out there, and the great design, then I'd say go for it.
The Pixelbook is the perfect laptop for me, and if you're already a fan of Chrome it's probably the perfect laptop for you.
Get the Android Central Newsletter
Instant access to breaking news, the hottest reviews, great deals and helpful tips.