What color Pixel 2 or Pixel 2 XL should you buy: Black, White, or Kinda Blue?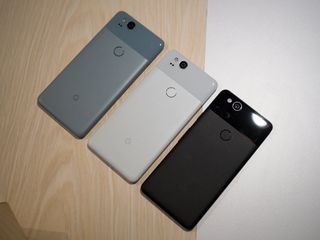 Before you buy a Google Pixel 2 or Pixel 2 XL, you need to make a very important decision — what color should you get? With options for both the Pixel 2 and Pixel 2 XL, there are definitely a few things to consider before you make your final decision. We aren't here to make that decision for you, but we have laid out the details of each of these colors.
There are three colors to choose from with the Pixel 2, and two choices if you opt for the Pixel 2 XL, and we've got the details on all of them for you here!
Pixel 2 in Clearly White
The Pixel 2 is going back to the color scheme of the original Pixel with its Clearly White coloring. It's a gorgeous white, with a slightly darker top third on the back. The white color catches the light and makes for a classy, understated color for your phone. It should be noted that the Clearly White model does have a black front, which can be less distracting when using the AMOLED display — definitely a bonus.
Who is it for?
The Pixel 2 in Clearly White is definitely for those who like to make a statement when they pull their phone out, and like a classier look for their pocket computer. It does pick up scratches and buffs more noticeably, which is something to remember, but it also looks great in transparent cases.
Pixel 2 in Just Black
When it comes to colors for your phone, it's hard to go wrong with black — clean, and simple. Just like the Pixel, the Pixel 2 comes in a black variant that gives the phone a sleek profile. While the upper third is glossy and noticeably darker than the rest of the phone, which is a lighter matte, the entire design blends together in a classic finish that looks sleek and professional.
Who is it for?
If you're clumsy, or you aren't particularly attached to a specific color, then black is definitely a solid choice. Black means that minor scuffs or scratches won't show up quite so easily, and matching your case to your phone is a simple process. This also means that this is the best color to go for if you don't plan on snagging a case at all.
Pixel 2 in Kinda Blue
The Kinda Blue Pixel 2 is a toned-down version of last year's Very Blue Pixel. It's a nice mellow pale blue that also has hints of grey and silver in it. It's also the most color you'll see on a Pixel 2 at release — especially with its very cool mint green power button.
Who is it for?
If you like to make a statement with your phone, but you prefer something a bit more toned down, then this is definitely the right choice. The pale grey-blue color isn't you other folks are going to be used to seeing, although any scratches or buffs are definitely going to be noticeable. It lets you stand out in a world filled with black or white phones, but it's also subtle enough that you can keep it from drawing attention at all by throwing a case onto it.
Pixel 2 XL in Just Black
Image 1 of 2
The Pixel 2 XL in Just Black is sleek, simple, and utilitarian. Black is always a solid color, and it works well for the Pixel 2 XL giving it a low profile that won't look too flashy, especially since the front bezels are smaller than that of the Pixel 2.
Who is it for?
The Pixel 2 XL is definitely for those who like a professional look when they pull out their phones, or for those who know that they don't plan to get a case. Just Black is definitely best color for hiding scuffs and scratches on your phone and is easily the most understated color available.
Pixel 2 XL in Black and White
The Pixel 2 XL in Black and White takes the best of both black and white worlds and brings them together. It's got a black front, stretched around to the top third of the back of the phone, and the rest of the phone is white — a "dunk of chocolate". It offers a great contrast and color that you aren't likely to see elsewhere. Oh, and that orange power button is going to be very divisive.
Who is it for?
The Black and White Pixel 2 XL is going to be a very popular option, mainly because of that orange power button and its two-toned color scheme. It's for people who want to stand out without shouting that fact and is going to appeal to anyone who can't decide whether black or white is the right way to go. Of course, if you're clumsy, it's worth remembering that the white portions of the phone are going to pick up scratches and buffs more noticeably.
November 20, 2017: We've updated this post with new details to make sure that you can easily make the choice of what color Pixel 2 or Pixel 2 XL you're going to pick up!
Get the Android Central Newsletter
Instant access to breaking news, the hottest reviews, great deals and helpful tips.
Jen is a staff writer who spends her time researching the products you didn't know you needed. She's also a fantasy novelist and has a serious Civ VI addiction. You can follow her on Twitter.