What color Pixel 2 or Pixel 2 XL should you buy: Black, White, or Kinda Blue?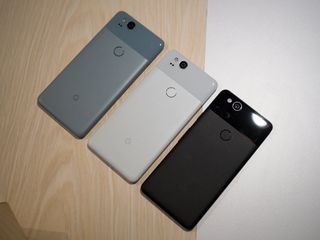 Before you buy a Google Pixel 2 or Pixel 2 XL, you need to make a very important decision — what color should you get? With options for both the Pixel 2 and Pixel 2 XL, there are definitely a few things to consider before you make your final decision. We aren't here to make that decision for you, but we have laid out the details of each of these colors.
There are three colors to choose from with the Pixel 2, and two choices if you opt for the Pixel 2 XL, and we've got the details on all of them for you here!
Pixel 2 in Clearly White
The Pixel 2 is going back to the color scheme of the original Pixel with its Clearly White coloring. It's a gorgeous white, with a slightly darker top third on the back. The white color catches the light and makes for a classy, understated color for your phone. It should be noted that the Clearly White model does have a black front, which can be less distracting when using the AMOLED display — definitely a bonus.
Who is it for?
The Pixel 2 in Clearly White is definitely for those who like to make a statement when they pull their phone out, and like a classier look for their pocket computer. It does pick up scratches and buffs more noticeably, which is something to remember, but it also looks great in transparent cases.
Pixel 2 in Just Black
When it comes to colors for your phone, it's hard to go wrong with black — clean, and simple. Just like the Pixel, the Pixel 2 comes in a black variant that gives the phone a sleek profile. While the upper third is glossy and noticeably darker than the rest of the phone, which is a lighter matte, the entire design blends together in a classic finish that looks sleek and professional.
Who is it for?
If you're clumsy, or you aren't particularly attached to a specific color, then black is definitely a solid choice. Black means that minor scuffs or scratches won't show up quite so easily, and matching your case to your phone is a simple process. This also means that this is the best color to go for if you don't plan on snagging a case at all.
Pixel 2 in Kinda Blue
The Kinda Blue Pixel 2 is a toned-down version of last year's Very Blue Pixel. It's a nice mellow pale blue that also has hints of grey and silver in it. It's also the most color you'll see on a Pixel 2 at release — especially with its very cool mint green power button.
Who is it for?
If you like to make a statement with your phone, but you prefer something a bit more toned down, then this is definitely the right choice. The pale grey-blue color isn't you other folks are going to be used to seeing, although any scratches or buffs are definitely going to be noticeable. It lets you stand out in a world filled with black or white phones, but it's also subtle enough that you can keep it from drawing attention at all by throwing a case onto it.
Pixel 2 XL in Just Black
Image 1 of 2
The Pixel 2 XL in Just Black is sleek, simple, and utilitarian. Black is always a solid color, and it works well for the Pixel 2 XL giving it a low profile that won't look too flashy, especially since the front bezels are smaller than that of the Pixel 2.
Who is it for?
The Pixel 2 XL is definitely for those who like a professional look when they pull out their phones, or for those who know that they don't plan to get a case. Just Black is definitely best color for hiding scuffs and scratches on your phone and is easily the most understated color available.
Pixel 2 XL in Black and White
The Pixel 2 XL in Black and White takes the best of both black and white worlds and brings them together. It's got a black front, stretched around to the top third of the back of the phone, and the rest of the phone is white — a "dunk of chocolate". It offers a great contrast and color that you aren't likely to see elsewhere. Oh, and that orange power button is going to be very divisive.
Who is it for?
The Black and White Pixel 2 XL is going to be a very popular option, mainly because of that orange power button and its two-toned color scheme. It's for people who want to stand out without shouting that fact and is going to appeal to anyone who can't decide whether black or white is the right way to go. Of course, if you're clumsy, it's worth remembering that the white portions of the phone are going to pick up scratches and buffs more noticeably.
November 20, 2017: We've updated this post with new details to make sure that you can easily make the choice of what color Pixel 2 or Pixel 2 XL you're going to pick up!
Get the Android Central Newsletter
Instant access to breaking news, the hottest reviews, great deals and helpful tips.
Jen is a staff writer who spends her time researching the products you didn't know you needed. She's also a fantasy novelist and has a serious Civ VI addiction. You can follow her on Twitter.
I'm digging the kinda blue color as it looks unique. If and when they figure out how to get phones made quickly, I'd love to be able to customize the colors of my phone like the original Moto X.

Looks like kinda blue is a Verizon exclusive? Can't seem to pre-order it for an unlocked version.

I noticed this too. It's interesting that no one has reported that fact.

I want that panda, er, Black & White Pixel 2 XL!

It's the colors of the Linux penguin!

Heh, come to think of it, you're right! :-) Instead of an orange power button, they should've made it yellow, or put some yellow accents (fingerprint sensor?) on the phone. :D

Hmmm, let me think, black, white, or kinda blue. Methinks kinda none of them.

Hmmmm Methinks it was completely pointless for you to read this article and post this comment if you have no interest in this device.. and was a waste of your time.

Looks like the blue is verizon only...

Thankfully we don't have Verizon here in the UK, :)

I dont' want black or White and I NEED the XL. I have the original Really Blue XL and love it. I refuse to go back to a boring color. They should allow the Kinda Blue or a different color on the XL. Black/White is just so boring.

Phone skins are your friend.

Are the front bezels black for all or do they match the backs?

Looks like with the white you do see a while frame around the front, so if I decide to order, it will be the black xl.

The front is black on all models

White and Black!!! At first I wasn't sure, but I think it looks great. I DO like the orange power button, btw! VERY excited for this phone!!! Now... to decide on the 64 or 128 Pixel 2 XL... Can't decide, coming from a 64gb Nexus 6. 64gb was great for my Nexus6, but with the better camera, will 64gb not be enough on the new Pixel 2xl?

Unlimited photo storage is your friend here. I'm on a 128GB Pixel XL but downsizing to the 64GB XL 2

I'm glad to hear that. I'm on 32GB and upgraded to just 64GB. I think it will be plenty if I keep the phone for more than a year.

Pixel 2 XL and I'll take either color choice. :)

Wanted the panda, went with black because of launch day availability.

Which to buy? How about neither?
No wireless charging, no expandable storage, no headphone jack and still expensive

Pretty much. The 'sole' lack of SD slot is DOA for my use otherwise I'd give it a try.

Does anyone know if there will be an unlocked blue version available?

I hate the exclusiveness of the blue to Verizon so I got the white. The trade in is my reason. I'm sour about the headphone jack being removed though.

How is the white holding up with scratches etc. ? I'm thinking about getting it.

I only want gold, still Rockin my 6p because of it. I hope they don't come out with Gold at the beginning of next year as I am about to buy the XL black. I would prefer to see some real videos though but can't go wrong with black.

🐼🐼🐼🐼🐼🐼🐼🐼 just order the 🐼🐼🐼🐼🐼

The Black and White model should have colors, complemented of current. Ie. current black part shouldve been white and the part which is white shouldve been black.

As much as I'm not excited by the new Pixels I have to admit I absolutely love the look of the Black and White XL. I couldn't even put a case on that

I most chime in wtf these are the ugliest phones to date an I'm being modest ..get the v30 same phone but better an not watered down

All these comments about a pretty phone, an orange button of all things- All phones look the same in someone else's hand; except the ones in the bulky black cases...
Let's get a life, good service, and a functional phone - Save pretty for your spouse...
(Project Fi Service/Pixel 2)

Noticed you put (Project Fi Service/Pixel 2) - did you pick up a 2 or are planning to?

None of them. How can u guys recommend this phone at this point.

Pretty sure they said yesterday they'd withdrawn their recommendation for the 2xl

Yeah I think I'd consider the regular pixel 2 maybe but definitely not the 2 XL.

I pre-ordered to 2 XL in white on launch day, and cancelled 2 days ago. It's not worth spending $850 on a phone with so many issues, when very similar phones like the Essential can be had now for $499, or the S8+ for under $600.

Yep, the U11 is a solid option to.

Me too (black). I cancelled that and my case. Not worth it and it's barely better looking then the first Pixel. I'm sticking with my 6p and using those savings for Christmas shopping. Maybe is there is a good deal around or after the holidays may look into S8+ but prefer Note 8.

I've always bought black, but for the first time I ordered Clearly White so that it would look better with the translucent Cruzerlite orange TPU case (the black phone turns orange in to brown). But...Cruzerlite went out of business earlier this month! Can't find another orange translucent case, so ended up buying a solid orange case instead and stuck with a white phone that nobody can see. Oh well. Sort of thinking of cancelling my order (was too late to get the first round of shipments) since all the screen and clicking issues have come up, and then re-ordering black once things are straightened out.

An article on colors you couldn't actually get? I have a kinda blue...I put a blue case on my black 2 XL phone...😋

Went full black on my Pixel 2 XL. Candy bar for sure .

"All options are gorgeous". How pathetic AC. You're still pushing this POS despite the issues and total lack of features. It's quite sad to know I can not trust any AC reviews or recommendations. Where can we go for unbiased Android related reviews?

They're both ugly and the XL will have screen burn-in. Buy neither and get an HTC U11. Same specs but it looks better and is cheaper.

With no Always On Display, a single camera and no bokeh, zoom or wide angle lens?... Nah

Whichever colour doesn't squeak, hiss or have screen burn in I guess...

Black 2 XL- and my card just got dinged - so I should be getting it in a few days.. cool.

Wish kinda blue was an option for the pixel 2 xl. I would go for the penguin color pixel 2 xl.

Whatever color a phone is, I really wish the color would also show in the bezel around the screen instead of all just black. Does Apple have some patent on that?

So I'm looking to get a solid black case does it make any sense to worry about getting the white phone although I prefer the look of it I'm always going to have it in my case?

nah they can keep their phones with all the issues they have.

Don't believe the BS. I have the Panda and it is flawless, fast, tight, and sturdy! It's the best phone I've ever owned, and then some.

I got the black XL. Since I always put my phones in cases, color isn't a big deal for me. And that case saved me when my five-year-old dropped it on a tile floor two days after I got it. Came through it without a scratch. In terms of performance the phone has been great. God, it's so nice to get away from Touchwiz!