The pandemic kickstarted Chromebook sales, but their value alone is pushing them forward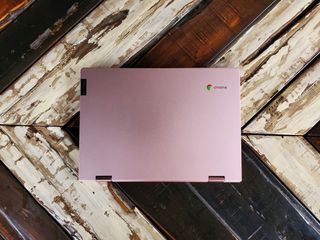 (Image credit: Ara Wagoner / Android Central)
A year ago on Mother's Day — go call your mother, by the way — most of us had been in lockdown for six weeks and were bracing for another 4-8 weeks. Schools were trying to finish out the academic year however they could, and finding a good Chromebook was starting to get difficult as millions scrambled for cheap communication and consumption devices amid a component shortage caused by manufacturing shutdowns during China's lockdown.
Here we are a year later, and thankfully a lot has changed. While lockdowns are still impacting India — and please, donate to relief efforts if you can — vaccinations are continuing to roll out across Europe and North America, and many workers who have been working from home for the last year are getting the choice to start going back to the office. Schools are mostly back in-person and have been since October, so naysayers can no longer use distance-learning or a panicked rush to remote work to write off Chromebook sales rising 350% year-over-year or $275% year-over-year according to reports published in the last two weeks.
Lenovo alone sold more Chromebooks in the first quarter of 2021 than all manufacturers did in Q1 2020, which is very good news for Lenovo but even better news for HP — who saw a 600% rise in Chromebook sales — and for Google, who was able to celebrate Chrome OS's tenth birthday by boasting that 1 out of every 5 new computers bought in America today is a Chromebook.
Of course, these percentages are slightly less impressive when you see that the total Chromebooks sold in Q1 2021 was only 12-13 million, up from roughly 3 million a year ago. For comparison, there were just under 40 million tablets sold this quarter — a 51% bump over stagnant pre-pandemic sales — and 122 million PCs. 13 million Chromebooks looks like chump change compared to PCs, but what it really means is that Chromebooks have a lot of room to grow as they continue to compete with low and mid-range Windows laptops and with the best Android tablets.
Make no mistake, I fully believe Chromebooks will continue to compete and grow, and I'm not the only one. Technology analyst Carmi Levy agrees that "the pandemic has blown the doors wide open on what was once considered a niche solution," allowing Chromebooks to show off their convenience for everyday users and their practicality for employers and remote workers.
Beyond big businesses, a growing number of people are buying Chromebooks for their homes for the same reasons: they're inexpensive, hard to break and do everything they need them to. The r/chromeos subreddit recently discussed why they came to Chromebooks, and I was pleasantly surprised by the number of users who said they'd bought it for media consumption and security, not just lightweight web browsing.
Chromebooks are already swift, secure, and pretty darn simple to use, and with Google continuing to make the Chrome OS even better with each update, it's all but assured they'll continue to grow in popularity. I'm especially excited to see how their popularity expands as we get more Chrome OS tablets like the Lenovo Chromebook Duet and the upcoming ASUS Chromebook Detachable CM3 (opens in new tab). Maybe it'll be enough to finally get Google to crack down on large-screen app design and scaleability the way they've failed to do with Android tablets for the last five years.
Chromebooks will need one more thing to succeed, though: an improved nationwide infrastructure for high-speed internet. From Carmi Levy:
You can now narc to the FCC on how bad your internet is, but it'll take years for the feds to do anything about it. Telecoms, on the other hand, got kicked in the pants last year by the demand of hundreds of millions of remote workers and distance-learning schoolchildren, and they should hopefully be investing in making sure they're never put in that position again. At least rural areas that traditionally had zero meaningful internet options are starting to get viable choices like Starlink Home Internet and T-Mobile Home Internet.
In every home that has affordable, consistent internet, Chromebooks are becoming more and more attractive. Whether you need one for safe international travel, remote work, or just browsing the web on the couch, there's a Chromebook for you, and its sales will lead to more exceptional quarters like this one.
More notes from this working weekend:
Reports of Microsoft shelving Windows 10X — its Chromebook-competitor system — are great news for Google and Chromebook manufacturers, but I'm still hopeful that we'll see the system at some point down the line. After all, having a more direct competitor would push Google to be bolder with new features and models.
WhatsApp is making the May 15 deadline more confusing by saying that it won't kill the app for users who don't agree with the new privacy policy, but instead, Facebook's just going to kill most of the features in the app that make WhatsApp a viable communication platform. Thank goodness I never used it — well, I'm a Hangouts user, and we all know how that's going...
Our colleagues at iMore are covering all the Apple vs. Epic feuding in court, and all I have to say on the matter is "Let them fight."
We're now nine days from the start of Google I/O, so it's time to start hyping myself up about all the things I want to see at the keynote this year that aren't going to happen like a proper theming engine, a consistent and enforced design policy for widgets, a magical update that'll make YouTube Music a competent music app with library management and metadata editing. What pipe dreams do you have for I/O this year?
Get the Android Central Newsletter
Instant access to breaking news, the hottest reviews, great deals and helpful tips.
Ara Wagoner was a staff writer at Android Central. She themes phones and pokes YouTube Music with a stick. When she's not writing about cases, Chromebooks, or customization, she's wandering around Walt Disney World. If you see her without headphones, RUN. You can follow her on Twitter at @arawagco.
I make up to $91 an hour working from my home. My story is that I quit working at Walmart to work online and with a little effort I easily bring in around $40/h to $86/h… Someone was good to me by sharing this link with me, so now i am hoping i could help someone else out there by sharing this link... www.nifty2.com ​Try it, you won't regret it

Maybe in the US Chromeboooks are more common but here in the UK, its Windows laptops that sell more, Chromeboooks will never be anything more than a niche product in the rest of world that isn't the US.

I don't know, that's what they said about Chromebooks for the past few years, first it's was it's crap and it'll fail, then well it's only good for schools, now it's demographics are growing beyond schools etc. I wouldn't count it out especially when people in the UK will find you can get a much better performing, better build quality, screen , etc for the same price. It just hasn't been in the European market as long. Wait a couple of years and see if they gain traction.

What boswd said, Chromebooks got a head start in the U.S. but they're gaining momentum in the UK, slowly but surely, and value is a huge part of it.

Having an 8 year old with a Chromebook, even well before the pandemic, what I'm finding interesting when talking to other parents and such, is the growing interest in owning their own Chromebook. It's seems to be having a halo effect. Parent's went out and bought their kids Chromebooks to prepare them for online pandemic learning Learned how to work them and are finding out that these are a really nice option for that second or third computer around the house. I have been defaulted to the go to person when people ask about phones, computers, tablets etc. And more and more adults are asking about Chromebooks. One alot of people are falling in love with that they bought for their kid is the Lenovo Duet, for a better ones it's been the ACER Spin 713 that I get asked about more often than not by parents who have done a bit of research. It just makes sense, for most people and their needs, or just want that second computer to have when traveling, sitting on the couch or whatever and if they don't need a high powered Mac or Windows then spending $500 or so on a Chromebook will get you a great keyboard, trackpad, screen and build quality along with a very solid performing computer. A $500 Windows computer buys you crap, let's be honest.

Yeah, the Lenovo Duet and the Acer Spin 713 (especially when it gets it's almost-monthly $100 discount) have really cleaned up this year.

Ugh. More proof that Hillenbrand should be writing for iMore. "Of course, these percentages are slightly less impressive when you see that the total Chromebooks sold in Q1 2021 was only 12-13 million, up from roughly 3 million a year ago. For comparison, there were just under 40 million tablets sold this quarter — a 51% bump over stagnant pre-pandemic sales — and 122 million PCs. 13 million Chromebooks looks like chump change compared to PCs" Mac shipments 1Q: 6 million. So twice as many Chromebooks sold as Macs. And while fewer Chromebooks sold than "tablets", more Chromebooks sold than iPads according to IDC. Almost as many - by a margin of like 1 million - sold according to Canalys. So, Hildenbrand makes a completely irrelevant comparison between Chromebooks and the de facto business/professional computing platform since 1985 in DOS/Windows - which no one is going to surpass for very good reasons until/unless there is a fundamental shift in the business and technology landscape - but totally ignores that ChromeOS is a real threat to the primary ALTERNATIVES to the Windows hegemony that isn't going anywhere for awhile: MacBooks and iPads. Why? Because Linux capability making Chromebooks better for productivity than iPads as well as Chromebooks being generally cheaper than MacBook Airs is a narrative that challenges Apple. Hillenbrand over the last 2-3 years is increasingly acknowledging that he is an Apple guy so he is doing his level best to avoid the real story here. In a few months, Chromebooks will support Steam gaming and we should get the first Chromebooks with both real GPUs - 11 gen Intel with Iris Xe - as well as Thunderbolt 3 (or 4) which will permit eGPU support. That will make Chromebooks even more compelling alternatives to iPads and entry level macOS devices. (iPad Pro, MacBook Pro and Mac Pro ... nah. But MacBook Air, Mac Mini and iMac? Definitely.)

Uhhhhh, maybe look at the byline first, dude. And yeah, Chromebooks are a major competitor to iPads and Macbooks (esp the people who bought an Mac because "it just works" ten years ago and are realizing that no, it doesn't), but Chromebooks are also a very viable alternative to the sub-$600 Windows market and that's where it can really clean up if it keeps upping the productivity features and gives us a few of the basic features that Chromebooks are still missing out on — like the ability to rip a CD.

I can't remember when I bought my Pixelbook. It's been years. It hasn't missed a beat, I love it. Sometimes i take it with me when I travel (well, used to,maybe some day!) Music, movies, TV, e-books...no prob. I just synced my OnePlus phone to it, which is pretty cool. Now my search history is consistent. I use Google Docs and Sheets for personal projects and set up HP Print for Chrome. Probably a super smooth work connection for MSFT based work in the cloud is coming. Why we labor with the old school wintel is beyond me....