Oreo beta for Galaxy S8 ends, public build coming soon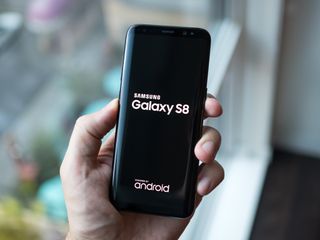 (Image credit: Android Central)
Ever since early November, Samsung's been running a beta of Android Oreo on the Galaxy S8 to test out new features and squash early bugs ahead of a public release. A leaked non-beta build from earlier this month suggested that Oreo would soon be available for the general public, and now it's been confirmed that the Oreo beta will end on January 26.
Samsung's started sending out notices to those enrolled in the beta to announce this news, saying:
From January 26 and onwards, Samsung will stop releasing updates to the beta and instead have its next update be for Oreo's public release to all Galaxy S8 handsets. It's unclear at this time when that'll take place, but I'd imagine we see it pushed out on or around the time the Galaxy S9 is announced at MWC in February.
If you've been a beta tester for Oreo on the Galaxy S8, how have you been liking it so far?
Joe Maring was a Senior Editor for Android Central between 2017 and 2021. You can reach him on Twitter at @JoeMaring1.
I know between here and the Samsung Members forums people have had some issues, but my experience has been fantastic. Battery life has been great. From beta 1-7 the device has been increasingly more fluid/snappier. It's been fun, on my end. Love the new lock screen clock options, too.

It was a problem at first specially when sending pics. After an update a month ago it's been excellent.
Zero complaints from me

Very few issues with any of the updates. Phone performance is fast and really smooth. Ability to change lock screen clock and wake from AOD screen with OK Google are big for me, even though those improvements might seem superficial. Not one regret. A really positive experience.

I forgot about the Ok Google command. And some themes change the nav bar. Loving the Pixel style software keys.

I wouldn't consider the software keys to be Pixel style, unless I'm missing something.

Certain themes changes the look of the software keys.

Just curious, what theme? I tried Cameron Bunch's and the keys were too big

I'm currently using Android_O_Black by Lucas Kendi. They may be bigger than a actual Pixel, but the style is so much better.

Yeah, the themes changing the keys and navigation bar has been a big plus. My phone has the pixel style keys as well

Go Cubbies. Can't wait for the season to start. Still waiting everyday for a notification on my phone about Jake.

BTW... The Beta forum here was a pleasure to be a part of.

I enjoyed being part of this beta

Yep beta is pretty stable. I was hoping that Samsung would throw in some additional camera tweaks and a pixel esqe portrait mode at some point but they didn't. Outside of those hopes being squashed, it has been a good one.

By Pixel esqe portrait mode do you mean have the foreground be sharp and blur out the background? If so, open the Camera app and switch to the front camera > swipe left to right > and tap on "selective focus". Tap on yourself and then take the photo. It'll use machine learning to keep you sharp and blur out the background. I believe it's available on the rear camera too. If you don't see "selective focus" in the list of available modes, tap the + in the top right corner and download "selective focus". There is very little the Pixel 2 can do that the S8 can't. The only thing I can think of is getting updates directly from Google.

I tried to be a part of it but didn't work out this time. I'm still Loving my S8+ but as usual I will have the S9 about the same time the update is rolling out.

Good. Maybe it will raise the value of this phone so I can sell it and get a pixel 2 xl. Lag, studders, freezes, whacky skit happening when you pull down the notifications etc. I know I know.. this never happens on your s8 or Note 8. And I know you're not kidding when you say this never happens to your Samsung device. There's my monthly troll. Can't wait to have a pixel again.

Won't raise the price whatsoever

Have you tried doing a full restore on the phone? I had a couple odd issues, but a full restore fixed them.

I have no doubt that you are experiencing this, but clearly you have something installed that's causing it to happen. My wife's Note 8 started locking up and rebooting on her while mine has been flawless, but she likes to heavily customize hers and installs every app under the sun. My S7 edge slowed down and started acting weird. Eventually figured out that it was a poorly written app. Uninstalled the app and things were back to normal.

Overall a very good beta for me. I know some had major issues. I had a few small bugs here and there but everything seems to be running good now. Phone is much faster and smoother plus the battery is doing much better as well.

I assume that Oreo for the S8 will be released a few weeks after the S9 ship. I'm almost certain that the late release is not an accident.

They're always late tho. 6 months minimum after every OS update.

I'm ok with waiting. I'd rather they take their time than rush out an update.

It went back and forth for me. One build was great, next had issues, then back to great. Build 7 right now is phenomenal. Went an entire day without charging and still had 20% and 4.5 hours left. I'm hoping they add back the ability to set custom text tones in the contacts app, but I'm using texts and that allows that as well.

Glad HTC is was on the ball and gave us this update in December. Samsung need to do better considering the amount of phones they sell.

Samsung customizes Android more than HTC does. The more changes the more time between updates. I was ok with getting regular security updates. Should only bee a few more weeks before I get 8.0

I like Samsung a lot, but I wish they would cut back even more than they already have with the customization. The amount of carrier variations is ridiculous, and it's all crapware. Two images is all they need, one for Snapdragon and one for Exynos.

Ended on the 17th for exenos devices on beta 6 So they were obviously having issues with the Qualcom version of the phones..

How was the addition of Gif support for the key oars and messaging?
Android Central Newsletter
Thank you for signing up to Android Central. You will receive a verification email shortly.
There was a problem. Please refresh the page and try again.