At only $6, Lexar's 32GB microSD card is a no-brainer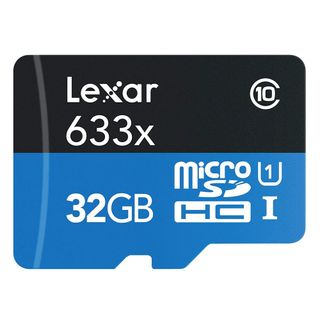 Every so often, a deal rolls around that's so enticing you don't have to think twice about whether or not to make the purchase. Get your cheap thrills by picking up this Lexar 32GB 633x microSD Card (opens in new tab) for only $5.99 at Amazon today. The card is typically affordable, selling for $9 on average, but today's deal saves you 30% and gets you in on a low price that we haven't seen come around very often. You can either spend $25 or use Amazon Prime (opens in new tab) to skip any shipping fees.
(opens in new tab)
This card is capable of quickly storing files, transferring media, and more. Other capacities are discounted if you need more storage space. Customer reviews are positive as well.
This inexpensive microSD card might be affordable, but that doesn't mean the quality is compromised. It quickly captures, stores, plays back, and transfers your files, and it can handle full HD and 4K video as well. It offers transfer speeds up to 95MB/s, which is faster than you'd find on similarly-priced cards. There's enough space here to store more than 36 hours of high-definition video, nearly 70,000 photos, or nearly 60,000 songs. Your purchase also includes an SD adapter so you can read and transfer stored files on your computer with ease. Customers give this card an average of four out of five stars (opens in new tab) based on nearly 900 testimonials.
If you could use more space, other capacities of the card are quite inexpensive today as well, though some of them are faced with a slight shipping delay. A 32GB microSD card offers plenty of storage space for things like security cameras (opens in new tab), dash cameras (opens in new tab), gaming consoles like the Nintendo Switch (opens in new tab), and tablets such as the Amazon Fire HD 7 (opens in new tab). At today's prices, you could pick up multiples and know that you're covered in the event of running out of storage space.
Lexar products go through rigorous testing with over 1,100 devices to ensure they're compatible, reliable, and performing as intended. Your purchase is covered by a five-year warranty in case anything goes awry. For even more storage on sale, check out Lexar's fingerprint-secured flash drive.
Louryn saves money on everything she buys (which is a lot.) In between waiting for Amazon deliveries, she pines for the next Elder Scrolls installment and checks Reddit for gaming rumors. She also loves Hearthstone, makeup, and beer. Find her on Twitter: @lourynstrampe
Android Central Newsletter
Thank you for signing up to Android Central. You will receive a verification email shortly.
There was a problem. Please refresh the page and try again.