NVIDIA Shield Android TV is the best Kodi box you can buy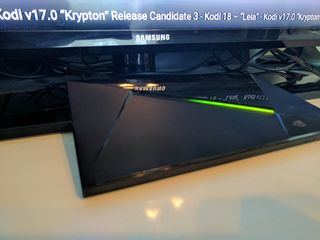 Kodi has been popping up in the news more and more often these days with the popularity of cord cutting on the rise. It's a very capable media center that's available for a multitude of different platforms but arguably works best and is easiest to set up on an Android TV box — especially if you're looking to integrate it into your home theatre setup.
Meanwhile, the NVIDIA Shield TV is the best Android TV box you can get so, ergo, the NVIDIA's set top Android console is also the best Kodi box. But you don't have to take our word for it.
NVIDIA considers the Shield TV to be the best Android TV box for Kodi (opens in new tab), which admittedly might seem less than objective, but there's also a fleshed out entry from the Shield on the Kodi Wiki as well as a top recommendation from TVAddons.ag — one of the biggest and best resources for configuring Kodi with valuable add-ons.
More: The best legal add-ons for Kodi
Why is the NVIDIA Shield TV the best for Kodi?
The reasons are patently clear: while you may be able to find an Android TV box online for dirt cheap, they're often running on KitKat or Lollipop — outdated software that's certainly not as secure as the Shield, which was updated to Nougat back in January, and will also be soon be receiving Google Assistant. It's also the most powerful Android TV box available on the market, with top specs available for both the 16GB Shield and the 500GB Shield Pro. We're talking NVIDIA's Tegra X1 processor and 4K streaming capabilities.
Go looking and you'll find plenty of sites and stores advertising Android set-top boxes sold with Kodi pre-installed for marked-up prices. Don't waste money on inferior products with inflated prices because some guy spent half an hour installing and setting up Kodi. Kodi is a free app from the Google Play Store (opens in new tab) and it's fairly easy to set up on your Shield, so you're definitely better off investing more of your money into better hardware than just forking it over to enterprising Amazon sellers trying to make a quick buck.
If you're a bit more technical, you might also be interested in SPMC (opens in new tab), a Kodi fork that offers a similar experience specially optimized for Android TV. While it's lacking the latest interface update that Kodi 17 recently unveiled, it's still a very good media streaming app that can also be set up as a custom launcher for your Shield if you plan on using it exclusively for Kodi. But if that's the case, you can also get Kodi for the Amazon Fire TV Stick for a more minimalist option for your TV.
But again, the Shield offers so many other great features, including a ton of great gaming options, making it a surprisingly powerful device for its size.
Advertisement
Which Shield should I get?
If your budget is a little tight, you might be inclined to get the cheaper 16GB NVIDIA Shield TV (opens in new tab) over the 500GB NVIDIA Shield TV Pro. On the smaller, cheaper unit, though, you can always add some expandable storage at any point via on of the USB ports on the back of the 2017 model when you start running out of storage, or via microSD on older Shield boxes.
But for our money, the 500GB NVIDIA Shield TV Pro (opens in new tab) is your best bet, with nearly 50x more storage for only $100 more.
Get the Android Central Newsletter
Instant access to breaking news, the hottest reviews, great deals and helpful tips.
Marc Lagace was an Apps and Games Editor at Android Central between 2016 and 2020. You can reach out to him on Twitter [@spacelagace.
Kodi's popularity is only increasing because of the illegal plugins.

For 1080p at up to 60 fps or for 4K @ 30fps, I think the 70 dollar mi box will give you an identical Kodi experience to the Shield. it also streams over wifi VP9 and HEVC / h.265 at those resolutions without dropping frames. If 4K content at 60fps starts becoming widespread then I'll be sorry I didn't get the Shield, but until then I'm happy with the Mi Box.

The mi box struggles with real 4K content since its specs barely support it. Sure the Xiomi is cheaper but the Shield comes with a gaming controller that lets you play pretty decent games. Also Nvidia's proved support with the latest software is awesome which translates to a longer life and a better investment and oh yeah it supports hard wire connection thru ethernet which makes it a very reliable media box I love mine at the end the Shield has a better value IMO. Let's wait and see what kind of support Xiomi actually gives software wise to its boxes. Posted via the Android Central App

I'd agree with your assessment above except for "Nvidia's proved support" as on many issues you get totally ignored. If they can't do something fine, at least tell us so, but never ignore your customer. The latest example is the problem I and many others are experiencing with Google Live Channels latest update and NVIDIA Shield not processing audio for over the air channels and simply giving the message to try another TV. Well I am not going to "S" can a $3,000 3D Plasma TV to get this working but perfectly willing to pay for a license for whatever sound processing is required. but again ZERO from NVIDIA.

My Fire TV works pretty great for Kodi at less than half the price. I'm sure the Nvidia is better, but is it 2x better?

Take gaming out of the picture it is in no way twice as good. Just a lot of unused power.

I would say 3.8x better. Have both as no Amazon on Nvidia until recently.

Yeah yeah, tell us something we don't know.

i'm probably missing something, but - why a Shield over a console?...for example, the XBox One S w/ Battlefield 1 and a 500GB hard drive is $260 from Amazon right now...whereas the comparable (500GB) Shield is $300.... *Yet the Xbox can ALSO play real (console) games and takes discs too!*...so you're open to Xbox One games, older titles for download, and the ability to play DVDs, Blu-Rays, 4K Ultra HD discs, and CDs etc. Just trying to understand (and also wanted to mention this option that has worked great for me! in case it can help others.)

I think you're missing that fact that Kodi can't be installed on the Xbox One. The article is about Kodi boxes, and the Xbox isn't One.
http://www.windowscentral.com/how-use-kodi-xbox-one

I'm more into watching content than gaming so the Shield was a better option for me.

I don't care about locked down console games . I do all my gaming on my PC. I can game stream from my PC to the Shield connected to a big screen in another room. The Shield just does what I need it to do much better than an Xbox One while also using less energy. If Microsoft allowed the full version of Windows 10 on the Xbox One then it would definitely have more value to me but for now the Shield is just the better option for my needs.

Im not really one that enjoys gaming and I'm new to all this but would like to know which is the best option for me if i would just like to steam movies, music & videos?

IMO, and others, the NVIDIA Shield is as future proof as you can get nowadays.

Mi Box runs Kodi just as smooth and for only $70 it's the better buy. I have installed Kodi for many people, in many different devices. And price wise, the MI Box is the best buy. Android 7.1, 4k streaming, expandable storage, etc...

The Mi Box struggles with 4k streaming. The Mi Box has issues with expandable storage. The Mi Box struggles when using a USB to Ethernet adapter so you are stuck with WiFi as your only option. WifI is not ideal for many people especially those who want to stream 4K content. So for many people the Shield is well worth the extra cost,

Love just about everything with the Android experience and certainly the NVIDIA Shield. Just 2 issues [one self inflicted] With the "update" of "Live Channels" I can no longer process sound on my expensive Panasonic 3D Plasma TV and no pass through for the sound to my Samsung Sound bar [no HDMI In/Out]. This condition only occurs on Over The Air Channels from my HD Homerun Extend Tuner. Other channels play fine. The older version of Live Channels worked perfectly and so does KODI, YouTube, Pluto TV and numerous other apps. The 2nd issue [self inflicted] is I did not get the large HD which is required for DVR functions and would appreciate a recommended HD along with instructions to get this puppy working.