Kodi: Everything you need to know about the streaming app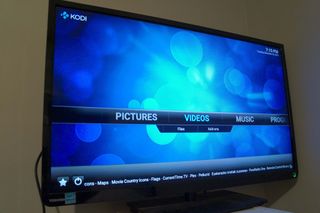 Kodi is an open-source media center app that's been developed and built out over the past decade. Its latest build is one of the most complete media centers you'll find, allowing you to consolidate all your media — videos, music, and photos — into a single destination with a customizable interface that's both stylish and easy to use. There's also a slew of third-party add-ons available within Kodi, which grant you access to all sorts of streaming options from around the world. Kodi is widely available, with builds available for nearly all operating systems and devices. The latest version of Kodi, codenamed Leia, will be released soon. You can read more about the new features being included here.
Kodi makes it easy to organize and watch your favorite media from your computer, smartphone, or TV via a Kodi-enabled device. Available in the Google Play Store, Kodi can be installed on pretty much any Android device. It's pretty easy to setup Kodi on your own (and we've got guides to help you set things up for yourself, and while there's been a ton of controversy and legal proceedings involving some of the more notorious Kodi add-on distributors, it's still a worthwhile project for cord cutters.
Advertisement
Quick guide to Kodi for beginners
Best ways to get Kodi on your TV
This section used to offer up a selection of Android TV boxes that came with Kodi pre-installed, but Amazon has cracked down on such devices which isn't the worst thing in the world — it just means you'll need to set it up yourself.
Given how versatile and easy it is to get Kodi, you may already have a device that's ready to roll — whether you've got a computer hooked up to your TV, an Android TV device such as the NVIDIA Shield or the Xaomi Mi Box, or you're looking for a new project for your Raspberry Pi.
Your picks?
What are your favorite ways to access Kodi? Let us know in the comments below!
Update March 2018: Removed the pre-installed Kodi box recommendations after Amazon cracked down on them.
Marc Lagace was an Apps and Games Editor at Android Central between 2016 and 2020. You can reach out to him on Twitter [@spacelagace.
I loaded it onto my Amazon fire TV. Love that it can stream in 4k also takes an Ethernet cord as my house is hard wired at all the outlets/rooms. I just binged on season 2 of the man In the high castle on Amazon. I lol'ed when some in NYC thought the advertisements were the result of the election...damn.

Man in the High Castle would be great except for the absurdity of the basic premise. Fascism in America? Give me a break. It will never happen.

Exactly people are busy hugging trees.

I know, stupid environmentalists. Who needs to breathe anyway?

How would you describe Trump?

"it´s trumps america now" ...

I have kodi, with the naviX extension. I thought I'd be all set but at least half of the content on there never loads. If it did then it would be a game changer.
Any advice, am I not doing something right

Not doing anything wrong. This is the nature of piracy. Something for nothing often times becomes nothing for nothing.

Are you trying to watch live TV and sports or ondemand? I don't use it for live sports I use a paid for app for this but I use salts with real debird and never seem to fail on getting a ondemand programme or film. For me all this taking People to court is wrong they should be looking at the big over priced company's and getting them to bring their price down rather than lockup people trying to save £ esp in times like this I'm happy to pay but not close to £100 a month that's just wrong.

Nexus Player, But getting a little slow as things need more then 1g of ram, really hoping for a newer version, but in canada i can not get the mi box yet

I tried this a while ago but got frustrated with no way to use it on my chromecasts or Rokus... anything changed in the past year that makes it more friendly for those devices?

The Exodus plugin is reliable. Everything works on it just about every time.

Exodus is about the only plugin I use.

Because it's one of the few plugins that works and is reliable.

Zen is another really good one. I find it better than Exodus as there is more 1080p content

The pyramid is also a good add on.

its an app in itself. it does not cast so no you'll never get kodi on a chromecast.

You can stream to Chromecast. Do a Google search for "cast kodi localcast" there are numerous links on how to setup Kodi to stream to any Chromecast using Localcast. Been using the setup for quite awhile works flawlessly.

Awesome! Gonna try this when I get home!

if you have the app on your phone or tablet you can use chromecast

I have kodi and localcast installed on my phone and after installing a small downloadable patch kodi movies stream straight to the Chromecast, no problem.

if you have chromecast you should just download the app to your phone or tablet and stream from phone to tv via chromecast.

Kodi on my android phone, I cast to chromecast. Real easy: https://www.google.com/url?sa=t&source=web&rct=j&url=http://www.alphr.co...

Local cast in the play store works https://www.androidcentral.com/e?link=https2F2F...

You could use Plex which supports Chromecast.

You can download Kodi onto your smartphone and then cast it to your Chromecast.

Nvidia Shield baby that's the way to go

Everything changed in the last year. Boxes with quad core, and 2 hog of ram, to octacore and 3-4 gig ram make it butter smooth. And now there are precompiled Kodi forks available and simple to install builds. You have options too. If you want the apple tv like lean back experience you can go for the all out Nvidia shield if you game and want the best, or budget side pick up a "mi box" from Walmart for same price of 70 dollars like a firestick or roku. Now if you want more stock adroid tablet like experience pick up a "minix box", or "Mee cool" brand boxes.. You can search "firestream" in the app store for a nice preset Kodi build fully loaded and ready to go, or look for "complete Kodi setup wizard" and with few clicks you have Kodi installed and your choice of builds to choose from. Or if you want to do it yourself search YouTube for "supreme builds" and your good to go. throw into this other google play store apps like "Pluto tv", and "haystack tv". And the not found in play store Apps "mobdro, terrarium tv, Showbox, and droid buddy." With all these alternative choices and content why would you pay for cable?

Because you don't want to steal?

Love love love kodi on Android TV. Especially some of the forked versions.

The only plugin worth anything on Kodi these days is Exodus. If Kodi is one thing it's not reliable. We want reliable plugins that work every time. Most plugins on Kodi have issues. One thing I hope they fix on Kodi in the future is being able to stop the loading whenever you like. Have you ever started loading something on Kodi and then it gets stuck on the loading for a long time? You have to go back to the home screen. Then go to your apps and force stop the application. It's annoying.

Phoenix is pretty good too

It's pretty good. You should try the Mobdro app. That works every time.

Kodi is absolutely reliable. Your post is the equivalent of saying "Windows is unreliable, I'm having trouble downloading torrents."

A lot of plugins have issues.

Which is nothing to do with Kodi or their dev's, that's up to the folks developing these add on's that allow you to watch frequently pirated content. Kodi actively try and distance themselves from the likes of Exodus. My main use of Kodi is to stream video & audio from my home server to the living room and and kids room via an Amazon Fire TV. In this regard it's brilliant.

Sportsaccess, Dragon Streams, Channel Up, Evolution IPTV, and others... Premium add-ons are what can make Kodi go from good to amazing. Hardware specs are of decent importance but it's all about what is inside. Kodi is just an open sourced canvas ready to be made in amazing ways or in sub par ways. Those add-ons cost money per month, or you can buy a netmaster and it comes built in with them. If you decide to get one, email topstreamtv for one, ask for Aaron and he can give you a sweet promo code.

YES I CAN TOTALLY IDENTIFY. YES THIS NEEDED CAPSLOCK

Hoping someone can help. I had this loaded on my android phone and it worked. However my Internet provider (Charter) sent a nasty letter about copyright material etc.. Stop or we will fine you.
Any thoughts? Am I doing something wrong

You should have a VPN up and running to avoid your ISP's nasty letters.

Cool thanks will look into that

Any certain VPN you recommend?

Kodi itself doesn't do anything, that letter was likely for torrenting copyright protected materials.

Another solution is to stop pirating.

Letters are typically because of torrents, not streaming. I'm surprised to see hear you got one. Unless you're torrenting too and failed t mention that

I've used Kodi on my phone as well, but I've NEVER gotten a letter from my ISP about copyright material. It is understood that IF you are downloading then that could be a problem, but if streaming you should be fine. if it comes down to it you can always use your data, but it only makes sense if you have an unlimited plan so it wouldn't affect you. The only thing I can think of is that its you ISP's own rules you could be breaking. Good luck

Streaming IS downloading. The only difference is you throw away the file as you get it, instead of keeping it. You're expecting to say to a cop who caught you with a joint in your mouth "I did not inhale!" "It is understood that IF you are downloading then that could be a problem..." understood in streaming plugin circles.

That's a laughably bad analogy.

I'll admit, it was amusing.

"Am I doing something wrong?" Pirating. And pirating without a VPN. And thinking you can't be caught because "I'm just streaming!" jump to mind. Streaming = downloading without keeping it. Those who think streaming is legal is like going to a state where smoking weed is illegal and saying "I did not inhale!" Get a VPN, and one you can pay with something other than credit cards. And realize that buggy plugins may not actually be worth it.

Thumbs up for loading it onto Amazon fire sticks, lots of easy to follow videos on youtube. Unspoken in the article is that the main add-ons like Exodus and FireTV make it super-easy to watch movies that are, ummm, the word starts with "p" and rhymes with "schmirated".

The Q-Box and MX3 ARE NOT Android TV boxes. The Nvidia and Xiaomi ARE Android TV boxes. There's a huge difference and that really should have been explained in this article. Android TV boxes(Nvidia and Xiaomi) run the Android TV operating system. The others are boxes that you can hook up to your TV but they run the mobile Android OS, and usually an old version.
This kind of article helps to confuse people about what Android TV is, and when they buy subpar, unsupported "Android TV boxes" The OS gets an unfair bad name.
But yeah, Kodi is awesome. Everyone should use it.

Sure the are depending on how you word it.... They are in fact Android TV Boxes, lol ;)

The difference between the Android TV boxes and the regular Android boxes that you can find all over eBay is that all apps on Android TV are fully functional with the remote. Try to download Netflix or HBOgo or the BBC iPlayer app on an Android box and you'll find it requires a mouse / touchpad because it's just a standard Android app where as the Android TV apps are optimized for Android TV and can't be sideloaded to a regular Android box. Even Netflix, when trying to watch seasonal TV shows, on Android boxes need the mouse pointer to get to seasonal episodes. Kodi is about the only universal app that works with both boxes and their included remote without further need for a mouse / touchpad / keyboard.

They actually run Android tablet software.

I thought ISPs were cracking down on their customers using Kodi?

Nope, only the add on's that people run via Kodi that access pirated content.

Has anyone used putlocker. ch?

Yes people are going to admit here publicly that they are degenerate criminals.

Be sure you are using a VPN

How you can tell which content is pirated?

If you aren't paying for it via a subscription or buying/renting directly, it's pirated.

Anything you'd normally have to pay for!

That means that you always have to use it with VPN to be on a safe site. Right.

No, that means buy it. Duh.

I have Kodi loaded on a fire stick on every TV in my house no cable here and loving it!

Looking at Kodi on my phone. Anyone have suggestions for add ons for newer movies?

I would suggest purchasing them legitimately.

If cable companies and TV networks didn't price gouge or make you get a bundle of channels it would be more feasible but ..... And take my cable company, I had about a dozen channels stop working and they wanted to charge me $60 to just show up.

They're the sellers. They set a price. As a consumer you pay it or you don't take the product. Not liking the price doesn't justify stealing it. We're talking about entertainment, not sustenance.

Eff that. If they are going to be greedy and overcharge for something that they constantly try to shove down our throats and make people feel like they need it through aggressive solicitations then people are going to steal it. That's just the nature of the beast that they created. The best way to combat pirating is to give people what they want at affordable prices.

So if you feel a phone is too expensive, you think it should be ok for you to just steal it? Or a car? Where do you draw the line on what you think it's okay for you to steal and what isn't?

If phones or cars could be inexpensively copied without touching or removing the original, the world would be a much different place.

If people would just choose not to be thieves the world would be a much different place.

I know this is 5 months later, but would you not qualify what the cable companies do as stealing? They're robbing you blind, whether you want to admit that or not.

Absolutely would not. Cable is a luxury item, not a utility. As the sellers and re-sellers of licensed content, they set the prices and then we either choose to pay those prices or not to, depending on how important it is for us to utilize their services. I don't see a value in cable TV, so I haven't paid for it or used it for several years. If this were the electric company price gouging, that'd be a different thing - but this is someone offering live viewing of licensed content at whatever price it is reasonable for them to do so.

Go to YouTube and learn how to download the hardnox build for Kodi.

rumor has it use the fusion addon and use exodus.

Been using Kodi/xbmc for about 4 years. Exodus and Specto aka Genesis are by far the best for movies and shows. The problem with Kodi on low powered android boxes isn't Kodi it's knowing how to maintain them. Periodically you need to clean cache, data, thumbnails etc. People buy these preloaded boxes with no idea how to maintain them.

In system settings there is a option under maintenance for auto CACH clearing, purging packages ECT upon opening.

I love KODI. Have on my LG V20 which I stream to my LG 43 inch TV!

Use a SpinzTV Repo or Pulse build from (Ares)... Easy to Install and run(YouTube it)... It has all the add on's you will ever need.... Use with a Nvidia Shield + Fast Ass internet.... Good buy Cable :)

Anybody running Wookie on their KODI?

Update: I have no idea what Wookie is.

Running Wookie on Kodi on raspberry Pi

But it is nice to know that the rest of the world has finally caught up. Been using Kodi since it was XBMC installed on a hacked original Xbox, since 2003 , so many years ago.

Ok so dumb question maybe but, if i buy an Android tv device with kodi, can i cast Amazon video? Or do i need a firestick?

not a dumb question at all. Unfortunately, Amazon video is not available for download thru the Google store, only the Amazon store which is on fireTV. But you definitely can sideload. Just google "sideload Amazon video,"

Loaded it straight onto my Sony bravia android TV. Works a treat.

I use it for Emby, love it.

@Marc I'm having a hard time understanding why this article exists. Kodi is known for one reason only: it enables EASY piracy. It has no legitimate uses that cannot be accomplished easily by using the first party apps that content is originally available in. Want to watch your personal videos? Google Photos does that. Want to watch movies you downloaded from Netflix, YouTube, Google Play Movies, etc? All three of those apps do that. If an app doesn't allow downloading content, then it shouldn't be downloaded. So now we're advocating piracy.

I don't agree with piracy. I do, however, have Kodi on a cheap Android box. There are some decent add ons for international TV. These are all legal feeds from around the net. We aren't all pirates.

I am definitely not saying that every Kodi user is a pirate, I'm saying that's the main purpose of the app - to make piracy easy. Kodi itself has nothing wrong with it; it's primary use is definitely wrong. AC as a journalism site should avoid promoting the service for that reason.

You said it no legitimate uses that couldn't be accomplished easily with first party apps. There are no good apps for those feeds. So your statement is a little hyperbolic, but not by much ;). I just got a Mi Box to replace my finicky Android box. I didn't bother installing Kodi. So far the first party apps are much better through Android TV. I just need to find an app for TV from Portugal.

Roger that; I should have been more clear that I'm not talking about every user.

What something is known for doesn't tell the whole story. Many of us have converted years of physical media purchases to digital files that are the real reason Kodi exists. The fact that it's current popularity is attributed to piracy doesn't deminish that. Kodi is first and foremost a media player and organizer, and one of the very best available.

It'd be very easy for them just to not allow the add-ons that break the law ... But even with what you have as an example, most of that conversion is already illegal.

Not really. The moment they block plug-ins, project will be forked out and original KODI will be abandoned shortly after that. This is open source we talking about... Blocking plugins is the last thing KODI Team should do...

Have Kodi installed on an HTPC sitting next to the TV. I use it as a Set Top Box and DVR to record basketball games and shows and there is easy access to my server. This gives me all my movies, music, TV shows, home videos and photos right from the living room. Kids love looking through the archive of old photos and videos. Every PC in the house has it installed letting me to keep my own content with easy access.

Some here are upset because others are "pirating"/talking about "pirating". But unless they're pirating directly from from you, why is making people so upset. It's like this. I don't do drugs. But I know people who do. When they're talking drugs or doing them, I just excuse myself. Grown people do grown people things. Can't judge. I've got my own hangups to worry about. Here's a thought. Go to your bathroom, look in the mirror. I'm sure there's something for you to judge there. *End rant.

Firestick TV is the best cheapest way to run KODI works great get a great built and you are on. I suggest PULSE Google it via wareswizard

Hi guys, Didn't need a Kodi box, installed Kodi straight on to my Windows 10 laptop. Then use dual screen to play the movies etc. on to my smart TV via HDMI. Use the Exodus plugin. Just watched The new Jason Bourne and The Accountant. Every thing fast and smooth.

Would one need a VPN? Assuming we are watching pirated content. We don't want copyright infringement notices lol

Kodi works on most Windows platform computers as well as Android devices, looks and functions exactly the same. Also works on Raspberry Pi boxes! An exceptional way to view all your favorite tv shows and thousands of movies......FREE!!

Began using Kodi on my PC. Then, installed on my tablet. I also installed a Fire/TV Stick on my TV.
Versatility is key here.
Also, love the 24/7 ad-free movies, pro-sporting events!

So quick question - is there a reliable add-on channel that can get me live streaming of NASCAR races? I tried several of what seem to be the most popular sports streaming channels, and if they have an MSNBC channel (which was this year's channel for NASCAR) it never worked when I clicked on it.

Download Kodi, instal it and go to tvaddons to get the plug ins. 1channel is the best as well as exoduce. Never paid a single cable bill in years..

DO NOT use tvaddons to get your addons. They install a ton of bloat ware on your system which slows it down a lot. Check out YouTube for some reason videos on tvaddons and other ways to install your content. The easiest way is just to get the Ares Wizard. From there you can get tons of addons and builds as well. And its safe!

I'm surprised that Mobile Nations is recommending Kodi since Kodi is a gateway to stream movies and TV shows against copyright laws. I realize that Kodi isn't used just for that, but it's really the only reason why the majority of folks use Kodi. Any site that "makes available or facilitates the availability" of rights-owners' content without their permission is unlawful. I'm not complaining about it, but if it's going to continue to be free for folks that want it without government intrusion, it's best not to be advertising it all around the web and keep it on the low.

Love the Amazon Fire TV as well. Very fast, expandable storage, and 4k content. For less than $100, you cant beat that!

I have used kodi for years , long before it was called kodi it used to be called xbmc and was made for the old chipped xbox. Anyway my advice would be read the kodi forums and install your own apps before buying a pre loaded one. Apps need reinstalling and updating and if you don't learn it's hard to keep up to speed. Mine is set up perfectly to stream hd and football..love it

Cut the cord a year ago. Bought a box and then a new PC. Downloaded Kodi for Windows on my desktop which HDMI attached attached to my big screen TV. Sold my box. Learned to program from videos on YouTube. Now I watch NFL/NHL/NBA in HD. Zen is awesome for movies. Made in Canada app has been upgraded. Phoenix is another app I use on occasion.. There are buffering issues on some sites and some links get broken. But for the most part I'm more than satisfied, I'll never go back to Shaw. I just don't understand why people are still paying for Netflix. Just saying.

This post is way to brief to be useful, when what we need is a practical set-up guide.

Why don't you explain what kodi "really" is/does?

They're going for search engine results for someone searching for Kodi, so they don't really explain. Kodi is a media player meant for playback from the couch. It allows you to have a file server, or to run on your file server, with all your content that it plays back on your TV. It can also playback content you put on the server. It is available for a lot of devices. It is meant for home movies, and things that you own and ripped yourself. Kodi also allows people to install plugins to get content from elsewhere. Those are usually the people who want these boxes, and *usually* want them to "stream free TV shows and movies" because they have the very *very* wrong impression that "streaming isn't downloading, so it's legal!" Streaming *is* downloading but throwing the file away as you watch it. Streaming *is* downloading. There are legal plugin streamers, as in one to stream from South Park, one to stream from YouTube, one to stream from Twit.tv and things like that. However, the piracy and *illegal* content streaming plugins are the ones people focus on.

Nailed it :) So kids, be sure to get a VPN setup on your media stick before streaming...

Or just stop stealing. Wow.

Can something be considered "stealing" when it's not available for legal purchase where you live? I'm in Argentina, and there are countless movies and series that just aren't available for purchase in here. I'm not going to be a hypocryte and tell you that I purchase every content that I watch, because it isn't true, bue there are many things that you just can't watch here, even if you're willing to pay. Only comparing Netflix in my country vs. the US, we get as much as 10% of the content currently available. It's just not fair.

Yes, that would obviously be stealing. There's a reason it's not available, it's part of the licensing agreements. Does it suck? Yep.

So, what's the difference between this and PLEX?

So basically it's PLEX but people forgot about it and this is the newest. Article states you use your existing files but we all know people are Gina hack it and just watch free ****.

That's way off. Plex is a whole other beast. Where Kodi is a stand alone media player. Plex is a server client system. A one-time server setup can feed unlimited numbers of Plex clients at home and over the web. It however requires you to supply the media. There are no piracy addons or anything else they don't want there because they are not open source. XBMC is however the father of Plex, and works well with Kodi as a backend.

Actually, there are 3rd party piracy addons for Plex that do the same thing Kodi addons do. They are not as popular, but they do exist.

I must be doing something wrong. I have Kodi on my Nexus Player and can never find anything reliable or good enough quality to watch.

That's because the piracy aspect of this whole debate is overrated. It's iffy at best and as it gets more popular the iffyness will increase as content owners work harder to remove their content.

Are we really going for the piracy streaming box SEO now? Kodi the way most people who need this review see it is for streaming pirated content. I am not judging those who do, just point out that, unfortunately, Kodi is still stained by these crappy plugin creators who don't differentiate between Kodi and the piracy plugins that people make that are often buggy. I won't even start on the likelihood of malware in these plugins.

Thanks for the comment. We're going for the "People want to know about Kodi so we're telling them" SEO. Yes, Kodi can and is used for piracy, but there are plenty of legitimate use cases for it, and for many people it is too difficult to install and configure to set up those use cases. We absolutely do not condone piracy, but we're also not going to avoid the category entirely because it can be utilized for those purposes. Android itself is full of piracy, and we recommend people avoid downloading "cracked" APKs of paid apps. That doesn't preclude us from educating people on sideloading safe apps for totally legitimate reasons.

Great article Marc. I haven't got into this yet, but you're making me want to.

I have a Shield TV and I use the Hyper TT build from Top Tutorials. It's decent.

I have a sony android tv. I was very excited to find it in the Google play store. I definately recommend an android tv to everyone by the way.

Isn't Kodi app for watching pirated content.

That's what I thought too. I'm surprised AC put this in here.

The add-ons facilitate the streaming. Kodi is a "conduit". Consider that one could still stream the content without Kodi! Also, all the pre-configured "builds" are what I think Dish and others are going after as well as the sellers.

kodi itself has no pirated content...

So much hate for Kodi in here.

I have a jailbroken Kodi on my Amazon Fire TV Stick, and Jesus. Lemme tell ya. I can watch movies that are in theaters the day after release. Good copies too. It's THAT good. Word of advice. Get one. Dunno how? Easy. YouTube it. That simple.

It's not called jailbroken Kodi. Kodi allows third party add-ons. It's very easy to purchase a $40 Fire TV Stick, load Kodi on it (Because the Fire TV Stick is based on Android), and set it up. It takes about 5 minutes.

My guess is this guy got suckered into an $80 unit from ebay.

you don't even need to side load anymore, firedl has a code for it now.

Everytime I see people selling "jailbroken" Fire TV devices I just cringe.....all you do is check a darn box to allow apps from unknown (non Amazon Store), and done!!! Not harfd at all.

go for the new Amlogic S912 boxes with 3gb ram and 32gb storage..for 70$ if you dont wanna cough up for a shield tv...

The FBI Cyber crime division will find this discussion interesting...

Are you really pushing these cheap boxes? "Popular add-ons"? If it's not in the built in repos, unfortunately, it's likely for illegal streams. Yes, streaming is just as illegal. Downloading is "Get from random place on the web -> Download -> Watch -> Keep", streaming is "Get from random place on the web -> Download -> Watch -> Delete", do you really think they care about the last step? They care about the first three, more so because you can't prove which last step you did until you're already in court. Second, I know times are tough with people blocking ads, but do you really need affiliate links ("B01MQ0MTHL?tag=androidcentralb-20&ascsubtag=UUacUdUnU58293" in the tag implies you're getting something) from Android box companies that can't even spell check their English translations? "Visit the tutoriual section"? And they try to trick people in to thinking it does Playstation games by saying "Great Game Playstation". Tell me that isn't purposely worded to imply Sony Playstation instead of "A station that plays". MobileNations should feel ashamed.

I think Everything changed in the last year. Boxes with quad core, and 2 hog of ram, to octacore and 3-4 gig ram make it butter smooth. And now there are precompiled Kodi forks available and simple to install builds. You have options too. If you want the apple tv like lean back experience you can go for the all out Nvidia shield if you game and want the best, or budget side pick up a "mi box" from Walmart for same price of 70 dollars like a firestick or roku. Now if you want more stock adroid tablet like experience pick up a "minix box", or "Mee cool" brand boxes.. You can search "firestream" in the app store for a nice preset Kodi build fully loaded and ready to go, or look for "complete Kodi setup wizard" and with few clicks you have Kodi installed and your choice of builds to choose from. Or if you want to do it yourself search YouTube for "supreme builds" and your good to go. throw into this other google play store apps like "Pluto tv", and "haystack tv". And the not found in play store Apps "mobdro, terrarium tv, Showbox, and droid buddy." With all these alternative choices and content why would you pay for cable?