NVIDIA Shield Tablet and Tablet K1 updated with stability and crash fixes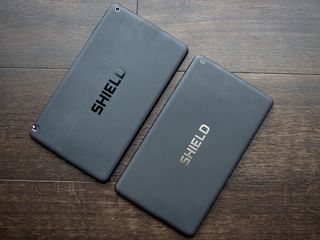 NVIDIA's tablets, the much-older Shield Tablet and refreshed cheaper Shield Tablet K1, are both getting the same "software upgrade 5.1" with various fixes aimed at improving instances of crashes and instability. The pair of 8-inch tablets should download the update automatically, but you can always check manually in your settings if you're impatient.
The release notes are the same for the Shield Tablet (opens in new tab) and newer Tablet K1 (opens in new tab), with "important system enhancements & bug fixes" including:
Fixes Launcher3 crashes
Fixes mouse cursor intermittently appearing during keyboard input
Additional system stability improvements
If you've downloaded the update to your Shield Tablet or Tablet K1, be sure to let us know in the comments how it's treating you!
Get the Android Central Newsletter
Instant access to breaking news, the hottest reviews, great deals and helpful tips.
Andrew was an Executive Editor, U.S. at Android Central between 2012 and 2020.
I just want to know where the nougat update for the US LTE model is.

With all the issues the non LTE version has had with the 5.0 update I am glad we have to wait a little longer.

RoW LTE works perfectly fine for the US models. Haven't seen anyone provide any massive differences between the two.

I "upgraded" my US LTE model to the international model software version and get all the updates. Google it.

I know that their primary focus with the X1 chip was the Nintendo Switch but i really wished that they would have put out an updated Shield Tablet.

If they ever do, I'll buy it on day one. Well-constructed tablets that actually see software updates are few and far between.

I am losing hope that it's going to happen, but if they ever do update it, I'll gladly buy it. I'm honestly tempted to buy the K1 anyway, but it is starting to age and I'm afraid to buy it on the off chance that they announce an updated model shortly after.

I recently bought one. You can tell it isn't as smooth as the newer phones like the Pixel but it gets the job done. Plays Hearthstone well and is good for reading news and stuff..

Same here. The Switch is in no way a replacement for this device.

I bought this tablet for my son this past Xmas and grateful I did. The updates keep coming and runs like a charm even with him hammering games on it all day. Well spent $199. Better than any of the Nexus tablets and I'm a Nexus fanboy.

I want to pull the trigger and get this device, but I can't really tell if there's a difference under the hood with the Samsung S2 8 inch tablet or even the ASUS 8 inch tablet. Looking for something that I can use with one hand besides my phone is challenging..

I heard they cancelled the shield 2 tablet. I would love to see some new hardware, as my original Shield is getting a bit long in the tooth.

I probably should have gotten a Shield Tablet. My Nexus 9 is so sluggish I barely use it.

I've noticed my Shield Tablet is slow when I first wake it up. After a few minutes it seems to loosen up and work fine. Is that normal?

I have had that experience as well. Also, I know that all devices lag a bit while apps are installing/updating, but that makes my Shield just CRAWL.

Hopefully this update fixes things!

Wouldn't count on it. With only 2GB of RAM, that kind of problem is pretty much unavoidable.

Just updated. Best money spend on any android device !

Hey, thanks for the heads up on this. Time to fire up the K1. I haven't in a week or two.