Nokia's newest phones come after the Galaxy A series with up to three days of battery life for under €400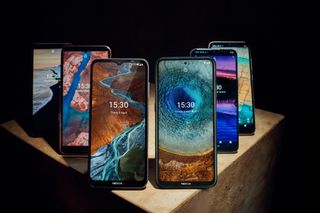 (Image credit: Nokia)
What you need to know
Nokia is launching six new smartphones today, four of which are part of new lineups.
The X-series brings 5G smartphones to an affordable price point, and the G series offers extended battery life.
The new smartphones will start arriving globally later this month at a starting price as low as €75 ($86).
Since its return to the smartphone market, Nokia has made some of the best cheap Android phones on the market thanks to HMD Global. The designs may not stand out like the Lumia days of yore, but Nokia's smartphones often feature very sturdy builds, inoffensive designs which you can see in devices like the Nokia 5.4. That continues with Nokia's latest launch, which introduces six new smartphones and two new smartphone series, all of which offer great value, impressive battery life, and years of updates.
Nokia X-Series
Nokia's new X-series represents the cream of the crop in Nokia's new mid-range smartphone offerings. Both the Nokia X10 and X20 offer visually identical designs with 6.67" FHD+ hole-punch displays, quad-camera systems with Zeiss optics, and striking colorways. Both are powered by the Qualcomm Snapdragon 480, enabling 5G connectivity at some of the lowest price points.
Both smartphones differ in their camera specs; the Nokia X10 comes with a 48MP main sensor, 5MP ultra-wide, 2MP depth sensor, and 2MP Macro camera, whereas the Nokia X20 bumps up the main camera to a 64MP sensor. Configurations for the Nokia X10 include 6/64GB, 4/128GB, and 6/128GB models, and the X20 will be available in 6/128GB and 8/128GB configurations. Nokia touts two-day battery life for both smartphones, and they'll run Android 11 out of the box with three years of software and monthly security upgrades.
The Nokia X10 will be available in Forest Green and Snow colorways this June, starting at just €309. The Nokia X20 will be released this May in Midnight Sun and Nordic Blue colorways, starting at €359.
Nokia G-Series
The new Nokia G-series may be a step down from the X-Series in terms of specs, but what these new phones lack in power, they apparently make up for in battery life. The company claims that the 5050mAh battery found in the Nokia G10 and Nokia G20 will provide up to three days of battery life. Both phones come with a 6.5" HD+ teardrop display and up to 4GB of RAM.
The G10 features a 13MP triple camera array, 32/64GB of expandable storage, and the MediaTek G25 chipset. The G20 steps things up a bit with a 48MP quad-camera setup, 64/128GB of storage, and the MediaTek 35 chip. Both phones will be eligible for two years of OS upgrades and three years of monthly security updates.
Both the G10 and G20 will be available this month starting at €139 and €159, respectively, meaning anyone looking for the best Android phones under $200 might want to consider either model. The phones will be available in the Night colorway, while the G10 will also come in Dusk and the G20 will come in Glacier.
Nokia C-Series
Nokia is refreshing its C-series lineup with two new additions, the C10 and C20. Both devices feature HD+ displays that clock in at 6.5", 5MP cameras on the front and back, and 3,000mAh batteries. The Nokia C10 is 3G only and will come in 1/16GB, 1/32GB, and 2/16GB configurations. The C20 is a little more capable with LTE connectivity and 1/16GB, 2/32GB configurations.
The Nokia C10 will launch in June in Light Purple and Grey colorways starting at €75, and the Nokia C20 will launch this month starting at €89 and in Sand and Dark Blue colorways. If anything, these are decent options for anyone looking for the best phones for kids. Unfortunately, there's no mention of OS upgrade eligibility, but they will get two years of quarterly security updates.
Lastly, HMD Global is launching the new Nokia Lite Earbuds with an in-ear design, Bluetooth 5, and up to 36 hours of total playtime. The earbuds will also be available this month in Charcoal and Polar Sea colorways and will retail for just €39, making them a good option for anyone looking for the best cheap wireless earbuds.
Android Central Newsletter
Get instant access to breaking news, the hottest reviews, great deals and helpful tips
Derrek is a long-time Nokia and LG fanboy who loves astronomy, videography, and sci-fi movies. When he's not working, he's most likely working out or smoldering at the camera.
I am definitely not the consumer Nokia is after with these devices. Based on what I've seen Nokia release I don't believe that I will ever be a consumer of theirs. That's unfortunate for me and them.

Not really, you've had a lucky escape passing over Nokia or rather hmd global phones, this isn't the real Nokia, the real Nokia died with Windows Phone.

I will never buy another Nokia phone again they're liars with their updates and their software is dull as dishwasher running the featureless and crappy Android One software. Nokia died with Windows Phone.

Nokia is the king of giant chins on their phones. Yikes.

Me, I like this Nokia lineup. I like that I have the choice of different devices at different price points with a solid build, good specs and an excellent, bloat free software experience with the Android One programme. Phones I can afford without having to break the bank, something I can't do anyways. For the next upgrade I'm really looking at the 8.3 or whatever iteration of the 7 line is in the pipeline. If not, the X20 looks pretty appealing. The 7.1 has served me well over the past two years and been a very reliant device that more than fulfilled my needs as a consumer. It seems that people automatically hate on Nokia (HMD Global) as if they are personally offended by their very existence and no matter what Nokia does is wrong and is a failure. I for one like their devices, my first mobile phone was a Nokia. I've used their devices for over twenty years and never found them to be a letdown, especially when compared with other "fancier" manufacturers.

I'm personally offended by whatever HMD does, indeed. Because they've only done sh*t.
NONE of the phones they've released so far lived up to or respected the brand they're slapping on it.
Nokia stood for the best cameras on the smartphone market, great designs and build quality AND feature-rich and innovative software.
All that HMD has delivered is cheap Chinese ODM hardware, awful cameras and the worst possible version of Android one can have (even worse than the iPixel, 'cause even Google isn't dumb enough to use Android One).

Good for you. Be offended. You don't have to buy anything from them. Problem solved.

I certainly won't buy anything from HMD Global again, absolutely crap and boring software along with the worst cameras, my S20 FE 5G id is a better phone than every Nokia phone HMD Global has released in every way, if Nokia had any sense they'd revoke the license of its brand to these idiots, I'm with DJCBS, you people defending HMD Global are a minority which the pathetic sales which are even worse than that if iPixels lmao

Good for you don't. It doesn't look like anyone is forcing you to.

I have the 7.1 6.2 & 7.2 and have been quite satisfied with all of them. Being OCD, I love the clean uncluttered, smooth Android One. I wish them well with their new product line and can't understand why there is so much hate here.

I agree, I had a Nokia 8.1 and the camera was a disgrace and so bad that I had to download a GCAM mod because the stock HMD Global camera was an insult to the Nokia name and all their phones are overrated and Android One is so boring and featureless and the absolute worst version of Android, in fact even Google doesn't even care about it anymore because they know its been a complete s*** show.

Hmd global started off really well before they joined the Android One program, which sucks, yes the one and only HMD Global phone I owned was the Nokia 8.1 q sold but unremarkable phone ruined by the boring, featureless Android One software and not to mention that they have dropped the ball with software updates lately, which can be tracked back as far as 2019, from which security updates were always a month behind and well I just got bored of the bare bones software and late arrival of security updates being behind. Samsung sets the standard for others to follow in Android and I've realised this since using my S20 FE 5G, once you experience One UI, you'll not want to try anything else unless you're a stock Android fanboy who still lives in 2010 and Samsung's Touchwhiz days 😉.

Thank you for continuously telling us how much Android One sucks. How boring it is, how much Nokia and HMD Global suck, how they've dropped the ball. Blah, blah...we get it you don't like any of it. This seems like a mission for you, convincing people to like or buy only the brands and devices you like. Here's the thing. I don't really care. And no matter what you say, it won't change my mind. Same surely goes for you when looking at or reading my or other people's comments. And that is alright. I don't give a sh*it on either Applesuck or Scumsung. They manufacture and sell the most overhyped, overpriced garbage I've ever seen. Yeah, see how that goes and how ridiculous that sounds? So, unless and until you offer to buy my next device for me, you have no say how and what I spend my money on. If I chose Nokia...then Nokia it will be. Regardless of your wishes. Ta...

You can buy whatever you want, I don't care, I'm entitled to my opinion and even AC didn't like the last Nokia phone, the 8.3 which was the worst phone to be released and was overpriced with only 60Hz, no water resistance, wireless charging and just an LCD display all for $700? What a joke, my S20 FE 5G is the same price as that garbage and is a better phone in every way from the screen to the software which destroys boring and featureless Android One.

Yes. You are entitled to your opinion. They are like a**holes. We all have one. Yours isn't anymore special than anyone else's. Good luck with your crusade...since it seems very personal...

Nothing personal, just this isn't the real Nokia, they died with Windows Phone, the real Nokia had great software and hardware, this Nokia is an imposter with their lack of innovation, boring and featureless software and hardware with middling cameras. HMD Global are insulting the Nokia name with their lacklustre phones.

Again. Speak for yourself. You don't speak for me or others. Just as I don't.

I don't need to, the market has already spoken, they don't like Nokia (HMD Global) boring and featureless Android One phones with lacklustre hardware.

Still don't care. You can continue your sermons forever. It won't make an iota of difference. But keep on going. I'll never give up or change my mind regardless of what you or "the market" have to say. As a consumer I like Nokia devices and Android One is an awesome, bloat free software experience.

My first phone was a Nokia 6010 and my last will be the 6.1 from that brand I'm sticking with the Google pixel devices going forward unless samsung cuts back on the bloatwear

Samsung has cut back a lot on bloatware, Samsung's One UI is by far, nothing comes close to the amazing and useful features and customisations that One UI offers and boring featureless iPixels rank as low as chappy HMD Global phones and their garbage Android One software.

And they're all overprice garbage.
Remnants of that id|ot Sarvikas' leadership. The sooner these get to the market and flop, the sooner the next CPO - if he/she has a brain - can scrap HMD's current strategy and do the needed 180º turn. 350€+ for an 60Hz LCD screen with a low end processor and the worst version of Android available to consumers? LOL The A52 will be taking a massive dump on top of these crappy phones.

Exactly, rhe A52 is better than every phone HMD global has released and continues to release, they're that bad.

The Galaxy A52 is better than every mid range phone and again it has the beat Android software too and kicks every HMD Global phone released previously and now.
Android Central Newsletter
Get instant access to breaking news, the hottest reviews, great deals and helpful tips
Thank you for signing up to Android Central. You will receive a verification email shortly.
There was a problem. Please refresh the page and try again.