Nokia's long-awaited 5G flagship phone could finally arrive later this year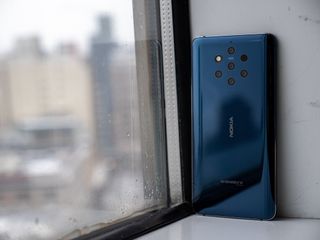 (Image credit: Android Central)
What you need to know
A Nokia Product Manager has revealed that the company is planning to launch a new 5G flagship "by November 11."
Nokia 9 PureView was the last true flagship released by HMD Global.
There's no word on the key tech specs or design of the upcoming flagship.
The long-awaited successor to HMD Global's Nokia 9 PureView may finally arrive later this year. As per a report from ITHome, a Nokia Product Manager for China has confirmed that a new flagship 5G phone will debut in the country by November 11 (via GizChina).
While the manager hasn't revealed anything else about the upcoming flagship, you can expect it to feature impressive camera hardware with ZEISS optics to take on the best Android phones from Samsung, OnePlus, and Xiaomi.
Unlike its rivals, HMD Global hasn't launched a true flagship phone since 2019. The Nokia 8.3 5G, which was released last year, is currently the company's "flagship" offering. Even the Nokia 9 PureView wasn't a proper high-end flagship.
Although it did offer a "unique" penta-lens camera setup, the phone was powered by an outdated Snapdragon 845 chipset and packed a small-ish 3,320mAh battery. Instead of the flagship segment, the Finnish company has mainly focused on the budget and mid-range segments since it began its journey as "the new home of Nokia phones" in late 2016.
Earlier this month, it was reported that the next Nokia flagship would be called the X60 Pro 5G and run Huawei's HarmonyOS. The reports had also claimed that the phone would feature a 120Hz AMOLED display and a 200MP primary sensor with ZEISS optics. However, Huawei soon dismissed the reports as false.
Nokia G20
The Nokia G20 is an affordable Android phone that delivers up to 3 days of battery life and features a minimalistic design. It is also guaranteed to get two major Android updates and three years of monthly security updates.
Nokia should stick to midrange phones but they're not even good at that anymore with Android One phones all but dead and Google killed Android One with the Pixel a series. Also Nokia have started dropping the ball with updates now.

Good points, HMD needs to do something to differentiate themselves customizing android is needed more than ever

I agree, with the Pixel a series existing, HMD Global are better off having their own custom Android skin now but I doubt updates will get better and that was the best thing about Android One, the clean, uncluttered Android with no bloatware and the promise of fast updates like the Pixel but ultimately HMD Global have failed to live up to their promises and their phones got worse with each release with 2018 being their peak, especially after the only decent phones they released in the 7 Plus and 8.1 which I enjoyed using.

Does anyone take Nokia's update promises seriously?

Very few people take Nokia's update promise seriously and that's a shame because they were really good with updates back in 2019 when I was using my Nokia 8.1 which was one of the first Android phones to get the Android 10 update and was the first Android One phone to get Android 10 to get Android 10 a month after it came out that year.

The Nokia 8.3 5G is a solid, well build device with definitely midrange specs that are reliable and get the job done. The Android One programme is a most welcome addition. Simple, clean UI, enough for most average, everyday users. Too bad the pandemic kind of buried the device. It is pretty underrated one at that. I'd be interested to see Nokia's flagship device, but yes, they'd be better off sticking to the entry level and midrange devices making use of the Android One programme. But who knows, if the flagship turns out to be even a moderate success, they may at least have something to build on.

Android One is pretty much dead with Google effectively killing Android One with the Plxel A series so you're next phone should be a Pixel A series, which are true Pixel devices with the same clean and uncluttered UI with day 1 updates that are guaranteed for 3 years instead of the ridiculous 2 years you get with Android. Oh and the Pixel a series has way better cameras then the Nokia 8.3 (which AC gave a negative review) and OLED displays.

Ahhh here comes the unsolicited reply no one asked for. It seems your mission is to go out of your way to berate people for liking something you don't and telling others who don't share your opinion what to do. And apparently you feel the need to answer to any and all posts that contradict you or don't align with yours. Heaven forbid anybody else doesn't hate Android One or Nokia or whatever else as much as you. We get it, you don't like Android One, you don't like Nokia, blah, blah, blah... Until and unless you're going to buy my next device for me, you have no say in what brand I like or choose to spend money on, whether or not I like Android One, or anything else for that matter. Opinions are like a**holes. We all have one. Mine is not more important than any other, nor is yours. You may want to pay attention to that. But given the current pattern you seem determined to follow... I guess not...
Android Central Newsletter
Thank you for signing up to Android Central. You will receive a verification email shortly.
There was a problem. Please refresh the page and try again.