Nexus 4 KitKat OTA updates are starting!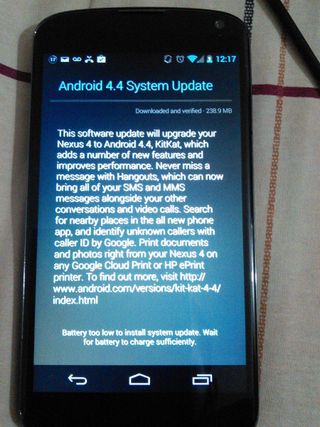 238MB update brings users from 4.3 to 4.4
To end a busy day filled with updates in style, the Nexus 4 OTA to KitKat seems to have begun. We've seen several reports of users getting the new KRT16S build pushed to them this evening — which should end a lot of tension for fans.
Seeing the new build lends credence to the opinion that Google didn't push out an OTA until they had the bugs properly squashed. We have to agree. Also worth noting that these reports come from folks who didn't sideload the factory image earlier in the week.
We're digging for the URL so everyone can join in. Once we find it, we'll be sure to post it here.
Update 11/21: You can get the OTA URLs here.
Via: @fakeninjitsu; Android Central forums
Jerry is an amateur woodworker and struggling shade tree mechanic. There's nothing he can't take apart, but many things he can't reassemble. You'll find him writing and speaking his loud opinion on Android Central and occasionally on Twitter.
But yet no 4.4 for my N7 2013. Ridiculous Posted via Android Central App

Hey, we're in the same boat although I have the original Nexus 7. We just have to have a little more patience...

Im this close to sideloading. Im sick of waiting

I got to that point a few days ago... Sideloaded and it's working fine so far. Posted via Android Central App

Yea considering sideloading but I'm in Year 1 of my Android transition. Still learning and meh I can wait a little longer. Got the N5 but waiting on the N7 to get it. Posted via Android Central App

Moto x got kit Kat before nexus. Crazy ! Posted via Android Central App

Being a Nexus 4 user, I was furious at that. But all's well.

That is really impressive and makes Moto X that more attractive imo Posted via Android Central App

My 2012 N7 just got the newest OTA. It updated from the previous OTA that I had sideloaded (was impatient). I think if you go check the software updater, you might get "Draft Punk"! Now back to checking my GNex... Posted via Android Central App

Oh you didn't hear this: https://support.google.com/nexus/answer/3468085

I was being facetious... :p

In Chicago and I literally JUST got the OTA for my Nexus 7 outta no where!!!! It's been weeks and I'm been waiting and waiting and guys it IS HERE!!!! 4:35pm in Chicago IL...totally stock Nexus 7 2013 got the 4.4 OTA now

I need help people! I have yet to update my N4 to version 4.3 because the last time I tried to it bricked my phone (this is a new device) do I have to update to 4.3 (afraid to at the cost of having my phone brick again) if I want to update to 4.4 (obviously when it comes to the N4) of can I just skip 4.3? Thanks!!! Posted via Android Central App

An update simply will not brick your phone. There was probably some other factor causing problems with your previous N4; of course you should update to 4.3. :) Though I'm not sure if you need to in order to get the 4.4 OTA.

Tis not true look it up the 4.3 update bricked a lot of people's phones. Can some one please answer my question. Thanks Posted via Android Central App

If you get the ota you may skip 4.3 i believe.

I thought Nexus 4s couldn't be bricked? Posted via Android Central App

They almost can't - even if you managed to flash a broken boot loader you could still get into Odin mode. I'm sure it's possible somehow.. Just very hard. I can't see how an OTA could do it.. They have loads of checks in - won't flash unless you have plenty of battery, checksum both themselves and the target OS before starting.,, Posted via Android Central App

Sorry to be this guy but.... There is no such thing as "Odin" mode. Odin is a Samsung utility for flashing software on phones. It only works with Samsung phones and you put your Samsung phone in download mode to use Odin. The Nexus 4, as well as most other Android devices, use Fastboot in conjucntion with the Android SDK to do what Odin and download mode do for Samsung phones.

4.3 OTA bricked my N4 (would reboot as soon as I unlocked), but I had rooted it. Anyway, sideloading the bricked phone got it to 4.3 with minimal hassles after that.

Where's my tinfoil hat when I need it.... Splattered for your amusement... via the AC App

sideloaded updates...not OTA

I would recommend using the Nexus Root Toolkit to get you up and running on 4.4.. http://www.wugfresh.com/nrt/ sounds like you need to get your phone truly reset if your still on 4.2..

Yep it bricked my N4. Stuck on the X logo? Then try to factory reset didn't fix it. Then flashed images and no good. Lost my Imei number and was like Jesus Christ Posted via Android Central App

I just got Nexus 4 2days ago, still pretty lost in some areas.. ..and now 4.4-kitkat (OTA)~ which I've lost patience from tryin' to download but going thru loops...ugh!

I just got fed up with waiting today. It's a pretty simple process and I'm now enjoying the chocolaty deliciousness of Kitkat on my Nexus 7 (2012). It runs noticeably smoother than 4.3 did. Project Svelte is awesome. While Google experience launcher was a bit choppy for me on 4.3, with 4.4 it's pretty good now. Posted via Android Central App

My nexus 7 became choppy when I got the OTA yesterday. It smoothed out the more I used it

Yes, so ridiculous. You have such a hard life. Winter is coming. She's quite the screamer.

#firstworldproblems Posted via Android Central App

Well a nexus device is supposed to get updates first. And yes #firstworldproblems Posted via Android Central App

Kind of like Patriots fans bitching about a ref picking up a flag for PI.

Dude, Google has a lot on their hands right now, I'm sure they're trying their hardest to fix the bugs before they start sending out the OTA...they also CLEARLY stated the that Nexus 4, Nexus 7 (Both), and Nexus 10 will ALL be receiving the updates in "COMING WEEKS". It's not a specific date, it's about 2-3 weeks okay? Just chill, be happy they started rolling them out, because you'll get it in the next week or so...it's only been 20 days since they released 4.4...just give it time.

But last week the n7 kitkat was supposed to get the ota so I call bs. Posted via Android Central App

I had my OTA when i turned on my device on the 13th. Odd luck!

Bloody yes Posted via Android Central App

Seriously? They said it started a week ago Posted via Android Central App

That was for the Wi-Fi Nexus 7 (2013 and 2012) and Nexus 10.

Which 90% of the nexus 7 2013 WiFi owners are without this so called ota rollout! Google is a joke to me now, I'm disgusted!!! Posted via Android Central App

I hear ya!!! I just vomited all over my desk and monitor thinking about this repulsive company!!! I would type more but I keep vomiting!! Oh god--someone help me!

I win the last piece of blahh....
Why didn't anyone tell me....
my insides are on fire....

That update happened to have a significant bug. That's why the rollout is taking so long; Google had to fix the bug and roll out a new version. I'm sure you would have said the same thing about Google being a joke if you got the software update and found the bug.

I missed the news on the bug. Out of curiosity, what was the bug?

Issues with APN settings, and a serious bug which left encrypted devices unencrypted if you entered an incorrect password on your phone.

Dude, Google has a lot on their hands right now, I'm sure they're trying their hardest to fix the bugs before they start sending out the OTA...they also CLEARLY stated the that Nexus 4, Nexus 7 (Both), and Nexus 10 will ALL be receiving the updates in "COMING WEEKS". It's not a specific date, it's about 2-3 weeks okay? Just chill, be happy they started rolling them out, because you'll get it in the next week or so...it's only been 20 days since they released 4.4...just give it time.

Google actually never gave a firm date on when the Nexus 4 OTA would start rolling out, only the Wifi version of the Nexus 7s and Nexus 10.

Well, I'm now waiting for next version, already flashed the factory image as usual! Thanks Google Posted via Android Central App

Nothing Yet In VA Posted via Android Central App

I don't want the KitKit update...
I want the KitKat update!!

Haahaaa... I even don't want the kitkit update but would love to get the 4.4 kitkat update.

My 2012 Nexus 7 is still on 4.3 Posted via Android Central App

Hell, even my 2013 Nexus 7 (wifi) is still on 4.3. I don't know what Google is doing with these stupid staged rollouts. It's not like they don't have the server capacity to push to all eligible Nexus devices at once. Even Apple can make an OS update available to all simultaneously! It's frustrating having a device that's unencumbered by any carrier red tape, is the best selling Nexus device and the most recent model, yet I still have to wait weeks to get an update after the rollout is announced. It just doesn't make any sense. I feel like Google dropped the ball this year.

I need to keep an eye on the comments for this column. I can't wait to see what N4 owners will bitch about now.

I'm about to bitch, because a naked lady with big boobs hasn't walked into my apartment and made me a sandwich, yet. Seriously, WTF!? Posted via Android Central App

Ha. Posted via Android Central App

No joke. "Oh, the latest minor software update for my luxury technology device hasn't come through yet. Life is so hard and Google is so terrible! This is seriously messing with my entitlement and sense of superiority!" Winter is coming. She's quite the screamer.

It is a realitively minor update, and these are luxury devices. But these "luxury devices" we bought with certain expectations. We all bought them with the understanding (and often because of said understanding) that we would have the latest Android Operating System once it was released. This is the first one many of us, and Google has lagged massively. What are we to expect for the second update?.. Then the third.. and so on. We want to see a dedication to their promise because its that promise that made us buy their product in the first place. If this is how it will be like, less of us are likely to get the next big thing Google shills.

Well, I'll be honest: I bought my Nexus 5, because it was the best phone for the money. Timely updates are a bonus, to me. Posted via Android Central App

Lmao Posted via Android Central App

or jumping on a trampoline...?!

Lol I'll be first. I'm prepared to bitch about not getting the update before everyone I know with N4's. I swear I'm always in the last batch devices to get any Google updates. Posted via Nexii 4 using the Android Central App

Same here, haha. Posted via Android Central App

Fuck yes Finally... Merci beaucoup Google Posted via Android Central App

De rien, c'est gratuit :) Posted via Android Central App

Come on Google!!!! My Nexus 10 is still stuck with 4.3! Update Nexus 10 to Kitkat NOW! Posted via Android Central App

DO IT NOW, GOOGLE!! THEN, GET TO THE CHOPPA!! Posted via Android Central App

Meanwhile, Billy stands on a downed tree, ritually cuts his chest, and flashes the factory image. Had to be done. Splattered for your amusement... via the AC App

Hahaha Posted via Android Central App

Lol! I know exactly where that came from.

Is there some down side to side-loading that I am missing? I side loaded the original 4.4 ota (still locked). Got the "patch" for 4.4 at 5pm today Posted via Android Central App

I wouldn't necessarily say there's a "downside" to sideloading. But, theoretically, one could delay the ota update process, by having installed a factory image that had some bugs. Posted via Android Central App

Just sideloaded 4.4 on my N7 (2012) and immediately got the new update. Really can't wait until there is an OTA link to push this to my N4!

Google has lost many points now that they are updating this phone with KitKat, but my tablet that is more than a year old is not updated yet (Nexus 7 2012) when already said it is already out (via OTA)...lies I can only assume. I can understand structured and incremental releases not to bog down servers too much, but I think they need to finish releasing to all they had already committed to before releasing to other gadgets. Makes no sense. If I don't get the update in the next couple days...Craigslist it goes.

This. I don't understand, why people feel the need to announce that they're going to "Craigslist" their device, especially over something like an update. If it still works, then there's no need to sell it. Posted via Android Central App

What the hell is wrong with you? You're going to sell a device because its not going to be updated when you want it to? Yeah...okay. Posted via Android Central App

Enjoy your new iPad Mini Retina then. Posted via Android Central App

Was unaware that the lack of KitKat on your Nexus 7 has rendered it a useless and terrible device that it wasn't previously.

Stop cryin ya bish.. Posted via Android Central App

The sooner you sell it, the sooner we can be rid of you! Bye. You will not be missed. Sincerely,
Everyone.

Charlesspivak1 claims to have subtracted many points from Google. Just for my own curiosity, does anyone know Google's current point value? Does Google still have the high score?

I didn't get the update to Android 5.0 Key Lime Pie on my Nexus 6 in 2009. I will now proceed to throw it in an incinerator. Dude, seriously.

Nexus 6 in 2009 lmao Posted via Android Central App

This is hilarious, lol. Posted via Android Central App

U crzy Posted via Android Central App

I agree. If I don't get my kit kat update within one hour I'm sending my nexus 4 & 7 to gayslist.

So for those who side-loaded KRT160 will we get KRT16S OTA?

I can confirm that I did. Posted via Android Central App

thank u... was looking for this answer

After checking for updates a few times, I simply downloaded the S build and flashed (minus -w to keep data) again.

Hey I sideloaded the KRT16O too, so in case I want to get the KRT16S do I have to flash everything again or just the kernel? if i do it do I have to wipe all the data again?

Wondering this too, I just side-loaded KRT16O 2 days ago EDIT: Nice! Thanks for the info

Are they f#ckin serious? Where's my nexus 7 2013 WiFi ota update that was supposed to be first in line???????? They need to make sure the devices they rolled out first get the ota update before they start pushing it out to other devices, this is bs Im going to slam Google on my blog for this one!!!!!!!!! I'm so heated right now, the moto x will get kit Kat before I do Posted via Android Central App

Blah blah and blah. You cry for timely updates, they get released and then y'all complain about bugs and battery drain.
It ain't as easy as you think optimising an OS for the targeted hardware. Developers and programmers are human you know. Sent from the Android 5.0 Milkshake

This. Posted via Android Central App

Would you like to code the next Android version yourself, make sure it functions properly on all devices, and then roll it out? I think you'll then get an idea of what's going on right now. :)

The two people that read his blog are gonna be pissed! Lol! Posted via Android Central App

I was thinking the same thing! Posted via Android Central App

Dude you should PM charlesspivak1 and ask him how many points Google is left with now after this DISGUSTING act! That way when you type your blog post slamming Google you can include the points and make the internet agree with your blog because it'll be based on statistics!!!

Google will still have the high score =) Posted via Android Central App

Patience is a virtue, brother! Posted via Android Central App

Some people just need to calm down....

Agreed. Posted via Android Central App

Can someone with the OTA tell me what is the difference between KRT16O and KRT16S? If its just bug fixes, I think I'll stay with the Nexus5 Port that I am running at the moment. Seems pretty much stable and bug free to me, plus I can get the Google Launcher and other exclusive stuff.

The update from O to S is somewhere in the 30-40MB range. Its a small download with some changes.

Considering that I am running a Nexus 5 Port on my N4, is there a way to directly update with the '30-40mb download'? I thought the only way was to flash the entire ROM. My apologies for the noob question, I am new on the android front.

You would need to wait for the ROM maker to update that ROM with the new changes. Or you can just flash back to stock using the latest image and you'd have the latest stuff -- but of course that would wipe your device.

Yup. That's what I thought. Thanks anyways. :)

Yup, my N7 (2012) just updated Posted via Android Central App

Just got the update on my nexus 10. I side loaded the first Kit Kat update. Posted via Android Central App

Same here, immediately got a notification to select an account for backing up the tablet. Could this be what the 1.4mb update is about? Posted via Android Central App

So many crybabies in this bitch. I have a Rezound. Now THAT'S something to cry about! (My N5 will get here eventually.. Please hurry Google.) Posted via Android Central App

If you keep on whining about slow updates on a Nexus device then you don't deserve to own or use one.
Its a developer's device which is tough to brick thus opens a pathway to testing as many custom ROMS as possible. If you want the latest android OS, why not just root it and side load a custom ROM? Sent from the Android 5.0 Milkshake

People bought these devices with the expectation that they would get the operating system updates pretty much immediately after they went live. Not having operator overlays and the such it should be quite easy. This, specifically, is why many of us bought these devices. You can do custom ROM's with any phone, some of us want the "Google Experience".

Define "immediately," though. I do agree, that some -if not most- people buy Nexus devices because of the timely updates. However, nowhere does Google say that other devices (or older Nexus devices, for that matter) can't receive an update first. You're promised the update, but it's difficult to guarantee a time. Besides, it's only been a few weeks. Give it some time, it'll come. Posted via Android Central App

Its getting harder and harder these days to get passed the locked bootloaders on almost any phone besides the Nexus. If you have a Nexus and bitch about updates, Google should come to your house and take that Nexus away from you. Unlock that bootloader and flash it. Posted via Android Central App

"People bought these devices with the expectation that they would get the operating system updates pretty much immediately after they went live." Oh, I disagree with that "pretty much immediately" comment. I've purchased every Nexus device since the N1, including an LTE and Non-LTE 2013 N7, except the N4 and N10, and it's been a couple of years since I expected updates "immediately". Quickly perhaps, but not immediately, especially now that they're supporting multiple devices at the same time (N5, N4, N7, N7-LTE, N7-2012). Of all my Nexii, only the LTE device doesn't have the update yet, and I just read a comment below that someone claims to have gotten it. I also anticipate it on my Droid Maxx in just a few weeks given the Moto X updates have gone out on Verizon already KitKat's only been out three weeks, I think that's not too bad for a major OS update to be deployed on 6 devices from varying manufacturers.

Agreed! Posted via Android Central App

1 The OTA update come with "GEL", Google Now on the far left, new wallpapers and transparency ?
2 Can I update it with CM10 installed ? If not, how ? Dont want to make backups, restores, wipes, flash, etc anymore. Just a nice version of the new Android without 3r partys apps for the transparency and all that beautiful shit.

1. GEL unlikely, transparent bars yes but not entirely - the factory image released a few days ago was KRT16O, and the OTA is KRT16S - the former had transparent bars without GEL, but the transparent bars was only for apps requesting it. Lock screen and stock launcher still had black bars. You could download GEL externally and it'll have transparent bars, but still not on the lock screen. There is a flashable zip to fix that on XDA. It's possible that OTA changed that, but not likely as it's probably just bugfixes. 2. You'll have to flash the image once it's released for download (either by Google or someone else) - this will probably wipe your device (possibly even entirely including sdcard, depending on the image you're using, and what you do with it).

OH MY GOD NOT EVERYONE HAS GOTTEN AN OTA YET!!!!!!!! http://i3.kym-cdn.com/entries/icons/original/000/001/360/1362599_02bcdea...

Man Android users have gotten so freaking whiney. It was sensible a week ago when they were leaving out features on Nexus devices but they're literally trying to simultaneously update every device that they can. No way you are expecting it to be much faster. Relax it'll be here before the weekend. Posted via Android Central App

I am looking forward to the update on N4 and N7(the old one). Nothing appearing yet in UK, but will keep trying. Posted via Android Central App

230+ additional mb...not good

It's not 238MB extra, it's 238MB of update which is then flashed into the ROM on top of what's there at the moment.

'230+ additional mb...not good' good grief. more incorrect 'facts'

lol think of it as wallpapering a wall you strip the old paper off first, then put the new paper up ;-)

FWIW the KitKat update isn't as exciting as some people here seem to think -- just an incremental update -- steady progress, so you're not missing much and waiting a while longer is nothing to get upset about. I side-loaded 4.4 onto my 2013 N7 and had to check the "About Phone" settings to reassure myself it really was KitKat! Was expecting a prettier launcher etc. but that turns out to be Nexus 5 only. On the plus side though, my N7 now wakes up when I open the flap of the magnetic case, even with wifi and bluetooth off -- a bug in 4.3 meant that wasn't the case until I moved to 4.4.

If you don't have the Nexus 4 please don't comment on its performance, or you have not utilized it enough. The latest update gives substantial improvement in performance for the Nexus 4 especially with ART turned on, its much much smoother than before.

Of course, if KitKat makes the pre-2013 Nexus 7 run more smoothly then that will be a big plus for pre-2013 N7 users. Anyone noticed a performance boost on the original N7 after installing 4.4?

Anyone in Singapore get the OTA notification? Posted via Android Central App

People complaining about the update taking so long are the same who'd complain if they got an update with serious bugs. Just what happened with S3 and Samsung. Posted via Android Central App

No complaints here.........bought my first two Nexus devices this year. Both were updated out of the box. Now Kit Katt is imminent. Good stuff.

I've sideloaded KRT16O to my N4. Does anybody know if I will get KRT16S via OTA? Or I will have to sideload it again? Posted via Android Central App

Don't worry they'll release an OTA for that as well.

Where did you get the KRT16O update for your Nexus 4? I haven't seen it posted. I *have* seen the factory image, which I'd flash like I did my N7 '12, EXCEPT I'm worried that
Message Store won't be restored by Google or Helium, do to Hangouts being the new Messaging
app in 4.4.

Great news for those of us sick of seeing whining Nexus 4 owners pollute every KitKat thread with complaints that they didn't get it first. Sadly, we'll still have to listen to the Nexus 7 (mobile) owners do the same.

Just got 4.4 on my LTE 2013 N7, it's noticeably different :) I'm in DC

I have the update with the newest bug patch on a Nexus 7 WiFi and w/o changing anything from my setup before upgrading my battery life is horrible now; I'm down to 55% in only 3 hours of it sitting on my desk w/o using it. I'm not sure why this is happening.

Your experience is not normal. Have you looked into the battery usage stats to find any culprits? I'm not going to turn this thread into a support thread, but my WiFi N7 has amazing battery life just sitting on the end table for the last several days since sideloading the update.

Yes I too "had" excellent battery life, could sit for days on end no problem. Here's what it's showing for battery usage: Google Play services:63%
Android System: 19%
Transparent weather clock: 12%
Android OS 3%
Screen: 2%

It's not normal, but it's not just you. There are things to try, up to and including a factory reset, if you read some threads over on XDA. Android police has an article yesterday: www androidpolice com/2013/11/19/its-not-just-you-google-play-services-seems-to-be-a-battery-hog-today/

Thanks I'm reading through that now, I didn't know anyone else had the issue too.

Wipe the data from Google Play, Google+ and Hangouts and such in the apps management section. Google+ made my HTC One X get hot, realized it was trying to log in over and over when I was logged out of it (and my Google account didn't have a g+ account at the time) and was eating the battery up, took me a couple days to figure that out.

Tried all of that still eating-up my battery, I'm almost ready to flash back to Jelley Bean 4.3

Not having that problem on my 2012 N7 (grouper), but I flashed the factory image (KRT16O), then OTA'ed the KRT16S update. No such problems. I'd go to the forums to get more help. This article's comments are not a support/troubleshooting thread.

Just got my nexus 4 the other day. Yes I am late to the game but I'm still hyped for this update. Posted via Android Central App

if this doesnt fix the bug with the wireless charger Imma flip shit on google product forums

Well there you go folks, N4 gets it before the Moto X, as expected. :P Hell even the Motorola RAZR is getting 4.4 before Moto X.

Still no OTA zip file link? The wait is killing me :( Posted via Android Central App

Not sure if you would be happy with this from Imperticus on xda. Hope it helps.
http://forum.xda-developers.com/showthread.php?t=2527806
[ROM] [4.4 KitKat][KRT16O/S] Flashable stock ROM + Flashable radio .97 + BL + Kernel Posted via Android Central App

Don't think that's anything close to a comparable solution to sideloading the OTA. ;)

That fucking link... Someone please post it!! Posted via Android Central App

Yes, whoever has it please share. will be greatly appreciated.

SERIOUSLY?! Ah man. I finally broke and flashed the 4.4 factory image last night. Well that was a waste of time... Posted via Android Central App

I installed the factory image. Will I still get this update OTA as it has bug fixes etc?

Which factory image did you use? The one from last week or the one from this week? If you used the one from last week, then you should get a small update to the current version. If you used the factory image that was released a day or so ago you should be all set. Posted via Android Central App

No update for my nexus 7 2012 Posted via Android Central App

There is a quote doing the rounds from Dan Morrill, at Google, about how OTAs are handled which explains some of the delay we're seeing here, and it reads as: Rollouts are conducted in phases. Typically they start at 1% of devices for around 24 - 48 hours; we watch the return rates and resulting device checkins and error reports (if any), and make sure nothing looks wrong before sending it to more. Then typically it goes to 25%, 50%, 100% over the course of a week or two. What the percentages mean is that when your device checks in, it has a 1% chance (for example) of being offered the OTA. If it doesn't (randomly) get an offer, it will never get an offer until the next batch. IOW, once your device checks in and gets turned down, that's it until the next batch. Mashing on the "check for updates" button just causes your device to check in again, and get automatically turned down again. Think about how that makes your device feel! WON'T SOMEONE PLEASE THINK OF THE PHONES?! That said, once the new batch does start, hitting that button does give you a new roll of the dice -- but once. Since devices usually only check in for system updates every 24 hours (I think? Certainly on a many-hours basis) this can get you your shot sooner than it would happen on its own.
So, mash away. Just be patient, and mashing on it more often than once or twice a day isn't going to gain you anything. Edit: also, keep in mind that this isn't first-come/first-served. You're not racing other devices to get your slot in the current batch, or something. -Dan Morrill

Can someone convinc LG now to give a clear answer "if optimus G (Int) e975 will receive kitkat? Or any update for that matters... Anyone...? No...?

OTA Link captured! xda-developers has it at http://forum.xda-developers.com/showthread.php?t=2145848 4.4-KRT16S-from-JWR66Y: http://android.clients.google.com/packages/ota/google_mako/c7d8660af65b8... Thanks @vladeco

Just as I was going to download it to sideload, the OTA appeared on my phone :D :D

Just got the KK update this morning in Sydney, Aus in case others out there are wondering. Hopefully coming to you soon. @gxagra

Okay so I received the update (on a N4) and without hesitation installed it. It took about 10 minutes to optimize the files and reboot. It is now stuck on the boot screen for over 45 minutes now. I don't want to think the phone is bricked. Has anyone else faced the issue. I'm quite sure restarting the phone at this point will not help. I'll leave it this way for sometime and update the status.
Note, I have never flashed any image on this device and was updated to 4.3 before this.

After an hour no improvement. Device is recognized by the PC and I'm left with no choice but to wipe it clean unless someone has a better idea.

Any update? This happened to my friend and he doesn't know what to do.

My phone was bricked too. I didn't root or unlock the bootloader- ever. I didn't even click on the "check for updates" button. I just waited until Google sent me the OTA and pressed update. It crashed my phone and is now in a continual loop of rebooting, ending in the Android on-laying-on-back with the red exclamation point and "no command" on the screen. I was able to go into recovery mode, but clearing the cache and even factory wipe dozens of times didn't solve the problem. I called Google and they are sending me a refurbished N4 because I am still under warranty. All because I clicked "update" when Google sent me KitKat. So now I not only do not have the update, I also don't have a phone for the next week while I wait for Google to send me a "new" one. Oh, and before some fool comes in here talking about "first world problems," I am a self-employed consultant. My smartphone is a big part of my livelihood. It would be like taking the harvesting tools away from a 3rd world farmer.

I got my ota update last evening at 2100 have mst. No issues and it appears to be working fine. Posted via Android Central App

So where are we then in the OTA rollout for Nexus 7? 1%? 25%? 50%? Edit: Oops, meant to reply to the Dan Morrill comment.

Careful what you wish for, KitKat 4.4 will run battery down just sitting there "idle". I just went back to 4.3 because of it.

WOO-HOO!! I just got notification on BOTH my N4 and N7 2013 devices that the System Upgrade has been downloaded and ready for installation!!!!

Found so many awesome tutorials on YouTube that once the factory image came out it was instantly applied to my phone, no need to wait if you like to tinker and do it yourself :P

Where dafaq is my OTA!!!?? Posted via Android Central App

there is no different on nexus4! all the features have been removed! WTF! If it is and iphone, I would get all the new features from the new OS! FXXK U goole!

My nexus 4 Is messed barely usable. I can't answer calls
I'm beginning to think I wasted $$$
Android Central Newsletter
Get the best of Android Central in in your inbox, every day!
Thank you for signing up to Android Central. You will receive a verification email shortly.
There was a problem. Please refresh the page and try again.