Moto X4 is official: 5.2-inch display, dual cameras and glass back for €399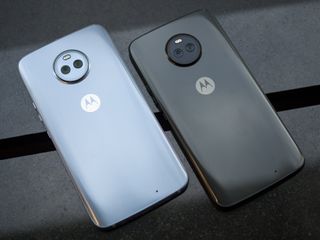 Motorola just filled a gap in its smartphone lineup, reviving a brand that hasn't been used in a couple of years to add the much-anticipated Moto X4 to the ranks. Slotting in between the Moto G and Moto Z series, the Moto X4 is launching in Europe at €399, and will be available in September.
More: Moto X4 hands-on preview
For that modest price tag, you get what initially looks like most other Motorola phones, with the added bonus of a nice glass back covering on the opposite side of a 5.2-inch 1080p display. The frame conceals a 3000mAh battery, full IP68 water resistance and a headphone jack to boot. Not bad, Motorola.
Internally things round out mostly as you'd expect: Snapdragon 630 processor, 3 or 4GB of RAM, and 32 or 64GB of storage (depending on market, as usual). That's all driving a near-identical build of Motorola's latest clean and fast software, which remains a crowd favorite no matter what hardware it's running on. Now, how about the camera? Well, there are actually two rear cameras: a 12MP primary, and 8MP wide-angle. You won't find OIS on either, but the primary camera seems promising with an f/2.0 aperture and rather large 1.4-micron pixels. The wide-angle, as we've seen on LG phones, should be fun.
More: Moto X4 specs
Motorola is only announcing pricing and availability for the Moto X4 in Europe at this point (it is, after all, launching at IFA 2017 in Berlin), but has confirmed that the phone will come to the U.S. We don't know exactly when or for how much, but we know it'll be a model with 3GB of RAM and 32GB of storage, for what it's worth. Given how pricing usually breaks down between regions, it's reasonable to expect the Moto X4 to come in at $399 in the U.S. — we sure hope it stays under the $400 level.
Andrew was an Executive Editor, U.S. at Android Central between 2012 and 2020.
Getting real sick of this glass back trend.

Agreed. Wish it was a metal back at least.

This article says it has the 660, it doesn't. It has the 630. I wish Motorola would've combined the G5S Plus/X4. It would be my ideal phone.

Correct, 630! The 3 and 6 are close on the keyboard, right?

They are on a 10 key setup.

The Verizon Z2 Play is $408. I hope this is under that.

The z2 play everywhere else but Verizon is $499.

How do they expect to float this with more RAM and storage available in the G5 plus for less money? Very disappointing.

Agreed - other than maybe improved camera and slightly smaller body, don't see much advantage over G5 plus

Maybe water resistance is a selling point idk

Motorola's SKU soup is ridiculous

I will buy the 64GB soon as I catch that $100 off sale. (if Lenovo does that, like Moto used to)
I like it. Finally. an android phone I want. (out of this years options. Don't want tall/skinny)

I looked at the Galaxy S8, the S8+ and the Note 8. You can have that tall and skinny crap!! I have got to have a wider phone. My G5 Plus w/4 g ram 64 g rom is PERFECT!!

I love how "glass back" is mentioned as if it's a selling point...

What carriers is it compatible with??

I like th display size and price range, but I'm avoiding glass backs.

"reviving a brand that hasn't been used in a couple of years" Will you be saying the same thing about the Pixel 2, a brand that hasn't been used in nearly a year? There's only one year skipped for the Moto X series.
Android Central Newsletter
Get the best of Android Central in in your inbox, every day!
Thank you for signing up to Android Central. You will receive a verification email shortly.
There was a problem. Please refresh the page and try again.