Motorola may soon launch a 5G variant of the Moto G Stylus (2021)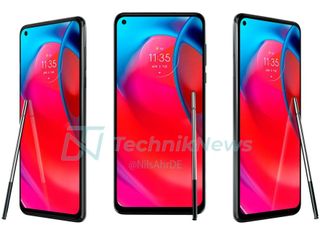 (Image credit: Motorola)
What you need to know
Motorola could soon roll out a 5G version of the Moto G Stylus (2021).
The specs of the upcoming phone are yet to be revealed.
Aside from a redesigned quad-camera setup on the back, the 5G version will look fairly similar to the Moto G Stylus (2021).
The Moto G Stylus (2021), which was launched in January this year, is one of the best Android phones in Motorola's current Moto G lineup. A new leak suggests Motorola is gearing up to launch a new version of the Moto G Stylus with 5G connectivity and a slightly tweaked design.
Motorola already sells two budget 5G phones in the U.S.: One 5G and One 5G Ace. It is likely that the upcoming Moto G Stylus 5G will be positioned below the two One series phones as the company's most affordable 5G offering. According to Nils Ahrensmeier from TechnikNews, the upcoming Moto G Stylus 5G will be sold only in the U.S.
The leaked renders suggest the Moto G Stylus 5G will have a fairly similar design to the 4G-only version. It will include a hole-punch cutout in the top-left corner of the display and a Moto G100-like camera bump at the rear, housing a total of four sensors.
Sadly, the leak doesn't reveal much about the specs of the device. For now, all we know is that the phone will come with up to 256GB of built-in storage. Since the 4G version of the Moto G Stylus (2021) is powered by Qualcomm's Snapdragon 678 processor, the 5G model might feature the same Snapdragon 750G chipset as the company's One series 5G phones.
Moto G Stylus (2021)
If you're looking for an affordable Android phone that comes with a stylus, the Moto G Stylus (2021) should be your top pick. The phone offers good value with a massive 6.8-inch screen, four rear cameras, and clean software.
Give us the Stylus 5G with 6 gigs,brighter screen,90hz or will get an a52 or a72 Samsung

Another phone that won't get software support from Motorola.

1] 2020's G Stylus & G Power updated to Android OS 11 (April / May) and still have better specs overall compared to their 2021 Versions (which also updated to Android OS 11 - but both should have had that OS out of the Box). 2] 2021's G Stylus 5G improves upon the Stylus Design + Stylus Menu vs it's 4G LTE versions (you get your choice of $400 6Gig RAM / 256Gig ROM Unlocked & $300 4Gig RAM / 128Gig ROM Carrier), Android OS 11 out of the Box (I appreciate the Emerald on Black Colour, I still 💜 2020's Cobalt Blue on Black Colour). 3] None of the G Stylus, or G Power (2020, 2021), or G Stylus 5G (2021) comes with NFC, so if that's a feature you want? Motorola One Ace 5G has it (with Android OS 11) and you can get that for $279 (or $40 port in at Metro). 4] I'm happy with my 2020. Motorola G Stylus. I don't have a reason to trade it in, or upgrade, unless Metro tells me they're 4G LTE is going away (and I need to upgrade to a 5G device). That leaves me having to decide between 2021's G Stylus (which should have an Android OS 12 Update next year) vs 2021's One Ace 5G (Updated to Android OS 11, will not be Updated to Android OS 12) and their respective Qualcomm Snapdragon chipsets (480G vs 750G) and NFC (No, Yes) and both have a 5000 mAh battery and 6.7 (1080 HD) screen. 5] I'm happy sticking with Motorola (they got an Android OS 11 faster than the OnePlus Nord N100 & N10 5G), I'm glad we have choices as Consumers (so kudos if you prefer Samsung Galaxy A32 5G or A52 5G, or TCL, or Nokia, or Xiaomi, or ZTE, or iPhone).
Android Central Newsletter
Thank you for signing up to Android Central. You will receive a verification email shortly.
There was a problem. Please refresh the page and try again.