MIPS announces $125 Jelly Bean tablet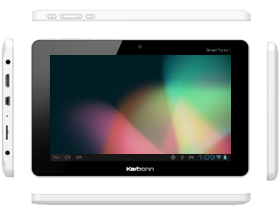 Low-cost chip designer MIPS has announced today that they're releasing the "World's Lowest-Cost Android 4.1 'Jelly Bean' Tablet" at the surprisingly low price of $125. If the MIPS name rings a bell, you may remember we reviewed the MIPS Novos 7 back in December of last year. Similarly to the Novos 7, MIPS has teamed up with Chinese chip maker Ingenic to produce this tablet, currently being marketed as the Karbonn Smart Tab 1, for sale immediately in India, and assumedly through other channels to the rest of the world soon.
As far as specs, the Karbonn Smart Tab 1 isn't exactly a barn burner, but you get what you pay for:
7-inch capacitive touchscreen
1.2 Ghz Ingenic JZ4770 processor
2MP front-facing camera
1GB of storage, expandable to 32GB
3700 mAh battery
Be sure to read through the full press release after the break if you want to learn a bit more about MIPS, Ingenic and Karbonn.
Source: MIPS Newsroom, Karbonn Mobiles
World's Lowest-Cost Android™ 4.1 'Jelly Bean' Tablet Shipping Now—It's MIPS!
Karbonn Mobiles Now Shipping MIPS-Based™ Tablet in India
SUNNYVALE, Calif. - July 31, 2012 - MIPS Technologies, Inc. (NASDAQ: MIPS), a leading provider of industry-standard processor architectures and cores for home entertainment, networking, mobile and embedded applications, together with Ingenic Semiconductor, a leading China-based CPU provider for mobile multimedia applications, and Karbonn Mobiles, a leading mobile brand and provider of attractively priced multimedia phones in India, today announced availability in India of the world's lowest-cost Android™ 4.1 'Jelly Bean' tablet.
The Karbonn Smart Tab 1 tablet, which leverages the popular, ultra low-power MIPS-Based™ JZ4770 SoC from Ingenic, is available now to consumers in India. Priced at Rs. 6999 (approximately US$125), the tablet will be available via the Karbonn website, as well as numerous online portals and retail outlets in India such as Reliance Digital and Walmart.
The Karbonn Smart Tab 1 tablet was first introduced in early July with the Android 4.0 'Ice Cream Sandwich' operating system. An upgrade to Android 4.1 will be available to customers who purchased this earlier version of the tablet.
According to a recent ABI Research study, the Indian media tablet market is estimated to grow with a CAGR of 71% from 2011 to 2017. "2012 is an important year for media tablets in India as an increasing number of models designed for the India market become available at different price tiers," says mobile devices practice director Jeff Orr. "Keys to success for tablet vendors will be localized content, seamless connectivity, and providing an enhanced user experience."
"With its unmatched combination of high performance and ultra-low power consumption, the MIPS-Based Ingenic SoC was a natural choice for our new tablet. Long battery life, leading-edge features and a wealth of local content make the Karbonn Smart Tab 1 tablet an ideal product for the Indian market. Building on our success with mobile handsets in India, Karbonn is pleased to be a leader in bringing an Android 4.1 tablet to market, and the first company in the world to offer an Android 4.1 tablet at such an affordable price point. We intend to be the leading marketer in the Indian tablet market wherein we wish to reach up to 200 thousand units per month by focusing on enterprise business solutions segmentation, education, healthcare, hospitality and next-generation business verticals," said Pradeep Jain, managing director, Karbonn Mobiles.
"This new tablet demonstrates continued adoption of our cost-effective JZ4770 SoC in mobile devices. The JZ4770 SoC leverages the simplicity and elegance of the MIPS architecture, and features extremely low power consumption, 1.2GHz performance, and a high level of functional integration. Millions of tablets are already shipping around the globe based on our design, and we anticipate increasing success as more and more companies recognize the differentiation our solution can enable," said Qiang Liu, chairman and CEO of Ingenic Semiconductor.
"After joining with Ingenic to announce the world's first Android 4.0 'Ice Cream Sandwich' tablet in December, we have achieved numerous additional tablet design wins. Working closely with Ingenic and its OEMs, we are seeing increasing success for the MIPS architecture in tablets, especially in emerging markets such as China, Indonesia and now India. With our deep expertise in Android development, we are able to quickly port new versions of Android to MIPS-Based devices, with speed that is second only to Google itself," said Gideon Intrater, vice president of marketing, MIPS Technologies.
To learn more about the Karbonn Smart Tab 1 tablet, including features and availability, visit www.karbonnmobiles.com.
For more information about the MIPS-Based JZ4770 SoC and XBurst CPU from Ingenic, visit http://en.ingenic.cn/.
About Ingenic Semiconductor
Ingenic Semiconductor was founded in Beijing in 2005 to develop innovative processor technology. Based on the MIPS architecture, Ingenic designs its own CPU core called XBurst. The XBurst CPU adopts an innovative micro-architecture which consumes very little power under high performance operation. Powered by the XBurst CPU, the company's JZ47xx series application processors are widely deployed in embedded devices and consumer electronic products including PMPs, educational electronic devices, eBooks, biometrics and more, with more than 30 million units shipped to-date. For more information, visit http://www.ingenic.cn/.
About Karbonn Mobiles
Karbonn Mobiles, launched in March 2009, is one of the fastest growing mobile brands in India complemented by a comprehensive portfolio of mobile phones with an array of features. Karbonn Mobiles is a joint venture between Delhi-based Jaina Group and Bangalore based UTL Group. Karbonn already has over 650 service centers established across the country, ensuring great after sales support. For more information, visit www.karbonnmobiles.com.
About MIPS Technologies, Inc.
MIPS Technologies, Inc. (NASDAQ: MIPS) is a leading provider of industry-standard processor architectures and cores for home entertainment, networking, mobile and embedded applications. The MIPS architecture powers some of the world's most popular products. Our technology is broadly used in products such as digital televisions, set-top boxes, Blu-ray players, broadband customer premises equipment (CPE), WiFi access points and routers, networking infrastructure and portable/mobile communications and entertainment products. Founded in 1998, MIPS Technologies is headquartered in Sunnyvale, California, with offices worldwide. For more information, contact (408) 530-5000 or visit www.mips.com.
Follow MIPS on Facebook, LinkedIn, YouTube, RSS and Twitter.
MIPS, MIPS32 and MIPS-Based are trademarks or registered trademarks in the United States and other countries of MIPS Technologies, Inc. Android is a trademark of Google Inc. Use of this trademark is subject to Google Permissions. All other trademarks referred to herein are the property of their respective owners.
Andrew was an Executive Editor, U.S. at Android Central between 2012 and 2020.
Not bad for a starter tablet for a kid or something for the low budget consumer. I like the expandable memory. That's where the Nexus 7 screwed up.

Could see these in schools. Cheaper than most textbooks. Hopefully they market it this way and push things like desk docks and customized software for schools to program and network the devices.

Looks awesome....I wonder how good the screen quality would be tho

the reason question is this... the Nexus 7 is almost double the cost of this tablet... is the Nexus 7 TWICE as good? Asus is not know for having the best product quality... just look at how many people are having issues
with dead pixels and screen lift problems on the Nexus 7.

"Asus is not know for having the best product quality" I beg to differ, they always have rock solid products from my memory. they are a premium brand, and for only $200, the nexus 7 is quality built. dead pixels happen to anything with a screen, thats just media hype, and the screen lift problem is 100% covered by Asus.\ as for "is it twice as good", it does have four times the processing power, 8 or 16 times the internal memory, nfc, all the sensors, and a nexus branding. plus, the ONLY thing this tablet has going for it is the price for a jelly bean tablet. It also has a "MIPS" processor, which is a different architecture than ARM and means it could be incompatible with a lot of the apps on the store.

Price AND an SD slot. But yeah, MIPS gives me pause.

"plus, the ONLY thing this tablet has going for it is the price for a jelly bean tablet. It also has a "MIPS" processor, which is a different architecture than ARM and means it could be incompatible with a lot of the apps on the store." It would be incompatible with any NDK (native) apps. Most apps are compiled to java which is in interpreted compiled language and can be read by any processor. Any app that is natively compiled to machine code (like many games and emulators) would be incompatible.

"I'm so sorry it's the Moops, the correct answer is... the: Moops"

This is perfectly priced for me to get for my daughter.

Someone should rock the $300 price point. Basically a nexus 7 but a tiny bit better with a microsd slot and you would have a deal. I'm guessing that is what Apple will do minus the micro sd slot. Someone needs to beat them to the punch.

For $300 you should be getting a 16GB 10.1" Nexus 10. That's what will finally give the iPad a run for its money. And if Apple does the iPad Mini at $299, this is the only appropriate response that won't lead to the iPad Mini savaging Android tablet marketshare.

I love this concept, I just want it to be implemented in a 10" version. I bet that could be done at $200.

are we talking about dual core?

are we talking about dual core?

Its funny how some have mentioned the sdcard slot as an *advantage* over a Nexus 7 with 16(or even 8)Gigabytes of internal storage.
Here's the thing..This has just 1 single GB of actual on board storage. You would be relying on an external memory card to share an overwhelming majority of storage responsibility. The constant bits and pieces of app data-writes will leave your data in fragments all over the place, and depending on how careful you are, this almost always leads to problems with corrupted data. Having the majority of your data reside on an external sdcard is a recipe for disaster, which is why many quality manufacturers are refusing to include them. No one is trying to limit your choices, blah, blah, blah. They are simply trying to create design standards that will reduce the chances of data corruption as much as possible. "But no! Google is actually plotting against me. They are dictators! But I won't let them win. Nobody is gonna tell me what type of memory to use! Omg, omg. Please help me. I'm the victim of a storage crime here!" (Sigh....)
Android Central Newsletter
Get the best of Android Central in in your inbox, every day!
Thank you for signing up to Android Central. You will receive a verification email shortly.
There was a problem. Please refresh the page and try again.