HTC EVO 3D in stock at Sam's Club -- expect double digit inventory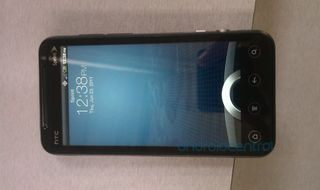 Sam's Club seems to be ready for tomorrow's big launch of the HTC EVO 3D, as a tipster sent us in a couple of pictures and let us know that you should expect "double digit" inventory of EVO 3Ds at your local Sam's Club. No word on any pricing, but there's a very good chance it will be a few dollars (or more) cheaper than the rest. Let's hope every retailer is ready for the demand, and that last years crush of Sprint's activation system from the sheer numbers of EVO 4G's getting activated doesn't repeat itself. Because one is never enough, there's another picture after the break.
Via the Android Central app
Android Central Newsletter
Get instant access to breaking news, the hottest reviews, great deals and helpful tips
Senior Editor — Google Ecosystem
Jerry is an amateur woodworker and struggling shade tree mechanic. There's nothing he can't take apart, but many things he can't reassemble. You'll find him writing and speaking his loud opinion on Android Central and occasionally on Twitter.
Too bad I just got my EVO 4g on Friday. I'm happy with it so I'm not going to return it.

Awww man, you'd be even happier with the Evo 3D. TRUST ME.

yeah i dont see why dont you just return it you won't regret the added battery life, the speed of the processor and improved camera as well.

Well, I know that Best Buy Mobile is giving the Evo away for free right now, so that may have factored into his decision.

The Evo 3D is $179.99 @ Amazon w/ activation fee waived ($18 bucks normally if upgrading) and free 2-day shipping. Not too bad at all.

No lag, better radios, updated UI, dual cores, more ram and memory, better display, need I say more? Evo is great, evo 3d is the new and improved greatness! Get it while you can.

More RAM = more memory. But it does have a lot more storage, too.

ram doesnt equal memory lol.

On another site, the review stated that the EVO 3D had very bad reception for 3G and not so good 4G. My mention better radios. Question: Have you had the chance to run SpeedTest? If so, is there an improvement? Thanks in advance for your reply.

Yes it does. But then again there's always the cloud!

Sense 3.0 instead of Sense 1! Return that 4G! -typed on my freakin' awesome Evo 3D!

com'on people the EVO 4G was good to us and now we turn on it because we get a better phone....oh wait never mind!GO and get the EVO 3D!This is a better EVO 4G thats all!p.s. did i mention it is 3D!

Holly sheet enough with the evo 3d news already. Its not that great of a phone

Annoyed person is annoyed. SGS2 is better tho

I'm sure sams club is going to match amazon. Right now if you can find the friends and family discount on wirefly you can get the evo3d for $150. I got it for only $130 through wirefly. It was $179.99 at their regular price and then I got $50 back through add it up with bank of america. Can't beat that. If sams club can match friends and family that would be great.
Also just found out that wirefly just shipped my phone today and am getting it on Saturday.

I'm so dang excited. I haven't been so excited since I was 5 and my mom let slip I was getting a super nintendo for Christmas. I just got the call from best buy for my appointment at 11am tomorrow. Agh! I can't concentrate on any thing. Is it tomorrow yet? How about now?

My appointment Is at 9:30

I've been enjoying my EVO 3D Since yesterday.. its nice

C'mon now, you can enjoy full sense 3.0 on the EVO 4g, as well as the incredible, and the Thunderbolt, as well as many other phones. The best part, is that I get to run it on my Thunderbolt for VZW, which is a real network with closest to real 4G speeds.

Not trying to start a pissing match over network speeds but...
The FCC and just about all those Engineers with degrees state that "true 4G" is around 1Gb/s download... So as awesome as LTE may be (except the bill that is) it is no where near "true 4G" as of yet. I am perfectly content with my 6-18Mb/s on Sprint's WiMax.

I been tryIng to tell Tmobile people that. "nationwide 4 g" you can claim anything in America.

So sprint isn't a reaL network? Well u keep paying those real network prices.

So sprint isn't a reaL network? Well u keep paying those real network prices.

How about enjoying Sense 3.0 right out of the box on the Thunderbolt, Incredible, and Evo 4G?

Just checked and sams club has the 3d for 174.88. That beats every price out there except for the friends and family special of $150 at wirefly.

I got the evo 3d in the mail on Saturday from wirefly. I used it for 2 hrs and boxed it back up. i did not see any reason to upgrade my evo 4g in those 2 hrs of using every aspect of the device. i am currently using the synergy rom from Myn and company. the rom is fanatastic and uses many aspects of sense 3.0 and also has landscape ability at the home screen. i'm not going to return the device as of yet because im waiting for the others to hit the market. the graphics have also greatly improved with the synergy rom. try the synergy rom if you're rooted and see if you really need the upgrade.
Android Central Newsletter
Get instant access to breaking news, the hottest reviews, great deals and helpful tips
Thank you for signing up to Android Central. You will receive a verification email shortly.
There was a problem. Please refresh the page and try again.