How to connect your favorite music to Alexa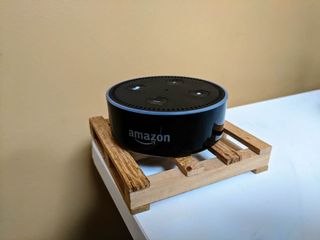 Most of us spend some time every day listening to music, podcasts, or audiobooks. For some folks, it's how they workout at home, while others like to lounge on the couch and listen to a good story after a hard day at work. It doesn't really matter why you want to listen using Alexa and your Amazon Echo, just that you know how to do it when you are ready to relax with some tunes.
How Alexa lets you listen to your music
Alexa has tons of great features that you can use to stay up to date on the news, weather, and more. It also allows you to connect a variety of music and audiobook apps, so that when you want to listen to some music you're good to go. This should only take a few short minutes, and it's all done from within the Alexa app.
From within the app you can connect 6 different music specific apps, 2 different audiobook apps, and even Dish for video. You just need to take a few minutes on your phone to link the accounts so that Alexa can access the music you've already saved or liked in those apps.
Now it is worthwhile to mention that not every music app is available to link with Alexa, and once you have linked an account you'll want to adjust your default music apps from within the settings. This is so that when you tell Alexa to play an album, she accesses music from the correct app, rather than always trying to use Amazon Music.
How to connect a music app to Alexa
Open the Alexa app on your phone.
Tap the overflow icon in the upper left corner.
Tap Music, Video, and Books.
Tap the music app you want to link.
Tap Link your Account.
Log in to the account you want to link.
Tap Okay to link the account.
Are you listening?
Have you connected a music app to Alexa? Is this how you like to listen to music or podcasts when you're at home? Be sure to leave us a comment below, and let us know about it!
Get the Android Central Newsletter
Instant access to breaking news, the hottest reviews, great deals and helpful tips.
Jen is a staff writer who spends her time researching the products you didn't know you needed. She's also a fantasy novelist and has a serious Civ VI addiction. You can follow her on Twitter.