If you've had your eyes set on grabbing Samsung's Galaxy Note 10, then you'll want to pay attention because right now you can get it for 50% off at Sprint. You'll pay just $19.79 a month when you sign up with a new line of service on Sprint's Flex Lease. After you've bought the phone, you'll get a $19.80 credit applied to every monthly bill, saving you a ton of money over the course of the lease.
S Pen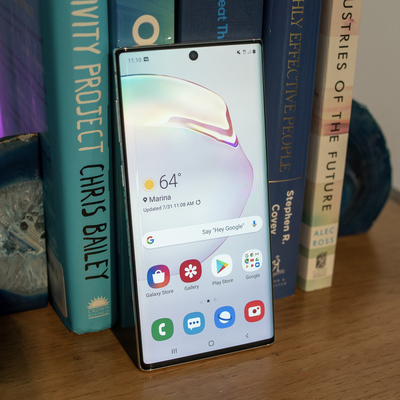 This deal requires a new line of service on Sprint's 18-month Flex Lease plan and approved credit. You're saving 50% off the price and getting a $19.80 monthly credit applied to every bill. Choose between Aura White, Aura Glow, and Aura Black.
$19.79 a month
The Flex Lease is an 18-month commitment. You will need approved credit, and these phones require a new line of service. After that time is up, you can return the phone and upgrade to a new model or buy the rest of the price of the phone. If you choose to buy out the phone instead of upgrading to whatever new phone is out at the time, you can either pay off the rest in one lump sum or choose a six-month payment plan. This deal also includes Galaxy Forever, which means if Samsung releases a new generation you can upgrade at anytime after 12 payments on your current phone.
You can also upgrade to the Galaxy Note 10+ with this deal if you want. You'll get the same discount - $19.80 a month. So the Note 10+ will cost you just $26.04 a month after the discount. The regular Note 10 is available in the 256GB capacity and comes in Aura Black, Aura Glow, and Aura White.
Read our review of the Galaxy Note 10 here and learn about what makes this phone so special. We gave it 4 stars out of 5 and said, "It brings the complete S Pen experience, backed by everything that makes Galaxy phones so great, in a size that's more manageable in your hand and in your pocket."