Google's giving up too much ground in the smart home fight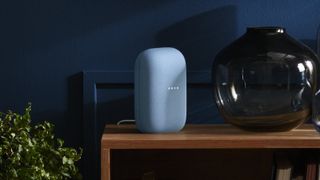 (Image credit: Google)
Amazon announced dozens of updated smart home devices this last week, from a drone home security camera to a new swiveling Echo Show and an excellent overhaul of the Echo speaker line. They even rolled out a game streaming service that looks like it might be able to beat Stadia at its own game.
We're also three days out from Google's Launch Night In event, where we'll see the latest Pixels and updates to several Google Nest products. As someone who uses Google Assistant-powered speakers and is loving the absolute crap out her Pixel 4a, I should be giddy as a kid on Christmas Eve right now. Unfortunately, I just can't help this sinking feeling in the back of my mind that whatever Google shows us on Wednesday will feel like crumbs after Amazon's feast.
Nowhere is this more apparent than the upcoming Nest Audio. This is the first direct successor to the original Google Home, which came out in 2016 — yeah, it's really been that long, I can't believe it either — while Amazon has updated the main Echo speaker three times in the last four years.
In addition, the new Amazon Echo is sporting a new spherical design that's oddly reminiscent of the Nexus Q, the Nest Audio's design is basically the same design we've seen for three years with the Nest Mini and the Google Home Max. While the new Echo is boasting new features like a built-in Zigbee hub and new custom co-processors powering its on-device AI, about the juiciest rumor we have for the Nest Audio is the hope that it might double as a portable speaker rather than being tied down to one room, a niche limited to third-party Google Assistant speakers so far.
We're also only expecting an update for the main Nest Audio, whereas Amazon has been updating the Echo Dot whenever it does the main Echo to ensure that it's smaller, more affordable speaker has the latest features and the cutest looks, like the insanely adorable tiger and panda Echo Dot Kids Editions (opens in new tab). Combine that with the entire Alexa line getting even more intelligent features over the last 12 months, and Google's smart speakers start feeling more and more like they're falling behind.
The same can be said of the Nest Learning Thermostat, which we're still not sure we'll actually see this week. Nest's last new thermostat came out in 2017, but that was the stripped down Nest E; the Nest 3rd Gen has been out for 5 years now. Granted, we don't replace a thermostat every other year the way we replace a phone, but there's always improvements that can be made. Nest's main competitor, Ecobee, has released three new generations of its thermostat since the Nest 3rd Gen launched in 2015.
I understand that Google's a services company first and a hardware company second, but is it too much to ask for a little more hustle out of Google's hardware team when the competition is giving it all they've got?
We know that Google can turn out a great product that fits users needs. The Pixel 4a is the best phone of 2020 not just because it's the perfect size for one-handed use on the go, but because it offers a great Android experience for $349 instead of the $900+ you'd pay for most 2020 flagships. The Chromecast was a great tool that helped turn millions of dumb TVs into smart TVs, and it did so for $35.
We know Google can hit home runs. And we could see home runs this week: the 'Sabrina' Android TV in particular looks very promising, and the Pixel 4a 5G will be offering up a big screen at a low price while still packing 5G for the future.
But I also know how often Google tends to whiff on a shot, too.
From the rest of the tech world last week:
Finally, Chromebook availability is starting to recover from the back to school rush! At check this morning, most of the models in our Best Chromebook are in stock at regular price, including the Lenovo Flex 5

(opens in new tab)

that's been selling out within hours for the last three months. The Flex 5 at $410 is a phenomenal value and I wouldn't wait for Prime Day to buy it.
We got a new Chromebox from HP this week, and I am pleased as punch. Chromeboxes aren't sexy, but they're useful and we deserve updated choices.
The TicWatch Pro 3 is a great watch that I look forward to wearing for the foreseeable future. I'm not thrilled about the hybrid screen now turning on the backlight via tilt-to-wake — I find it distracting — but it does make it easier to read at night.
The bold colors, the flat screen and the lower price make the Galaxy S20 FE a very alluring prospect, but unless you love Samsung's look, I recommend grabbing the Pixel 4a.
Get the Android Central Newsletter
Instant access to breaking news, the hottest reviews, great deals and helpful tips.
Ara Wagoner was a staff writer at Android Central. She themes phones and pokes YouTube Music with a stick. When she's not writing about cases, Chromebooks, or customization, she's wandering around Walt Disney World. If you see her without headphones, RUN. You can follow her on Twitter at @arawagco.
So true. Look at doorbells too. Google offers the nest hello, that's their only model. Meanwhile Amazon have an entire range including the doorview cam which opens the market up to an entire new customer group that Google just don't seem to want money from.

Google simply has no vision when it comes to hardware.

Pixel 4a best phone of 2020? LOL.

Ha agree. I get the pixel blinders but when even die hard pixel lovers are saying they are having performance issues out of the box, it does not bode well for the longevity of the device. Not to mention with the IPhone SE as well which wipes the floor with the pixel.

Yeah, I'll pass on that one and stick with Note 20 ultra or s20 ultra or one plus 8. I would even go with galaxy s20 fe over pixel 4a

I hate amazon products but agree google should do more refreshes.

Yea same here. All they do is copy everything Google does. Apple and Amazon sits back and watch Google innovate and then they snatch up those innovations and perfect them. Then they through them out for the masses to eat up. Now Amazon is riding Google to victory.

Some conventional thermostats have been around for decades, and I think we replaced our central heating timer a decade ago but I'm not sure. Domestic stuff, you want continuity. It would be interesting to know if things like Nest are really more than small volume devices for early adopters.

The real issue for some people is that their ac units and environment just don't go together. Some of us have to basically leave our ac units on all summer so there's no room for cost savings. If everyone had higher end ac units or did not live in harsh cold or harsh hot climates, then an energy saving thermostat would work great.

If I "had to absolutely" choose my evil overlord, it'd be Amazon over Google – anytime. Besides Google products being quite ephemeral, the cost of their "free" products is much too expensive insofar as to what I need to give up. I'm content with limiting them to their OS – and trying my best to choose carefully from their apps store.

I agree 100%. I still have trust issues with Google.

I don't think it's so much Google as much as it is our "first world'' expectations. We live in a world where millennials, who are mostly English Lit grads and are the bulk of the tech bloggers, who expect everything to happen NOW. This is Amazon's refresh, what exactly did they do last year? The year before and the year before that? All simple basic upgrades until now , now this is their big refresh . Same with Google, simple upgrades and now it appears we are in for a Big Refresh. Meshing hardware and software doesn't happen overnight, as much as we want it to. Don't expect huge refreshes every year. It's not going to happen, it doesn't make sense financially. People are going to keep ditching their current line up every year or even every two years to upgrade. I know people who still have the first Alexa and are very happy. We still have two of the first Google Assistant mini's and still work fine. Our latest upgrade was the the Google Home display the 6 inch when it first came out. Do products needs refreshes, yes of course, do we need them every single year? No, it makes zero sense financially. Modest upgrades yes. Adding on software features and cleaning up bugs are more important year to year. And again you act like Amazon comes out with huge major new Products every year, They simply don't. I hope you never run a business they way you want things instantly.

Google has always been stretched too thin in their ambitions. They are too quick to come out with new products to "try out", only to not support them enough or update them as needed to remain competitive. They jumped into the smart home game a little late, but not too late to make an impact. If they do not excite this year, then I think it is too late for them to catch up to Amazon in the smart home market and will be better off finding a way to utilize Alexa and join forces to still sell Google products because the alternative is to piss people off who spend money this year on something that won't be supported in 2 years. The smart home market is not something anyone can just go out and do well. It took years of planning and infrastructure and is why Amazon has a leg up, not only with their smart home, but with this new gaming system as well because AWS is superior with only Azure close behind. The cloud is where the future is for better or worse and the ruler of the clouds will dominate all future products.

luna has only been announced we know very little details. Stadia got off to a rocky start but it has rightened the ship and is starting to become an excellent product. Amazon is going to have to go through similar growing pains in cloud gaming, it very very difficult and Amazon has been known to take the "cheap" route ie their tablets. The Fire tablets are great for what they are when they are under $100, sort of tough to complain about a $50 tablet. But cloud gaming and cloud gaming done right is whole other beast. If they take the mentality similar to their fire tablets and offer cheap games at a cheap price, with a cheap controller and with a low spec infrastructure surrounding it, it'll fail regardless of how cheap it is. Nothing is more frustrating when playing games than lag and latency and as Google found it , it's hard work. Even if the game is free if it doesn't work well you aren't going to play it. So I think people are being a little to quick to hand over the cloud gaming crown to Amazon. That's a little premature.