The Google Pixel 6 could get five years of Android software updates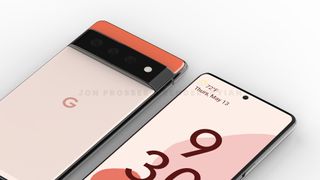 (Image credit: Jon Prosser)
What you need to know
The full spec sheet for the Pixel 6 series has allegedly been leaked.
Google will reportedly provide five years of Android software support for the Pixel 6 smartphones.
The Pixel 6 is expected to be announced later this year, possibly in October.
The Google Pixel 6 is expected to launch later this year and will reportedly come with some impressive specs and additional software support, according to the most recent rumor.
FrontPageTech leaker Jon Prosser has provided a rundown of what might be the specs for the upcoming smartphones. The Pixel 6 will feature a 6.4-inch AMOLED display, 50MP main sensor with a 12MP ultrawide camera, 128/256GB of storage, 8GB of RAM, and a 4614mAh battery.
The "Pro" variant will get a display bump to 6.71-inches, although previous rumors have speculated that this will be a QHD+ resolution at 120Hz, while the smaller variant will have a FHD+ resolution at 120Hz. The Pixel 6 "Pro" will also feature an additional 48MP telephoto lens, up to 256GB of storage, and 12GB of RAM. The battery will be larger at 5,000mAh.
Much of this has already been speculated, but it's nice to see the specs all laid out to get a fuller picture of these devices.
What's most interesting is that Prosser alleges that the Pixel 6 will receive five years of Android software updates, which is quite impressive. So far, Samsung holds the crown for the longest software support after announcing a four-year support promise on many of its devices. Its enterprise phones are already being promised as much as five years of software support.
Of course, this is to be taken with a pinch of salt until we hear anything official from Google, but announcing five years of software support would be a major feat in bringing the Android ecosystem closer to iOS in terms of support, and could be a huge selling point, particularly for Google's Pixel devices.
It's also important to note that this may not necessarily refer to five years of Android version upgrades but five years of software support via security updates. Manufacturers of the best Android phones tend to differentiate between the two when announcing their update promises. It may not be ideal, but the situation has improved quite a bit thanks to Project Mainline, and Google could surprise us given the work on its in-house Whitechapel chipset.
For now, we will have to wait until October to hear anything official as Prosser says that's likely when the devices will be announced.
Pure Google
Still a great buy
The Google Pixel 5 is one of the best Android phones on the market thanks to its fast and fluid launcher, simple design, and impressive cameras. It is also one of the most affordable Android flagships you can buy.
Android Central Newsletter
Get instant access to breaking news, the hottest reviews, great deals and helpful tips
Derrek is a long-time Nokia and LG fanboy who loves astronomy, videography, and sci-fi movies. When he's not working, he's most likely working out or smoldering at the camera.
So finally they're giving us the iPhone treatment. Nice!

5 years of software updates for the Pixel 6 series would put them on par with Apple and if anyone's going to do that it's Google, sorry Samsung fans.

Why? Samsung fans don't keep their phones for 5 years lol

As do most people but it's great for those that do keep their phones for 5 years although the downside is that it'll drive the cost of the phone up.

Why take a shot at Samsung fans when you were beating their drum not long ago? Why do that?

I was but I realized that Samsung's software isn't for me and I hate the inconsistent and longer wait for updates.

I also forgot to add that I don't like the way that Samsung does updates, they're too much like iOS in that you have to check for the update instead of getting a notification like you do on a Pixel.

This would be revelatory. I wonder if it might force Qualcomm to support their chips longer? Perhaps Google licenses White Chapel to other manufacturers for use so they too can have the benefit of continuing updates. My understanding is the time limited updates are mainly due to Qualcomm moving on after 3 years and not providing the necessary tools/info for successful updates.

Why should Google do that? The Whitechapel should remain a Google exclusive and a selling point.

Pixel exists to boost Android, not the other way around. Google would be foolish not to license their tech if it truly turns out to be worthwhile. Even if just lower volume players like Motorola and Nokia accept, the vastly increased volume and economies of scale would benefit Googles manufacturing costs. Pixel exists as a halo for Android, which exists to sell Google ad impressions. Anything that boosts the ecosystem and keeps people away from Apple is worth far more to them than the piddly profits pixel makes (if any)

I agree with you on why the Pixel exists which the Verge did an article on why the Pixel phones matter and you have a point in Google licensing out their Whitechapel chip to mayby Nokia but I can't see Motorola (who DON'T like updates) buying Google's Whitechapel chip, Google needs to try to compete with Samsung, OnePlus, etc on a hardware level so it would be in Google's best interests to not license out their chips like Qualcomm does.

Because Google cares about their services being able to be used by most people not who is selling the device. Hence the reason they are ok with lackluster Pixel sales but continue pushing the product.

That's an excellent feature that could prompt me away from Samsung. Let's see what else they'll be offering in the design.

I'm moving away from Samsung regardless as I've always loved the Pixel software experience and is my Android UI of choice, always has been, I was just trying to please the Samsung fan club on here and wasn't being true to myself. I'm glad that I've at least tried Samsung's software.

Not to be a pessimist, but I will believe it when I see them actually support a couple phones for 5 years. This promise, has been made and broken before.

Nice feature but there is no phone that I would use and keep for 5 years.

Don't you sell it after a couple of years or give it to one of the kids? So it's still relevant.

Most likely it will cost the same as an iPhone for these updates.

I don't think it will as Google knows if the price the Pixel 6 series too high they'll suffer for it, Samsung phones cost more than an iPhone and aren't supported as long and no 4 years of just security updates doesn't count, OS updates are the real metrics you measure software support although OS updates aren't as important as security updates in the Android world.

Lol. Google already suffers with the pixels. Only phones I see are Apple and Samsung not janky pixels

The Pixel A series has done well for Google and while I respect Samsung, I don't respect Apple for their anti consumer business practices. Pixels are anything but janky to me. They're the only devices I'd want to keep Throughout their support cycle.

If only Google hardware lasted that long. 😂

I'll find out when I get my Pixel 4a 5G this fall, I'll mostl likely stick with a Pixel regardless because of the software rather than the hardware.

Nice, I can't wait to keep my phone for 5 years

"The Pixel 6 might get Android software updates until 2026, which is crazy." Seriously? What's crazy is paying hundreds of dollars for a device which will be unsupported in only a few years. I don't believe we should be praising Google for doing something that should have been the case out of the gate.

Oh but if it was Samsung of course you'll be praising Samsung to the hilt, Google has been the most consistent with security updates and only in the last 3 years have Samsung taken updates seriously but I didn't see anyone giving Samsung a hard time over this until recently. You do realise software support adds to the overheads right?

People didn't give Samsung a hard time? On what planet? lol

So how many people commenting in here have a 5 year old phone? Let alone a 3 year old phone? LOL

I would keep my phone for at least 3 years if it was supported as long but the only phones I'd want to keep for that long are a Pixel or (through gritted teeth) an iPhone but I prefer the way updates work on a Pixel than any other phone, so I'd easily choose a Pixel.

Y'all focused on update length and all I can think about is how Google is finally giving us real camera hardware to work with this year and about to mop the floor with everybody. Can't wait for the 6 Pro.

Updates matter more to me than even the camera although whim important to me, updates simply matter more. It's why I will not by a phone even if it has better hardware than a Pixel, clean software and updates are my priority, a great camera is w bonus for me.

Samsung already offers 5 years support for enterprise and of course they will match or exceed Pixel. Pixel and Google are doing everything they can to try and stay relevant in the face of fierce competition from the likes of the A52 5G. Although long overdue I do applaud this move for Android though as it should have had longer support years ago. The waste has been horrific

The Pixel has been relevant, regardless of what you may think and the A52 may have better hardware than the Pixels but loses out in the camera and software department. You may not like the Pixel but it will always have it's fans no matter how small, the Pixels matter because they're a showcase of Android without any heavily modified skins, the way Google intended and I share Google's vision for Android and I will always defend the Pixel phones. Because I think they're unfairly criticised.

In fact a lot of security updates already happen via the core apps and the Play Store so it isn't as important as you might think - unless a new Spectre or Meltdown comes along that affects Android as much as it did Windows on Intel. Decent 5G support and a SOC that will be able to handle the expected demands of 2025 software would be far more important. IOS is structured differently which makes years of support much more important. With Android, 5 years of security is more like a warranty that you hope you won't need.

While I agree with most of what you said, security updates still matter more and Play System updates also matter but those are only minor updates compared to a full security update.

The people that they keep their phones so long I don't think they care about the software updates.
Anyway this is a very good step for Google!

The average consumer needs to be educated by OEMs as to why updates matter, especially security updates which keeps their devices up to date and secure from the latest exploit or vulnerability. Because there's a lot of ignorance about updates and Apple is partly responsible for them slowing down older iPhones.
Android Central Newsletter
Get instant access to breaking news, the hottest reviews, great deals and helpful tips
Thank you for signing up to Android Central. You will receive a verification email shortly.
There was a problem. Please refresh the page and try again.