Galaxy Note 3 and Galaxy Gear pre-orders now live at Verizon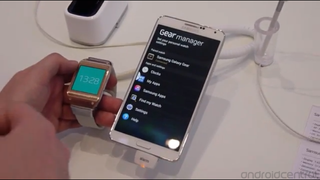 Verizon also entered the Samsung Galaxy Note 3 and Galaxy Gear pre-order frenzy today, and will be offering both products. You can pick them up separately, or as a bundle that will set you back $599.98 with a two-year agreement.
They will be offering the Note 3 in both black and white, with a stand-alone price of $299.99 on contract, $699.99 up-front, or $29.16 monthly. That will get you the just Galaxy Note 3 and Verizon's nationwide service. Verizon says the devices will ship by October 10.
If you're dead-set on getting both the Note 3 and the Galaxy Gear smart watch, Verizon can ship both to your door to make things convenient. The Gear has no cellular service, and retails at $299. When added to the cost of the Note 3 we see above, the bundle will set you back $599.98 with a new agreement or $999.98 if you choose to pay up front. As with the stand alone Note 3, orders will ship by October 10.
For more information and the individual pre-order pages, click away at the link below.
Source: Verizon (opens in new tab)
Jerry is an amateur woodworker and struggling shade tree mechanic. There's nothing he can't take apart, but many things he can't reassemble. You'll find him writing and speaking his loud opinion on Android Central and occasionally on Twitter.
U mad bro?
Yeah he mad Posted via Android Central App

Thank you for the explanation to your very complex opinion. It really was enlightening and I can now have piece of mind of my purchase of the brand new crap phone.

Agreed. Posted via Android Central App

October 10 ship dates for the phone and the Gear is sold out as of 11am PDT.

the razr sold out faster. whats your point.

Very excited for this. Looking forward to the added SPen functionality over my current DNA.

Me too. I have the DNA and have been waiting for the note 3 to get >5 inch 1080p phone. The only problem I have is that I love wireless charging on my DNA. What is up with Samsung not including it?

Still on the fence about whether to get this. The DNA is a great phone but I'll wait to see if HTC hits this niche this year or not (and on Verizon). I took a chance on Samsung with the Galaxy Nexus and still feeling the burn from that. The Note is a tough one to pass on but trying to exercise some patience for once.

Not included, but at least available as "S Charger". New back and charging pad. Posted via Android Central App

wait... what is DNA? lol your getting ahead of me

Droid DNA Posted via Droid RAZR M on the Android Central App

LG G2 or Note 3 and why? go...

Depends on use. Note 3, better features, known entity, better updates. That was my pick of those 2 Posted via Android Central App

As a note2 owner i echo this... As bad as I'd like to try the G2... For its size, Camera, (though ugly) the UI is super snappy...
I just can't see leaving the Samsung movement.. They're doing something and really pushing innovation. Call it gimmicky if u want... Plus updates, support(if u root& flash), and millions of people have galaxy devices.. I find myself at times easily sharing content.... I'm still tempted by the G2 but its a choice between a Ferrari or Bentley... It's a matter of your comfort and choice Posted via Android Central App

Updates? Really? S3 is still on 4.1.2..Remind me when 4.1.2 came out? June July 2012?? I'm sick of the pathetic update cycle from Samsung. I'm going to dump this POS and get the new Nexus when it cones out. Posted via Android Central App

After 3 phones calls, I finally got mine ordered. Had made the unfortunate mistake of changing my plan already this month and it was freaking out the order process. So exicted I almost didn't cuss about the $30 BS fee. Almost.

Interesting. Now VZW wants to put out a phone. Editor in chief of Futureproff.com

+1... Huh? Same stuff i keep talking about people idly complain about VZW... (assuming because of htc one) i guess the same could be said about how long sprint and t mobile took to get an iphone difference is for whatever reason (dna) vzw didn't want 'the one' and never promised it.. VZW has all the same phones each carrier has.. It may be a week or two faster or later big effing deal.... Lol.. Posted via Android Central App

Already ordered Posted via Android Central App

Then maybe you are a good person to ask... If the phone is $300, and the Gear is $300, what is the benefit of calling it a "bundle" at $600? No money is saved. Just curious if this is another example of VZW business logic; Is there a tax break at checkout or something?

So Sprint is officially last huh? Maybe well end up getting it before everyone to make up for that. Posted via Android Central App

So Sprint is officially last huh? Maybe well end up getting it before everyone to make up for that. Posted via Android Central App

So Sprint is officially last huh? Maybe well end up getting it before everyone to make up for that. Posted via Android Central App

So who is going with the bundle price of $599 W. a two year contract?

Decisions decisions ...note 3 or lg g2 hmmm Posted via Android Central App

I am getting this phone but at $299 for a 2 year contract or $700 for a non contract I will wait until oct 10th and see if amazon or letstalk/wirefly will offer a deal.

I will get this but I won't be and early adoptor and pay the early adoptors tax. Posted via Android Central App

Wtf are you talking about? Posted via Android Central App

I agree with you. I bought the Note 2 three months after release with the first price drop down to $199.99. Will also allow all the sheep to beta test it so I don't get stuck with a 2 year dud (Remember Samsung Omnia, Omnia II and the lovely Droid Charge?). So three months into it and no complaints of its operation other than "size," I am happy with said purchase. Besides, Christmas sales are around the corner as well and Sam's Club has given away phones for $0.99 in the past (Galaxy S4). Now, $299 for a watch????? Same amount for the multi-useable HD phone, but $299 for a dummy watch? Really?! $50, sure, but $299?!!!! Last time I checked, my phone is perfectly capable of notifying me of any message. Don't need a bulky watch that needs a daily recharge to notify me of a notification that beeps or vibrates in my pocket.
For $299, I could buy 2 phones!

Ordered mine this morning at $299.99 on a 2 year contract. The estimated ship date is on or before 10/10/13.

Ordered mine this afternoon (moving business account from Sprint to Verizon). I love the Note 2 and can't wait for the new spen features. I'll be handing down my Note 2 to my very lucky 14 year old son. Posted via Android Central App

Da? What about me? Posted via Android Central App

Your new name is NoNote2.... Posted via Android Central App

According to Verizon's site, the Note 3 will not come with ear buds.
Shame on you Verizon.

Worst part for me is that for $299 the phone is NOT AWS-Band compatible. This is a huge no-no as far as I'm concerned, especially since Verizon is in the process of launching LTE on its AWS spectrum to improve network speed and reliability in key markets.

This is absolutely incorrect. The Note 3 supports Band 4 LTE, which is Verizon's AWS spectrum's band. If you'd like to check for yourself, you can check out page 6 of the FCC report for the Verizon variant.
https://apps.fcc.gov/eas/GetApplicationAttachment.html?id=2061905

Anyone know if the VZW corporate stores will offer a pre-order so you don't need to do it online/over phone?

When I was a Kid,
They never told me it would cost One Thousand Dollars to play "Dick Tracy" as an Adult.. Our Wrist Phones back in the day were only $2.99.. and came with a Decoder Ring..
Where's the Ring Samsung? For One Thousand bucks I don't get the Ring?

"You can pick them up separately, or as a bundle that will set you back $599.98 with a two-year agreement." I don't see how to order the Galaxy Gear separately? I'm supposed to get a corporate 25% discount on accessories. If I get the bundle I'd pay the full $300 price. Seems like if I order it separately it should count as an accessory and I'd get it for $225.

The Verizon credit card processing has been down for 2 hours because of the huge pre-order demand for the Note 3. So this phone is so good it broke Verizon...

What happened to the pink Note 3? I am going to wait and see if Costco gets the Note 3 next month. Costco has better deals on contract phones than Verizon and only charges sales tax on the wholesale price of the phone (as opposed to the retail price of $700) in CA.

I need to know if third party apps are possible before I decide. I want to be able to control my streaming music from Google with this. That alone will sell me. Obviously I want it for everything else but not being able to do that would be a thorn in my side. Anybody know? Posted via Android Central App

Got mine pre-ordered through Verizon. I have really enjoyed the Note 2, I'm sure the Note 3 will be even better.

Pre-ordered mine. Been Motorola all the way. Stepping out of my comfort zone...

So, who gets to carry the 64GB version? Now, we wait for all the variants Samsung decides to milk out of this phone like they're STILL doing with the S4. Thank you, SHEEP for the pre-orders as you are now the test guinea pigs. As a non-winning lottery man, I'll wait for the human tests and better variants to later be released. I'll gamble that something even better will show its face in the next few months.

For those that are on the fence between the G2 and Note 3, you should also consider development. The note 3 will most likely have the better development community. Posted via Android Central App

I was surprised to find that I could pre-order the GN3 on the Verizon site, off contract! I don't want to loose my grandfathered Unlimited Data and Unlimited Hotspot. Yes, I paid full retail, but will sell my GN2 and recoup a fair amount. I don't remember being able to do this in the past. When going in to the VZW store, they always hassle me, can't understand WHY I want to keep unlimited and pay full price. Commission I guess? I no longer can tolerate the stores, so time consuming, they amazing amount of up sells, crazy. So now, stay home, wait for Fed-Ex and be happy! yea!
Android Central Newsletter
Get the best of Android Central in in your inbox, every day!
Thank you for signing up to Android Central. You will receive a verification email shortly.
There was a problem. Please refresh the page and try again.