Forget fancy foldables and pro phones, give me the Google Pixel 5a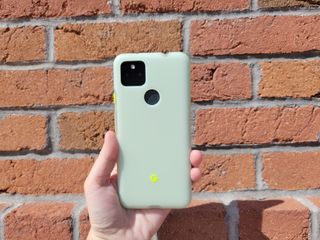 (Image credit: Ara Wagoner / Android Central)
Last week we were introduced to Samsung's latest foldable phones, and the week before, Google gave us a tease of its upcoming Pixel 6 and 6 Pro flagships. As amazing as those devices will no doubt be, they just don't do it for me. I've said it before, and I'll say it again: I'm suffering from flagship fatigue.
It's not just the ever-rising prices that have turned me off the top-tier smartphones. It's also all the extra features that I just don't need. 120Hz displays? Beautiful, but give me a 60Hz display for a day, and I'll quickly forget about them. Foldable form factor? Novel, but I still can't think of a use-case compelling enough for me to buy one. mmWave 5G? Yeah, I'll hold my breath until that's useful, or even available, to me.
As I grow older, I've been learning which tech features and products are most important to me and which ones aren't. Google's latest affordable smartphone seems to have everything I'm looking for in a modern smartphone and nothing I'm not. So it's really no mystery why I want the Pixel 5a over any of the other best Android phones on the market.
No more tears
This is the first a-series Pixel to have an official water-resistance certification, and that's a bigger deal to me than almost any other upgrade on the device. As much as I love my Pixel 4a, I was very reluctant to take it with me on my frequent walks and hikes (and less-frequent runs) because a) Central Texas is susceptible to surprise thunderstorms (like these that flooded the Capitol building this past weekend), and b) I sweat like a pig when I exercise. I couldn't bear the thought of my daily driver drowning this way, so I'm glad to know that I'll not have to baby the Pixel 5a when I want to head out on an outdoor adventure.
I've got the power
The Pixel 5a has the best battery ever on a Pixel, and it's really not even close. Last year's Pixel 5 and the Pixel 4a 5G had batteries with 4,080mAh and 3,855mAh, respectively. Solid, especially when paired with the Snapdragon 765G chipset (which also powers the 5a), but not nearly as impressive as the whopping 4,680mAh cell on the Pixel 5a.
It's one thing to say you have a large battery, but it's another thing to have that battery live up to and even surpass your expectations. For example, when my colleague Ara Wagoner was testing out her Pixel 5a, she tried just about everything she could think of to kill the battery, and she practically couldn't. After putting it through the rigors of all-day Disney World expeditions and Samsung Unpacked coverage, the 5a persisted. Up to and over two days in most cases. That's the kind of reliability I want in a smartphone. The fact that this phone can last so long and charge quickly via 18W wired charging adds so much value that I don't even think I'd miss wireless charging.
Now hear this
Guess what returns in the Pixel 5a? A 3.5mm headphone jack! I know that most of us have moved on to true wireless earbuds, but there are still times when a wired audio experience is needed. Case in point — last month, I traveled for the first time in nearly two years, and my wireless earbuds started to die. I really didn't relish the thought of spending $150, $100, or even $50 on a new pair at the airport, but I had no problem shelling out $20 for a wired pair for my Pixel 4a. I like having that flexibility and appreciate that it is here on the 5a once again.
More to see
The Pixel 5a has the same camera setup as the 5 and 4a 5G, which is great, but it's a major upgrade from what I have on my 4a. Now I'll have two rear cameras, one of which is an ultrawide lens with a 117-degree field-of-view. Since I tend to purchase phones in the mid-range or affordable category, wide-angle lenses are novel to me, and I'm excited to see what kinds of images I'll be able to capture with the shooter on the 5a. Google's photo processing prowess is legendary, and I was already pleased with what the 4a could accomplish with meager specs. So be prepared to see more taco photos from me on Twitter in the near future!
Style?
I know what you're going to say, and you're right. The Pixel 5a is kind of boring to look at, as were the 4a and 4a 5G. But honestly, who cares? This phone is a workhorse, and workhorses aren't bred for their looks. Besides, most folks — myself included — are just going to put a case on it anyway. And actually, the initial crop of Pixel 5a cases are pretty darn stylish. I'm eyeing that Likely Lime Google-made case or the Sage Caseology Parallax myself. Even without the case, I can see the beauty in the 5a's basic design. It's simple but efficient, and it doesn't stand out. The introvert in me can relate.
A for affordability
The Pixel 3a and 4a set the bar low for a-series pricing, but in a good way. Both phones retailed for $349 and were a steal for what they offered at that price point. The Pixel 4a 5G broke that pattern a little, but some of that has to do with the more expensive 5G chip and the rumors that it might have originally been intended as a Pixel 5 variant. So even though the 5a is $100 more than the 3a and 4a before it, I think that's a fair price for what you're getting. It still compares extremely favorably to other phones in the $400 to $500 range (or cheaper), and it comes in at $50 less than the 4a 5G.
For value-conscious phone shoppers, there really isn't a better option than the Pixel 5a. While certainly not a budget device, it's undeniably one of the best affordable Android phones available today.
Do you agree or disagree with my take? Are you going to pick up the newest affordable Pixel?
Pixel-perfect
The every persons' phone
The Google Pixel 5a has all I need and want from a smartphone. Great cameras, big screen, and insane battery life, all at a reasonable price.
Get the Android Central Newsletter
Instant access to breaking news, the hottest reviews, great deals and helpful tips.
Jeramy is the Editor-in-Chief of Android Central. He is proud to help *Keep Austin Weird* and loves hiking in the hill country of central Texas with a breakfast taco in each hand. You can follow him on Twitter at @jeramyutgw.
Looks like a good phone on paper. One thing concerns me... going forward 2,3,4 years of o/s updates. will the 765 chip be able to perform well? Or is this and some of the older hardware... behind the times and looking backwards? And is the Pixel 6Pro, albeit more money, having us look forward?

All good points for sure!

I was considering this phone as Google Fi has a really great subscription deal for it. However, the dealbreaker for me is that it does not support wireless charging. I have Google Stands at home and a built-in charging pad in my car, my phone has to support them.

That's totally fair, but it's not as big of an omission for me.

Wireless charging would have been nice.

I was really looking forward to the 5a, but my old phone died unexpectedly, got a OnePlus 8t to replace it, thinking I'll just return it before the 5a launches, but the 8t has really grown on me and now I'm torn.

If you like the 8T, stay with it. It's a great phone too!

I agree with your review! I already have mine ordered. I also got me a Spigen case from Amazon, a tempered glass screen protector, and a new WIRED headset! $40.00 (less actually) for all three.
I do wish though that like Sony some OEM would bring back front facing stereo speakers so that the selfie can be housed there instead of a hole in the screen...AND to have again a notification LED! I hate that these necessary things have been removed from all but Sony phones. Therefore, I am patiently waiting for real reviews of the Xperia 5 iii to see if I might replace the 5a with the 5 iii. Time will tell!

A rising tide lifts all boats. You may suffer from flagship fatigue, but those features do get to the mid-tier and budget range phones within a generation.

Excellent point! I'm sure the 7a will be amazing, haha!

Pixel 4XL, Pixel 5 = IP68 Ratings. From what I have read Pixel 5a = IP67 Ratings. So how is the 5a so much better in a rain storm?
IP67-Protected for up to 1m of immersion for up to 30 minutes, including splashing from a shower or an accidental (and brief) dunking
IP68-Protection against submersion beyond 1m. May mean that device is hermetically sealed or that any water that does get inside will cause no damage. Yes 5a might be a few hundred less than a 5; however, if on Verizon and it large city areas, the 5 has mm-wave reception, 5a does not. 5 has 2 gb more in RAM 5a has a larger screen but at 60Hz not 90Hz as on the 5. I am not interested in either phone, completely satisfied with my 4XL (and I have had it in some serious rain storms) but the article does not seem to really match the specs.

Honestly, I agree with everything in this article. I do want to add one thing: if the phone is plain looking and you find issues with that, slap a good looking case on it and that's it. The author didn't specifically mentioned he had issues with it, but appearances is a factor that might bother others. Overall as the mid range market evolves, I find it harder to justify the price of a flagship device when mid range already gives everything you could need. Granted, if I were to have the option between the pixel 5a and 4a I would probably do 4a still, University + PC gaming isn't easy on the wallet and even $400 is too much. Maybe by the time the pixel 5a is sub $200 I'll potentially get it, implying my current phone dies. just hope this pixel 5a doesn't have hardware issues.

Great review. I bought one even though I've had my mind set on the 6. The battery and IP rating compelled me to pull the trigger. So two months to see if the 5a changes my mind on the 6. Regardless, glad to have a Pixel again. My budget OnePlus hasn't behaved since the Android 11 update.

The Pixel 5a is a steal for its price and Google shot it's self in the foot by releasing it in just 2 countries, even with the chip shortage they could have released it here in the UK and maybe 1 or 2 other markets.

Complete non-sequitor, but I think I'll wait a year post-release and get the Surface Duo 2 for $389 hahaha

The water resistance, bigger battery and screen are the major improvements that I would buy the 5a just for those improvements alone, oh well, maybe I'll get the 6a instead and hopefully Google will release it In the UK.

Man, I love just about everything mentioned here. But I haven't not had wireless charging since I bought a Palm Pre in 2009. It's just a deal breaker for me not to have it. It's not like it would even that much to the production cost.

Reviews already shows it gets too hot shooting videos. Another Google blunder.

Interesting that the title of this article states "skip the sizzle". Apparently that does not apply to shooting 4k 🤔

Really is a shame it isn't hitting the UK. But my car has a wireless charging plate so it would be a bigger shame to get this phone and then not use that! But otherwise it ticks every box I'm looking for in a phone.

Pre-ordered mine and looking forward to the upgrade from my current Samsung device. Only call out about the article is that it incorrectly states the camera setup is identical to the 4a 5G and 5. That's not the case - the Pixel 5a is missing the "Spectral + Flicker" sensor which the former devices had. It's the small sensor on the rear camera, in the square right below the two lenses. Not sure why it was removed or how it will affect photography VS. the other Pixel models.